American Horror Story shows no signs of stopping. After the much-talked-about eighth season, Apocalypse -- a sequel to Murder House and Coven -- it's hard to imagine where the show could go next. How do you top the end of the world? Luckily, creator Ryan Murphy isn't short on wild ideas, so we doubt he'll have a hard time topping the insanity of his previous efforts.
It's still early, so we don't have many concrete details about American Horror Story Season 9, but here's what we do know, what we can speculate about, and what to expect when the show returns sometime in 2019.
Recommended Video
Look Back on the 4 Most Shocking Deaths from 'The Sopranos'
When is American Horror Story Season 9's release date?
The first five seasons of the show aired in October and the last three in September, so following that pattern, we can expect Season 9 will premiere sometime in the fall of 2019, although no exact date has been given just yet.
How many episodes will the new season have?
Previous seasons have contained anywhere from 10 to 13 episodes, so we can probably expect something in that ballpark for Season 9.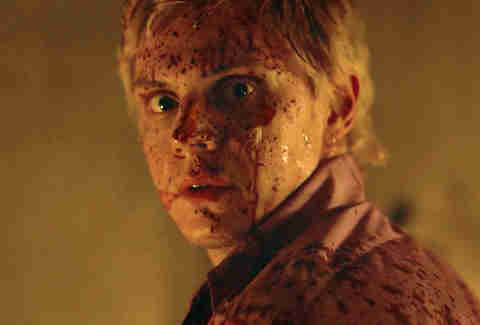 Will Season 9 be the last season of American Horror Story?
No! Back in August, FX renewed the show for a Season 10, so no matter what happens this coming year, American Horror Story will return in 2020.
 
Who's returning from the previous seasons, and who will join the cast?
Murphy announced in February 2019 that four-season cast member Emma Roberts and Olympic silver medalist Gus Kenworthy are set to star in the new season. Little is known about their characters, other than they're playing boyfriend and girlfriend. Kenworthy is an interesting cast, since he's known for his skills on the slopes as a freestyle skier, making this one of his first, major dramatic roles. 
Regarding other cast members, it can be assumed that Murphy's muse and most reoccurring leading lady Sarah Paulson will be back. In speaking to The Hollywood Reporter in 2018, she said, "I want to be doing this show until I'm 95. They're going to have to drag me out of there kicking and screaming. That being said, I have no idea what Ryan's plans are for me. It's tantamount to me walking in and saying, 'Do you want me to go left or right?' and then whatever he says, I will just go there. (Laughs.) So I don't know what his plans are for me as it pertains to Horror Story, but there will be crawl marks on the walls from them trying to drag me out if they ever ask me to go."
Season 9 will see the first-ever departure of regular Evan Peters, though. A video surfaced online in Spring 2019 of him revealing in a red carpet interview that he's "going to sit a season out." In the past, the actor has been vocal about the emotional toll the show has taken on him. In speaking to GQ he said, "It's been all a massive stretch for me and really difficult to do… It's hurting my soul and Evan as a person. There's this massive amount of rage that's been called upon from me, and the emotional stuff that's been called on me for Pose [the other show he does with Murphy] has been heartbreaking, and I'm sick. I don't feel good."
As for other returning actors, we'd bet on Leslie Grossman, Billy Eichner, Adina Porter, and Billie Lourd returning in some fashion; all of them appeared in both Cult and Apocalypse, and appear to be Murphy's new set of favorites. Kathy Bates and Lily Rabe also pop in every other season or so, so they're likely to make appearances, too.
Sadly, despite a quick guest appearance last year, we're pretty sure Jessica Lange is done.  
What will the plot be about?
In April 2019, Murphy shared that the title and theme for Season 9 is AHS: 1984. The announcement was made with a teaser trailer he posted to social media featuring a woman dressed in a very '80s ensemble frantically running in the woods from a creepy man wielding a knife. Based on the short clip and the series' title, it's likely the forthcoming installment will focus at least in part on the slasher horror genre that ruled much of the period and 1984 specifically with the release of films like Friday the 13th and A Nightmare on Elm Street. 
Of course, each season of AHS has several subplots, which we can only speculate about at this point. But despite the lack of concrete details, fans have wasted no time theorizing about where things might be headed. Murphy is known for hiding clues about the next season in the one currently airing, and as many eagled-eyed viewers noticed, Apocalypse had a lot of references to space travel and aliens. The Carpenters' "Calling Occupants of Interplanetary Craft" was heavily featured in the season, as were multiple references to Russia. These clues could point to a take on the Space Race, which seems possible if the season is set in the '80s. 
While many fans were hoping for a continuation of Apocalypse with Season 9, that doesn't appear to be happening. Don't fret, though, because we do know that popular Coven characters will be back eventually, just not this time around. 
Something else of note is the years-long theory that every season of American Horror Story represents a circle of Hell from Dante Alighieri's Inferno. This theory was backed up by Murphy, who posted the theory on Instagram and captioned it: "Interesting."
The two remaining circles at the time of the post were "lust" and "violence." Apocalypse has since aired, and -- being that it was about the destruction of the world at the hands of the Antichrist -- we're guessing "lust" is the leftover. That could set us up for a sexier Season 9. But at this point, only time will tell, so check back often for updates as they become available.