How 'American Horror Story' Pulled Off Its Craziest Scenes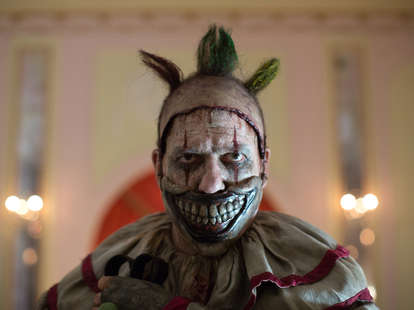 FX
FX
To scare us silly week to week, FX's American Horror Story employs practical, prosthetic makeup and digital effects that are sometimes subtle, oftentimes bloody, and always shocking. We don't just see characters die on AHS, each and every gory demise lingers in our memories.
While the sixth season, Roanoke, is just getting cooking -- though who'll forget that Cricket moment? -- the effects teams on the show have already created a collection of memorable effects and characters that stand out in television history. Here are the secrets to how those moments came together, with added insights from visual-effects supervisor Jason Piccioni of FuseFX, the VFX studio that has contributed to every season.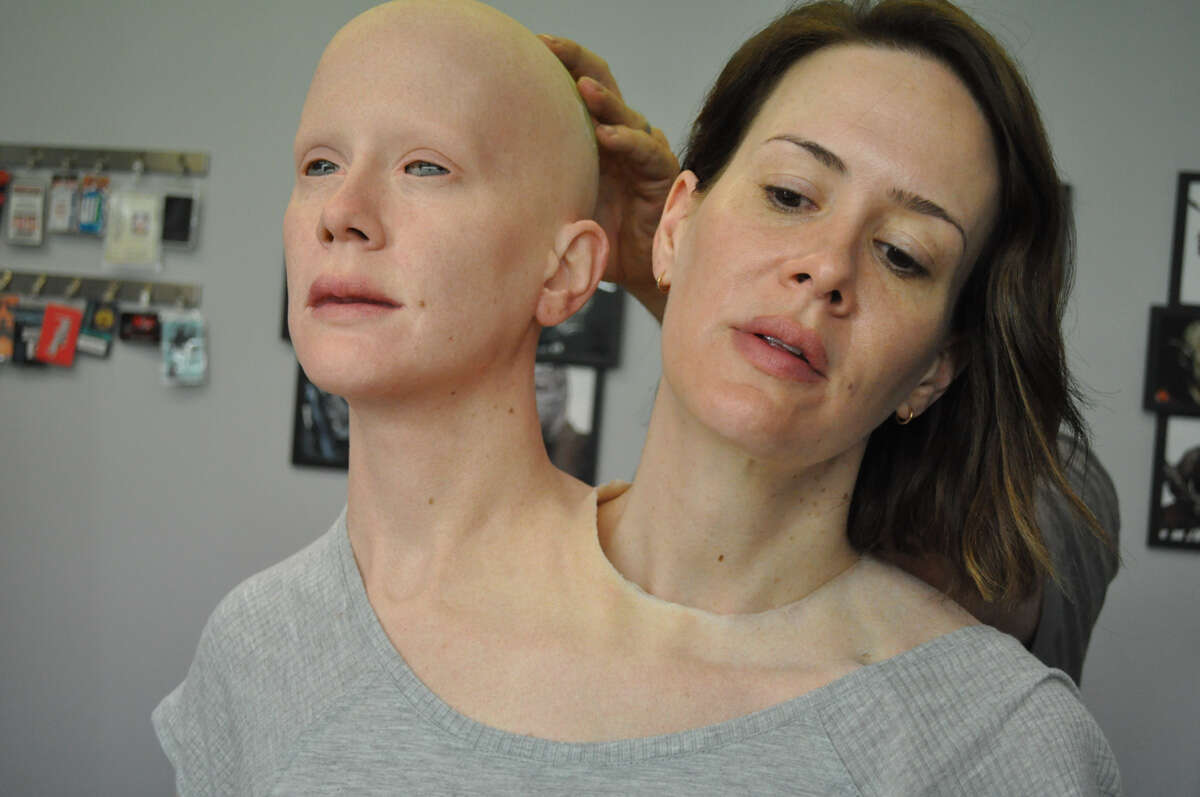 Seeing double
Murphy cast AHS regular Sarah Paulson as conjoined twins Bette and Dot Tattler in Freak Show (Season 4). Unfortunately, the actress doesn't have a second head stashed behind her hair. So a combination of practical effects and digital split-screens were used to sell the twins, Piccioni tells Thrillist.
Fractured FX built a prosthetic head that Paulson wore for wider shots, like sitting at the end of a table or walking in line with the other characters. To capture all of the dialogue and close-up work, Paulson would shoot each scene twice -- once for each character.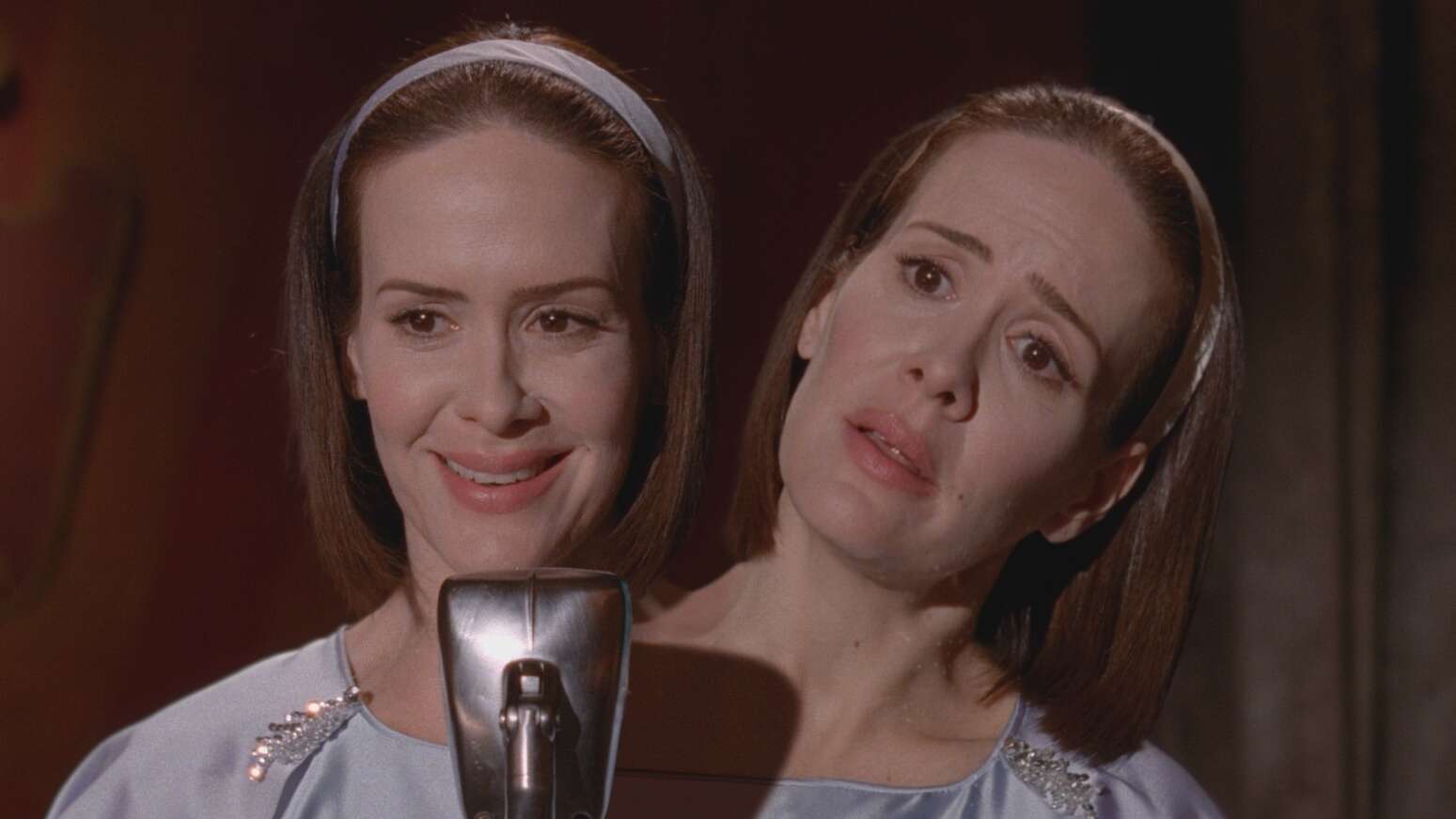 After editorial chose the best takes for performance, the "split-screened" heads would be lined up. FuseFX then created connective material between the heads as a malleable mix of skin, collarbone, and neck tendons. "If Bette turned her head," says Piccioni, "it would stretch the muscles on Dot's side of the body. Also, she only had a single set of lungs, so both sides had to breathe in sync with each other. We did a lot of research on, medically, how all that would work."
The visual-effects work extended to Bette and Dot's clothes, too. FuseFX artists manipulated the costume to react to either side's movements, and they also repositioned the shoulders and waist so that the twins' proportions were correct. "It was incredibly involved," adds Piccioni, who also says gags like this were completed at breakneck speed on an abridged television schedule.
"Generally we had one week to complete an episode. And the way it worked was -- we would get the cut Friday night, the crew would ingest the episode and get it ready for the digital artists by Saturday morning. By Monday we'd have the Tattler Twins' shots roughed together for Ryan to see, by mid-week we had the episode in shape enough for Ryan to make creative notes, and by Friday or Saturday we locked. And it aired the following Wednesday."
An effect so gruesome you didn't even see it (much)
Screening on FX, American Horror Story is certainly able to get away with a fair amount of sex, nudity, violence, and gore. But only up to a point. Piccioni recalls one shot in Asylum that just barely made it through.
"In the shot, Dylan McDermott was slicing open Jenna Dewan's chest as she lay on her back on his table, awake and screaming. I think it's in the show, but just briefly. The full take had him cut her chest open all the way down to her waist. [Co-creator] Ryan Murphy thought it was too much."
That friendly clown-face smile
Freak Show's disgraced clown Twisty (John Carroll Lynch) was anything but appealing to children, and his mask, concealing his disfigured face and jaw, led to one of the more shocking bits of horror design.
"Twisty was entirely makeup effects until the mask came off, then it was entirely digital effects," notes Piccioni. "We shot John Carroll Lynch in full makeup, and when he took off the mask we replaced everything in CG from below his nose all the way down to the costume, including his throat and neck."
"John delivered his lines," adds Piccioni, "so we were able to keep the tone of his performance in regards to his jawline and tempo of how he wanted to do the dialogue. We sort of guessed at what the tongue might do and added a ton of saliva and drool. We had a lot of fun with it."
A practical approach to producing Pepper
Murphy couldn't stay away from Naomi Grossman's microcephalic Pepper, who is the only character to directly cross over between multiple American Horror Story seasons. The character's distinctive "pinhead" appearance was achieved via a shaved head and extra facial prosthetics, which covered Grossman's nose and forehead. Additional makeup effects included fake teeth and a contact lens.
Pepper's prominent eyebrows are actually hand-punched one hair at a time. Rounding out the very practical side of the character are body pads worn by Grossman underneath her costume and extra hand gloves The result is a body that looks significantly smaller than normal (i.e. the desired effect).
Two-face Mordrake
Two faces are better than one… sometimes. Nineteenth century-era ghost Edward Mordrake (Wes Bentley) uses his dual existence in nefarious ways, but not without the help of AHS effect teams. For filming, Fractured FX devised a practical prosthetic head-piece that was affixed to the back of Bentley's head. Because it couldn't move in any way, FuseFX would replace the prosthetic with a digital version that could be animated. "Sometimes we would replace the whole thing, and sometimes just the eyes and mouth," says Piccioni. "Most of those shots were pretty quick."
Sign up here for our daily Thrillist email, and get your fix of the best in food/drink/fun.
Ian Failes writes about visual effects and animation, which often includes blood, gore, and clowns. Follow him @vfxblog.