What Happened to Every Band on the 'American Pie' Soundtrack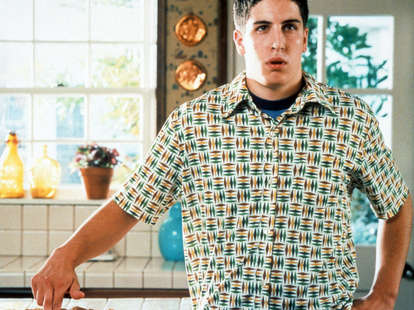 Universal/Moviepix/Getty Images
Unlike the award-winning, chart-topping soundtracks for Saturday Night Fever, The Bodyguard, or O Brother, Where Art Thou, the American Pie soundtrack wasn't a widespread cultural phenomenon. But for the mall-frequenting teenagers of 1999, the album stands as an essential text of post-grunge horndoggery, the tainted plastic beer cup of pre-millennium rock-radio trends.
But what happened to all of the bands on the soundtrack? A handful still make headlines today -- keep fighting the good fight, Third Eye Blind's Stephan Jenkins -- but many have seemingly disappeared like your favorite Warped Tour T-shirt. So, in honor of Stifler, Oz, the Shermanator, Finch, Michelle, Vicky, Heather, Jim, Jim's Dad, the pie Jim desecrated, and the movie that made "band camp" synonymous with flute masturbation, we looked into where every band from the soundtrack is today.
Third Eye Blind
Song: "New Girl"
Then: Fresh off the success of their 1997 self-titled debut, the San Francisco rock band was at their post-"Jumper" peak and readying their sophomore LP, Blue. Their most popular single, "Semi-Charmed Life," was featured in American Pie, but the catchy earworm isn't on the soundtrack, which instead features "New Girl," a song that has nothing to do with Zooey Deschanel.
Now: Despite multiple lineup changes, gaps between albums, and the overall decline of the grunge-pop they specialize in, Third Eye Blind endures. The group went viral last month thanks to singer Stephan Jenkins gleefully trolling crowds at the Republican National Convention and capitalized on that buzz by releasing the politically charged track "Cop vs. Phone Girl," which will be featured on the group's upcoming We Are Drugs EP.
Tonic
Song: "You Wanted More"
Then: The 1997 single "If You Could Only See" secured the band a permanent spot on any "Hey, remember the '90s?" playlist and a brief secondary career as contributors to late-'90s movie and TV soundtracks, including Scream 2,The X-Files, King of the Hill, and the forgotten Joaquin Phoenix and Vince Vaughn crime comedy Clay Pigeons.
Now: After a brief hiatus beginning in 2004, the band got back to business in 2008, and this year they announced a PledgeMusic drive to fund a special acoustic 20th-anniversary version of The Lemon Tree. Donate now!
Blink-182
Song: "Mutt"
Then: In the summer of 1999, Blink-182 was inescapable: tracks like "All the Small Things" and "What's My Age Again?" dominated rock radio, shouting matches about whether the band "sold out" played out at suburban BBQ' across the nation, Enema of the State quickly went platinum, and the pop-punk icons even scored a cameo in American Pie as the band watching Jim and Nadia during their embarrassing webcast, which was an important plot point in the movie because Snapchat didn't exist yet.
Now: Despite the departure of UFO-chasing guitarist and singer Tom DeLonge, Blink-182 released their seventh studio album, California, this summer to generally positive reviews and strong (for 2016!) sales that helped it debut at No. 1 on the Billboard album charts. Like the American Pie series itself, the group will live forever.
Sugar Ray
Song: "Glory"
Then: Still soaring from 1997's mega-hit "Fly," the funk-metal-gone-pop group released 14:59, which proved they weren't one-hit wonders by scoring two mega-successful singles: the ubiquitous "Every Morning" and the MTV beach-party staple "Someday."
Now: First, the band's frosted-tip frontman Mark McGrath is not dead -- no matter what the internet wants you to believe. Despite a lawsuit from former members of the group that makes a new record increasingly unlikely, you can still catch Sugar Ray as part of '90s Fest this September, alongside Bone Thugs-n-Harmony, Sister Hazel, and host Pauly Shore.
Super TransAtlantic
Song: "Super Down"
Then: This alt-rock group included multiple members of Florida metal outfit Saigon Kick and Pat Badger of Extreme, making Super TransAtlantic a super-group of bands you probably forgot existed. They only released one album, Shuttercock, in 2000, but that doesn't stop people from leaving comments on their YouTube videos like, "I'm 16 now and I wish I were dead...or now in 1995."
Now: The band broke up a while back, but you can still go see Saigon Kick and Extreme play shows, so go to those and demand a Super TransAtlantic reunion.
Dishwalla
Song: "Find Your Way Back Home"
Then: This California group scored an alternative nation mega-hit with "Counting Blue Cars," which was featured in Empire Records and is probably still playing on some deep-cut VH1 channel. By 1999, they had already released a sophomore record, And You Think You Know What Life's About, which helped solidify their one-hit-wonder status by failing to produce another big single.
Now: While original lead singer J.R. Richards left the band in 2008, the group has soldiered on with new lead singer Justin Fox, and their Facebook page promises new material is coming soon.
Dan Wilson of Semisonic and Bic Runga
Song: "Good Morning Baby"
Then: Bic Runga has two songs (!) on the soundtrack, so let's just cover Wilson here. In 1999, he was still blowing your mind with the Grammy-nominated '90s leaving-the-bar anthem "Closing Time" from Feeling Strangely Fine.
Now: Though Semisonic hasn't released an album since 2001's All About Chemistry, Wilson has become a major force in modern pop music, co-writing Adele's "Someone Like You," along with writing and producing tracks for Taylor Swift, the Dixie Chicks, John Legend, and more.
Shades Apart
Song: "Stranger by the Day"
Then: Like many of the acts on the Pie soundtrack, this New Jersey band was signed to Universal, the same studio releasing the movie, and in 1999 they scored a minor rock radio hit with "Valentine," a bland grunge-y guitar anthem with lines like, "The sun is rising somewhere/ Brighter every day/ We'll forget everything and go there/ Nothing's in the way." Poetry, I know.
Now: The group hasn't released a full-length since their last Universal record, Sonic Boom, in 2011, and they don't appear to have an active Facebook page, but according to this flyer from 2013, they do play the occasional local show.
Bachelor Number One
Song: "Summertime"
Then: Songwriter Scot Sax was a member of the Philly power-pop group Wanderlust, who broke up in 1998, and then he wrote this laid-back, "Steal My Sunshine" lite jam with a band that has almost no digital footprint online.
Now: According to the bio on his website, Sax has written songs for artists like Jason Mraz, Faith Hill, Tim McGraw, and Jennifer Love-Hewitt.
Goldfinger
Song: "Vintage Queen"
Then: A favorite of anyone who spent long afternoons playing Tony Hawk's Pro Skater, this LA punk band was a force in the '90s ska revival, which made them a logical choice for a movie where a character says, "I stuck a flute in my pussy."
Now: Like many of the bands on this list, Goldfinger still plays the occasional show, but according to a 2015 Fuse interview with lead singer John Feldmann, who produced the new Blink-182 record, you shouldn't expect a new album from the band anytime soon.
Bic Runga
Song: "Sway"
Then: In 1997, New Zealand singer-songwriter Bic Runga released Drive, a huge multi-platinum hit in her homeland that never quite caught on in quite the same way in the US, but her ballads were perfect for scoring the emotional moments in a story about a guy who violates a pastry.
Now: With the success of New Zealand artist Lorde, you'd think now would be the perfect time for a Bic Runga comeback. She plays shows and released a mystery-soaked new track called "I Dreamed a Dream" last year, but we're still waiting for a new album. Bring on the Runga revival!
The Loose Nuts
Song: "Wishen"
Then: The Loose Nuts were a New York ska band, so, as noted before, they needed to be in the flute pussy movie.
Now: While the Loose Nuts are no longer together, you might recognize one member: comedian John Gemberling, who now plays fan favorite Bevers on Broad City. Just don't expect a reunion show anytime soon. "I feel like it's pretty dorky for actors to be in bands," said Gemberling in a recent interview. "Like Sting can be an actor, and it makes sense – but for an actor to be in a band… like for Russell Crowe to have a band, it's pretty weird."
The Atomic Fireballs
Song: "Man with the Hex"
Then: This wouldn't be a truly beautiful late '90s artifact without a song from the swing revival, and horn-filled "Man with the Hex" more than serves its purpose. The Atomic Fireballs were technically a "jump blues" group, but, like, this is the end of the list -- let's not split hairs about the swing revival, OK?
Now: The group never produced a follow-up to 1999's Torch This Place -- apparently the title was not just a clever name -- but you can check out the current work of the group's singer John Bunkley over at his Bandcamp page. Like Stifler and the gang, he's still doing his thing over 17 years later.
Sign up here for our daily Thrillist email, and get your fix of the best in food/drink/fun.
Dan Jackson is a staff writer at Thrillist Entertainment, and eagerly awaits the next swing revival. He's on Twitter: @danielvjackson.