Everyone has heard the old joke about reading Playboy for the articles. As far as Amazon's latest original series, American Playboy: The Hugh Hefner Story, is concerned, doing just that is what helped phase out America's culture of toxic repression. What's more, the series chronicles Playboy's ascent in the latter half of the 20th century without a lick of the irony you'd usually find in discussion of the topic.
Did Hef and Playboy push boundaries and stir controversy to the benefit of all Americans? Sure, just as Larry Flynt and other provocateurs chipped in to help secure and expand First Amendment rights. Unfortunately, the new series is far too riddled with odd choices to allow viewers to digest the story properly.
These are a few of the strangest takeaways from American Playboy: The Hugh Hefner Story, to give you a better idea of what you're in for if you decide to watch the show. For the writing, of course. 
Recommended Video
Ghost Kitchen: Restaurant Gets Help From Community During Coronavirus Pandemic
Hef spends most of his time staring into space
Hefner spends time in a wide array of settings, most often chatting with co-workers or mingling with one of his many paramours. But far more frequently than you'd expect -- we're talking at least three or four times per episode -- these scenes situate Hef alone in an empty room staring off into nowhere for an uncomfortably long chunk of time. This device is used to represent the mogul in all his natural states: happy, sad, pensive, excited, biding his time -- you name it.
The show is 90% voice-over
American Playboy is an unusual mix of documentary and biopic (kind of like the movie American Splendor, save for any discernible creative rationale). It devotes some time to archival footage and talking heads -- a combination of new and old interviews -- with Hugh Hefner, his family, former colleagues, plus some more surprising figures, like Brett Ratner and Jesse Jackson.
The rest of the series is made up of dramatized reenactments of Hef's story, starring Matt Whelan as the entrepreneur. The weird thing about the latter piece of the equation is that it's delivered almost entirely beneath Whelan's voice-over, with actors exchanging dialogue only occasionally, and otherwise wading silently through scenes.
Every episode opens with the same line of dialogue
At the beginning of each installment, a disembodied Hef proclaims some variation of, "The year was __________," before going on to name events of note that we may have forgotten about. Like the civil rights era.
The ethics of Playboy printing Marilyn Monroe's nude photos without her permission are never discussed
A bit of dumb luck and good business sense landed a young Hugh Hefner in the possession of nude photographs of Marilyn Monroe, taken years earlier and owned by a Chicago-based calendar company. Hef buys the pictures for a bargain and proceeds to print them on the cover of the inaugural issue of Playboy. Never once in the series, by any of the scripted characters nor the interviewed subjects, are the gray-at-best ethical grounds of this decision discussed.
The series claims Hefner didn't drink
… even though we see him drink numerous times before and after the claim. It also insists he didn't know how to swim. Jury's out on that one.
The following is a real line from American Playboy:
"You have to remember: This was before the internet."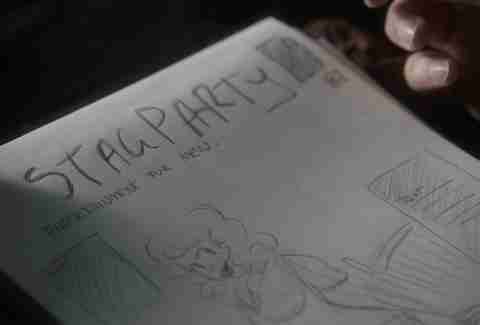 Playboy replaced one stolen name with another stolen name
The magazine's original name, Stag Party, was ousted in favor of Playboy because the preexisting Stag magazine sued Hefner & Co. when they caught wind of the new publication. Forced to come up with an original name on a tight deadline, the team instead just lifted the name Playboy from a car company that one of them had heard of. No issue there, half a century later.
Hefner wanted to make Playboy a 3D magazine
One of the more interesting tidbits dropped by the series: Back when the magazine was still called Stag Party, Hefner hoped to take a page from the book of the then-booming 3D-movie craze and make his publication compatible with 3D glasses. Unsurprisingly, production and distribution of a 3D magazine and accompanying specs proved too costly for the budding team.
Episode 2 opens with a six-minute recap of Episode 1
Even if this were a week-to-week broadcast, six minutes would be pretty excessive.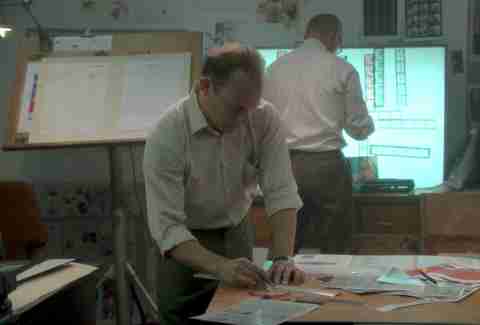 The iconic logo took less time to create than the minutes spent recapping Episode 1
Unsurprisingly, an especially dramatic sequence is devoted to the creation of the Playboy Bunny logo. Hef gives his art director the task of coming up with a symbol worthy of their genre-defining magazine. What ensues is a montage of shots of the artist hunched over a number of different desks from an even greater number of angles, hard at work on the assignment. The sequence concludes with a surprising bit of narration from Hefner: "Four minutes later, he had sketched the perfect symbol."
Playboy's original art director was named Art
A true fact, but still.
The show features some comically vague office jargon…
In cutting into and out of office scenes, we occasionally catch stray lines of workplace dialogue, such as…
"There's a market for this."
"Let's set it up. Or try to."
"Arrange a meeting with everybody just to, uh…"
… and slightly more specific, though no less baffling, professional interactions
Character 1: "Are you talking about making the entire magazine twice as big? That'll make everything cost twice as much!"
Character 2: "What's wrong with that?"
Hugh Hefner awes his employees by folding paper
Even after the notion of a "centerfold" is dreamed up spontaneously by one of Playboy's staff members, the rest of the team doesn't seem to get it. Luckily, Hef is on hand with a visual aid. He takes a large piece of paper and folds it before the troupe, wowing their mouths agape.
Hef's speech about getting girls is backed by dramatic string music
As any great boss must do from time to time, Hefner is called upon at one point early on in the series to fire up his subsidiaries with a rousing speech about the value and grandeur of their work. As Hef carries on about Playboy's calling to teach lonely men how to woo women by way of fancy wines and expensive suits, a vividly unironic string crescendo builds behind him. It certainly heightens the effect, but perhaps not the one American Playboy was going for.
This is another real line from American Playboy:
"For years, Hollywood had been synonymous with the film industry."
Playboy was apparently pivotal in launching a lot of famous people's careers
Another genuinely interesting takeaway from the series is how many entertainers got their starts at one of Playboy's affiliated nightclubs, or by virtue of some other form of launchpad from Hefner. Included are the likes of Aretha Franklin, Ray Charles, Woody Allen, Steve Martin, the comedy troupe Monty Python, and the band ABBA.
A sinister-sounding instrumental accompanies discussion of Malcolm X
It is highly uncomfortable.
The only non-white recurring character has zero lines of dialogue
Hefner's professional inner circle is made up of a few regular players, including executive schmoozer Victor Lownes (played in the show by Emmett Skilton), writer A.C. Spectorsky (Adam Jonas Segaller), and art director Art Paul (Ian Bell), all of whom get their share of material. The only key member of the Playboy team who doesn't get a single line: photographer Vince Tajiri (Akira Bradley), an Asian-American who is the only person of color to appear consistently throughout the series.
This is another real line from American Playboy:
"I never tried hard drugs. I didn't believe them." (Not "I didn't believe IN them." Just "I didn't believe them.")
Hef develops and overcomes a drug problem very quickly
Hefner's budding addiction to uppers is introduced in Episode 6, and painted as quite a treacherous problem for the mogul and those around him… until it's resolved completely all of three minutes later and never so much as hinted at again.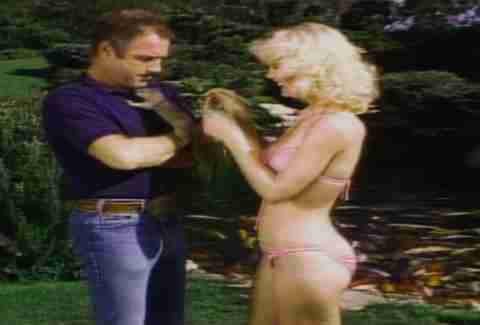 In one piece of archival footage, James Caan is attacked by a squirrel
Without the benefit of context or audio, all we can do is wonder what the hell is happening in a video that features Dorothy Stratten -- a Playboy Playmate who factors heavily into the narrative of the penultimate episode of the series -- approaching actor James Caan with a live squirrel, which she lets loose to scramble all over his torso.
A scene about the AIDS crisis is accompanied by "Take It Easy on Me"
In case you're not familiar with the Little River Band's song, it opens with the lyrics, "It used to be so easy to be your lover." 
This is another real line from American Playboy:
"I had sent my team out looking for the perfect girl, and I realized she had been in front of me all along."
There's a scene in which a man acts out an alleged sexual conquest on a co-worker while Hugh Hefner watches through a window, smiling
That may be the only thing you really need to know about American Playboy.
Sign up here for our daily Thrillist email, and get your fix of the best in food/drink/fun.