The 'American Vandal' Crew Breaks Down That Ending and Teases Season 2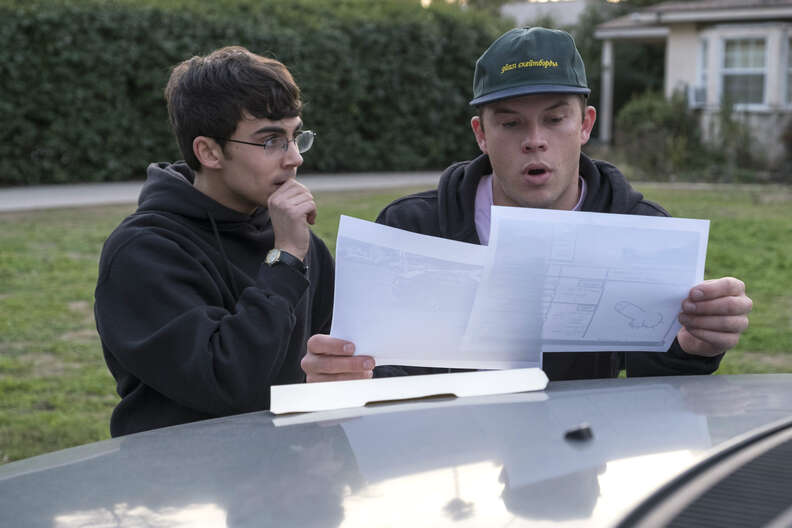 Netflix
Netflix
Spoilers for Season 1 of American Vandal follow.
"We knew this wouldn't work if it were just a four-hour dick joke," Dan Perrault, one of the brains behind American Vandal, tells Thrillist. His hit Netflix series follows two teen documentarians as they investigate a notorious prankster accused of drawing penises on teachers' cars. But Perrault and co-creator Tony Yacenda took the work very seriously. "We wanted to tell a series of relatable, fun high school stories within the frame of a true-crime mockumentary."
Their plan worked. Vandal's phallic material fades into the background after the first couple episodes, allowing the series to satirize high school and today's criminal justice system in a meaningful way. To pull it off, Perrault and co-creator Tony Yacenda studied the techniques that made them so invested in such true-crime titans as Serial, Making a Murderer, and The Jinx. "So often in mockumentaries you'll see cameras conveniently placed wherever the action is," Perrault says as an example. "But in real documentaries, getting access to a certain person or an event can be really difficult, and it's fun to go on that ride with the documentarian."
What looks like one long Funny or Die video is ultimately as much homage as it is parody. Like its sources of inspiration, American Vandal closes with a moral and the type of ambiguity that could send dedicated bingers up a wall.
In the final episodes, Peter Maldonado, the kid behind the camera, is 90% certain he knows who spray-painted the dicks, but he obtains neither incontrovertible evidence nor a confession. As a result, the culprit is never technically revealed. "I really like that we didn't give you 110%, This is who did it," says Tyler Alvarez, the actor who plays Peter. "Peter is no better than the school board if he accuses someone based on circumstantial evidence."
That's really what's going on here. American Vandal is a (funnier) depiction of how people in power can manipulate things, often for the worse. Season 1 begins and ends with the same questions: "Consider for a moment the type of person who would spray paint dicks on cars in the staff parking lot? What do they look like? Who do they hang out with? Where do they sit in the cafeteria? What kind of grades do they get?" Vandal wants you to look underneath the surface, to avoid stereotyping, because its own characters can't help it.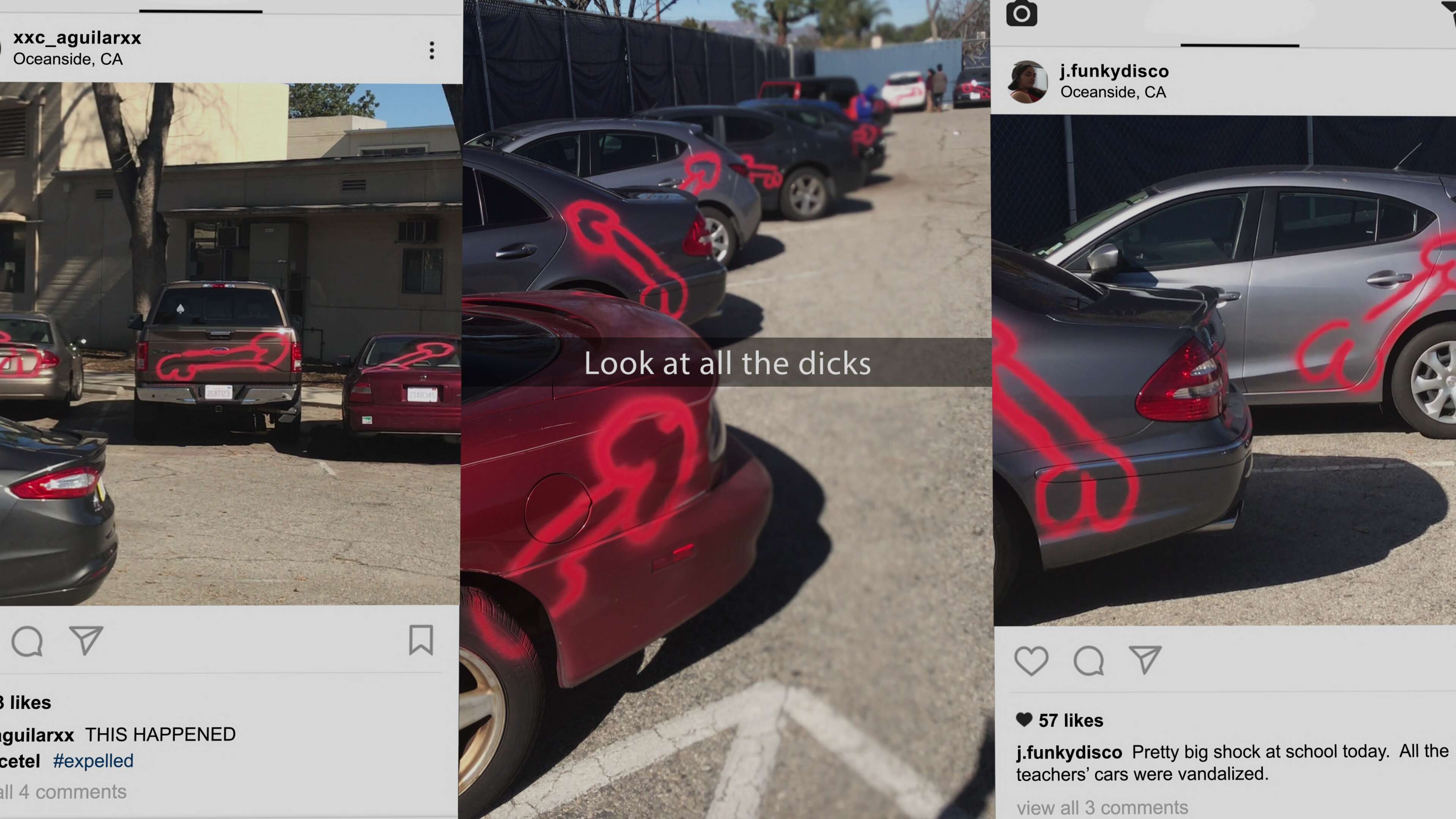 That's one reason why Dylan Maxwell (Jimmy Tatro), the student initially accused of the vandalism, buckles under the image that's been heaved onto his shoulders. After being exonerated, he hits an unexpected low point and tags a penis on his least favorite teacher's driveway.
"You watch him go from the highest point he's been in the whole show to then realizing how people actually view him," Tatro explains. "[Dylan] thought that proving his innocence would change the overall perception of him, but once he realizes that it's still kind of the same, I think that really hits him hard -- like it would for a high school kid who's been accused of something they didn't do." There's nothing Dylan can do to change his image, so he falls into it.
It's a curveball that hits you in the gut, and with the original vandal left free, it might even irk you. All of Alvarez's friends and family pestered him to see who really hit the cars. Same with Tatro's. Though you can probably connect the dots, identifying the culprit isn't what's important. "We really wanted to make sure that this was Dylan's story," Perrault says. "If you had a finale that was entirely about a new person it would detract from Dylan's story, which is really what we sought out to tell."
"Hopefully, people feel sated," Yacenda adds, "Of course, there's that part of you that's still thinking about it the way I'm still thinking about Steven Avery and Adnan Syed."
So what happens next?
Dylan's fate may be similar to his brother's, guesses Tatro. "I think that's one of the things that maybe people weren't happy about," he adds. "The show didn't have the most happy ending, but I also think that that's what was realistic about it." When Tatro first read the scripts, given the outcome, he thought Vandal was going to be a one-off deal. It's a lot like Ozark and 13 Reasons Why in that regard: a popular, multiple-season show wearing mini-series camouflage.
Though nothing official has been announced, the creators already have their Season 2 idea. Fortunately for them, the trendy true-crime genre doesn't appear to be going anywhere -- the last year alone has seen the release of The Keepers, S-Town, and American Crime Story, among others. The duo can't share specifics, but the follow-up would bring back a few familiar faces: namely, Peter and his right-hand man, Sam (Griffin Gluck). They wouldn't continue investigating the dick drawings; rather, they'd be making another movie about another crime.
"Just as Sarah Koenig did Serial Season 2," Yacenda teases, "Peter's our eyes and ears into a new world."
Sign up here for our daily Thrillist email and subscribe here for our YouTube channel to get your fix of the best in food/drink/fun.
Sean Fitz-Gerald is a staff writer at Thrillist Entertainment. Find him on Twitter: @srkfitzgerald.