Everything We Know About 'American Vandal' Season 2
Netflix
Netflix
The following post contains spoilers from American Vandal Season 1.
Right from the get-go, American Vandal generated lots of interest. Early teasers made the Netflix-Funny or Die collaboration, about two teens investigating a phallic graffiti prank gone wrong, look like the most ambitious dick joke ever. Really? you might have wondered. A true-crime parody about dicks? How is that gonna sustain everyone's interest for EIGHT (8!) whole episodes?
Viewers took the bait, and people seemed to stick around, as the show quickly became the streaming service's "most devoured" of the year. Its secret to success, of course, was the fact that creators Dan Perrault and Tony Yacenda made it more than just a four-hour dick joke. In fact, American Vandal often came closer to homage than parody: "We wanted to tell a series of relatable, fun high school stories within the frame of a true-crime mockumentary," Perrault told Thrillist last year, noting that he and his team cribbed storytelling tactics from such big genre titles as Serial, The Jinx, and Making a Murderer.
The result was a runaway hit. Fans saw that after the first couple episodes, the show began satirizing high school and today's criminal justice system in a meaningful way. Those fans will be unsurprised to know there's more on the way -- more, as in more dicks? We're not sure about that. But read on for everything we do know about American Vandal Season 2, a dossier we'll keep updated as more info comes out.
When is American Vandal Season 2 coming out?
Though American Vandal was close to not happening at all -- Ted Sarandos, Netflix's chief content officer, kept telling his development team "he didn't think it made sense" -- the first season's word-of-mouth success quickly earned it a second. The series was renewed last October, roughly a month after its debut, with Varietyreporting eight additional episodes. The plan? Another mockumentary with showrunner Dan Lagana on board. And, as of August 2018, we know when it's coming: September 14, almost exactly a year after season one debuted.
What's American Vandal Season 2 going to be about?
Move over dicks! It's time for poop! The trailer for season two reveals that our two intrepid investigators Peter Maldonado (Tyler Alvarez) and Sam Ecklund (Griffin Gluck) leaving the world of Hanover High to work their magic on another school: St. Bernadine, where a mysterious prankster has been terrorizing students by making them shit their pants. The instigating incident involved contaminated lemonade on chicken finger day -- the holiest of days if you've ever eaten in any cafeteria. But then the perpetrator -- alias "The Turd Burglar" -- took his threats to Instagram. Could the motive just be "poop is funny?" That remains to be seen.
Will Peter and Sam come back for American Vandal Season 2?
When American Vandal returns, you'll see two familiar Season 1 stars back behind the(ir) cameras: First, you'll recognize budding filmmaker Peter Maldonado (Tyler Alvarez), likely helming this new private school documentary. ("Just as Sarah Koenig did Serial Season 2," teased Yacenda last year, "Peter's our eyes and ears into a new world.") And second, just as in Season 1, Peter will again depend on the help of his right-hand man, Sam (Griffin Gluck), to get the shots and cobble the narrative together.
What about Dylan Maxwell?
Dylan, the central subject (played by former YouTube king Jimmy Tatro) of Season 1's investigation, might have disappointed some fans as he leaned into the bad-boy image that was created for him. Don't expect a big comeback story. While it's possible we could see more of him, it doesn't seem likely -- at least not in a big way. As the creators have mentioned, Season 1 was Dylan's story. Season 2 should be someone else's.
"We really wanted to make sure that this was Dylan's story," Perrault told us. "Hopefully, people feel sated," Yacenda added. "Of course, there's that part of you that's still thinking about it the way I'm still thinking about Steven Avery and Adnan Syed."
Though Season 2 takes place in the same universe as Season 1, the creators have said that the new entry's setting is "far away from Hanover High School," implying that it probably won't be in Dylan's orbit. "One of the questions we get most often is, 'Is Jimmy [Tatro] back? Is Dylan back?'" Lagana told Vulture recently. "We want each season to be its own crime."
So... if you're still wondering what's happened to Dylan, that's open to interpretation, but for what it's worth: "I think, unfortunately, it might be similar to what his brother's doing," Tatro told us last year. "I think that's one of the things that maybe some viewers weren't happy about -- the show didn't have the most happy ending, but I also think that that's what was realistic about it."
Who else is going to be in Season 2?
Well, considering the new setting... if you guessed "a lot of newbies," you'd be right. "We thought that even a cameo would just distract from the new case too much, so we wanted to really get ourselves deep into a new world without tying ourselves to callbacks that would distract from the main story," the creators explained to Vulture. On the acquisition front, you'll see Travis Tope (playing a fancy hipster who should be a junior at the Catholic school), Melvin Gregg (another junior and a top basketball player), and Adam Ray (Officer Crowder, the "resident police officer who has been at the school for over 15 years").
What shows influenced Season 2?
Fans of Serial probably recognized structural similarities in American Vandal. The same could be said of Making a Murderer's visual styles, which American Vandal cribbed liberally. Expect Season 2 to continue borrowing from other true-crime hits in the heavily populated true-crime universe. Though the creators had no dearth of sources from which to pull -- the past year alone has seen the release of Wormwood, The Keepers, S-Town, and American Crime Story, plus the return of The Staircase and many, many others -- they said they've gravitated toward Errol Morris, at least for the true-crime portions. In their interview with Vulture, the creators also noted that they had Freaks and Geeks, Election, and Lady Bird in mind for the high school portions.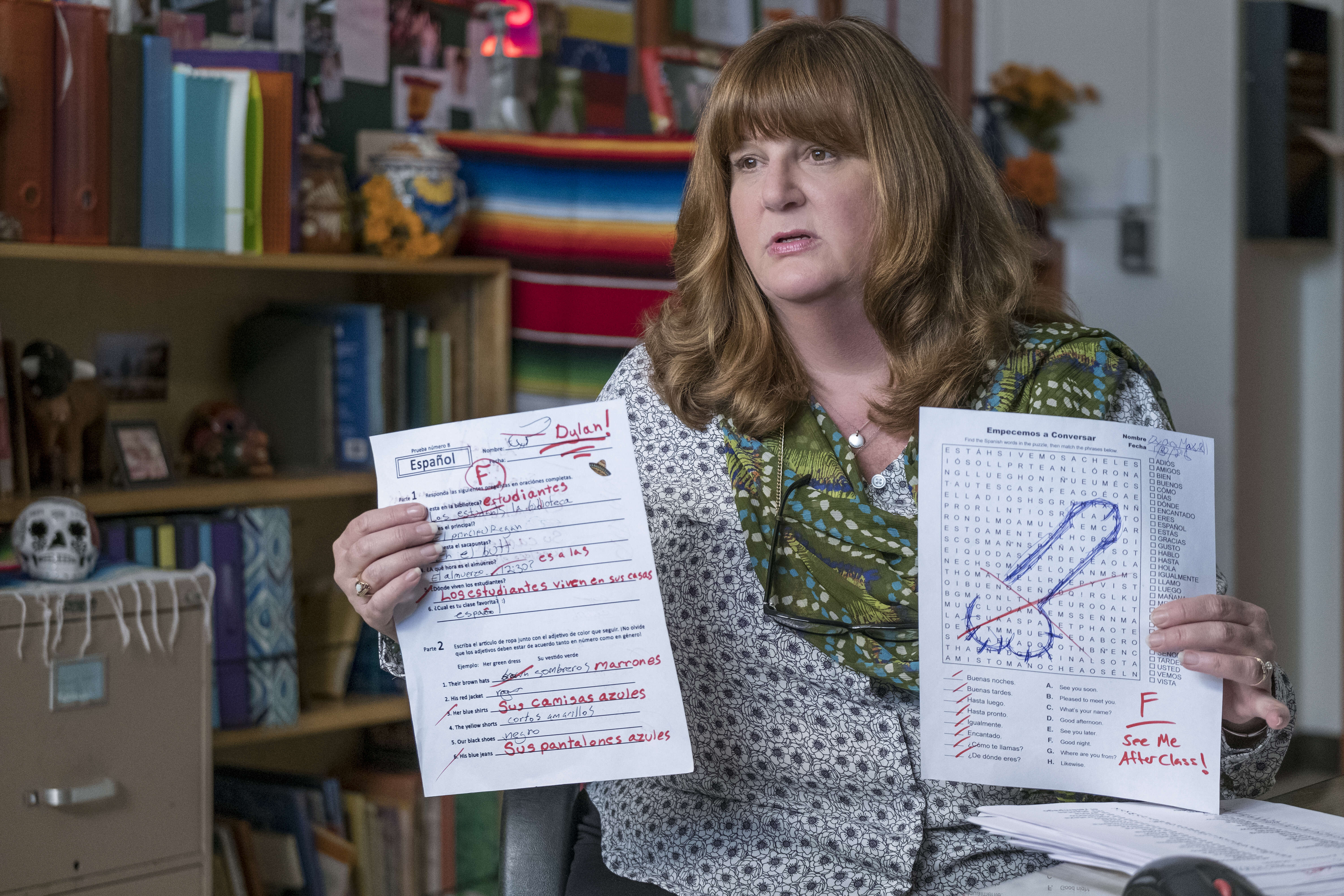 Season 2 will have a different structure and look
Much of the action in Season 1 unfolded in real time, with Peter and Sam having to adjust, on the fly, to developments in the "Who did the dicks?" case. Season 2, however, will abandon that linear structure, probably favoring something more like Wormwood, Morris' compelling documentary-fiction hybrid that used interviews and re-enactments to tell the true story of Frank Olson and his unfortunate involvement in the CIA's LSD experiments. The implication being: Peter and Sam might already know the answer to their mystery before they've begun stitching it together, making for a potentially more informed and experimental approach.
"It was kind of tough, because in the writers' room, everybody knows what the show is," Yacenda told Vulture. "But then you're like, 'We're throwing out the rules!'" The voice-overs also went out with the rules, according to the creators, who have said they're instead leaning on more talking heads to do the world building. In other words, the change in tactics hints the creators aren't just resting on their laurels.
Sign up here for our daily Thrillist email and subscribe here for our YouTube channel to get your fix of the best in food/drink/fun.

Sean Fitz-Gerald is a staff writer at Thrillist Entertainment. Find him on Twitter: @srkfitzgerald.