RIP, Brangelina: 9 Angelina Jolie & Brad Pitt Moments We'll Never Forget
Jason LaVeris/FilmMagic/Getty Images
Jason LaVeris/FilmMagic/Getty Images
Brad Pitt and Angelina Jolie are on the Mount Rushmore of Hollywood couples. Or... they were.
On Tuesday, TMZ reported that Jolie filed for divorce from Pitt, causing everything we know about love and hope and hope and love to crumble before our very eyes. Did Angelina hate World War Z so much that Brad signing on for the sequel tore them apart, or was it something more? Something only they could know about (and adapt into a feature film)?
The days of Hiddleswift and other power couples have come and gone, but we refuse to sit, confused, shocked, and unnerved by the falling of a pillar. Let's remember the good times with a look back at Brad and Angie's finest moments as a couple.
Dancing to "Mondo Bongo"
Our first Mr. & Mrs. Smith entry should come as no surprise, given that the scene where John and Jane toast to "dodging bullets" is one of the most romantic scenes ever to sneak its way into an action movie. In the sequence, the two clink glasses and make slow catlike advances toward one another on an outdoor dance floor while sexy music plays in the background. It's good. Almost too good. As one YouTube commenter from five months ago explains, "It's like watching how they fell in love." Insert kiss emoji.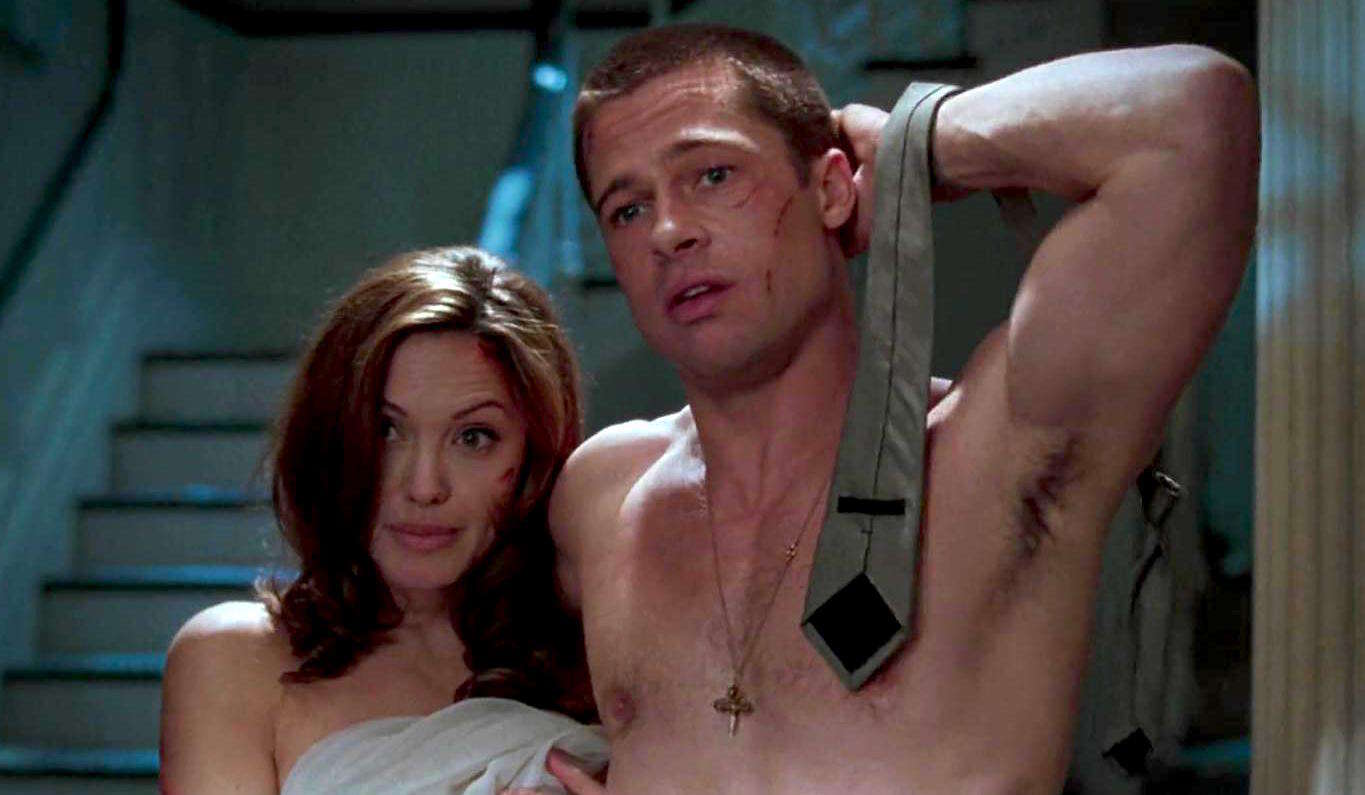 The fight/sex scene only they could pull off
The movie that brought Brad and Angelina together deserves a second mention. The scene in question -- the one with guns, explosions, ass-kicking, ironic flirting, and a feeling of "we just destroyed our designer kitchen, can we please stop now?" -- happens as the husband and wife assassins discover one another's true identities. They grapple and fight with "Express Yourself" playing on the soundtrack. John eggs on his wife with a "come to daddy" plea. Jane counters with a shot to the head, a head-butt, and a kick into a dinette set. Her perfectly pitched response of "Who's your daddy now?" is not only peak Jolie, but peak everything. It should have earned her an Oscar.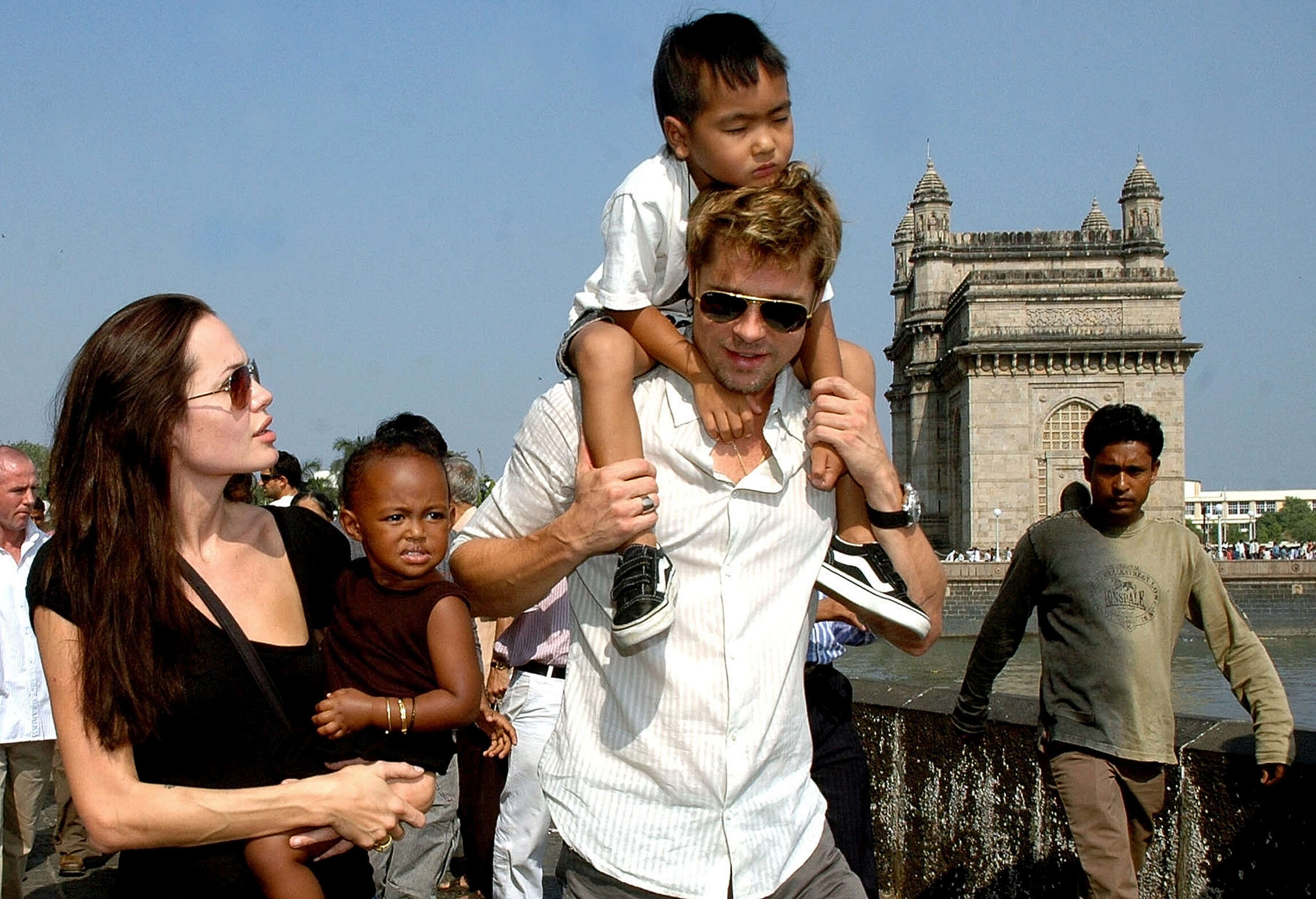 Even their vacations looked like photo shoots
In 2006, with their kids in tow, the couple took a trip to Mumbai, where something else happened: fashion. With Maddox riding high on Brad's shoulder (perhaps asleep) and Angie looking on in worry, the birth of something new and exciting took shape: the idea of kids on our shoulders being the new scarves. Do it. Try it.
Brad and Angelina's Super Bowl moment
You can search YouTube for clips of the New Orleans Saints upsetting the Indianapolis Colts in Super Bowl XLIV in Miami, but what you won't find is a moment more intimate and life-affirming than the game itself: the couple who watches football together, stays together. Cheering for the Saints, it's as if everyone and everything in that press box willed the Saints to an improbable victory: beanie (check), goatee (check), bottles of Aquafina (check), son Maddox (check), happy couple with their mouths agape (check).
Owning their celebrity at World War Z's Berlin premiere
This is, perhaps, happiness incarnate. The feeling of having survived something, not just fictional zombies and one of the most disastrous film shoots in recent years, but Brad and Angelina's willingness to brave it all as a couple. What we'll remember most about World War Z is that it wasn't very good, and hopefully the eventual sequel can right some of the wrongs. This wasn't reflected at the premiere of the film back in 2013, where Brad and Angie looked happy -- like, wedding day happy. It's as if they're nearing the end of a race, closing in on the finish line with the same smile, the same hair, and the dream of splitting the same dessert from room service later that night. In terms of looking happy with sunglasses in your mouth, it's impossible to top.
The audacity of "his" and "hers" tuxedos
A couple wearing matching outfits to a glitzy event was bound to happen at some point, though we wouldn't have predicted Brad and Angelina. Perhaps they practiced it at home on many occasions before properly unveiling it to the public. Either way, they pulled it off at the 2014 British Academy Film Awards at the Royal Opera House in London. We can take umbrage with the fact that the couple would have the nerve to pull a stunt like this away from American soil, but that just seems unreasonable.
The day Brad and Angelina actually got married
After years of partnership and 20,000 questions on the subject, Brad and Angelina finally married in 2014. An emotional and highly anticipated day would turn sour in the wake of Angie announcing in 2015 that she and Brad were already married before their ceremony in France. But it didn't matter, the deed was done and there was nothing that could change it. Just look at the photo of the newlyweds and their family – I count two people who appear happy, one person who appears present (Brad), and five people who seem completely over it. And now, what once was beautiful has wilted in front of us. Maybe the kids saw it coming all along, but on that day (or whenever they actually tied the knot), they promised lifelong commitment to one another.
Letting loose in the epic Oscar selfie
It was a joyous moment that ended with 32.8 million views. You know the names, you know the faces, you know 12 Years a Slave won Best Picture that evening. There's some foreshadowing in that selfie that brought smiles and "celebrities are just like us!" mentalities to the table. Brad isn't front and center, but at least he's noticeable. Angie is obscured behind Lupita Nyong'o's brother's exceptional haircut, her hand sitting in the air (wedding ring present), ghostlike. In a vacuum, it felt like a freeing moment for Brad and Angie -- light and festive. Now it seems a little foreboding.
The lustful bickering of By the Sea
Say what you will about By the Sea, Angie's directorial follow-up to Unbroken, but let's get one thing straight: it made peepholes great again. As Roland and Vanessa, a fractured couple nearing their breaking point during a seaside vacation in France, Brad and Angie rekindled sexual passion by spying on passionate newlyweds staying next door. After watching the trailer for By the Sea, I thought the big reveal would be that either Roland or Vanessa bought the wrong brand of cigarettes, triggering consternation. It turns out that the big reveal is that the movie is actually good. Marital fear and anxiety all swirling around at a snail's pace, all made better by spying on the couple next door. If only the real life couple could have discovered their own peephole.
Sign up here for our daily Thrillist email, and get your fix of the best in food/drink/fun.
Ty Landis is a freelance writer and film critic based in Ohio. He's currently cheering very hard for Angelina and Colin Farrell to make
Alexander 2
and find their own love. Follow him on Twitter @ty_landis.