Radiohead's Thom Yorke Made a Stunning Netflix Short Film with Paul Thomas Anderson for His New Solo Album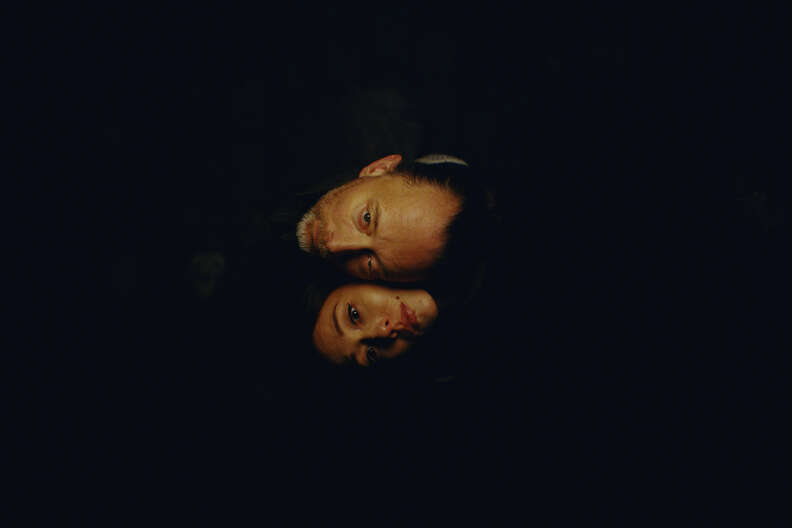 Netflix isn't the first place you go to watch music videos. As the company has ramped up its film and TV operations in recent years, producing an enormous stockpile of original movies and episodic series of varying lengths, it's shown less interest in creating the type of short, punchy experiments that used to play all day on MTV and VH1. In the streaming wars, the company has largely left music to YouTube, besides the occasional prestige-y behind-the-scenes or concert documentary like Beyonce's Homecoming, the Bruce Springsteen Broadway show, or the recent Martin Scorsese-directed Bob Dylan documentary. A search for "music videos" on Netflix turns up a collection of four videos made for Bright, that terrible Will Smith movie from a couple years ago.
But the premiere of ANIMA, a "short film" starring Radiohead's Thom Yorke and directed by filmmaker Paul Thomas Anderson, suggests that Netflix might become more open to more music-based projects in the future. (Earlier this year, the company also dropped The Lonely Island's Bash Brothers Experience, an absurd and hilarious parody of ambitious music video song cycles.) In the teaser trailer for ANIMA, the project was described as a "one-reeler," a term for a short motion picture, often comedic or animated, that "contained one reel of film," and it was shown in select IMAX theaters on Wednesday night, giving it an "event" vibe. Still, it's basically a long music video -- in fact, it's a really good one.
Released on the same day as Yorke's solo album of the same name, which was produced by frequent Radiohead collaborator Nigel Godrich, the 15-minute video plays like a visually striking episode of Black Mirror enacted through modern dance and silent film acting. In an interview with Variety, Anderson said he would shout "More Buster Keaton!" to his dancing, mugging star while they were shooting. It's an often exhilarating combination of physical comedy, dystopian paranoia, and tender romance. Here's what you need to know about it.
What songs are featured in the ANIMA short film?
The ANIMA album was first announced via a viral marketing campaign for a fake company named "Anima Technologies" that promised to retrieve forgotten dreams. Mysterious ads appeared in trains in London, newspapers, and phone booths, offering up a real phone number to call. If you called it, you heard a voicemail that ended with a bit of "Not the News," the first track featured in the ANIMA short. It begins to play when Yorke starts to doze off on the train, setting up a burst of timed head nodding, and continues as he walks through shadow-strewn streets like a wrongly accused man in a noir movie, the walls around him covered in projections by artist Tarik Barri. The song ends as Yorke approaches and climbs a giant white stone structure.
At this point, "Traffic," the first song on the ANIMA album, kicks in. The skittering, glitchy beat provides the perfect soundtrack for the most physically slapstick moment in the video, which finds Yorke struggling to keep up with the brisk, repetitive movements of the dancers around him. Dressed in simple jackets and no shoes, their bodies slide along the flat surface, limbs flailing and twisting, and Yorke avoids them like he's dodging attackers in his own low-stakes version of a Mission: Impossible movie or a Frogger-like video game. Look at Thom go!
Then, piles of trash begin to blow about and we crossfade into the film's final movement, which features "Dawn Chorus," the fourth track on the album and an eagerly anticipated song amongst Radiohead fans. (As Pitchfork points out, "Dawn Chorus" was "long thought to be the official title for a song that was played during one of the band's soundchecks in 2008" and the band formed Dawn Chorus LLC as a shell company to release 2016's A Moon Shaped Pool.) It's a forlorn, synth-smeared love ballad that will likely remind fans of the band's In Rainbows era, and it plays as the short reaches its ruminative, melancholy conclusion.
Who did the choreography in ANIMA?
As good as the songs are, the choreography is really what makes the video. The dances were created by Damien Jalet, a choreographer from Belgium who previously worked with Yorke on last year's arthouse horror remake Suspiria, which Yorke wrote the creepy soundtrack for. Many of the quick, compact movements will remind viewers who saw that movie of Dakota Johnson's often thrilling, daring dances in the film. In the Variety interview, Anderson says the project came about because Jalet and Yorke wanted to continue collaborating after the movie was over.
This is not the first time Yorke has shown off his dancing skills in a music video -- you probably remember the GIFs from the "Lotus Flower" video off King of Limbs -- but it might be his most elaborate and intense attempt to bust a move yet. He worked closely with Jalet to develop the ideas in the video. According to the "Additional Choreography" section in the credits, the video also features choreography from "Black Morrow," a piece Jalet created with Icelandic choreographer Erna Omarsdóttir, and "Skid," a piece performed on a stage with a 34-degree incline. You can find clipsofthesedances online if you want to see some of the physical elements from the video in earlier forms.
Have Paul Thomas Anderson and Thom Yorke collaborated before?
The ties between Radiohead and Paul Thomas Anderson run deep. Since 2008's There Will Be Blood, the band's guitarist Johnny Greenwood has composed all the music for Anderson's films, earning an Oscar nomination for Best Score for 2017's Phantom Thread. His discombobulating, string-drenched scores have become essential to Anderson's work, and in 2016 Anderson returned the favor by directing the hypnotic, dizzying video for the track "Daydreaming" off A Moon Shaped Pool.
ANIMA often plays like a more ambitious sequel to the similarly mind-bending "Daydreaming" video. Both find a surprising degree of poignancy in Yorke's blank face and lanky body as he moves through the world. Where "Daydreaming" has a slightly more naturalistic vibe, with Yorke passing through doors on his way to sandy beaches and snowy mountains, ANIMA is more expressionistic, packed with stark images of conformity and dystopia. It perhaps gives us a sense of where Yorke's head is at these days: troubled by the state of the world, but still dreaming of a better future.