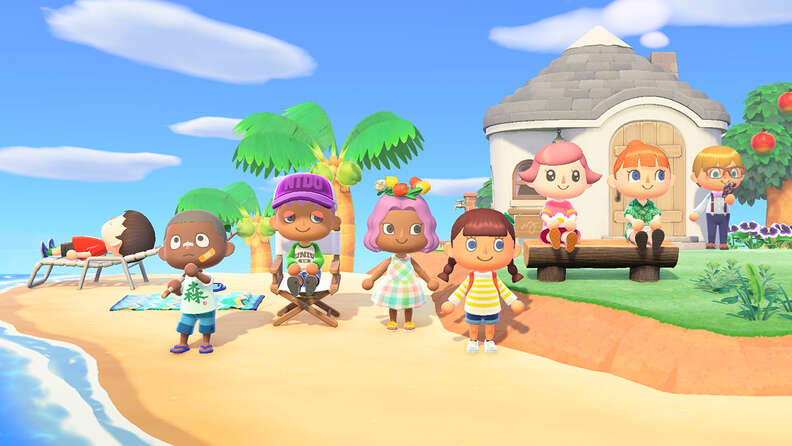 How To Hang Out with Your Friends in 'Animal Crossing: New Horizons'
In this strange time in which we find ourselves, Animal Crossing: New Horizons has become one of the main avenues for us to hang out with our friends. When our adorable avatars are all running around together on a digital island, it's sorta like we're all in the same room, right?
While the remote multiplayer in New Horizons is a truly delightful feature, getting your friends onto your island (or heading over to theirs) is a slightly complicated process. So we've provided a foolproof, streamlined, step-by-step guide. (You can thank us later by sending some fruit from your island in the mail -- especially if that fruit is cherries.)
This might seem obvious to veteran Switch players, but we don't want you to go through all the next steps only to discover that you didn't have the subscription that enables remote play in the first step.
If you don't have it, consider buying it! You can also use Nintendo Switch Online to play other games remotely with friends, like Mario Kart and Super Smash Bros Ultimate. And you get access to a library of NES and SNES games. And it's surprisingly cheap -- a monthly subscription runs you $3.99; a three-month, $7.99; and 12 months, $19.99.
Make sure that you and your real-life friend are also Switch Friends
This is another step outside New Horizons itself. To add someone to your Friend List, go to your profile on the home screen (which you can access by clicking your avatar in the top left corner). Your friend code -- which you can give to others so they can easily find you -- is visible on the first screen, to the right of your avatar; it starts with "SW." Otherwise, go down the menu to "Add Friend." Here, you can see any friend requests you've received or search for someone via their friend code.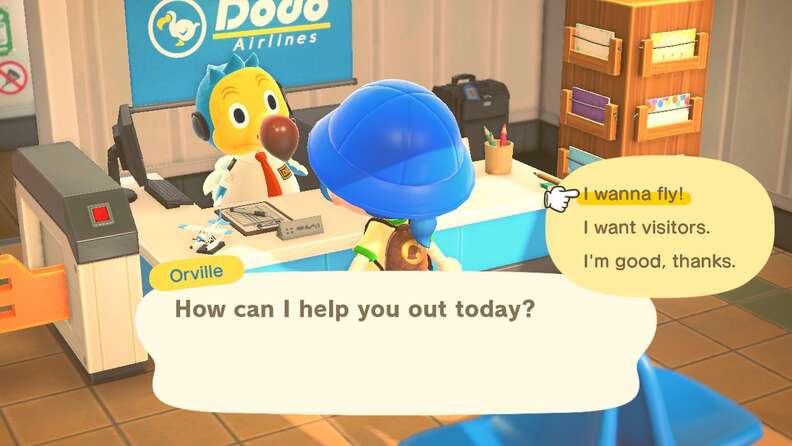 Head to the airport and talk to Orville
Now, we can finally go into New Horizons! Head down to the airport and chat to Orville, the dodo and champion typer who works behind the desk. Of course, you'll have to unlock the airport first, but this will happen the second your game gets rocketed into real time.
Since this is not a perfect process, it's generally helpful to hit up your friends in real life when you want to hang out in the game, just to erase confusion in the steps ahead.
If you want to go to a friend's island, tell Orville, "I wanna fly!" Orville will then ask you whether you want to visit "via local play" -- which only applies if you're all on the same WiFi network -- or "via online play," which is good for visiting anyone who is presently anywhere other than your own home. Give Orville the old "Roger!," and he'll start looking up your friends' availability for you.
You'll have two options for how to travel: "search for a friend" or "search via Dodo Code." We'll go over Dodo Codes in a second. But if you use "search for a friend," Orville will be able to find any friends' island whose port is open. If your friend's island isn't showing up, you might want to message them and make sure they opened their port like they promised.
But if you want friends to come to your island, you'll need to exercise those port-opening duties. Luckily, it's easy: Just tell Orville, "I want visitors!" and then make that same call between opening it for "local play" or "online play."
When Orville asks who you want to invite, say "all my friends!" to open up your gate to any Switch friends who are online. Once someone visits you and you get the Best Friends app on your NookPhone, you'll also gain the option to exclusively invite your in-game "best friends."
You can also use a Dodo Code for this whole process, which works similar to a Switch Code. If you choose to invite via Dodo Code, you'll get a five-digit code to share with your friends, who can then use that code to search for you.
Romp around islands with your friends!
After all that, your friends will be landing on each others' islands in no time. Enjoy each others' glorious and slightly awkward company!
Need help finding something to watch? Sign up here for our weekly Streamail newsletter to get streaming recommendations delivered straight to your inbox.
Kirsten Carey is a musician and pop culture writer. You can follow her at @kircarey on Twitter.