Anthony Bourdain on the Most Important Chef You've Never Heard Of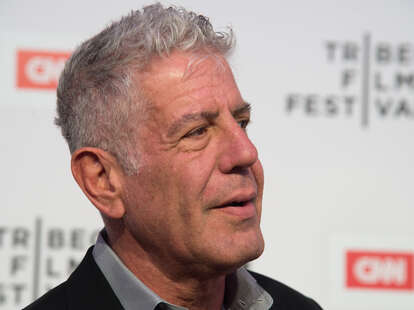 Mark Sagliocco/Getty Images
At the world premiere of the documentary Jeremiah Tower: The Last Magnificent Saturday at Tribeca Film Festival, globetrotting chef Anthony Bourdain told Charlie Rose in a Q&A that he was inspired to executive-produce the film out of "a sense of rage and historical injustice."
Haven't heard of Tower? Unfortunately, you're not alone. "He flamed out and others sort of stepped in," Bourdain told us of his chief inspiration on the red carpet. "He became inconvenient to a simplistic narrative put forward by largely lazy and disingenuous journalists who had ... no access to Jeremiah. So they sort of wrote him out. It was easier."
Thanks to distributor The Orchard, The Last Magnificent will rectify that narrative when it hits theaters next year. To tide you over till then, Bourdain filled us in on the James Beard Award-winning chef at the film's center.
The chef had a bad-boy beginning
Tower got his start cooking up luxury drama at Harvard, where he shocked his peers with Molotov cocktails made from Dom Pérignon bottles full of gasoline, Hermès scarves, and Tiffany bags; later, he fueled a cross-country road trip with mescaline and hash. After college, Tower declined an offer to write for The New Yorker and headed toward Hawaii to pursue his dream of creating aquatic architecture. Eventually, his wealthy family cut him off, he ran out of money, and, in 1972, with no culinary training, he answered Chez Panisse's ad seeking kitchen help in Berkeley, California.
The restaurant, once a hippie haven and still owned by the legendary Alice Waters, became destination dining when Tower shifted the menu in a classical French direction and championed locally sourced ingredients, which came to define modern California cuisine. "Did I ask them if they wanted to go that way? No," admits Tower in the documentary. "I was just doing what I had to do."

Tower left Chez Panisse in 1978; Waters published the Chez Panisse Menu Cookbook four years later without crediting him as co-author, and she was celebrated as "the mother of American cooking." Although Tower went on to open Stars -- one of the nation's most influential restaurants, which popularized the concept of celebrity chefdom -- he eventually sold it and became a pariah.
Then Tower shook up the New York establishment
While speaking to Rose following a screening of the film, Bourdain called Tower "a constant in his career." So, with longtime collaborator Lydia Tenaglia set to direct, Bourdain and CNN Films got to work on Jeremiah Tower: The Last Magnificent, a sensory journey replete with reenactments and testimonials from culinary talents like Ruth Reichl, Mario Batali, Jonathan Waxman, Ken Friedman, and Martha Stewart. Near the end of production, in 2014, Tower shocked everyone by accepting the executive chef position at New York City's Tavern on the Green.
When Bourdain learns of Tower's Tavern appointment, he tells the camera, "My first reaction was, of course, holy fuck. My second was, why?" He cites the position at Tavern, a high-volume institution notorious for inconsistency, as a thankless "chef-killer," especially considering that the restaurant's then-new owners' attempts to revive it were seen as a failure.
"I was pissed," Tenaglia said to Rose, to which Tower replied, "I thought the movie was over." Instead, cameras rolled during those turbulent three and a half months, which ended less than a week after the New York Times delivered a poor review of the restaurant in February 2015.

"My comment to Lydia was, 'This is going to last about two months,'" said Bourdain about Tower's new gig. "Because Jeremiah is about fabulousness, about creating a fabulous and fantastic environment, a dream world where fabulous people come and want to be part of it. And that's not Tavern on the Green. Tavern on the Green is where you bring your grandmother because you won't be embarrassed -- you're sure you won't see any of your friends there." The audience broke into uproarious laughter.
"He's a hard nut to crack"
Still, Bourdain sympathized with Tower's swift decline following Pete Wells' disastrous visit to the Tavern. "One minute, [the owners] were telling him, 'Yes we're going to give you 100% control, we'll never interfere with the food.' I think any of us in this room who've worked in the restaurant business, we've all seen that membrane become something permeable. We've all seen that happen. Even in the TV business it happens as well, you know -- 'We're giving you 100% freedom, you won't be getting any suggestions from us.' Next thing you know they're calling up and saying, 'Have you ever thought about, like, doing state fair food? Or corn dogs?'"
Besides, "His childhood was very difficult," Bourdain said. "The way that he relates to that childhood was very surprising. You or I would call it, you know, heartbreakingly lonely, tragic, and neglected and abused."
Ultimately, The Last Magnificent paints a complicated portrait of an essential chef. "He's a hard nut to crack," Bourdain said of Tower. "The way we eat in restaurants today -- the way the restaurant looks, the way it feels, the way we experience it, our expectations for it, the food we eat, all of the menus we read, all of these things -- were hugely influenced by Jeremiah. And I didn't feel like he had gotten his due."

Sign up here for our daily Thrillist email, and get your fix of the best in food/drink/fun.
Jenna Marotta is a contributing writer for Thrillist Entertainment. Follow her on Twitter: @jennamarotta.