The 12 Best Episodes of Anthony Bourdain's 'Parts Unknown'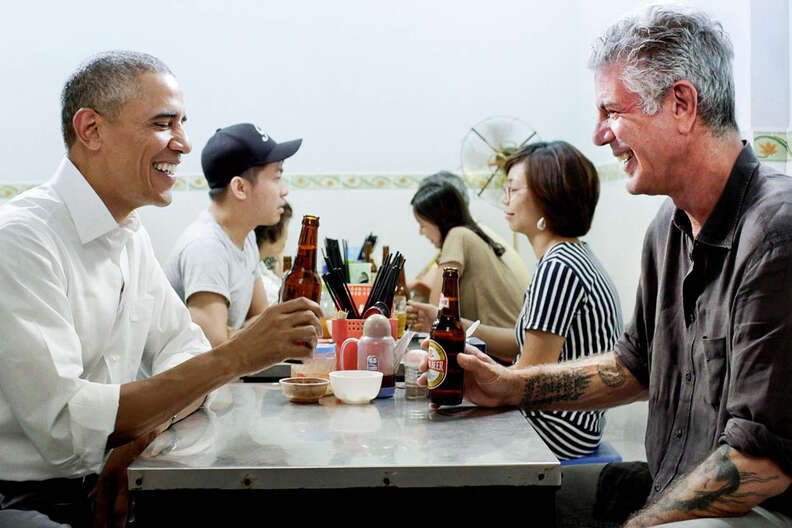 In the wake of the shocking, tragic news of Anthony Bourdain's passing, there may be no better way to celebrate his life, work, and passion than taking in some of the landmark episodes of his most recent television project, CNN's Parts Unknown. Presented here, are 12 of the show's most memorable televised journeys, from all-nighters in Tokyo, to digging into his own complicated roots in New Jersey.
These moments capture Bourdain at his very best: open, charismatic, compassionate, and always eager to learn from and embrace every culture he comes across. These episodes will stay with us forever, and the man himself will be sorely missed.
"Libya" (Season 1, Episode 4)
The fourth episode of Season 1 represents the point where Bourdain and the Parts Unknown team truly hit their stride. At the time of its release, Bourdain himself said, "I've made a lot of hours of television over the years, but I think I'm proudest of Sunday's Libya episode. I believe it is the best piece of work I've ever been part of."
Part of the show's lasting appeal has been Bourdain's willingness to bring his trademark food/culture crossover into conflict zones, but he never really hit that note with a flourish until Libya. The episode focuses on conflict through a lens of food (of course) and a cast of ex-freedom fighters, with the highlight being a stop at the decidedly Western "Uncle Kentaki" fried chicken joint. In one Libyan's own words, it's the "taste of freedom."
"Massachusetts" (Season 4, Episode 7)
So many of Parts Unknown's best episodes revolve around territorial friction and divisive issues -- in other countries. The "Massachusetts" episode brings it all back home. Bourdain eschews the culinary trappings of Boston for smaller cities like Provincetown -- with much sentiment, as this was the spot of Bourdain's first cooking gig -- and then rural Franklin County, where he explores New England's devastating heroin epidemic. This hour focuses less on food than most (don't worry -- there's still food and drink aplenty) but remains one of the more meaningful blips on the Parts Unknown timeline, with heavy (but important) themes, plus the added allure of Tony's personal ties to the area. Be warned: It is profoundly depressing. But still, a must-watch.
"New Jersey" (Season 5, Episode 5)
"To know Jersey is to love her," says our host, waxing (semi)-poetically about his home state. That's right: Though Bourdain fancies himself a grizzled New Yorker, his roots are actually right next door in the Garden State, and he admits that sometimes the state more known for fake tans than food gets the shaft. But this episode is all about uncovering the institutions that make Jersey food great, like pastrami sandwiches from Asbury Park, fried clams from L.B.I., and cheesesteaks from Camden. What takes this episode over the top, is Bourdain's personal connection and eventual reconciliation with his home state. Plus you get to see him hang out with his brother, who might actually be cooler than he is.
"Congo" (Season 1, Episode 7)
"It is the most relentlessly fucked-over nation in the world, yet it has long been my dream to see Congo," a raspy Bourdain says in the opening of this episode. "And for my sins, I got my wish." Heavily lacquered with melodramatic Heart of Darkness references, Bourdain's exploration of the Congo region of Africa is intricately complicated, at times frustrating, and mostly seen from a boat. The remote, tension-filled locale gives this episode a flavor few will match, and sets the bar high early on in Parts Unknown's run.
"Lyon" (Season 3, Episode 3)
This is the sweet spot for viewers who care more about food, and less about global issues. It's OK -- we get it. The world is a harsh place, and sometimes you just want to look at some cheese. He tag-teams France's legendary culinary destination with the equally legendary chef and restaurateur Daniel Boulud, who helps him navigate the city's food scene, from school cafeterias to the world-class restaurant Maison Troisgros. This is a borderline lethal dose of food porn. So many of Bourdain's Parts Unknown episodes leave you thinking, "That's cool, but I probably don't want to go here on vacation." Lyon is not one of them. You might have to book a plane ticket. Or at least order Seamless.
"Thailand" (Season 3, Episode 7)
Anthony drinks. He eats late-night street food with chef Andy Ricker. He gets a tattoo. This is Bourdain at his most Bourdain-iest. If aliens landed on Earth and demanded a 43-minute example of our finest travel/food program -- this episode of Parts Unknown would be the prototype. It's a great place to start for beginners, and a welcoming, entertaining hug for longtime fans. I mean, you can't have a list of "Best Bourdain Episodes" without a nod to Southeast Asia.
"Tokyo" (Season 2, Episode 7)
Bourdain has long been an avid fan of Japanese cuisine and culture, but this zany episode from the second season of Parts Unknown explores the darker side of Japan's capital city. The hour focuses on Tokyo's idiosyncratic, and at times kinda pervy, nightlife. There are plenty of local dives, excessive drinking, late-night munchies, and, of course, giant technicolor seizure-inducing fighting robots. This is one to watch if you just want to have fun.
"Charleston, SC" (Season 6, Episode 8)
Aside from profiling one of America's (vastly underrated!) food meccas, and doing his usual Bourdain-thing (eating, drinking, culture, etc.), this episode features Tony breaking bread with Bill Murray. Yep, that Bill Murray -- of stage, screen, and baseball tarps. Honestly, this justifies the existence of the internet.
"Cuba" (Season 6, Episode 1)
"Humble fishing village. Traditional fishing family. We're gonna eat fucking sushi. What's going on in this country, man?" This quote, straight from Bourdain's mouth, pretty much defines the entire episode, wherein Anthony tries to reconcile his romanticized, frozen-in-time ideal of Cuba, and the reality of the island: It will likely look very different in five years, and it's already changing. The food and the politics and the literary style voice-overs are obviously all top-notch, but the real highlight here is the mini-profile of Juana Bacallao, the 91-year-old performer who manages to sing in front of a packed house every night, and -- despite being alive for nearly a century -- still dances better than your average wedding guest.
"Iran" (Season 4, Episode 6)
Like "Congo" and "LIbya," this episode of Parts Unknown nails what Bourdain's brand of television does best: taking on broad political and socio-ecological issues through a lens of food and culture. For a country that has occupied so much of the West's headlines over the past few decades, in general, Americans (myself included) know shockingly little about Iran. Not only does this episode shed light on the country, it exposes what life is really like for Iranian people, in a way that remains authentic, without veering into the exploitative. I don't want to spoil too much here, but it's completely view-changing for the uninformed. This may be the high point of the entire series.
"Copenhagen" (Season 2, Episode 4)
Bourdain visiting the Danish city and (debatably) the food capital of Europe, dining at what has been consistently rated the as one of the World's Best Restaurants, and exploring the cultural and pastoral beauty of Scandinavia? How could this not be one of Anthony's best? Early on, he states, "I am intimidated and made uncomfortable by safe, clean, orderly places where everything works and people seem creepily content," in regards to Scandinavian countries, but he changes his tune quickly after a few courses at Noma. As one is known to do. Hey, if you can't go to Noma, you might as well watch someone you like go to Noma, right?
"Hanoi" (Season 8, Episode 1)
In what is almost certainly the most universally memorable and celebrated episode of Parts Unknown (and likely Bourdain's entire televised career), our host slurps noodles and clinks beer bottles at the modest Vietnamese eatery Bun Cha Huong with none other than our 44th president, Barack Obama.
The unlikely duo sit in open-shirt relaxation, while they discuss international travels, politics, and what it means to embrace other cultures. Obama and Bourdain are the only Westerners in the frame, and -- as they are both foreigners in this context -- it is a unique experience for a Bourdain episode. The restaurant has subsequently encased the table they dined at behind glass windows, transposing the landmark TV moment into an actual, real-life landmark, too. This moment, and the episode that surrounded it, truly cemented Bourdain's iconic status in the world of food and travel media. After all, who else could possibly brought the world's most powerful man to a steel-tabled noodle joint, and seemed so preternaturally natural in the process?
Sign up here for our daily Thrillist email, and get your fix of the best in food/drink/fun.