Everything We Know About Apple TV+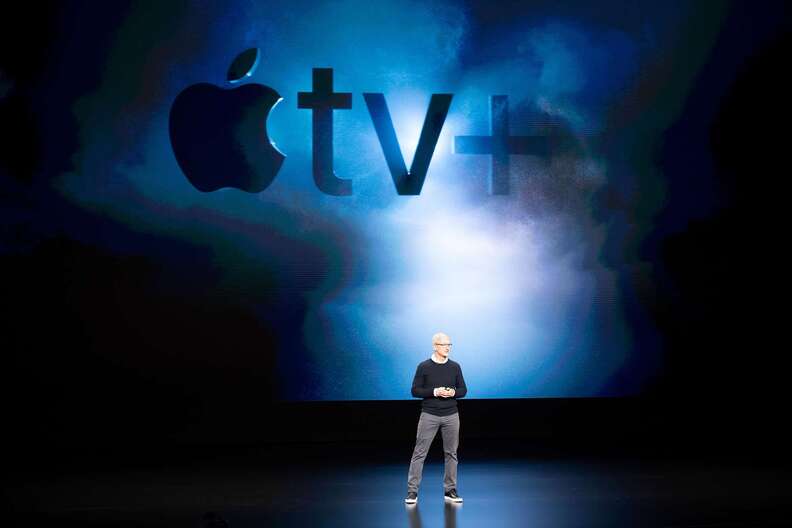 NOAH BERGER/AFP/Getty Images
NOAH BERGER/AFP/Getty Images
For a long time, it was unclear exactly what type of streaming service Apple was hoping to launch. As services like Netflix, Hulu, and Amazon Prime continued to their expand their offerings, and companies like HBO and Disney announced ambitious plans, the tech company behind the iPod, iPhone and iPad appeared to be playing things very close to the vest. We expect secrecy from Apple, but this felt especially extreme.
After announcing a slate of pricey-sounding, star-studded shows at the March 2019 live event, the company declined to reveal some pretty basic, seemingly important details about the service. Like, how much it costs and where to actually get it? You know, the type of information that can help consumers figure out if this is really something they want to spend their money on. If there really is a streaming war going on, it felt like Apple was walking into the battlefield with potentially dangerous levels of confidence.
Well, the details have arrived. During September's live event, which also included updates about the Apple Watch, a new iPad, the iPhone 11, and unwanted and unneeded "slofies," the company finally got down to business on pitching their secret streaming service to the public. Here's everything we know so far, with updates likely to follow as the premiere date draws closer.
How much will Apple TV+ cost?
Apple TV+ will cost $4.99 a month, which includes family access. For customers who buy a new iPhone, iPad, or Apple TV, a whole free year of Apple TV+ will be included. You'll have three months after purchasing a new device to activate your free year of service. After that first year is up, the service will automatically renew for $4.99 per month.
Is that a good deal? While that sounds like a low price compared to other high-end streaming services, it's important to remember that compared to HBO or Disney, which have massive content libraries to draw from, Apple is starting out at an archival disadvantage. You're basically paying for the new shows -- not an existing library of familiar shows that you love. It's cheap, but you're also paying for less.
When will Apple TV+ be available?
Apple TV+ will launch on November 1. Why is that date important? Disney+ is currently scheduled to launch on November 12, meaning that the Apple will have "beaten" one of their arrivals by mere days. We'll have to wait and see if there's any real value in the company getting there first.
How many original shows and movies will Apple TV+ have?
While we're not sure yet everything Apple TV+ will launch with in November, we do know about a few marquee shows. The most high profile of these, The Morning Show, is a behind-the-scenes show about a network news show starring Jennifer Aniston, Reese Witherspoon, and Steve Carell. The Hailee Steinfeld-starring drama Dickinson, a series about the life of poet Emily Dickinson, will also debut on the launch date. The Jason Momoa action series See, a science-fiction corker about a future where everyone is born blind, will also drop on November 1, as will For All Mankind, an alternate-history space-race drama from Battlestar Galactica producer Ronald D. Moore.
That might sound like a relatively small slate, but let's be clear: Apple is spending a lot of money on original content. According to Bloomberg, the company has put aside $6 billion to spend on original shows and movies. That certainly doesn't mean that they'll be great TV shows, but it does mean that they'll likely have high production values and big names attached to them. Whether that will be enough to take down their competitors remains unclear.