Everything We Know About 'Aquaman 2'
Permission to come aboard?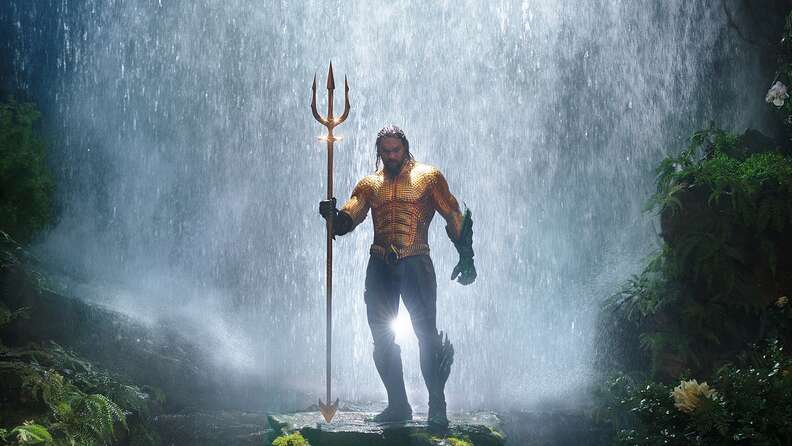 'Aquaman'

| Warner Bros. Pictures
'Aquaman'

| Warner Bros. Pictures
Against all odds, and somewhat prophesied by the TV show Entourage, Aquaman starring Jason Momoa was a smash hit. Not only was it the fifth-highest-grossing film of 2018, it received mostly positive reviews, making it a much needed win for the flailing DC filmic universe.
Thanks to the success of the underwater hero's standalone movie, Warner Bros. now has answered the call to make another film in the world of Atlantis, and we could not be more excited.
When is Aquaman 2 coming out?
Aquaman 2 is set to be released on December 16, 2022—so, basically, around the time we'll all start wondering whatever happened to the Aquaman sequel.
A spinoff focused on the spiny fish-men of the Trench, one of the underwater realms featured in the first Aquaman, was also planned, but ultimately canceled by Warner Bros. after it became clear that their quarantine-altered release slate didn't have room for it, or for Ava DuVernay's planned New Gods movie. They did make it clear, though, that if director James Wan still wanted to make it a few years down the road, they'd be more than happy to let him.
Is anyone involved with the first film coming back?
David Leslie Johnson-McGoldrick, the writer of the first Aquaman, is coming back to work on the sequel, as well as Aquaman director James Wan and producer Peter Safran.
Jason Momoa and Amber Heard will likely be back as Arthur and Mera, and it was heavily hinted in the first film that villain Black Manta, played by Yahya Abdul-Mateen II, will also be coming back. In October 2019, Abdul-Mateen confirmed that he'd be reprising his villain role for the sequel. It's also likely that Temuera Morrison, who played Aquaman's dad Tom Curry in the first movie, will return, as well as Nicole Kidman as Queen Atlanna and Patrick Wilson as Aquaman's half-brother Orm.
What about new cast members?
In April 2021, Deadline reported that Pilou Asbaek, whom you may remember as the pirate king Euron Greyjoy from Game of Thrones, will be joining the cast in an undisclosed role.
What do we know about the plot of Aquaman 2?
Wan dropped a boatload (ha) of teases for the sequel in Aquaman's mid-credits scene, which heavily implied that Black Manta would take a central role in the sequel. The sequence depicts Black Manta—a.k.a. David Kane—recovering after being rescued by fishermen. The shack he wakes up in presumably belongs to Dr. Stephen Shin, an obsessive Atlantean conspiracy theorist played gleefully by Randall Park (Always Be My Maybe). Shin and Black Manta strike a tentative deal—Black Manta will lead Shin to the source of his suit (i.e. Atlantis), so long as Shin leads him to Aquaman first.
Aquaman director James Wan told Thrillist that Black Manta is "definitely not the main villain" of the first film, and that he was initially reluctant to give the character as large of a role as he did. While David Kane took a backseat to primary antagonist Orm, it looks likely that he'll step into the spotlight in Aquaman 2. And if Aquaman director James Wan, who still has yet to confirm his involvement in the sequel, gets his way, Park will also return as Dr. Stephen Shin for Aquaman 2.
Past that, there's not much that we know about what could go down in Aquaman 2, although we're sure it'll carry the same bonkers "My man!" energy as its predecessor.
Will Aquaman be involved in any more DC team-ups?
After Justice League tanked at the box office, many of the filmmakers involved with the DC universe aren't too keen on the idea of another Avengers-style team-up movie. Safran told The Hollywood Reporter, "I think that when you're making really strong stand-alone movies, there's really no need to bring them together." He elaborated by saying, "Wonder Woman has shown what a great stand-alone property that is, and in Aquaman, we feel the same way.
"We think that there's a great sequel and beyond to tell. We introduce seven kingdoms of Atlantis, right? James Wan knows the architecture, the armory, the military, the look, the feel, the general vibe of each of these kingdoms, and I'm sure that there will be an opportunity to explore them in some way later on." Aquaman did appear in the much-hyped Snyder Cut of Justice League, which dropped on HBO Max in early 2021, but Warner Bros. has made it clear that they won't be taking any cues from that movie in building out the rest of their superhero universe.
Here's to more underwater kingdoms and fewer CGI villains with mommy issues.