How Asher Roth Flunked 'College,' Chilled Out, and Found Himself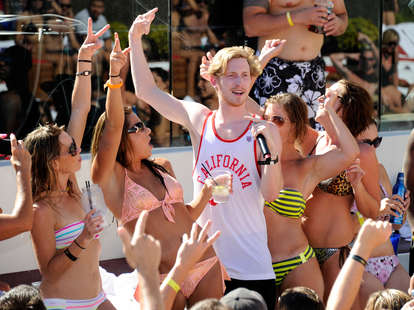 Ethan Miller/Getty Images Entertainment/Getty Images for MGM Resorts International
What if Eminem wasn't a borderline-feral lower-class white kid from Detroit but, rather, an adorable, comfortable, white Midwestern college bro waxing ecstatic about how awesome it is to smoke blunts, tap kegs, and enjoy a no-strings-attached sex life with accommodating sorority girls?
And what if this more upper-class Eminem figure's pandering paean to the glories of eternal adolescence (weed, beer, bros, babes, repeat ad infinitum) was originally set to the whitest, most college-friendly musical backdrop imaginable -- specifically, Weezer's "Say It Ain't So"? (Before Rivers Cuomo reportedly rejected the sample and it was replaced with something that sounds an awful lot like "Say It Ain't So," that is.)
That was the hype behind Asher Roth, the son of a yoga instructor and the executive director a design firm, who went viral (26 million-plus views on YouTube and counting, albeit very slowly) with the music video for "I Love College," the aforementioned frat-boy anthem, a song that could not pander any harder to the collegiate set if Roth had somehow figured out a way to reference every single university in his verses.
Frat bros loved him -- Eminem fans, not so much
After indulging in three minutes of laid-back lifestyle porn about the no-stress, all-debauchery college lifestyle, the song devolves into a series of frat-house chants: "Chug, chug, chug, chug," "Freshman, freshman, freshman, freshman," "Do something crazy" and, of course, "Keg stand, keg stand, keg stand."
It is, in other words, a total novelty song, a descendant of Jesse Jaymes's "College Girls (Are Easy)." It feels more like the sole salvo from an inveterate one-hit wonder rather than the beginning of an auspicious career -- but then again, the same could be said of Eminem's "My Name Is."
Roth is no Eminem, despite the fact that his voice, wordplay, syntax, and delivery (building to an industry entrance engineered by Scooter Braun, the man who made Justin Bieber happen) are so similar that he felt the need to devote an entire song on his major-label debut to stating the obvious: that he respects the hell out of Eminem, that Em paved the way and inspired everyone who followed, but that Roth is his own man, with his own story and flow and blah, blah, blah, who cares.
But Roth is not Kevin Federline either, and for a brief moment, it appeared that Roth might stand a chance of becoming the next big white rapper to blow. Then his first album, Asleep in the Bread Aisle, dropped in 2009, and expectations for Roth's career plummeted from sky high to exceedingly modest.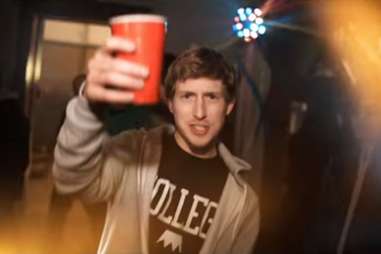 But he took all those rhymes seriously
To give Roth credit, Asleep sounds terrific, and represents a sincere and ambitious effort to establish the young caucasian as a writer and an artist with a point of view and a distinct sensibility, not just an opportunistic frat boy looking to capitalize on the fluke success of a trifle The Dr. Demento Show would reject from its Funny 5 for lacking sufficient gravitas.
Roth takes his wordplay seriously. On a technical level, at least, he's a skilled rapper with an Eminem-like gift for making his bars crystal clear, no matter how quickly he raps or how intricate his rhyme scheme. He's similarly clearly put a lot of thought and effort into making a well-rounded album that hits diverse emotional and sonic beats, an album that represents who he is as an artist and a person. And his record label really went all out and paid a bunch of genuine black people, like CeeLo, Keri Hilson, Jazze Pha and Busta Rhymes, to collaborate with Roth and make him seem at least a little less unbearably white by comparison.
So why is Asleep in the Bread Aisle such a slog? It doesn't help that the album's second single and first track, "Lark on My Go-Kart," fruitlessly doubles down on the BuzzFeed-friendly white-people nostalgia of "I Love College" with lyrics that are like a Mad Libs amalgamation of hamfisted Gen-X and millennial signifiers like Super Mario-Kart, Smashing Pumpkins, Teddy Ruxpin, Bob Saget and Saved by the Bell.
And he was proud of his white-collar roots
Asleep in the Bread Aisle is less like attending a fun party than it is like hearing about how great a party you weren't invited to was. "I Love College" cheekily touches on a widespread fantasy to extend the low-stakes, high-fun college lifestyle forever, but elsewhere, Roth seems intent on hogging all the fun, and while his lyrics are dense, they also have the strange dual quality of being at once too clever and not nearly as clever as they seem to think they are. His words are "clever" without being witty or funny at all, and there's a joylessness to his delivery that defeats the occasionally inspired turn of phrase.
"Be by Myself," one of several more serious tracks that explore a world beyond partying and bullshit, belongs to the curious subset of pop songs that depict artists' selfish unwillingness to share their lives with their romantic partners or treat them as equals, forming a sort of outlaw's code of rugged independence and noble self-reliance. But Roth has CeeLo on the hook, so this particular slab of self-mythologizing self-aggrandizement comes in a shiny, slick package, at least.
The closest Roth comes to establishing himself as something more than a frat boy who got lucky is on "His Dream." The song is a loving, tender tribute to parental sacrifice. That's a common hip-hop theme, but the context here makes all the difference. Instead of the usual tribute to a single mother who worked three jobs and pinched pennies so her child could make millions rapping about selling drugs and disrespecting women, Roth pays tribute to his father, a 50-something white-collar white man who put aside some of his own creative and artistic ambitions for the sake of his family. The song is loving and empathetic, but it would have more emotional weight if the creative dream father and son shared didn't involve exploring the time-tested hip-hop perennials of weed, women and partying from a college-educated white bro's perspective.
The aftermath
Alas, it turns out that a writerly portrait of the personal and professional angst of a 50-something white man was not what hip-hop was aching for, and despite debuting at No. 5 on the charts, Roth's major-label debut doubled as his major-label swan song. It's a song that hints at a maturity beyond the rapper's years, but otherwise, it's hard to be too disappointed that Roth's attempts to make hip-hop more bro-y and bro-friendly did not succeed, perhaps because hip-hop-loving bros already have the stellar party music of folks like Snoop Dogg and Dr. Dre; they didn't necessarily need it from someone who looks and acts like them as well.
After that, Roth's career entered a state of flux. He signed to Def Jam and Loud, then left before releasing any albums; dropped a few well-received mixtapes and worked with big-name producers like Swizz Beatz and Pharrell on what was to be his major-label follow-up, The Spaghetti Tree; then eventually released Retrohash independently in 2014, which was produced entirely by production team Blended Babies.
Released almost five years to the day after Bread Aisle failed to make him Eminem with a major, Retrohash suggests that Roth finally found himself and figured out who he was: a hippie. On Retrohash, he trades in the nasal raps and braggadocio of his debut for a jazzy, spacey sound that shifts organically between a more relaxed version of his flow from Bread Aisle and laid-back crooning.
As its title suggests, Retrohash is a mood album above all else, a blissed-out Labcabincalifornia to Bread Aisle's manic, wisecracking Bizarre Ride II, and while it lacks that album's sustained brilliance, it has a laconic, shambling charm all its own. On Retrohash, Roth stopped trying too hard and embraced his destiny as a weeded-out spiritual searcher.
The results aren't strong enough to suggest the world made a terrible mistake rejecting Roth the first time out, but they do convey that Roth is far more interesting, compelling, and substantive than his hacky initial brush with fame would suggest.
Sign up here for our daily Thrillist email, and get your fix of the best in food/drink/fun.
Nathan Rabin is a longtime pop-culture writer and the author of four books, including a coffee-table book about/with white and nerdy rapper "Weird Al" Yankovic and another about slightly less respected white rappers Insane Clown Posse. Follow his dope sentiments @Nathanrabin.