Did That Weird Talk Show Episode of 'Atlanta' Really Just Happen?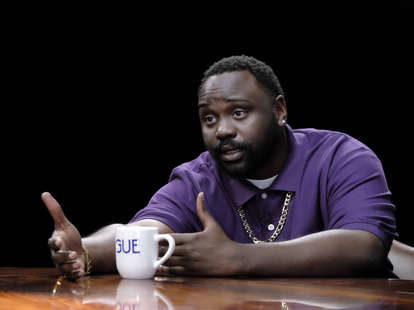 It's fitting that the word "weird" is partly what lands Paper Boi in social-media hot water on "B.A.N.," the latest episode of the FX comedy Atlanta. While taking on heavy topics like transphobia, homophobia, and racism, the show chose to do so in a way that might have struck many viewers as, well, pretty weird.
That's a good thing! Weird is what Atlanta has been doing very, very well all season, sneaking in the likes of Bankroll PJ one week and black Bieber the next. "B.A.N." may be the most out-there experiment hatched yet by show creator Donald Glover, who wrote and directed this week's installment.
Welcome to the Black America Network
The action in this week's episode aired as if it were a 30-minute chunk of programming from fake network BAN, the Black America Network, during its airing of Montague, a mash-up of Charlie Rose, The Tavis Smiley Show, and any number of issues-driven gabfests that air in local markets. Paper Boi, one of the week's in-studio guests on the program hosted by Franklin Montague, is paired with gender-issues expert Dr. Deborah Holt to discuss a controversial tweet the "Paper Boi" rapper made about Caitlyn Jenner. Hilarity (and yelling) ensues.
Doesn't sound too weird, right? Plenty of shows have done the fake-talk-show thing before. Atlanta just did it more strangely. For one thing, no backstage elements were involved -- we are literally watching Montague in the context of a 30-minute rock-block on BAN, absurd fake commercials (for mostly real products such as the Dodge Charger, Swisher Sweets, and Mickey's malt liquor) included. You can watch the commercial for Coconut Crunch Cereal above and a spot for guru named Ahmad White below.
The advertisements allow Glover to draw on his impressive sketch-comedy background by needling advertising companies for the often stereotype-filled ways they market destructive products to black audiences. The increasingly bleak and shocking content of the ads -- one animated cereal commercial ends with an act of police brutality -- is contrasted throughout the episode with the tension-filled exchanges that occur between Mongtague, Paper Boi and Dr. Holt. Taken together, the ads and the talk show offer up a portrait of the modern woke-ness economy: despite Montague's socially conscious content and PBS-like veneer of respectability, it exists to sell ads.
Oh, and there's also a whole Chappelle's Show-like segment on the show about a black teenager who believes he's actually a 35-year-old white man; at the end of the episode, that boy appears on the show via Facebook video chat wearing a ridiculous blond wig. Other than Paper Boi and a quick cut to Earn standing just off-camera, none of the regular characters appear. No plot lines get resolved. Few lessons are learned. It's pretty wild.
The Too Many Cooks of talk-show parodies
Because of its unconventional structure, "B.A.N." can feel unwieldy. In previous Atlanta episodes, the surreal touches were small: think of the guy who rang Paper Boi's door wearing a Batman mask or the (hilariously) creepy kid in white-face from last week's excellent Van-centric episode. But here Glover approaches the free-wheeling, anarchic heights of Adult Swim shows like The Eric Andre Show, Tim and Eric Awesome Show, Great Job!, or the viral sensation Too Many Cooks. The difference is those shows rarely stretch beyond 12 minutes. It's much harder to sustain that type of comic energy over a full half-hour.
That doesn't mean there's not a lot to admire here. Going beyond the late-night stoner-comedy canon of the last 10 years, "B.A.N." also feels like a part of a longer tradition of independent American film like Robert Townsend's daydream-filled Hollywood Shuffle or Robert Downey Sr.'s razor-sharp ad industry satire Putney Swope. Downey's 1969 film, which is also a favorite of filmmakers like Paul Thomas Anderson and Glover's channel-mate Louis CK, feels like an especially relevant reference point here. Just watch these bone-dry commercials for "Ethereal Cereal" or "Lucky Airlines," which would fit right in with Glover's ads.
It's telling that this is the first episode of Atlanta both written and directed by Glover -- he directed last week's episode but shared the writing credit with Stefani Robinson -- and that might explain part of why it feels so expensive, playful, and risky. It's also telling that instead of serving as a showcase for his character Earn, Glover instead focuses on an extended conversation between Paper Boi, the show's most consistently misunderstood character, and Dr. Holt, a woman who at first could not appear more different from Paper Boi but who eventually finds common ground with the rapper. "Where's tolerance for people like me?" asks Paper Boi at one point. "I should be able to say something is weird without people hating on me."
Is that a convincing defense? Glover doesn't say and, again, the show refuses to put too fine a point on its political arguments. He's trying to create a forum for differing viewpoints, outlandish statements, tricky questions, and violent cereal commercials. Like it or not, he's just doing it in the weirdest way possible.
Sign up here for our daily Thrillist email, and get your fix of the best in food/drink/fun.