Who Plays Paper Boi the Rapper on 'Atlanta'?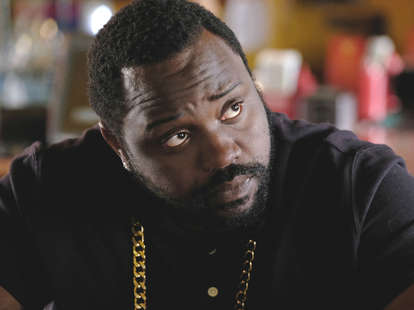 FX Networks
FX Networks
Mild spoilers from tonight's Atlanta premiere ahead.
Brian Tyree Henry holds Atlanta (the place) close to his heart. Though originally from Fayetteville, North Carolina, the 34-year-old attended Morehouse College as a business major-turned-actor in the early 2000s. He fell for the city, its community, and its creative energy when he was there. Fittingly, a few years and a couple theater degrees later, he's returned to Georgia's capital to flaunt his latest, and biggest, role: Alfred Miles, a.k.a. Paper Boi.
"Alfred is petty as fuck and so am I and I love it," Henry told Billboard last week. He's one of the central characters you'll come to know on Donald Glover's new FX series, Atlanta, which chronicles two cousins' efforts to succeed in the music industry. Alfred's an ATL rapper on the rise who shares a name with his hit track, "Paper Boi," because, yeah, he really wants that paper (boi). Henry owns the part, cracking jokes, summoning the cool, and punctuating his scenes with a hunger for success. You might watch the first couple episodes and think, Damn, who is this guy? He's really great! He is, and you may have already known him without ever knowing him. Here's a look at where this standout actor came from:
He was part of The Book of Mormon's original cast
Henry was the first General Butt-Fucking Naked, the murderous despot who menaces the villagers Elders Price and Cunningham seek to proselytize. Early reviews called him "spry" and "commanding." (True!)
On stage, Henry has also appeared in productions of Romeo and Juliet, Othello, and The Fortress of Solitude; and co-starred in The Brothers Size, part of a trilogy of plays penned by Tarell Alvin McCraney. That last feat earned him a Helen Hayes Best Actor nomination. "Mr. Henry is the standout, alternating between aggrieved anger, delicate vulnerability and gleeful playfulness," The New York Times wrote of his Brothers showing. "It's the kind of performance that sweeps you away."
You might also know him from Boardwalk Empire...
Henry's small-screen career began with Law & Order's Season 20 episode "Dignity," ironically (you'll see why below) as a chalk-wielding security guard who's very good at his job. That was back in 2009. One of his more substantial roles in recent memory came four years later via Boardwalk Empire, on which he played Winston, a.k.a. "Scrapper," the nephew of Michael K. Williams's old mentor, Oscar. His Winston was young, loyal, and fearless -- unafraid to grab a shotgun if that's what it took to protect and avenge his family. (Watch him here, or check out a compilation above.)
... or The Good Wife
Henry's TV résumé also includes brief involvement with The Knick and David Milch's nixed Last of the Ninth pilot. More notably, the actor nabbed a sizable spot as a military widower on CBS's The Good Wife in 2010. In Season 2's "Double Jeopardy" episode, Julianna Margulies and Josh Charles fight to prove that his character, Randall Simmons, didn't slay his wife. Henry's supporting turn is emotional as hell, filled with genuine grief, desperation, and relief. (Watch it here.)
And he was just in a Luis Guzmán movie
Henry's big-screen debut came last year with Puerto Ricans in Paris. He's almost gone before you notice him in Ian Edelman's fish-out-of-water comedy, but his interaction with a black mamba (not Kobe, the real thing) facilitates one of the movie's best jokes. You'll see him notch his next feature credit in Matt Ruskin's upcoming drama, an untitled biopic about Colin Warner's wrongful conviction. Henry's Atlanta co-star, Keith Stanfield, plays Warner.
P.S.: have you been watching Vice Principals?
Thanks in part to a college adviser, who nudged Henry away from plans to pursue a security job IRL and toward Yale's MFA drama program, viewers now have Paper Boi's less-than-glamorous hustle to look forward to on Tuesday nights.
"I've never been interested in seeing people make it. That shit's boring to me," Glover, Henry's costar, told Business Insider at a recent Television Critics Association tour. "Most people who live in everyday lives -- white people, Chinese people, Mexican people -- they're living their lives, and they're trying to eat. I was more interested in that."
Good news: Atlanta isn't boring. More good news: if you like watching Henry trying to make it on FX, you can also check him out -- as the slippery ex-husband of Dr. Belinda Brown -- on the tail end of HBO's Vice Principals. He might not be top-billed there, but you will get to see him pelt Danny McBride with large objects.
Sign up here for our daily Thrillist email, and get your fix of the best in food/drink/fun.
Sean Fitz-Gerald is a staff writer at Thrillist Entertainment, and he already misses
Atlanta
. Find him on Twitter: @srkfitzgerald.