The Real Story Behind Paper Boi's Catchy 'Atlanta' Single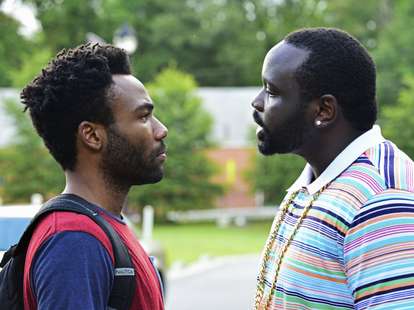 FX
FX
The first time you hear "Paper Boi," the hit song by Alfred "Paper Boi" Miles on FX's Atlanta, you want to hear it again. While there are many things to praise about Donald Glover's excellent new FX comedy -- its sly social commentary, its dreamlike visual style, its easygoing comic rhythms -- it's worth noting that Glover and his collaborators have accomplished a task that might be more difficult than creating an acclaimed TV show: producing a catchy song that lives up to the story.
How did Glover and his team ensure you'd be be humming "Paper Boi" by the time the episode ended? Mostly though a patchwork of riffing, recording sessions, and mining their nostalgia for Atlanta's rich musical tradition. Given Glover's success as a musician -- he's released records and performs under the name Childish Gambino -- the song's earworm status shouldn't shock you, but the specifics of how it came to rule Atlanta's fictional streets might surprise you.
Who is Paper Boi?
In the world of Atlanta, Paper Boi is a rising underground rapper, a drug dealer, and the cousin of Glover's character, Earn Marks. He's played with droll humor by Brian Tyree Henry, an actor who first gained notoriety from Broadway's Book of Mormon. But the voice you hear on the "Paper Boi" track doesn't actually belong to Henry. The song was performed by Stephen Glover, Donald's brother, a writer on the show, and a rapper in his own right, performing under the name Steve G. Lover.
"Me and Stephen ... wanted to base [Paper Boi] off of what kind of Atlanta hood icons were," said Donald Glover during a panel discussion with Angela Yee at the Paley Center for Media in New York City back in August. "Like, when Gucci [Mane] first came out ... kind of crossed with Doe B, who's not from Atlanta, just that polo fresh kind of look, which feels like the freshness you get in the country."
Where did the beat come from?
Though Stephen Glover provided the vocals, the beat was actually created by 27-year-old producer Christopher Cobb, who goes by the name Chemist and has produced tracks for artists like Freeway, Nipsey Hussle, and Tory Lanez. While he's produced music for Donald before -- check out this Donkey Kong Country sampling track "Eat Your Vegetables" -- he describes himself as Stephen's go-to-producer. His connection to Stephen was how he ended up creating the beat for the "Paper Boi" track, which he sent to the rapper long before the show was finished. In fact, he didn't know the the song was featured so prominently in the pilot until he saw it a couple weeks ago at the New York premiere.
"I see that it fits perfectly for the show," Chemist told me over the phone while taking a break from work in the studio. "He's trying to capture that vibe of pure Altanta hip-hop scene, which seems to be a dying one -- or maybe not a dying one but a changing one -- that sound really comes from 2003 or 2008, when most of those synths were developed, those heavy horns and electronic synths. I used that whistle, which was very popular with Shawty Lo's D4L tracks. I was just trying to capture the essence of Atlanta."
While Chemist isn't an Atlanta native -- he hails from Richmond, Virginia -- he grew up listening to the city's long tradition of innovative, boundary-pushing hip-hop. Chemist started making beats over 11 years ago and first gained a following on the website SoundClick, taking inspiration from the super-producers of the late '90s and early '00s like Pharrell, Swizz Beatz, Just Blaze, and Timbaland, who now produces the music for FOX's glossy hip-hop soap opera Empire. Though much of Chemist's work favors the sample-heavy approach of J Dilla, he says the "Paper Boi" beat was particularly inspired by Atlanta rapper Rocko's 2008 hit "Umma Do Me."
Hearing the song on the show, Chemist could see why the beat was a good fit for Paper Boi. "It catches the essence of the inner-city sound," he said. "With a lot of pop, everything is so fine-tuned and very well mixed and engineered, but with a lot of hip-hop producers, we don't know anything. We just grab expensive equipment and start chopping, and whatever we come up with is whatever we come up with. The ones who work the hardest come up with unique sounds."
When can you own "Paper Boi"?
That's the big money question for Glover and FX going forward. While recent series like Empire and Power have sold soundtracks online, serving as important promotional tools for the shows, it's unclear how or when the music from Atlanta will be released. You can't find "Paper Boi" racking up YouTube views online and, as of the premiere episodes, there's no word of an official album release for the music ("details on the song will not be released until after the first episodes air," reps for FX told us). When I spoke to Chemist, he hadn't heard of plans for an Atlanta album, and the comments about a possible soundtrack from an interview with music supervisor Jen Malone are inconclusive. Donald Glover recently premiered new music as part of his interactive Pharos show, but it's unclear if that performance featured new music from the show.
When asked about the possibility of a Paper Boi album at the Paley Center, Glover was leery. "It just seems like a way to sell stuff," he said. "We made songs, and the Paper Boi songs we obviously made. I just wanna release it in the coolest way, and also have it live up to what most of the time that stuff doesn't live up to. Something cool, and people will be like, 'Oh shit, I actually want to listen to this,' as opposed to it being a novelty project."
If the eventual Paper Boi album is half as good as Atlanta, which also went through a lengthy development process, it'll be more than worth the wait.
Sign up here for our daily Thrillist email, and get your fix of the best in food/drink/fun.