The Finale of 'Atlanta' Ended Season 2 on a Perfect Note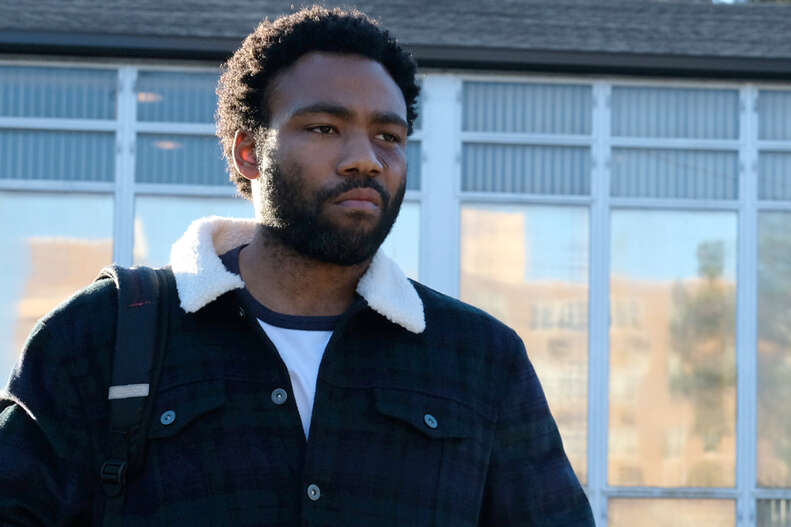 FX
FX
Last night on Jimmy Kimmel Live, Donald Glover was asked if he keeps up with all the "analysis" of the video for his latest single, "This Is America." Making an appearance to promote his role as supreme space-charmer Lando Calrissian in the upcoming Solo: A Star Wars Story, the actor, musician, writer, director, and occasional lawyer claimed he's been keeping himself in the dark regarding the essays, videos, and tweet threads attempting to "decode" the song. "To be honest, I haven't been on the internet since the Thursday night before Saturday Night Live," he told Kimmell. "I don't wanna be in all the…," He trailed off. "It's bad for me."
Judging from the masterful finale of Atlanta Season 2 that also aired last night, his unplugged approach is clearly working. For all the media hype and fan speculation that swirls around Glover's career, Atlanta has remained a show grounded in the struggles, dreams, and anxieties of its characters. Though the series is often celebrated for its surreal detours -- last season's Black Justin Bieber and invisible car were topped by Teddy Perkins's weird egg and Paper Boi's harrowing trip into the woods -- its greatest asset is its ability to do normal TV show things expertly. That includes tying up all the loose threads in a satisfying finale.
"Crabs in a Barrel," which was written by Glover's brother Stephen and directed by Hiro Murai (who also directed the video for "This is America"), probably won't be your favorite episode of Atlanta this season. It's not as consistently funny as "Barbershop," or as profoundly strange as "Teddy Perkins." But it accomplished something that the best finales often do: It gave every main character a moment to shine while also providing an ending to the season's main arc. There wasn't a wasted scene in the episode's 30 minute runtime, but there were still countless small moments of quiet humanity and wry absurdity. We got Lottie tenderly touching her father's beard right before he heads out on tour for two months and Lakeith Stanfield's Darius offering up a joint to his friends by doing a silly voice. ("I really wanna be smoked," he pleads.) The show never sacrifices the micro for the macro.
Almost every episode this season was about the relationship between Glover's Earn and his cousin Al, also known as Paper Boi and played with understated gravitas by Brian Tyree Henry. After the chaos of "North of the Border," which saw Paper Boi growing frustrated with Earn's mismanagement, and the nostalgia of "FUBU," which examined their dynamic as children, it made sense for the finale to up the tension between the two men. In many episodes, the cousins were presented in isolation, giving us the chance to understand their individual perspectives. The finale promised some closure -- or an explosive conflict.
With Paper Boi preparing for his first big European tour opening for "Yoohoo" rapper Clark County, there were ample opportunities for Earn to make a mistake that would get him banished from Al's inner circle. Most of the episode follows him in a series of uneasy confrontations with authority figures and gatekeepers: He meets with an entertainment lawyer with Paper Boi, Lottie's concerned teacher with Van (Zazie Beetz), and a young Jewish passport expediter with Darius. During each encounter, Earn feels like he's getting squeezed. Even the movers at Paper Boi's hit him up for extra money so they'll stop eating lunch and pack up the truck.
The tension reaches a breaking point when the guys finally make it to the airport. (In a brilliant touch, Earn brushes by a suit-wearing credit card salesman, the job he left behind at the beginning of Season 1.) While waiting in line for the security check, Earn discovers the golden gun from Uncle Willie, the alligator-chasing eccentric from the season's premiere played by Katt Williams, in his bag. It was laying around Al's house earlier and he simply stuffed it in his backpack and forgot about it. In a life-altering act of desperation and survival, he swaps it into Clark County's bag. Crisis averted.
That decision, which Paper Boi witnesses in line, ultimately saves Earn and solidifies the wavering bond between the two. When the guys are safely on the plane, Al tells Earn he appreciates what he did. "You the only one who knows what I'm about and you give a fuck," he says. "I need that." As he becomes more famous and gets more opportunities, it's family like Earn that will look out for his best interests. In a system that's stacked against him, Al understands the importance of that.
In a similar way, an unwavering commitment to granular details keeps Atlanta grounded. Compared to the wildly ambitious thematic swing of the "This Is America," a video that's attempting to make a big statement with each densely packed frame, the finale of Atlanta feels focused and locked in. It's the work of a team of writers, actors, and directors who have successfully tuned out the decoders of the world. Hopefully as Glover's star continues to rise, Atlanta will retain that closed-off quality. Lando is free to explore a galaxy far, far away, but Atlanta has created a rich universe right here on Earth.
Sign up here for our daily Thrillist email and subscribe here for our YouTube channel to get your fix of the best in food/drink/fun.