G Flip Was Always the Husband
The Australian singer/songwriter on what culture has influenced their identity.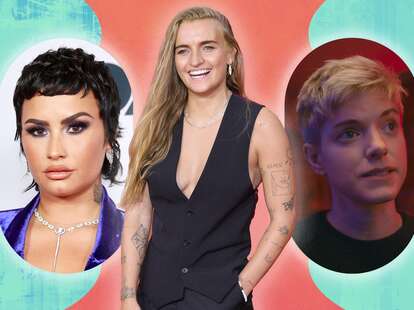 Design by Chineme Elobuike for Thrillist
Design by Chineme Elobuike for Thrillist
When I get on Zoom to interview the Australian singer/songwriter G Flip, they're hungover. They spent the night before at the MTV Movie Awards with their new partner Chrishell Stause of Selling Sunset fame and celebrated the many wins the show received. As they peer over the top of their black cat eye sunglasses, you can tell the night before was mad real.
The 27 year old, who released their debut album About Us in 2019, won Breakthrough Independent Artist of the Year at the Australian Independent Record Labels Association and the lead single of the same name received acclaim from Pitchfork. They've recently released the single "GET ME OUTTA HERE," which got the attention of the internet when it became clear that Stause, the video's star, and GFlip were dating. Being with Stause, who has previously identified as straight, has catapulted them into tabloid fame, which G Flip has taken in stride, primarily because they have one another to lean on.
While they've both received backlash about the relationship, G Flip primarily sees it as a positive for people to educate themselves about being non-binary. "We are both positive people and we talk about the positives and we're like, 'It's good that people are having this conversation about gender identity and queer relationships,'" they say. On the heels of their new single, they'll be doing a mini tour across the US that includes the Aussie BBQ for Central Park's SummerStage on June 18th where they'll play with other Australian artists.
They are currently working on new music, writing songs in the shower, which is one of their favorite places to create. GFlip wants to continue establishing authenticity in their music—whether that's talking about their relationships, identity, friendships. Mostly because they are hoping that they can be a role model for those out there questioning who they are. "I [hope] I can normalize same sex relationships, being non-binary. Just be someone that I needed when I was a kid. Because I know if I was around when I was a kid, it would've helped me in my coming out journey."
GFlip talked to Thrillist about Mae Martin's TV show Feel Good, appreciating the queer people in their life, and coming out as non-binary.
Knowing they were queer from an early age
I grew up going to a Catholic primary school and then a Catholic all-girls high school. There was a big gap in absence of queer media, which definitely affected my coming out story and how I came out. I didn't come out till later, I was about 20 years old. And I knew I was queer from a very, very young age. I remember in kindergarten being 3 or 4 years old and now when I look back, I was flirting with the 16-year-old help teacher. We had nap time, [I was] pretending to nap and cheekily being like, "Oh, I'm not asleep." Then whenever she'd stand up and walk around, I'd hold her hand and look up at her. Whenever she'd sit down, I'd sit in her lap. I was obsessed with her. You know, how people would play husbands or wives? I was always the husband.
Coming out as non-binary
It all came down to education. I didn't know what non-binary was. I heard the word, I knew some people that in the media had come out like Demi Lovato and Sam Smith.
I remember coming across this amazing piece online called The Gender Unicorn. That unicorn taught me a lot. It really just took me to read and educate myself on what being non-binary is for me to be like, "Oh, wow. That feels like me." I remember I had a she/they iPhone cover that I was using over Pride month.
It was becoming more and more apparent that, "Oh, that's how I identify." And then it took just a conversation with my ex-girlfriend, actually, who's worked with many people who identified as trans, identify as non-binary. She's worked in that space before, and I felt like in my life I hadn't had many non-binary, trans, or queer figures to talk to. My ex-partner was just so gentle and beautiful and she was like, "G, you've got your she/they phone case. Let's talk about your gender identity."
I'm so glad that now there are non-binary figures in the world for people to look up to because if I knew about being non-binary as a kid, fuck, it would've made my life so much easier.
Feel Good
There's that beautiful scene [in Season 2] where [Mae and George] get food, they turn around and they walk away, and Mae gets referred to as a guy. They say, "Thank you, sir" to Mae. Mae turns to their partner and is just like, "He called me, sir." And then [George] was like, "How do you feel about that?" Then they talk about gender in such a beautiful and easygoing way. Mae's partner just says, "Well, what do you feel like?" Then Mae's like, "I just feel like Mae." And then her partner says, "Well, I think that could be non-binary, Mae." And then May's like, "Yeah, I think it is."
When I watched that, it reminded me of my situation with my ex-partner. It was so easy and it was just like, "Well, G I think you are non-binary." And then I was like, "Yeah, I am."

Appreciating the queer people in their life
I feel like any queer human anywhere on the spectrum, I'm like, "Just fuck yeah." It takes a lot to be your authentic self. Everyone has their own journey and some people have had really rough journeys. Everyone has a different queer journey and everyone has their own story and the people that I'm surrounded with, I'm just like, "Fuck, I love you so much. And I look up to you," and that's the inspiration I need. The people that I've surrounded myself with, who I'm just totally in awe of.
I feel like my queer icons are the beautiful queer humans that I've met, that are around me that I love and adore. They've been through some tough things, but they're fighting every day to just live their authentic life.
Kerensa Cadenas is the Editorial Director of Entertainment at Thrillist. You can follow her@kerensacadenas.