Everything We Know About Netflix's Live-Action 'Avatar: The Last Airbender'
The beloved Nickelodeon show is once again getting a live-action treatment—but this version is shaping up to look really good.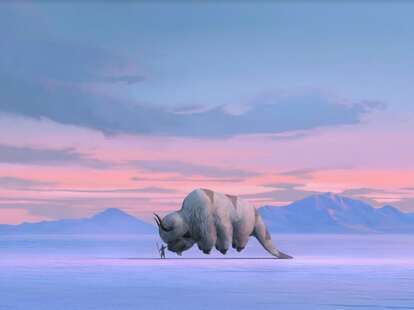 When Avatar: The Last Airbender, one of the greatest animated series of all time, came to Netflix in May of 2020, the people started asking: What's up with that new live-action series they were talking about? In 2018, Netflix announced that it would be retelling the story of the Gaang with real people, and fans were immediately piqued. They were also a little worried, and with good reason: M. Night Shyamalan directed a legendarily horrendous live-action film adaptation of the first season of the series back in 2010 that included one memorable scene where a team of powerful earthbenders move a pebble across the screen. But there are still plenty of ways for a live-action version of this story to be good, and at least now Netflix has a primer of what not to do. Here's everything we know about Netflix's live-action Avatar series so far.
When is the live-action Avatar series coming out?
Netflix first announced its plans in 2018. As it still appears to be in planning stages, there is no release date yet. Production was originally planned to start in 2019, and then announced that it would happen in 2020, but the pandemic halted any production on the series. At least the delays gives them more time to perfect the show!
Fans can officially get excited, though, because Variety reported in November 2021 that the series is now in production. With all those fancy effects, this one should be a bit of a heavy lift when it comes to filming and post-production. So if we had to guess, at the earliest, the show could maybe premiere in late 2022.
Which characters will be in it?
We can expect to see all the major players—Aang, Katara, Sokka, Toph, Zuko, Iroh, Azula, Firelord Ozai, etc.—but since it hasn't been cast yet, we don't know who else will make it into the series, whether it'll combine some minor characters, or if it'll take some out entirely. Hopefully, Cabbage Man makes the cut.
Will it follow the original story?
As far as we know, yes. The original Nickelodeon show was set in the fictional world of the Four Nations, each corresponding to a certain classical element, and each home to "benders," those who could psychokinetically manipulate one of those elements using martial arts. Only the Avatar, a reincarnated human, could master all four elements and keep the balance of the world. 100 years before the series begins, the Fire Nation attacked the other three, subduing the Air Nomads and one of the Water Tribes, and began a decades-long war after the Avatar vanished. In the first episode, waterbender Katara and her brother Sokka discover the missing Avatar, the only surviving airbender named Aang, in suspended animation in an iceberg, and help him on his journey to learn the rest of the elements and defeat the Firelord.
The original series was separated into three seasons, or "books," of 20 episodes each. The show may follow this format, releasing three seasons that follow the events of the original, maybe with longer episodes and skipping over the weaker one-shots ("The Great Divide," anyone?).
Who is in the cast?
Great news!! The first four members of the cast were officially announced in August 2021: Gordon Cormier will be playing Aang, Kiawentiio is playing Katara, Ian Ousley is Sokka, and Dallas Liu is Prince Zuko. This announcement is exciting not only because it looks like the show won't be aging up the main characters too much, but also because this casting is just about the most inclusive we could hope for. In another extremely exciting announcement, superstar Daniel Dae Kim (Lost, Hawaii Five-0) has been cast as the villainous and ruthless firebender conqueror Fire Lord Ozai, so it looks like we're going to have to root for the bad guys this time, whoops. Just kidding. (Sorta.) Netflix has also announced that Paul Sun-Hyung Lee (Kim's Convenience, The Mandalorian) will be playing Prince Zuko's Uncle Iroh (the best character), Lim Kay Siu (Anna and the King, Sleep with Me) will play Aang's Air Nomad mentor Gyatso, and Ken Leung (Lost, Industry) will play the Fire Nation's violent Commander Zhao.
In terms of casting, Netflix has been especially looking out for people of color. Shyamalan's movie was derided not just because it was bad, but because the majority of the main cast was white. The show is set in a conglomerate world built upon East Asian, New World, and Inuit influences—none of which contain any white people. Original series co-creators Michael Dante DiMartino and Bryan Konietzko were very clear about this in a statement from 2018:
"We can't wait to realize Aang's world as cinematically as we always imagined it to be, and with a culturally appropriate, non-whitewashed cast. It's a once-in-a-lifetime chance to build upon everyone's great work on the original animated series and go even deeper into the characters, story, action, and world-building."
Konietzko did reveal on his Instagram that he was looking for a way to involve Dante Basco, one of the most recognizable voice actors in the game who played Zuko in the original show, in the remake somehow. Basco also reprised his role for Avatar's sequel series The Legend of Korra, but obviously won't be playing Zuko in the remake.
The Illuminerdi reported (though this has not been confirmed) in February 2021 that in this version, Katara would be the older sibling at 16, and her brother Sokka would be 14. Aang will stay pretty much the same at 12.
In a series of casting descriptions acquired by entertainment site The GWW, it sounds like a lot of character backstory could be changed, in particular adding in an adoption narrative to Aang's childhood and having Fire Lord Ozai pit him and Zuko against each other for some "project." It all sounds sort of fake and bad, and nothing has been confirmed by Netflix, so hopefully this is just one of those rumors that eventually fades away.
Who else is involved?
Original series creators DiMartino and Konietzko were originally going to executive produce the show, but in August 2020 both announced that they had left the project in June, citing creative differences with Netflix and vague reneged promises. We'll probably never know what exactly was the final straw for them, but it all sounds pretty damning, especially for a company like Netflix, which has traditionally kept very hands-off of its own productions. Some suspected it had something to do with the network's original promise to cast all non-white actors for the principal roles, and fans even called to boycott the series back in August 2020.
The original show's voice cast, during a virtual reunion panel, questioned the point of the live-action show, with Dee Bradley Baker (who voiced Appa and Momo) asking, "I'm open to whatever they do with the live-action series, which I know nothing about, but it's like, 'Well, how do you do this better than the way that it was rendered on this show?' I don't know how you do that! I hope you can." They discussed M. Night Shyamalan barring DiMartino and Konietzko from having any creative input in his movie, and Olivia Hack (who voiced Ty Lee) said, "Especially when you're doing the exact same series, but as a live-action. You're not adding onto it or expanding the universe. You're doing the same thing, which feels redundant, but I don't know."
Composer Jeremy Zuckerman will return to compose the music. Jan Chol Lee, who worked on Disney's Big Hero 6, among others, is a concept designer for the series. Dan Lin (The Lego Movie, It, Sherlock Holmes) will be executive producing.
Emma Stefansky is a staff entertainment writer at Thrillist. Follow her on Twitter @stefabsky.