The Investment: AVI-8 NATO Flyboy Collection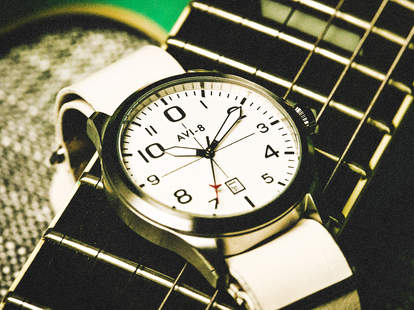 AVI-8 Flyboy Collection NATO Watch Box Set - $139
You don't have to be a history buff to appreciate that the watchmakers at AVI-8 name most of their watches after WWII-era fighter planes. The  folks at AVI-8  are aviation-obsessed, and for good reason. (Get it? AVI-8 = "aviate"...)
"We are watch and plane enthusiasts," says AVI-8 CEO Drew Deters, whose grandfather piloted a bomber during World War II, "and [we] couldn't find any pilot watches we loved that weren't too expensive, so we decided to design our own line."
While they make timepieces christened after planes — like the Hawker Hurricane and Lancaster Bomber — today's Investment is named for the pilots themselves: Flyboys. (Though to be fair, women flew too.) We have a larger AVI-8 collection, but this piece — the very versatile Flyboy — features three swappable NATO straps.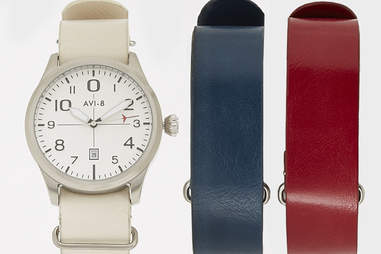 Interchangeable straps like the NATO are popular with watch collectors for a number of reasons, mainly because it's easy to match a strap according to style or mood. The original swappable-strap watch was military-grade, and introduced in 1973 by the British Ministry of Defense. Their design was nicknamed 'NATO' after the watch's stock number—it's got nothing to do with the North Atlantic Trade Organization.
We are watch and plane enthusiasts (my grandfather served in WWII on a bomber) and...decided to design our own line to offer beautiful designs and great quality at a fair price.
Traditional NATO straps are doubled-over nylon, cleverly designed to keep a watch fastened securely on the wrist even if one of the buckles should happen to break. AVI-8's Flyboy features fashionable leatherette straps instead of the usual nylon — which puts a stylish twist on the classic military-spec look.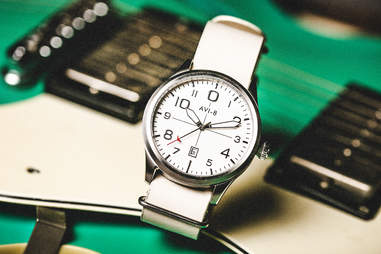 The AVI-8 Flyboy sports a stainless steel case that will withstand up to 5ATM of water, which is roughly about 170ft. (Handy if you have to eject over the ocean.) The watch comes with a two-year warranty as well, so this Investment is sure to pay off.