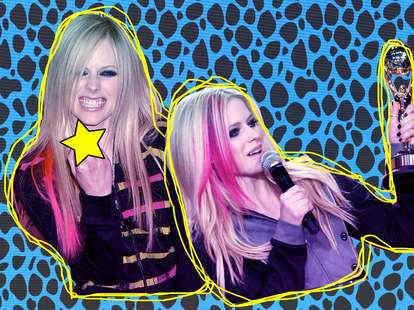 Avril Lavigne's 'The Best Damn Thing' Was Pop's Most Surprising Success of 2007
Welcome to Partial Recall: 2007, a week of stories dedicated to trying to remember what life was like a decade ago.
If you were to take a stab at naming the best-selling record of 2007 (no cheating), which would you choose? Remember, Kanye West's Graduation came out, with help from Daft Punk on the inescapable "Stronger." Rihanna dropped her breakthrough Good Girl Gone Bad with hit after hit and the unforgettable high mark of "Umbrella." Radiohead put out In Rainbows through the first mainstream use of the "pay-what-you-want" model. And LCD Soundsystem effectively pushed the underground indie scene into the mainstream with Sound of Silver. But if you guessed any of these you'd be wrong. The honor belongs to Avril Lavigne's The Best Damn Thing.
The pop-punk princess somehow managed to occupy every bizarro trend of the post-Y2K decade at once -- emo bands swapping guitars for synths, huge artists making their start with nostalgic sounds, musical endeavors of pop culture figures exploding with success then quickly fading -- yet still captivated conventional pop audiences with the release of her third studio album. The extremely '00s record somewhat-miraculously out-sold a shit-ton of other heavy hitters, a story we're dubbing one of pop's most surprising success stories.
Until 2006, when she began writing The Best Damn Thing, Avril was marketed as the edgy outcast's hero, the answer for girls who didn't identify with the Britneys and Christinas of the pop world. Lavigne's career flourished at the early age of 15. (If the folklore is to be believed, she signed a million-dollar, two-record deal after nailing a 15-minute audition for L.A. Reid, a high-powered exec, in a Manhattan hotel room.) From the very beginning, she was placed in the unique position of being as old as the fans who looked up to her -- a teen phenom who was a teen herself -- which formed an intimate connection uncommon in pop, the exceptions reserved for Disney talent-turned-musicians. The gamble placed on her voice and aesthetic paid off: 2002's Let Go, with singles like "Sk8er Boi" and "Complicated," went six-times platinum in the United States. Two years later, she released her second LP -- skater image still intact but nuanced now, with songs exhibiting a stronger vocal performance: "My Happy Ending" and "Nobody's Home," among others.
Thanks to the rise of bands like Blink-182, Good Charlotte, and Sum 41 (the frontman of which, Deryck Whibley, would marry Lavigne later in 2007), pop-punk was suddenly the new vogue, and Lavigne's carefully commercialized disobedience made her the female counterpart to the genre's bravado. Young women looked up to her and their parents tolerated her -- she was tomboyish and exuded rebelliousness, but was ultimately non-threatening (it didn't hurt that her ballads eventually made their way to adult contemporary radio).
By the time of her third record, Avril was 22 and no longer interested in playing the fun-loving high school badass who wore loose ties over tight white tank tops. She maintained her high energy, but began to experiment. No longer would she be the person in her infamous 2003 ABC Family series, the very one where she announced, "I'm not a punk rocker. I don't have punk music. Maybe I have some punk characteristics about me, but I don't walk around calling myself a punk. If you want to know what I think I am, I think that I'm just a rock chick." It's was a joke heard 'round the Twitterverse.
In a 2007 mini-documentary about The Best Damn Thing, Lavigne kicks off the track-by-track breakdown by looking at the camera: "Going into this record I knew exactly what I wanted to do. I had no A&R guy. I A&R'd this record. I didn't talk to my label; I didn't talk to my management. I said 'Let me do my own thing.' I wrote songs and recorded them and no one heard anything till I was done."
Judging by the behind-the-scenes shots that follow, you're inclined to believe her -- the first few minutes are dedicated to the writing of "I Can Do Better," images of recording interrupted by scenes of Lavigne skateboarding with her producer, Dr. Luke. She talks about drinking too much Limoncello, a lemon liqueur from Southern Italy that's the kind of sweet drink you drink when you first get into alcohol. This is a far cry from her "Sk8er Boi" days, the simple teasing of a heterosexual crush; now that she was drinking aged, there were adult things to talk about. Limoncello even gets a shout out in the song.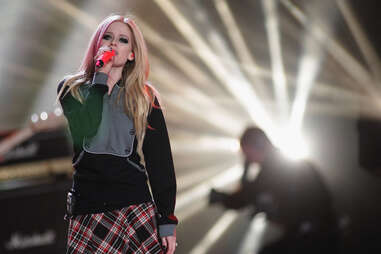 In another scene, pop-punk powerhouse producer Rob Cavallo, known for his work with Green Day and My Chemical Romance, shows up to record the B-side "Innocence" -- the pair drink Jäger and smoke a joint together, and Cavallo leaves as quickly as he entered. Later, Blink-182 drummer Travis Barker is asked to lay down percussion for "I Can Do Better," which sounds like Enema of the State-era Blink. It's delightfully derivative of his own work -- and Barker ends up recording the drums on "Runaway," "The Best Damn Thing," "I Don't Have to Try," and the Japanese bonus track "Alone" while he's there.
The entire 40-minute spot has the delinquent vivacity that made Lavigne famous in the first place, but it's decidedly riskier -- at least, in the realm of her public persona -- and it's with that lurking treachery that Avril started exploring instrumentally: more synths in addition to guitars and a sort of rap-sing vocal performance. Her new music was much more poppy than the three-chord, distorted guitar pop-punk that made her a name, and it played to structures in other forms of popular music (her pseudo-rapping, her straightforward pop songwriting). She wrote about drinking and relationships and villainized competing girlfriends in a way that was still juvenile, but a bit more biting. A new Avril meant a new Avril for older audiences and audiences of different listenership to enjoy.
A record that could have put Avril diehard fans on edge simply reflected their own personal development. Lavigne exuded a certain charismatic authenticity -- whether it's genuine or even warranted -- that caught the attention of those outside her precise demographic. The people who could not care less about her were left with unavoidable radio hits -- the singles of The Best Damn Thing played with cheerleading cadence a few years after Gwen Stefani's "Bananas," and the familiarity in "Girlfriend" or "The Best Damn Thing" helped bolster their successes -- on alt-rock, pop, and modern hit radio alike. Avril was everywhere.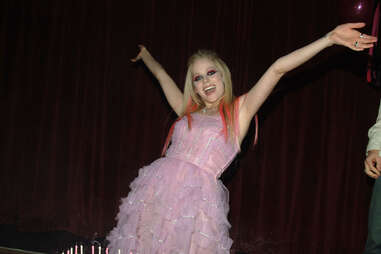 The record as a whole is a performatively fun-loving PG-13 '00s high-school movie. It's largely inoffensive; it plays to our most individualistic, carefree impulses. Records like these only do well when it's the kind of music the year is open to: The Best Damn Thing becoming the best-selling record of 2007 speaks to the climate of the year, at least culturally. Playful escapism and whimsy reigned supreme. It's easiest to see in film: the highest-grossing movie of the year was Pirates of the Caribbean: At World's End followed closely by Harry Potter and the Order of the Phoenix. On the indie side of things, Juno entered our hearts, making space for oddball women to become leads. This is before the sort of commercial popularity of feminism (not that it was purer then, or now) but pop culture opened itself up to uncommon characters -- and where escapism failed, personalities prevailed. It's easy to envision Avril watching a movie like Juno, turning to a friend and saying, "She's exactly like me." So many of us young women did, too.
And still, 2007 was undeniably an incredible and weird time for music. The year was soundtracked and choreographed by Kanye's "Stronger," Soujia Boy's "Crank That (Soulja Boy)," T.I.'s "Big Things Poppin' (Do it)," Linkin Park's "What I've Done," Daughtry's "Home," and Fall Out Boy's "This Ain't a Scene, It's an Arms Race," yet somehow, Avril came out on top. There's no real method to the madness except, perhaps, that those artists are driven by singles (and absolutely performed better than The Best Damn Thing). But Avril Lavigne is a young girl's artist, and young girls are the most loyal fans on the planet. They'll listen to the hits but they'll also buy your record. That's an ineffable power.
At its heart, The Best Damn Thing is a self-assured record. Where a decade of mythos might lead you to believe it's a title that reflects love, Avril lets it be known that the best damn thing is, in fact, herself. The Best Damn Thing's success might seem like a weird blip on pop culture's radar, but that's only in legacy -- at the time, it was a necessary record, an experiment for Avril but a safe choice for everyone else. It's records like these that mean a lot to a lot of people for a short period of time, and there's something uniquely wonderful about its temporary nature. Great art doesn't have an expiration date, but trends do. And Avril set that bar pretty damn high.
Sign up here for our daily Thrillist email and subscribe here for our YouTube channel to get your fix of the best in food/drink/fun.