Inside the Bizarre, Booming Business of Turning Hit Songs into Baby Lullabies
There is not one, nor two, but at least three albums of Tool songs transposed into lullabies. Songs by metal bands like Iron Maiden, Slayer, and (deceptively) Babymetal have been decelerated and marimbafied for the ears of infants. Icons like Beyoncé, David Bowie, and Jennifer Lopez glockenspieled; pop-punk bands like Blink-182, Green Day, and Rancid gently woodblocked; grunge bands like Stone Temple Pilots, Soundgarden, and Smashing Pumpkins xylophoned to put the 0-to-9-months crowd to sleep.
Beneath the hit-filled playlists of Spotify and YouTube is an entire shadow world of babified rock, pop, hip-hop, EDM, country -- really, most any genre of music -- swimming concurrently to adult-person music, most recently broaching the surface of public consciousness during this year's Super Bowl. Of the many befuddling commercials that aired during this year's game, there was one especially puzzling T-Mobile ad promoting gender and racial equality, in which a camera slowly hovers over a rainbow of baby faces as the narrator whispers a few apolitical lines about how everyone deserves a fair shot in life. The masterpiece is set to a nursery-friendly cover of Nirvana's "All Apologies," In Utero's A-side companion to "Rape Me," and wildly considered an augury of Kurt Cobain's suicide.
Surely, it was made special for the commercial itself? you might have assumed. But no: the cover is from 2006's Nevermind-heavy Lullaby Renditions of Nirvana, one of the first releases by the imprint Rockabye Baby!. According to Lisa Roth, creative director of Rockabye Baby! (and David Lee Roth's sister), the agency hired to find a song for the commercial contacted the company just a week and a half before the air date. The company's back catalog was ready for the demand. How well did the fluffy grunge cover play? Traffic to the Rockabye Baby! website jumped 75% the day after the Super Bowl.
There is an incorrect, albeit justifiable, sense that babified rock music cropped up out of left field. The Rockabye Baby! version of "All Apologies" was scored in early scenes of the documentary Montage of Heck in 2015. Foregrounded by previously unreleased home videos of Cobain as a toddler, the track felt a natural fit, if not a spooky indulgence in foreshadowing. In 2016, USA's Mr. Robot licensed the lullaby version of Green Day's "Basket Case," produced by another label imprint called Twinkle Twinkle Little Rock Star, for an episode in the second season. Playing over a dream sequence wherein Rami Malek's Elliot fantasizes about atonement, finding love, and opening up to the people he cares about, it takes a second to place the twinkly glockenspiel and harp as the melody to Billie Joe Armstrong's song about coming to terms with his panic disorder. Admittedly, if you know the words to the song (you know the words to the song!), the contrast of the daydream and the manic lyrics of "Basket Case"... kind of works.
Popular music-turned-lullabies may never break out in a meaningful way. Even among music meant for children, it's been noticeably absent from Billboard's best-selling Kid Albums chart, probably since babies can't, you know, demand to listen to the Frozen soundtrack (charting for almost three years) for the 12th time that day unlike a tiny human with language can. Since Billboard started tracking children's music in 1995, releases from Disney's many labels, including but not limited to movie soundtracks and the inimitable Mickey Unrapped, and endless new Kidz Bop records have dominated.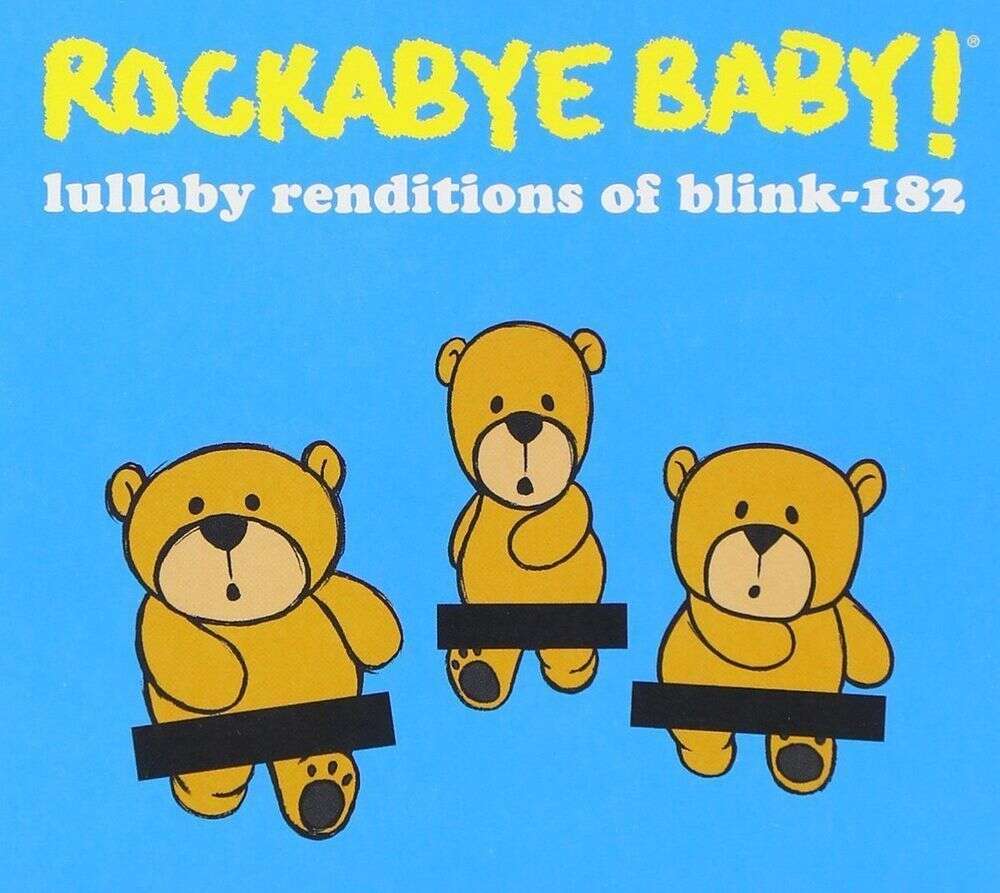 Finding these kinds of releases alongside albums of traditional lullabies on the quest to find a suitable baby shower gift for her pregnant music-loving friend, Roth's idea for Rockabye Baby! came from the frustrating dearth of things she would want to give, or receive. She pitched getting into the baby business with covers of popular artists to the label where she was newly employed. "We have to create a baby product for the parent," she said. In 2006, the Rockabye Baby! imprint put out its first collection: Lullaby Renditions of Metallica.
The album was the first of its kind, unintentionally riding the fallout from new research that debunked the real effectiveness of ultra-successful brands like Baby Einstein, which capitalized on the pop psychology theory of the Mozart effect (boiled down: if you play your kid classical music, they'll end up being smarter). "If that's the case, why can't I make lullabies with a little more music to it than silverware in a drawer?" Ty Visconti recalled in the inspiration behind Twinkle Twinkle Little Rock Star, which now has 333 albums in its catalog. The industry is serving the innovation: Rockabye Baby! has had 200 million audio streams, 400,000 digital album downloads, 2 million digital track downloads, and 1.8 million physical album sales.
Rethinking the content and quality kids' music was already on the rise -- in the same year Rockabye Baby! launched, Beyoncé's father Matthew Knowles put out Kid's Rap Radio, and a Disney imprint released an album of re-recorded kid-friendly Devo songs -- but nothing had bridged the gap between infancy and toddlerhood using source material already familiar to parents. In 12 years, the space has grown exponentially while remaining subversive to most anyone who doesn't have a new wailing baby on their hands. On top of recreating a back catalog spanning the Beatles to Bjork and staying on top of newer releases by artists like Lorde, Rihanna, and the cast of Hamilton, labels keep on a grueling production schedule. Early on, Visconti was releasing up to 12 albums a month; it's since slowed to three or four. Rockabye Baby! works on a similar timeline, farming out track listings to a handful of experienced producers who work with a brand-approved digital palate of "organic instruments," Roth said.
"We're looking to strike the perfect 'clunk and tinkle' lullaby that's enjoyable for a young baby but keeps the original intention of the artist." A record could go through the tricky mixing process 15 times before it's right. "We approach this in a very adult way," Roth said. "It's the irony of our brand." Her self-awareness is somewhat relieving considering the uncanniness of and earnestness behind the covers. "How seriously can you take lullaby renditions of Tool?"
The answer is not very. I challenge anyone to listen to the lullaby version of LMFAO's "Party Rock Anthem" with a straight face. Or Rush, or Nine Inch Nails, or 5 Seconds of Summer, or Thrice, or Kid Rock, or Korn, or Deadmau5. Or Saves the Day or Alkaline Trio, in the case of Sparrow Sleeps, the project of musicians Peter Lockhart and Casey Cole who focus on turning beloved cult, punk records into lullabies.
The records are dopey but also genius in appealing to the increasing number of adults trying to maintain some semblance of cultural familiarity during the turbulent early years with small children. Having spent the better part of a day tuned to iHeartRadio's Lullaby channel, it's hard to overstate the reprieve a Led Zeppelin song for babies provided in between traditional lullabies and dainty piano music. For anyone with an irony-raddled brain, scrolling through these albums on Spotify is its own experience that keeps on giving. But the greater power lies in opportunities for gifting copies to new parents by their jaded friends who were forced to mosey around Amazon or a Buy Buy Baby store to pin down a decent congratulatory offering. Save a sudden mass subscription to antinatalism, "babies are a perennial," said Roth. "They're not a trend."
"People are discovering this music as often as they're having kids," echoed Visconti. Which is to say: if you want to recruit the babies, developing and helpless, appeal to their parents. Especially the ones who hope to impart a Good Music Taste™ in their offspring. "Let's face it," Visconti said, "when you buy your kid a David Bowie onesie, is that for your kid or is that for you?"
Sign up here for our daily Thrillist email and subscribe here for our YouTube channel to get your fix of the best in food/drink/fun.