The 27 Chad-iest Chad Quotes from 'Bachelorette: Men Tell All'
Last night there was, once again, Chad. Chaaaaaad.
The Bachelorette's "Men Tell Some and Omit Other Things" reunion show is generally a bunch of limp finger-pointing and people showing off fancy new haircuts before their sliver of pseudo-fame slips forever out of sight. But Chad is anything but temporary. Chad is every force of nature put together, including "weak nuclear," which is one people often forget.
Chad held a masterful court for about 45 minutes, fending off attacks, firing lasers into people's hearts, revealing that he slept with three of the other guys' ex girlfriends, proving once and for all that Evan pushed him, and making an astounding amount of logical sense. This was pure Chad, rivaling the wisdom declared during this season of Bachelorette. Thankfully, we're not close to through with him; Chad will be on this season of Bachelor in Paradise, which is fantastic. Until then, here is Chad's finest Chadding from last night.
Chad, on dudes
"Fuck all these dudes."
Chad, on proportion

"Alex. You little man-let. I will destroy you."
Chad, on the limitations of TV stardom
"What do you do? You can't punch someone on camera!"
Chad, on what could've been
"Maybe I should've punched somebody! Maybe if I punched one person, they would've been like, I shouldn't brush into this dude."
Chad, on career choices
"At the end of the day, it's like, Chase, Vine guy, Alex model, James singer, Wells, radio show, Evan, dick-dock, I don't even know what you're trying to do, it doesn't make sense -- everyone's trying to do something in media, modeling, acting, or something like that."
Chad, on systematically banging everyone else's ex-girlfriends
"We're not all bad, like, we're not all bad guys, just because we're on the show. Am I still talking to Hope? Absolutely. Am I still talking to Jen? Absolutely. I'm not like, planning on getting married to them within like three weeks or anything. You know, we talked."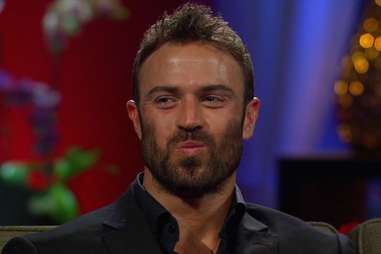 Chad, on sensible footwear decisions
"You wanna fight me? I'm probably pretty sure we shouldn't do that both in dress shoes."
Chad, on neural pathways
"Think about your thoughts before you say them."
Chad, on contrition
"Why... would I... apologize?"
Chad, on feng shui
"You were scared of me. You moved bedrooms."
Chad, on words
"You get scared about words, bro? If you get scared of words, welcome to the real world. You're gonna have to grow up pretty soon."
Chad, on just another victim
"I don't make myself out to be a victim, I just don't deal with your bullshit of, 'I'm Derek, I'm fucking sensitive,' like, shut up dude."
Chad, on focus
"I just mind my own business, 24/7."
Chad, on sartorial coordination
"Your pocket square doesn't match your shirt."
Chad, on humor
"I made jokes about you... to the cameras... because it's funny."
Chad, on good vs. evil
"Apparently there is something like, all right, I'm a good person and he's a bad person, and if I constantly say he is the bad person, so if I just constantly say he's a bad person, that will make me so much better. It doesn't work like that."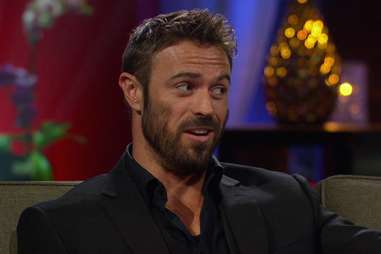 Chad, on reverse-Halloween
"Maybe I'll show up to his house and bring him some candies. Y'know?"
Chad, on Robby's ex
"All I can say is that Robby's not upset about me dating Hope."
Chad, on what Robby has apparently said to his ex
"I know he's threatened her! Take it for what it is, he's just saying, don't talk to anyone, don't do any interviews, or I'll come git ya."
Chad, on man's desire for solace
"Just leave me alone. Mind your own business. Do your thing. And that didn't work out."
Chad, on balance
"The fact of the matter is, even on, showing that, showing he pushed me -- it didn't show how hard, I almost fell, I played it well."
Chad, on home construction
"It was a very hard wall. My hand hurt for a while."
Chad, on those exes
"Oh believe me, they didn't go after me. Wait. No. Other way around."
Chad, on good vs. bad
"Don't feel bad for me bro, I'm gooood."
Chad, on the music in this world of ours
"Are we supposed to show up and sing songs for ten hours? Is that what we're supposed to do?"
Chad, on human connection
"Thank you very much for that, Wells. That means a lot to me. And I love you."
Chad, on produce
"Sometimes you choose apples when you should've chose pickles, you know what I mean?"
Sign up here for our daily Thrillist email, and get your fix of the best in food/drink/fun.
Ben Robinson is Thrillist's Editorial Director, until Chad takes over at least.