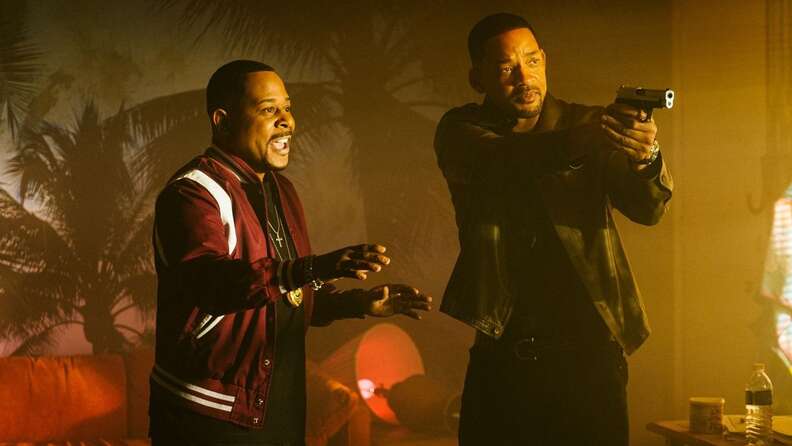 The Return of Martin Lawrence Is the Big Reason to See 'Bad Boys for Life'
Bad Boys for Life, the third entry in the reliably over-the-top buddy cop franchise, is as ridiculous as you'd expect from a series that at one point featured two rats having sex on camera. There's nothing in the new movie that quite matches the vulgarity, cruelty, and vehicular mayhem of 2003's Bad Boys II, which featured the not-exactly-tender rodent love scene and a number of other questionable comedic tangents overseen by director Michael Bay. Busy blowing up cars and putting magnets on yachts for Netflix, Bay gets relegated to a cameo in this long-in-development threequel, but the movie still has the thing that makes the Bad Boys universe worth spending time in: a very, very funny performance from Martin Lawrence.
While Will Smith's swaggering, pretty-boy Detective Mike Lowrey is the most famous face in these movies, they unquestionably belong to Lawrence's anxiety-ridden Marcus Burnett, who always gets the best lines and adds just enough emotional depth to the explosion-filled plot. In the 1995 original, Smith's Mike got the big moment where he ran down the street chasing the villain with his shirt unbuttoned, establishing the Fresh Prince of Bel-Air star as a big screen action movie sex symbol. But Lawrence, with his timing and wit, makes the film tick. He's the not-so-secret weapon.
Going into this movie, I was a little nervous that the comedian might've lost a step and would perhaps struggle to keep up with Smith, who starred in the similarly high-octane punch-fest Gemini Man last year. After all, Lawrence hasn't headlined a movie since 2011's Big Mommas: Like Father, Like Son and hasn't had a significant role since FX's long-forgotten legal sitcom Partners with Kelsey Grammar from 2014, choosing instead to focus more on his personal life in the last decade. In a revealing recent interview with GQ, he blamed the quality of the scripts he was being sent on his absence and also noted, "I had to step back a little bit and get some time for myself." Presumably, the 54-year-old actor is ready for a comeback of sorts.
It's not that Lawrence has completely stepped away from the spotlight. Last year, he played a small, but crucial role in The Beach Bum, director Harmony Korine's lackadaisical character study starring Matthew McConunaghey as a drug-addled poet named Moondog. Lawrence played Captain Wack, a dolphin-loving, octopus-cooking Vietnam veteran with a coke-addicted parrot. Most of the movie has a hazy, directionless quality, but everything snaps into focus with Lawrence's arrival. He makes observations like "dolphins love to bone" and "seaweed is an aphrodisiac" land like killer punchlines. He's still got it.
As a movie, Bad Boys for Life doesn't always have the same ease and comfort that Lawrence brings to the proceedings. Perhaps nervous that younger audiences won't have the same affinity for these '90s icons, directors Adil El Arbi and Bilall Fallah stack the cast with young actors like Spring Breakers star Vanessa Hudgens and Riverdale's Charles Melton, who play members of the Miami police department's special AMMO squad. Though Joe Pantoliano's Captain Howard is still around, screaming his head off at every opportunity, the movie makes some unconvincing gestures towards Fast and Furious-style franchise building. The mix of the old and the new -- Jerry Bruckheimer blockbuster chaos outfitted with rubber bullets, body cams, and tactical drones -- can make for an occasionally awkward fit.
Luckily, it's easy to ignore what doesn't work and focus on parts that do: the shoot-outs, the car chases, and Lawrence delivering lines like "Mike, you fucked a married witch." At the packed screening I attended, it took a little time for the crowd to settle into the movie's herky-jerky rhythms, but by the end Lawrence had everyone eating out of his hand, particularly in an uproarious plane confrontation that puts a similar scene of macho bickering in last year's Hobbs & Shaw to shame. Even if Bad Boys for Life gets a little gooey and sentimental towards the end, you feel like the movie earns it. Like the character he plays, Lawrence might be too old for this shit, but he doesn't show it.
Need help finding something to watch? Sign up here for our weekly Streamail newsletter to get streaming recommendations delivered straight to your inbox.