13 Terrible Movies With Fantastic Soundtracks
Fox Searchlight
Fox Searchlight
As album sales dwindle and movie studios tighten their belts, ambitious soundtracks have become increasingly rare. So what better time to celebrate the coolest, weirdest, and most listenable soundtracks resulting from not-so-great movies?
In the same way that a movie's financial success doesn't necessarily correlate with its artistic worth, some of the best soundtracks of all time came from forgettable or borderline-disastrous films. Luckily, you don't have to watch any of these -- just grab a pair of headphones and let these eclectic soundtracks change your life. (Note: with one exception, I'm talking about soundtracks here, not film scores. Sorry, Hans Zimmer fans.)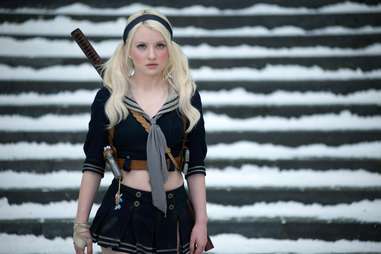 Sucker Punch (2011)
Why the movie is bad: 300 director Zack Snyder officially reached peak-Zack Snyder with this Girl Talk-esque mash-up of Alice In Wonderland, video game cut-scenes, and a drooled-over Hot Topic catalog.
Why the soundtrack is great: Like the movie itself, the soundtrack isn't particularly original, but, luckily, it's got goth style to spare. In a throwback to the ambitious soundtracks of the '90s, the collection mostly features gonzo, operatic covers of classic rock songs like "Tomorrow Never Knows," "Search and Destroy," and "White Rabbit" by contemporary female vocalists. Ever since he scored some laughs with a cheery version of Disturbed's "Down With The Sickness" in his Dawn of the Dead remake, Snyder has shown a knack for selecting covers and remixes that are gleefully on the nose, and the Sucker Punch soundtrack is a gauche tribute to his peculiar dad-rock taste. I mean, where else are you going to hear Oscar Isaac and Carla Gugino covering Roxy Music?
Standout tracks: "White Rabbit" by Emilíana Torrini and "Army of Me (Sucker Punch Remix)" by Björk featuring Skunk Anansie
TRON: Legacy (2010)
Why the movie is bad: With fans waiting over 25 years for a sequel to the Jeff Bridges-starring original, disappointment was probably inevitable. But did the whole thing have to be so tedious?
Why the soundtrack is great: Daft Punk. That's pretty much the only reason. By tapping the helmet-rocking French duo to score the film's countless chases, fights, and scenes of Jeff Bridges confronting his CGI-facelifted younger self, the film's producers injected some gravitas to the laser thin story. Instead of simply mimicking the original's Moog-filled score, the electro-innovators crafted an icy mood-piece that stands on its own whether you're popping a wheelie on a Tron-bike or zoning out in a cubicle.
Standout tracks: "Derezzed" and "The Game Has Changed"
Elizabethtown (2005)
Why the movie is bad: Director Cameron Crowe swung big and whiffed with this tortured rom-com about a suicidal shoe designer (Orlando Bloom) who returns home to Kentucky for his father's funeral and ends up falling for a flight attendant (Kirsten Dunst), the character that inspired the coining of the "Manic Pixie Dream Girl" trope. Seriously, just watch Jerry Maguire again instead.
Why the soundtrack is great: Before he was a filmmaker, Crowe put in time as a young music journalist for rock mags like Creem and Rolling Stone, so his soundtracks, from the '90s grunge of Singles to the '70s classic rock of Almost Famous, are usually impressive. Elizabethtown is no exception, especially if you have a thing for mid '00s alt-country. Tracks from Ryan Adams, My Morning Jacket, and Tom Petty enliven a melancholy, whiskey-soaked collection that's perfect for getting over a bad breakup -- or, even worse, a bad movie.
Standout tracks: "Where To Begin" by My Morning Jacket and "My Father's Gun" by Elton John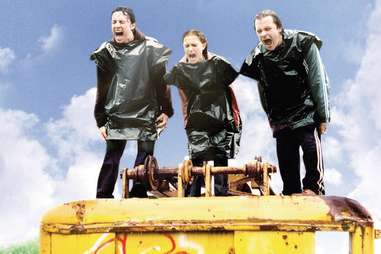 Garden State (2004)
Why the movie is bad: Despite strong performances from Natalie Portman and Peter Sarsgaard, Zach Braff's cloying directorial debut belongs in the same box you store your yearbooks, band uniform, and favorite Warped tour sweatshirt in.
Why the soundtrack is great: It might not have "changed your life," but if you were a sad teen in the early '00s this album probably hopped into you CD burner like an impulsive party-goer jumping into a pool. Moody songs from The Shins, Coldplay, and Frou Frou fit perfectly alongside classic mope-anthems by Nick Drake and Simon & Garfunkel, providing you with the ideal basement make-out session mixtape. Just pray your parents don't come downstairs!
Standout tracks: "New Slang" by The Shins, "Such Great Heights" by Iron & Wine
2 Fast 2 Furious (2003)
Why the movie is bad: "Bro."
Why the soundtrack is great:2 Fast moved the first movie's nos-fueled action from California to Miami, losing Vin Diesel in the process, which ultimately derailed the film. But the series gained something important in this transitional phase: Chris "Ludacris" Bridges, who was at his post Word of Mouf-height and added considerable firepower to the movie's soundtrack. It's a fun, occasionally bizarre snapshot of early '00s hip-hop, where Southern rap from Luda, Chingy, and Lil Flip rubs shoulders with the politically charged rhymes of Dead Prez, New York mainstay Fat Joe, and a pre-fame Pitbull. It may not be cohesive, but it's worth the trip, bro.
Standout tracks: "Act A Fool" by Ludacris and "Slum" by I-20 featuring Shawnna and Tity Boi
Cradle 2 the Grave (2003)
Why the movie is bad: It doesn't matter if you pair him with Steven Seagal, Jet Li, or Tom Arnold, DMX was not meant to star in slick Joel Silver-produced action movies.
Why the soundtrack is great: But he was meant to yell over cavernous, grimy beats from hell. This soundtrack gave us "X Gon Give It To Ya," the shouty classic that's currently having a moment thanks to Deadpool, but it's also notable for the killer Eminem cut "Go To Sleep," along with trunk-rattling tracks from Clipse, G-Unit, and Joe Budden. Most of the songs hit harder than a Jet Li round-house kick to the head. Also, it's the perfect music to blast while you run a naked lap around the halls of a nice hotel.
Standout tracks: "X Gon Give It To Ya" by DMX, "I'm Serious" by Clipse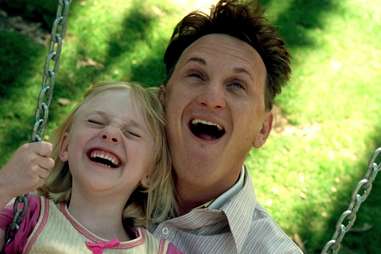 I Am Sam (2001)
Why the movie is bad: Sean Penn is a great actor, but this treacly, manipulative melodrama is really only notable for inspiring this brutal Tropic Thunderriff.
Why the soundtrack is great: The easiest trick to an interesting soundtrack is to put some decent cover songs on there. When the producers behind I Am Sam weren't able to secure the rights to the Beatles songs they wanted to use for the movie, they brought together a rag-tag team of adult contemporary luminaries to create new versions. Your mileage may vary on specific songs -- personally, I'd rather read Sean Penn's El Chapo profile 50 times than listen to Ben Harper sing "Strawberry Fields Forever" once -- but the project has a sunny vibe and the best tracks, like Aimee Mann and Michael Penn's "Two Of Us," breathe new life into familiar tunes.
Standout tracks: "Two of Us" Aimee Mann and Michael Penn, "Let It Be" by Nick Cave and the Bad Seeds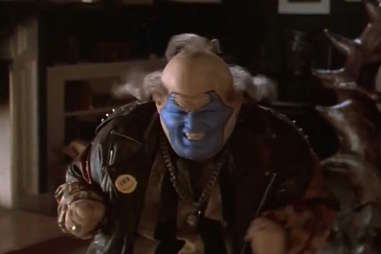 Spawn (1997)
Why the movie is bad: If John Leguizamo delivering lines like, "Every time someone farts, a demon gets his wings," while wearing pounds of horrifying clown make-up sounds like a good time, well, this is the hyper-violent superhero movie for you. Enjoy?
Why the soundtrack is great: Besides covers, the best way for a soundtrack to stand out is by encouraging artists from different genres to collaborate. Spawn gets this. Packed with hard-rock bands like Metallica, Korn, and Slayer joining forces with electronic acts like Moby, The Dust Brothers, and DJ Spooky, the album has a bewildering, experimental quality to it that the film lacks. Obviously, not all the tracks work, but revisiting it is a weird window into a time period when a movie studio funded a Henry Rollins meets Goldie song for a cult superhero movie soundtrack. What a time to be alive.
Standout tracks: "Satan" by Orbital and Kirk Hammett, "T-4 Strain" by Henry Rollins and Goldie
Batman Forever (1995)
Why the movie is bad: It's not quite "bat nipples" bad, but director Joel Schumacher's first turn behind the wheel of the Batmobile, this time with Val Kilmer as Bruce Wayne, is still a garish fleecing of Tim Burton's goth-art aesthetic.
Why the soundtrack is great: Sometimes throwing a lot of money at a problem at a problem can solve it -- or, at least, make it memorable. This expensive-sounding collection has its fair share of beloved '90s hit-makers (U2, Method Man, Seal), but what makes it such a surprisingly cohesive listen are the appearances from underground stalwarts like PJ Harvey, Massive Attack, and Mazzy Star. It's the type of joyfully confused record that both the Riddler and Two Face could love.
Standout tracks: "Hold Me, Thrill Me, Kiss Me, Kill Me" by U2, "The Hunter Gets Captured By The Game" by Massive Attack and Tracey Thorn
Judgment Night (1993)
Why the movie is bad: Less terrible than just totally forgettable, this Emilio Estevez thriller about some friends taking an RV into the city for a boxing match can't rise above its "city as urban nightmare" cliches.
Why the soundtrack is great: Say it with me: rap-rock doesn't have to sound like Limp Bizkit. Instead, it can be incredible and bracing, an innovative mix of hard riffs, pounding drums, and confrontational lyrics. The idea of teaming Dinosaur Jr. with Del the Funky Homosapien or Mudhoney with Sir Mix-A-Lot might sound ridiculous on paper, but the excution here is bold and playful. This is the Holy Grail of eclectic '90s movie soundtracks, an enduring example of what can happen when the power of Emilio Estevez movie brings two genres together.
Standout tracks: "Just Another Victim" by Helmet and House of Pain, "Fallin'" by Teenage Fanclub and De La Soul
Over the Top (1987)
Why the movie is bad: Remember how exciting and cinematic the boxing scenes in Rocky felt? Well, replace those with arm wrestling showdowns and you've got this ridiculous Stallone flop.
Why the soundtrack is great: Just watch this video. Seriously, watch it. You could write a dissertation, an epic poem, or a trilogy of thematically linked science-fiction novels inspired by that video. What's it got? Sammy Hagar playing guitar, riding a motorcycle through Vegas, and ARM WRESTLING SLY HIMSELF IN THE ULTIMATE CONFRONTATION OF CARTOONISH MASCULINITY GONE AWRY. It's beautiful. What would the modern equivalent of this even be? Drake playing Candy Crush against Ryan Gosling? Ed Sheeran getting in a thumb-war with Channing Tatum? Justin Bieber sub-tweeting the Rock? This shit is unrepeatable. Throw in a Kenny Loggins jam and some tracks produced by disco god Giorgio Moroder, and you have a stone cold classic.
Standout tracks: No, seriously, watch the video.
Porky's Revenge! (1985)
Why the movie is bad: Come on -- it's a Porky's sequel. By this point in the series, the long basketball scenes are funnier than the crude sex gags.
Why the soundtrack is great: It's actually inspiring that music producer Dave Edmunds put so much effort into assembling a thoughtful, beautiful soundtrack for such an irredeemably ugly movie. While the crown jewel of the collection is a previously unreleased George Harrison cover of Bob Dylan's "I Don't Want To Do It," there's a lot of jaunty, nostalgia-bait rock songs to enjoy here. It's just a shame that Willie Nelson's version of "Love Me Tender" will always make me think of Ms. Balbricker.
Standout tracks: "I Don't Want To Do It" by George Harrison, "Stagger Lee" by The Fabulous Thunderbirds
Xanadu (1980)
Why the movie is bad: Produced at the tail-end of disco mania, this Olivia Newton John film is a brightly colored fantasia of regrettable fashion, amazing hair, and horrible special effects.
Why the soundtrack is great: Three words: Electric Light Orchestra. While the album's first half is dominated by catchy Olivia Newton John tracks, the second half, which is devoted to the songs ELO wrote for the movie, is where the real party is. It's unsurprising that the the band has become a go-to reference point for modern directors like Paul Thomas Anderson, Michel Gondry, and David O. Russell, but there's something to be said for going back to the original source material -- especially when it's so unapologetically trippy and fun.
Standout tracks: "I'm Alive" by ELO, "All Over The World" by ELO
Sign up here for our daily Thrillist email, and get your fix of the best in food/drink/fun.
Dan Jackson is a staff writer at Thrillist, and he's still thinking about that Sammy Hagar video. He's on Twitter: @danielvjackson.