Should You See 'Bad Santa 2'?
Broad Green
Broad Green
Did you love the original Bad Santa cast?
Your interest in seeing BS2 likely depends on how geeked up you are to see Billy Bob Thornton reprise his role as Willie, the worst mall Santa ever. Willie, plotting one final heist, this time in Chicago, is even gruffer and tougher this time around; from his opening monologue on, he seems hell-bent on debunking the original's "happily ever after" takeaway.
Two other familiar faces from the 2003 original show up, too, as the all-grown-up Thurman Merman (Brett Kelly) and still-foul-mouthed Marcus (Tony Cox) are back to suffer countless Willie insults. Sadly, my fellow Laurens -- Lauren Graham (Sue) and Lauren Tom (Lois) -- are absent, though the former's likeness does make a urine-soaked cameo in the bleak opening montage.
Did you think the moms in Bad Moms were too tame?
BS2 digs deep into Willie's backstory by introducing his mother, Sunny, played with gleeful crassness by our favorite butcher Kathy Bates. If you're also thinking that Bates is way too young to be playing Thornton's mom, the movie nods at the actors' seven-year age difference by explaining that Sunny was only 13 years old when she popped out wee Willie.
Ever wonder how Willie got so fucked up? Sunny, who literally nicknamed her baby "Shitstick," makes that pretty clear pretty quickly. It's probably not the family comedy you were expecting, but Bates's potty-mouthed ex-con serves as a decent foil to Willie's boozed-out apathy.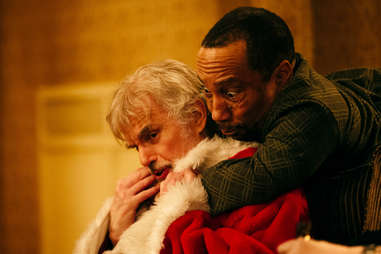 Are you nostalgic for 2003?
Plenty of things have us wishing for a time machine these days, including the memory of how awesome Bad Santa was and how much we miss its fallen co-stars Bernie Mac and John Ritter. Despite how recent 2003 might seem to some, insult comedy is much trickier in today's more politically correct climate: jokes about Marcus' diminutive stature grate more than similar heckling in the original, and Thurman's revelation that he's "on the spectrum" make put-downs directed his way feel colder than those hurled at him back when he was a neglected, ruddy-cheeked youngster.
It's also confusing that the film's de facto "villain" (the great Ryan Hansen, of Party Down and Veronica Mars fame, who deserves way more screentime) is painted as such for making the same crude midget jokes Marcus's "friends" do. Everybody's an antihero these days, huh?
Ever fantasized about Santa-on-Santa crime?
This franchise kicked off with a scrawny man puking out of a dirty Santa suit -- an iconic shot that gets a shout-out here, too -- and some of the sequel's finest moments arise from Willie's profane behavior in uniform. Specifically, the montage where adorable children tell a liquored-up Willie what they want for Christmas could have gone on three times as long. And though we won't spoil anything, rest assured that Santa Con, everybody's least-favorite mass-drinking holiday, factors heavily into the plot.
Need a break from your family?
The holidays can be hard, and, to some of us, the Willie-Sunny dynamic feels downright inspirational. Is Bad Santa 2 better than the original -- which had some uncredited rewrites by the Coen brothers and was directed by Ghost World's Terry Zwigoff (with some extra scenes by Todd Phillips)? No. But if you're forced into close quarters with relatives you can't stand, you could do far worse than sneaking off to check out the boundary-pushing gags found here.
Sign up here for our daily Thrillist email, and get your fix of the best in food/drink/fun.