MTV's Pop-Punk Reality Show Experiment, 'Band in a Bubble,' Was All Too Real
Welcome to Partial Recall: 2007, a week of stories dedicated to trying to remember what life was like a decade ago.
Band in a Bubble made perfect sense. By 2007, MTV had excelled at feeding teenagers' most voyeuristic tendencies: Strangers scoured through private quarters to determine if they'd go on a date with someone they'd never met in Room Raiders; Viva La Bam asked us to believe in the impossible hijinks of bad boy skater Bam Margera and friends; unsuspecting guests confronted supernatural fears in Room 401; Friendzone forced BFFs to lay it all on the line and share romantic feelings for one another.
The reality experiments all led to a kind of Truman Show for Warped Tour devotees. For only four episodes, Band in a Bubble trapped then up-and-coming pop-punk band Cartel in -- you guessed it -- a giant bubble. The members of Cartel, barred from leaving their futuristic yurt, would spend a month recording their sophomore LP under 24/7 surveillance. There would be well-edited drama, there would be laughs, there would countless hours of golden television for viewers of an advertiser-friendly age to indulge in.
What could go wrong?
Eight years before MTV's Band in a Bubble, Paul Curtis, the head of Australian label Valve Records, had an idea: to record an album in a biosphere with the Aussie band Regurgitator. For Curtis, the pressure cooker experiment would ultimately question how true creative confinement could affect making a record. He was largely dismissed until a few years later when pop culture became obsessed with illusions, magic, and creative transparency.
Ogle-mania hit an apex in 2003, when street magician David Blaine lived in a Plexiglass box suspended above the south bank of the Thames River in London for 44 days without food. Blaine, and later cool guy magicians like Criss Angel, became beloved internationally, inspiring Curtis to revisit his biosphere project. In 2004, Regurgitator entered the music executive's "bubble," a self-sustaining, ecological habitat in Federation Square in Melbourne, and recorded their sixth full-length LP. Band in a Bubble was a huge success on Channel V Australia, and the band's resulting album, 2004's Mish Mash!, became the most witnessed album recording ever, inspiring a new kind of marketing: all access. Plans were quickly made for a US version of the program, a television event that would also become the Bubble franchise's final bow.
At the end of 2006, Cartel -- then with the lineup of frontman Will Pugh, guitarists Joseph Pepper and Nic Hudson, drummer Kevin Sanders, and bassist Jeff Lett -- were en route to New York for a set of Christmas shows when their manager received an email from their label, Epic Records, saying MTV wanted to cast them in their own reality show. The guys knew it was a once-in-a-lifetime opportunity, but they had reservations. Unlike Regurgitator, an established band well into its run, Cartel had more to lose from entering the bubble.
"We were doing a bunch of radio shows, we were selling a bunch of records, things were picking up. Who else has a TV show that's dedicated to the process of their second record?" Pugh recalls over the phone.
The only hangup -- one the band sensed almost immediately -- was timing. Cartel had spent the year riding the wave of success provided by their first album, Chroma, and its lead single, "Honestly." Both were big, and the band was largely slated to be the next Fall Out Boy. But if Cartel entered the bubble, the skyrocketing hype amassed during the Chroma promotional would be cut short.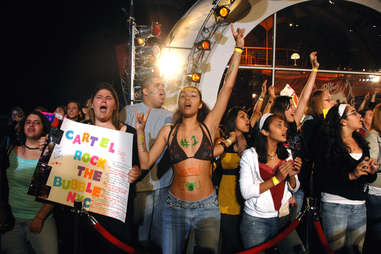 "For our generation, MTV was huge," Pugh explains. "Our other major concern was that [the show] was going to become like the Real World. We said it was going to be like Jackass. We're not a band full of drama. We poke fun at each other and have a good time. You're not going to find us fighting."
The band's fear was legitimate. The American version of the program, premiered in May 2007, was more extravagant than the original. Producers placed web cameras, sponsored by Dr Pepper, inside the transparent dome for fans to access online (anyone could purchase a refreshing Dr P for a cap containing a code that granted access to round-the-clock surveillance of the band, a choose-your-own-adventure reality format that predates Facebook Live and other various live-streaming platforms by nearly a decade). The bubble was set up at Hudson River Park's Pier 54, built using 55,000 pounds of steel and fireproof fiberglass (which did not stop the front window from shattering 10 days into the project during a particularly gnarly storm).
Logistical nightmares aside, Cartel's problems truly began when, instead of concentrating on the "boys will be boys" album documentary the band thought they going to make, MTV brought in extramusical elements, all staged. Cheerleaders, farm animals, and street musicians all made cameos in the bubble, largely unannounced. "All that stuff really sucked. That's the one thing we told them we didn't want," Pugh laughs.
There are a few moments they don't look back on fondly, the most villainous of which was when MTV sent in a fitness instructor at 7am the morning after producers provided the band with what Pugh refers to as a few "extra adult beverages." The guys were fiercely hungover and forced to do jumping jacks. They obliged, unhappily, and continued to engage in whatever activities were sent their way -- until MTV shut off the internet in the house.
"Jeff, our bass player, had a freak out [...] I guess they wanted us to be more interactive. Jeff went around the entire place where all the cameras were and turned them all different directions so no one could see what we were doing." Drummer Kevin Sanders agrees, "The idea of the show was either going to make us more famous or infamous. We could've created mischief ourselves. There was so much stuff they could've shown but they just didn't. We were trying to sell a comedy and they were trying to sell a drama."
It seemed harmless enough -- Jeff got a slap on the wrist for messing with the cameras operated by the sponsor -- but soon any reservations the band had towards the "reality" behind reality TV became realized. It came to a head when the first episode aired while the band was still in the bubble. The guys were invited to watch the clip and soon became aware of how their words could be edited and spliced together: "I guess when Kevin said how he felt about the song, the reality is not everybody is going to like every part of it," became, "We don't like any part of this record."
"You fucking assholes!," Pugh recalls. "We were really mad. Then they were like 'we don't want you guys watching the episodes.'"
The surprises weren't all bad, though: Fellow Atlanta-native Wyclef was brought in to contribute a verse on the band's "Wasted" reggae remix. In another episode, an unknown accordionist was shepherded in from Times Square and recorded for the track "If I Were to Write the Song/Get Through This." Some of these moments never aired: Pugh, a known golf fan, was surprised when MTV ran a video of Tiger Woods wishing him luck.
When the month in the bubble ended on June 12, 2007, Cartel emerged and played a set -- a few new songs sprinkled in for a live MTV broadcast. The band returned home and were immediately back into a business-as-usual routine, soon hitting the road. The product of their time in the bubble, a self-titled sophomore LP, would be released the following month.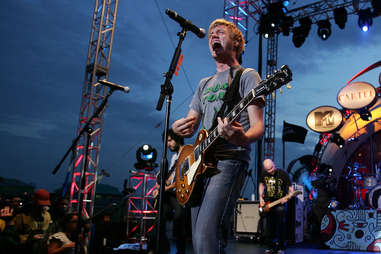 "It was a weird year, after we left the bubble," Sanders reveals. "The opening episode of The Bachelor is as long as our entire series. It was never going to be this thing that exposed us to the entire world. When we came out and we weren't the biggest band on the planet there was a reaction from the label." It put the band in a precarious situation -- diehard fans questioned their authenticity, new fans lacked loyalty, and other bands and music industry professionals considered them a novelty act instead of what they were: a pop-punk band given a novel opportunity.
Cartel's second record didn't do nearly as well as their first. Epic Records dropped them, giving the guys time to reevaluate their next move -- a harsh life lesson that allowed them to continue on an (eventually) fruitful career path. At the end of the day, they can see the positive impact of the bubble. "I loved being a part of something so ahead of its time," Sander explains. "You're talking about 24-hour live streaming 10 years ago. We're just now going live on Instagram or Facebook. We were doing that, just not with phones. It's crazy that the premise of the show was accessibility."
Sign up here for our daily Thrillist email and subscribe here for our YouTube channel to get your fix of the best in food/drink/fun.