Welcome back my friends, to the show that never ends! Until 10pm Eastern Standard Time. Then it stops and Castle comes on. That's a really good program, you should check it out. 
The big pre-date news this week is that Chris is going to get a little help with selecting his one-on-one date, and all three of those little helpers also share the surname "The Farmer." That's right: Chris's sisters from the exact same mister will be descending on the house, interviewing the girls like they are Charlie effing Rose, and deciding which one they want to play the classic farmland game Hide the Turnip in the Beet Field with for the rest of their lives. 
The first group date
The girls who won't be interrogated are... Megan, Kaitlyn, Ashley Winehouse-Kardashian, Ashley Shrooms, Juelia (after our fact-checker finally got back from a long vacation, it turns out actually that's how you spell it! Amazing.), "Don't Call Her Spuds" Mackenzie, and Kelsey. The card reads: "Let's do what feels natural," and Megan reflexively grabs her chest and starts to panic. 
 
They all pile into old Caddy convertibles, a red one and a white one, and drive to the date. Chris drives one, and, in a never-before-seen act of trust and extreme insurance liability, Megan gets to drive car no. 2. Ashley W-K looks natural in the way that the American cheese on the turkey sandwich I just ate is natural, except the cheese had less lipstick on.
They arrive at a lake. Chris fires them up by saying, "obviously you can see we're at a lake." This guy really knows how to work a crowd. All the girls sprint into the water for no reason, then Ashley W-K climbs on a float, takes her top off because she's a virgin, and jumps in. Never one to be out-naked-ed, Kaitlyn takes her bottom off, because she is not a virgin, and that's the main behavior difference between those two types of people. 
Swimming and nudity is followed by a game of Red Rover, because Chris has the mental wherewithal of someone who regularly plays Red Rover. Kelsey makes it quite clear that she hates this date, because she's from Michigan, where the lakes are better. She hates it so much that she swears she will stab a fork in her eye, even though we all know perfectly well that is an empty threat, as there are no forks, nor other cutlery, nor food anywhere on this show. 
Let's talk about Kelsey a bit. In my Episode 1 breakdown, I was pretty high on her, promising a Top-6 finish and calling her "totally sincere." This all evaporates here. She absolutely hates this date, even though most of the dates on this show are entirely constructed around things the girls hate, for reasons ranging from "tough situations will reveal their true nature" to "the producers clearly have a lucrative promotional contract with some rappelling company." It's quickly becoming obvious that Kelsey isn't "cool," or "down," or "the kind of girl who wants to live on a farm for the rest of her life since she doesn't even like lakes that aren't at least 22,300 square miles."
Now let's remember: she's a guidance counselor, a job that mostly consists of talking 16-year-olds into applying to colleges worse than the one she went to, so she doesn't feel bad about herself. So already she's inherently deeply unhappy. Up to this point she hasn't really done much of anything; now she's upset that she's being coerced against her will into to going swimming in water and sitting on a brand-name lounge chair. Then she gets stung by a bee, in the area that Ashley W-K has never let a bee anywhere near, even though, for this continued confusing analogy's sake, it seems like Ashley W-K gets stung by bees there at least two to four times a week after meeting those bees at EDM concerts.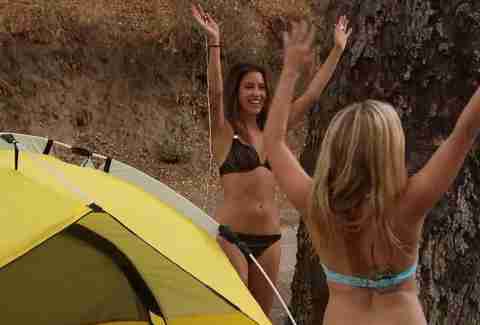 Now they're going camping! Ashley W-K, unsurprisingly, was saving herself for the right camping trip (not for religious reasons or anything) and has never done it. They pitch those tents, grill up some kebabs, and get nervous about the date rose that's lying in four inches of standing water at the bottom of one of the coolers.
Just when I started to worry that Ashley Shrooms had finally built up an immunity to psilocybin, she's right back on her game! She's upset that there's no music, so she does a song-and-dance routine from a Rodgers and Hammerstein classic that was either The King and Ashley I, or Chris's favorite, Midwest Pacific. I couldn't quite tell. Then it's solo time. She wants to know what he is. Not his sign, just what he is. She wants him to know that the moon is there, and they're here, and that's weird to her. And she also wants him to know she loves him. LOVES HIM. Loves everything about him, really! Under normal circumstances, this would be a serious record for early love-telling. Under these particular circumstances, it just means that at this moment, to her, Chris smells like reggae music and tastes like a rhombus. So glad she's back. 
Because she's fast at tents, Kaitlyn scores the rose, sending Ashley W-K into an absolute jealous rage that can only be solved by telling Chris that she's never seen that video in health class. So she sneaks into his tent, and says that she's "really fricking innocent," and "never had a real boyfriend before," and that's she's "inexperienced in every way possible," and somehow neglects to just go the sly way and tell him that she has a lot in common with Steve Carell, from that one popular movie. Called Dinner for Schmucks. TELL HIM YOU'RE A VIRGIN THEY ALL LOVE THAT, says Mackenzie.
 
The one-on-one date with the sisters' selected female girl
So, like I said before, the Sisters Farmer interview all the ladies who didn't hit the grouper. Most do quite well! Whitney laughs at everything they say, and employs all sorts of "look, I'm nice!" Southern and Midwestern inflections in her speech pattern, and swears she'd love to live on farm. Carly talks about how much her grandparents love each other, as that's behavior grandparents in Iowa also engage in. Jade tells them that she makes organic makeup and doesn't wear the pants in a relationship, and indeed is not wearing any during the whole interview. On the not-so-swell side of things, Britt summons all her hubris and calls herself the frontrunner right to the sisters, and is clearly wearing inorganic makeup.
Jade wins! I love this. She's been really quiet the whole time aside from the butt-grabbing makeout in Chris's place, during which she also didn't make a ton of noise. But to me, she seems like the most normal of these girls and the overall hottest, a rare one-two combo on this show often referred to as the "Cody Quotient." Let's see what she's got.
The date card reads: "Your presence is requested at our royal ball, from 8pm until the last stroke of midnight. It's a secret -- the prince doesn't know you're coming." Hmmm. Princes. Royal balls. Midnight. Your sly clues can't fool me, Harrison. This is a Rapunzel thing! Total Rapunzel. Now, at this point, I'm not sure Jade's hair is long enough to extend down from an impossibly high tower, nor strong enough to support Chris's weight as he climbs it, but give her like, 35 to 45 years of growth time, and this will turn into the love story we all want it to be. 
After 70 consecutive hours of Jade trying on dresses and getting free Neil Lane earrings as the other girls are forced to watch with their eyes pried open, wanting to ultra-violence her, it becomes clear that all the Neil Lane swag is because Disney is coming out with a new version of Cinderella. So basically, expect Chris and Jade to be eaten by a wolf disguised in a blouse and favored by grandmothers.
Let's watch Jade work this thing. Ok, so... she was engaged when she was 21! This is a much lighter emotional trauma than most of these girls have endured! It was a hometown-young-love thing, but she realized it was wrong when it turned into a hometown-slightly-less-young-love thing, and everything happens for a reason. When she's done expressing her extreme views on predestination, Chris chimes in: he was also engaged, in a similar situation! But she was long distance -- at least 3.5 hectares away -- and eventually he realized it also just wasn't right, much like two of the bowls of porridge they will be consuming later in this date, in keeping with the Cinderella plot line.  
Skeptical view: Jade watched Chris on Andi's season, remembered he talked about this engagement thing, and, in a truly conniving and opportunistic maneuver, recognized a clear opportunity to unload her big baggage while intensely relating to him at the same time. Jade Is The Best view: she actually just thought he should know, and this solo date is, without question, the best time to do that, and she's completely amazing. So the real question is, why is she here? Girls this hot AND this sane rarely come on this show. Now of course, she traded her family's only cow to a creepy old man for a bag of magic beans, but aside from that, she seems totally, totally cool. 
But it's not over! Next they go to a big ballroom where a full orchestra plays and they dance, and then they watch the required clip from the new Cinderella film, and HOLY CRAP ROBB STARK IS IN THIS MOVIE!! He must be Rumpelstiltskin. Still thinking of Robb, Chris and Jade make out while being thankful that they're not brother and sister, and she gets the rose, and runs off before midnight, so she doesn't turn into Sneezy.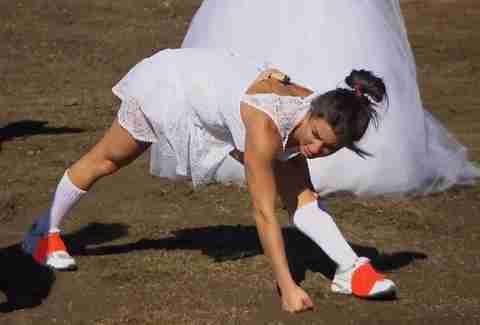 The second group date
Ok, so this one is honestly pretty boring, and it's getting late, and the sugar in these Fruit Roll-Ups is only going to keep me up so much longer, so we're going with the speed-cap. 
Nikki, Jillian, Whitney, Carly, Britt, and Becca: "Let's get dirty." Good Redman song. They all get in the finest wedding dresses Dez ever made, then do a race consisting of exclusively crawling through mud. Jillian of course wins, because she's built like most larger NFL safeties, and she scores herself a solo night-date. 
There, she talks a lot about lifting heavy objects, and her dad's dirty humor, and how she doesn't really know what her five-year plan is -- proving once and for all that she is not a member of the Central Committee of the Communist Party of China circa 1953. Then Chris sends her home right there, forgetting his script that says nice hedging things like, "I honestly don't see a strong enough connection developing" and "I respect you too much to waste your time." And that's it. They didn't even blur her butt on the way out.
 
Cocktail party highlights!
Thanks to sponsorship money from the Pin the Tail on the Donkey lobby, Megan blindfolds Chris and makes him guess which highly obvious fruits she's feeding him.
Britt blows all the hard work she's done to this point and falls into the trap of complaining about Chris awarding roses to girls who have taken their pants off and spoken freely about sex.
Becca is also revealed as a virgin, although she probably just made that up because nobody is paying attention to her.
Ashley Winehouse-Kardashian finally realizes that Chris is incapable of interpreting things, and tells him flat out she's a virgin. Chris calls it "impressive," and prefaces "it makes me respect her more" with a very classy "if anything." Then he decides he shouldn't make out with her in case he accidentally deflowers her, and she cries.
The roses
Let's get this. Kaitlyn and Jade are the only girls rose'd up at this point. Three are going home. Till that field, Farmer!!
First up: Whitney, who is proving herself to be a stronger and stronger contender by just smiling and not complaining about anything. Carly, who I just can't see as a real player but is making a recent push nonetheless, is second. After that: Megan; Kelsey; Samantha, who has done nothing other than make $58 t-shirts with logos that look like broken WiFi and also nothing; Ashley W-K; Mackenzie; and Becca, who Mackenzie is now extremely jealous of because Becca has also never listened to R. Kelly while a boy was in the room. 
Which means it's down to Juelia (wait, that can't be how that's spelled), Britt, Ashley Shrooms, and Nikki The Jets Cheerleader who is starting to be a bigger disappointment than Mark Sanchez. 
And the person Chris will ask to accept the final rose is... BRITT! In the end, this is not really a surprise, although she's gotta get back to building that house of finding love from the first brick all over again next week. Just bat those eyes and bond over hilarious Year of the Perdue Wonderchicken references and get back in this thing, Britt. The show needs you, even if nobody is getting these hilarious DFW jokes of mine. 
And now, a moment of silence for Ashley Shrooms. We barely knew ye, and you barely even got to the part of the trip where you start to see 3-D cubes driven by spider monkeys flying at you from all directions. We'll see you attaching yourself to poor Graham on Bachelor in Paradise 2 before you know it.
 
Next week!
They're going to Santa Fe because travel budgets have clearly been slashed from those of previous seasons! They ride hot air balloons! Carly maybe engages in the sex with Chris! Kelsey continues to be the worst and lies on the ground crying, and it can't even be she declared a thumb war against Jillian!!!