What the hell is a "beach read," anyway? That term calls to mind spy novels with poorly designed sniper scopes on the covers, frothy melodramas about inconceivably idyllic resorts, and any book written by Jimmy Buffett. But it doesn't have to be that way. A beach read should ideally be fun, but really, it can be anything you want it to be -- it can even be good!
To help you find a book that slides easily into your overstuffed tote bag this summer, we've put together a list of 14 new-ish titles that are actually worth your time. If you're looking for adventure, romance, laughs, or just a sturdy object to rest on your chest as you fall asleep in a lounge chair, we've got you covered.
The Cartel is unrelenting. Combining the rapid machine-gun prose of a James Ellroy novel with the ambitious scope of HBO's The Wire, Don Winslow's epic about the ravages of the drug war is as addictive as it is terrifying. While the book is technically a sequel to his 2005 thriller The Power of the Dog, tracking the prior book's gruff DEA agent and Mexican drug lord as they destroy each other, you don't have to read the first one to get caught up in Winslow's narrative of blood, bullets, and vengeance. Read it before it becomes everyone's favorite new Leonardo DiCaprio movie.
Who doesn't love a good vampire book? There's something surprisingly peaceful about reading an engrossing novel about evil pale beings and the coming apocalypse while stretched out on a beach towel. This beautifully written epic will appeal to anyone who lugged Stephen King's The Stand along on family road trips as a moody teen. Plus, it's the first book in a trilogy, and the final book in the series, The City of Mirrors, just came out, so you won't have to wait till next summer to find out how it ends.
Many "funny" novels are more about delivering wry smiles than actual belly laughs. But Paul Beatty, the author of '90s coming-of-age classic The White Boy Shuffle, reads like a great stand-up comedy act. His sentences are so packed with jokes, allusions, tossed-off witticisms, and brutal observations that you'll want to put the book down and catch your breath every few chapters. Taking on slavery, segregation, and the way race is portrayed in the media, The Sellout feels like a lost episode of Chappelle's Show, daring you to keep reading with every hilarious provocation.
Attempting to describe the plot of Nell Zink's comic novel to a friend can lead to some raised eyebrows and skeptical looks. It's about a white lesbian who marries a gay professor, has a child, then moves to a small Virginia town, where she disguises herself as a black woman. Like I said, not exactly an easy elevator pitch. But Zink makes it all go down easy, turning this potentially headache-inducing plot into a hilarious examination of race, sex, and the ever-shifting nature of identity.
Family vacations can be rough. If you're spending time with in-laws or siblings you can't stand, it's always nice to turn to a fictional family like the Turners, the Detroit-based clan at the heart of Angela Flournoy's impressive debut novel. Like your family probably does, they fight and bicker. They're haunted by ghosts, both real and imagined. They have gambling problems and drink too much. But in the end, they find comfort in each other, something we all shoot for -- no matter how intense that awkward barbecue gets.
Check out that cover -- looks peaceful, right? Wrong. The first book in publicity-shy writer Elena Ferrante's recently completed Neapolitan Novels series is a clever bait-and-switch. It lures you in with promises of an exotic Italian location, beautiful prose, and female friendship. Then, a day later, you're staying up till 3 in the morning reading because you're more invested in these cobblers, gangsters, and rowdy students than you are in your own personal life. Like Game of Thrones, it will consume you.
I've heard lots of people have sex on vacation, but I bet even more people read about it. If you're looking for a book to distract you from your lusty thoughts about that bartender who may or may not have smiled at you, Lauren Groff's evocative deconstruction of a marriage between two horny lovebirds named Lotto and Mathilde will do the trick. The book's inventive structure -- its two halves each detail one side of the relationship -- makes for some fun Gone Girl-style twists, but Groff's prose is the primary attraction here. And yeah, all the sex, too.
The Sympathizer flips the contemporary spy novel on its head, turning a John le Carré-like plot about a Vietnamese army captain-turned-sleeper agent into an occasionally Pynchon-esque labyrinth of sly jokes, absurd characters, and wicked satire. But as the story gets funnier, it also gets deeper and emotionally richer. The book's most impressive twist is how invested you become in it. Plus, it just won the Pulitzer Prize for Fiction, so your copy will probably have a medal on the cover, letting everyone know you read fancy books.
It's fun to argue about music. Former Grantland and A.V. Club music critic Steven Hyden gets that: his new collection of essays looks at music rivalries like Hendrix vs. Clapton, Biggie vs. Tupac, and Kanye vs. Taylor Swift. Luckily, this isn't a book that attempts to settle these debates -- there's no pseudo-science that will ever "decide" if the Stones are better than the Beatles -- instead, it explores the larger questions that these conflicts create, and then lets you hash it out for yourself. It's the perfect chatty, inquisitive vacation companion.
If you're looking for a book to read that doesn't require holding a large plot in your head for the entirety of your trip, get a short-story collection! Your MFA-touting friend probably already got you into George Saunders, so check out these equally witty, imaginative stories from Manuel Gonzales, the author of the new novel The Regional Office Is Under Attack!. It's the bite-sized snack pack every trip to the beach needs.
Before she was the quirky star of IFC's Portlandia, Carrie Brownstein fronted the essential rock group Sleater Kinney, and she has the scars to show for it. I've never read a book that so carefully and clinically examines the physical challenges -- unloading gear, sleeping on floors, fighting off rowdy crowds -- and emotional highs of trudging across America in a van with your close friends and creative collaborators. It dismantles rock-star bullshit. But it also gets you re-invested in the creative spark that made you care about music in the first place.
If you only know seminal Houston rap group the Geto Boys as the soundtrack to that printer-destroying scene from Office Space, you're missing out. In his revealing memoir, the group's breakout star, Scarface, displays the same emotional vulnerability, gripping storytelling skills, and eye for detail that made him such a compelling MC. You'll pick it up for the violent anecdotes and blunt tales of working with Kanye West, Mike Dean, and Jay Z, but you'll keep reading for the vivid look inside the mind of an artist on the edge.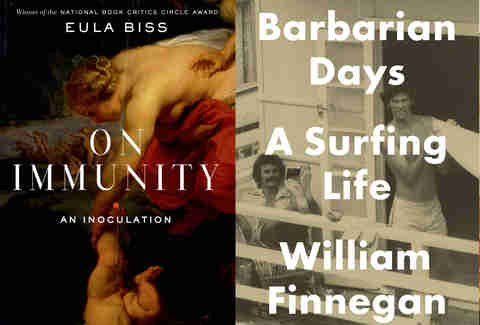 What's a better way to spend your time on the beach than thinking about deadly diseases? This short, fascinating nonfiction book combines reporting, memoir, and cultural criticism to look at the origins of vaccines and our modern anxieties surrounding them. It's written with a fierce intelligence that doesn't give any intellectual credence to bad science, but does help to put some fringe ideas into a larger context. And it's a hell of a conversation starter if you run into Jenny McCarthy on your vacation.
Apologies to the other books on this list, but this is the ultimate beach read. Finnegan, a New Yorker writer who covers international politics and human rights issues, is also an excellent and enthusiastic surfer, and in this book he details a life spent chasing waves. Luckily, his insights aren't limited to Point Break bro koans. Instead, he's lived the type of searching, bizarre, and inspiring American life that can't be captured in a well-lit Instagram photo.
Sign up here for our daily Thrillist email, and get your fix of the best in food/drink/fun.