Bear Grylls has just finished paragliding in the Swiss Alps -- "I've still got my boots on," he says toward the end of our conversation -- when he jumps on the phone to talk up his new show, Face the Wild. The impending conversation probably sounds a lot less exciting than paragliding in the Swiss Alps. He puts it more diplomatically: "I do struggle with the press side of it. I really do so little of this," the "this" referring to discussing his television work with people more comfortable in a swivel chair than climbing up and/or jumping off the Matterhorn. 
But the television work and the press duties that come with it are what keep the adventures going for Grylls, who now has more than a decade of TV under his belt, starting from the premiere of Man vs. Wild in 2006. He's remained, remarkably, himself, which is certainly not true of TV. In the 12 years since Grylls' Discovery Channel series introduced American audiences to his wry British humor and gross-out meals of enormous grubworms that burst like Gushers, Netflix, Amazon, Hulu, YouTube, Facebook, and probably dozens of others have launched streaming platforms hungry for original programming.
Face the Wild debuted March 21 on the most controversial of those platforms, at least for the moment: Facebook. It's part of the Facebook Watch slate of programming, which includes shows like Ball in the Family (about the family of Lonzo Ball, the Los Angeles Lakers point guard); Humans of New York (based on the photoblog); and Returning the Favor (hosted by Grylls' one-time Discovery Channel colleague Mike Rowe, of Dirty Jobs fame). The hook for Face the Wild is similar to Grylls' NBC show, Running Wild, in which Grylls invites celebrities along on his survival adventures; in the case of Face the Wild, the guests are Facebook users Grylls and his team selected because of their inspirational stories, including a veteran who lost his legs in combat, a blind woman, a Hurricane Harvey survivor, and seven others in the 10-episode run.
Recommended Video
Try Indonesian Street Food in NYC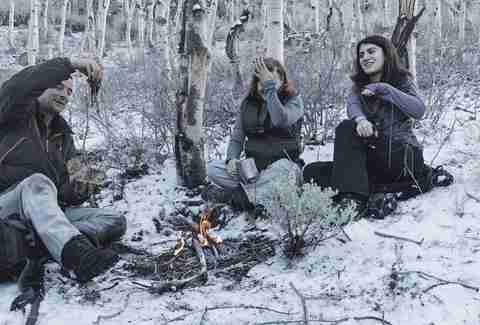 If you like what Bear Grylls is all about, you'll probably enjoy this show, and fans of his culinary adventurousness won't be disappointed. "On these journeys you need to eat, you need energy. So every single journey we're digging up something, snakes or worms or whatever, and also it's kind of fun for the guests. They're kind of half terrified of it, but kind of half want it.
"It's second nature for me. I always keep a handful of maggots in my pocket to feed to kids when I see them around," he jokes. This consistency and jocularity explain at least part of Grylls' durability, and Facebook is betting that the "Bear Grylls fans vs. Facebook users" Venn diagram features a significant overlapping segment -- it makes sense given Facebook's ubiquity that the hardcore Grylls fans are out there, looking for new adventures to consume via computer or phone. "Since day one, the message has been the same, which is: love the outdoors, live your adventures, protect what you have, and share it together," Grylls says. "The platform's changed, the reach changes. But the message is the same."
And boy, have the platform and reach changed. With the proliferation of social media and streaming services has come the relative dwindling of the opportunity to produce "mega-hits," a phenomenon that's sent companies like Amazon on quixotic quests to find their own Game of Thrones. But on a practical level, Facebook knows fighting this phenomenon is spitting into the wind, so the goal has become developing dedicated pockets of fandom. It's why Ricky Van Veen, Facebook's head of global creative strategy, said, "A show should activate a community -- a psychographic or demographic or affinity group or a new community formed around a show," and why Variety claimed his mantra is, "Every original program that lands on the Facebook Watch platform should spark its own Facebook community." Like the spark from a flint catching on a pile of dry tinder, providing fire to keep survivalists warm at night.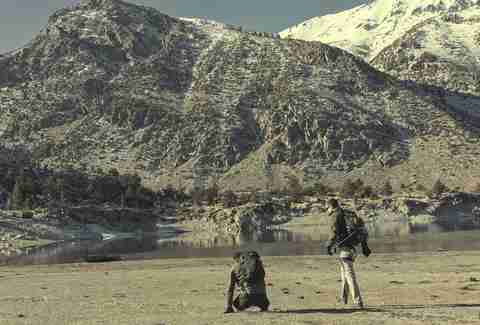 By all surface measures, Face the Wild embodies that mantra perfectly. The goal isn't to achieve universal popularity, but to create a group of serious fans; to that end, Grylls is a proven television host with a dedicated fan base, and the selection process for the series reportedly received half a million entries through Facebook. That's a lot of high-quality engagement -- it takes more than passing commitment to make a video of yourself and actually send it -- for a social media platform that prizes user interaction.
Grylls is savvy enough to understand the value of having a program on a site with global reach, especially since the show features inspirational stories that are a counterweight to the negative connotation social media has acquired in recent years. "It's why [Facebook] wants to do these sort of shows. It's showing the best side of social media, you know," Grylls points out. "I'm just so grateful to Facebook Watch, to be able to say, listen, we can now reach billions of people, way more than we ever reached on NBC or Discovery."
Whether or not Facebook can actually deliver on the possibility of putting Bear Grylls in front of an audience of billions remains less clear. The first episode boasts more than 3 million views, but a view could be someone watching the entire episode, or someone catching a mere three seconds of it. Like most of its competitors, Facebook is loathe to reveal its internal metrics and the algorithms it uses to promote shows, so there's not much transparency about what constitutes "success," or who's even watching the show.
Does he care about any of this stuff? Not really. "Whatever the platform, I've never chased the ratings. It's never been a driving force for me. And it's the same with Facebook Watch. I've got a really clear goal with this: We should celebrate unsung heroes, bring their stories to millions of people through Facebook Watch, and inspire people just to get through their day and to go for it in life… For me, Facebook Watch is just the platform. How they measure it is their business."
"[The internet is] like a weapon."
More and more people are paying attention to that business. Grylls and I spoke the day before news of Cambridge Analytica's data harvesting of Facebook users' info broke, but the platform's ability to discern your personal tastes and deliver content its algorithms predict you'll like has for a few years now created the kinds of social media echo chambers that literally alter reality. Grylls' take on the social media era is characteristically optimistic, albeit with a heaping helping of wisdom gleaned from the wild: "I think we're all more connected, but we tend to live in our bubbles of where we get our news from. That's what changed, who we follow on all these platforms, we tend to just follow the people that endorse our views. 
"I think the wild always teaches us: Be open minded, to listen more than we talk, to be sensitive to our environment, to what's around us. These are all skills that really matter as a survivor when you're out there. And they're really important in life, you know? And I like that."
Still, it's a bit strange to watch a man who, according to an Outside Magazine profile from 2010, "likes nothing more than to withdraw with his family to his island house in Wales -- a blessed windswept retreat without electricity or telephones or computers -- and simply unplug," star in a show on the world's biggest social media platform. Grylls concedes that the internet era has not exactly been a utopia of free information, connectivity, and understanding, saying of social media, "It's like weapon. You can use a knife for good things. You can use a knife for bad things." In Bear's hands, this particular knife looks a lot different than in, say, a political strategist's.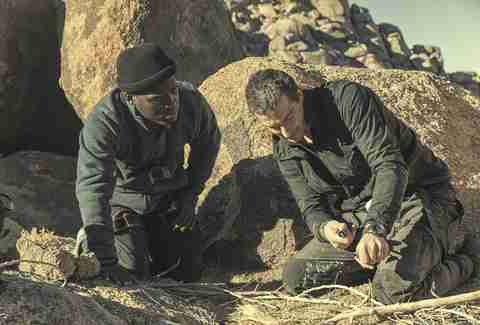 And, like all survivalists, Bear Grylls' most valuable trait is pragmatism. "[Social media] is a definite part of our [family's] life, especially as our three boys get older. It's such a fun way to communicate. I never thought I'd have so much fun and banter with my 14-year-old son on instant messaging and stuff.
"You got to use it for good and you've got to control it. It should be a slave to you rather than you being a slave to it. That's how, as a family, we approach technology and social media, but this is how the world is. It's not a bad thing, you've got to just embrace it and do it right… Don't do like my grandpa did, just read a newspaper, never speak to Grandma. We're going to talk to each other. So actually, you can get better at it than the older generation."
As with most of the survival feats Bear Grylls pulls off, living in a world dominated by the internet and social media appears to be easier for him than the rest of us. 
Sign up here for our daily Thrillist email and subscribe here for our YouTube channel to get your fix of the best in food/drink/fun.