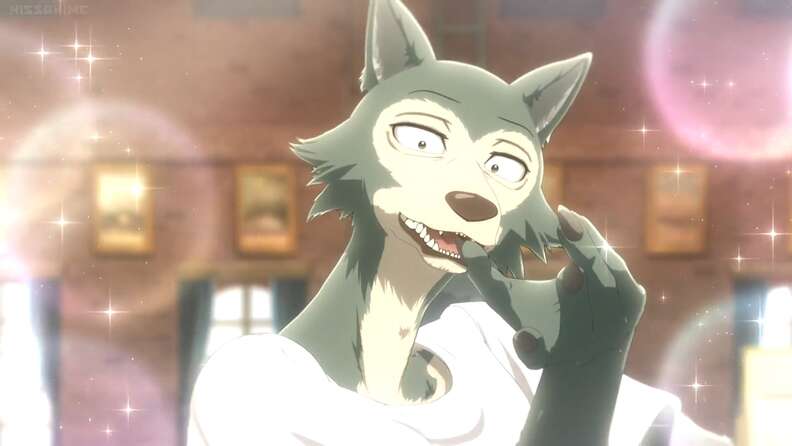 Netflix
Netflix
Netflix's 'Beastars' Is the Weird Anthropomorphic Anime Escape We Could All Use Now
It cannot be overstated how captivating 'Beastars' is.
Netflix has a knack for pumping out original anime series, as evidenced by 2019's stellar additions, including Carole & Tuesday, Cannon Busters, and The Disastrous Life of Saiki K. As of this past weekend, the streaming behemoth is back with Beastars, a 12-episode plunge into a wonky world of talking, coexisting animals, big and small, managing their natural instincts as, well, wild animals. While, at face value, the premise sounds like a spiritual successor to the platform's beloved (and recently wrapped) BoJack Horseman, viewers are in for something else entirely.
Opening the series with a hair-raising murder, Beastars, adapted from the first six volumes of the award-winning manga of the same name, sinks its first halfcourt shot, craftily prepping the audience for the violence bubbling under the vibrant imagery of Cherryton Academy. Those early moments showcase the death of Tem the alpaca at the hands of one of his carnivorous classmates, and while his murder goes unsolved over the rest of the season, it shakes the relations and dynamics between the school's carnivores and herbivores for good.
Through those tensions, the anime introduces its endearing personnages -- Legoshi, a conflicted grey wolf (who is way less creepy than he appears in the manga) and the antisocial protagonist that 2020 deserves; Haru, a sexually empowered white dwarf rabbit; Bill, an overconfident thespian bengal tiger who's ultimately just a dick; and Louis, a complex red deer with the potential to bring everyone together. A gorgeous mix of 2D and 3D animation breathes life into these characters, from Legoshi's hopeless, slouchy awkwardness to the ferocity within Louis' eyes, but the story does little to use that momentum to further deconstruct many of the show's most crucial characters.
Haru, the leading lady of Beastars, is minimized to a role that mostly services Legoshi's inner conflict of his carnivorous instincts and soft personality, and stokes a fiery love triangle involving her, Louis, and Legoshi. Even Juno, the female grey wolf who aspires for societal prominence and influence, has her passions eclipsed by her romantic advances towards Legoshi. Other incredible characters are sprinkled throughout the show, such as Legoshi's literal role dog Jack, the badass panda psychiatrist Gouhin, and the bougie harlequin rabbit Mizuchi.
Apart from those gripes about characterization, it cannot be overstated how captivating Beastars is. Each 23-minute episode is liable to make viewers question themselves and wonder what the fuck they're watching. Rabbits sport lingerie, lions run an organized crime syndicate, anteaters slut shame, and hens treat their eggs like they're getting Yelp-reviewed. The human brain is just not prepared to make sense of shit like that.
Beastars is not afraid to get ridiculous, and, in fact, it's much more palatable when it doesn't take itself too seriously. Sometimes the extensive self-narrations of Haru and Legoshi suck the fun out of an anime that already doesn't offer much comedic relief, so the playful detours featuring characters like Legom the chicken and Cherryton's PR team are worth it. The animal puns are kept to a minimum, but there are still plenty of species jokes inserted here and there. Episode 3's "Biology Day" gag, for instance, is a quick moment where Beastars takes a break from the regularly scheduled brooding (a la Legoshi) to revel in the fact that the show, at its core, is about teenage animals comfortable in very different climate-controlled environments going to school, after all.
That compelling zaniness is an area that Beastars could have afforded to lean into more, and it wouldn't have undermined the drama building over the season. The show does an excellent job of progressing the plot from the subdued beginnings at Cherryton Academy to the full-blown bloodbath in the final episodes, all while slyly layering hints of horror and mystery with intriguing sub-plots such as the herbivore killing spree and Louis's secretive origins.
By the time things wrap up in the season finale "In the Storm's Wake," Beastars finds its footing. As rote as it was, Legoshi's conquest to win Haru's heart dominated the majority of the season's plot, but the show managed to navigate around it to build a striking foundation -- complete with an insane art direction, a great cast of characters, and a fascinating world viewers have yet to fully experience. With exciting narrative threads hanging from the tail of Season 1, the next season has much more room to play with and the potential to be even crazier. Until then, however, Netflix's Beastars is the strangest anime worth binging right now.
Need help finding something to watch? Sign up here for our weekly Streamail newsletter to get streaming recommendations delivered straight to your inbox.