What It Took to Make Emma Watson's 'Beauty and the Beast' Costar Look Like a Beast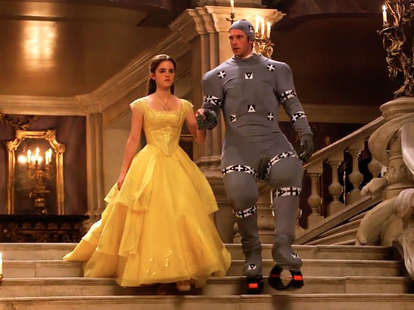 USA Today/Disney Home Video
Disney's live-action remake of Beauty and the Beast earned more than $1.2 billion at the worldwide box office, making it the 10th biggest movie of all time. And yet the romantic blockbuster still has a secret -- or it did, until now.
How did the elaborate production turn human actor Dan Stevens into the iconic, bipedal animal-man? Was it the result of elaborate makeup and prosthetics effects? CGI? Who (or what?) did Emma Watson's Belle perform against?
Ultimately, Stevens played a crucial part in bringing the Beast to life via performance capture. Then, specialized body and facial animation from special effects studio Digital Domain created the final character. Here's how Disney pulled it off.
A costume for when you need to look 200-pounds heavier
On set, Stevens wore a 'tracking' suit bulked out with padding to represent the size and shape of the Beast. This was similar to the motion capture suit used in Lord of the Rings and the recent Planet of the Apes movies, minus any bulky facial cameras. The bulky costume was just to get the look down.
"This fake muscle suit was primarily used for any situation where the Beast needed to interact with Belle, such as the ballroom scene," says Digital Domain visual effects supervisor Kelly Port, who also noted that Stevens occasionally roamed about in springy stilts to achieve the appropriate Beast height.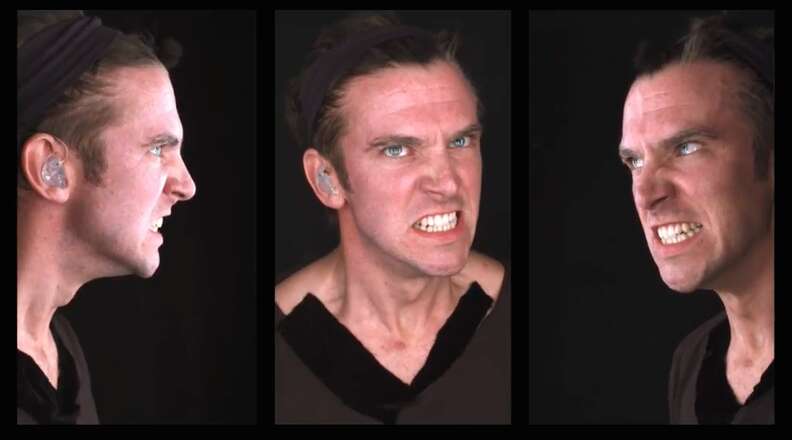 Face time
Stevens' facial expressions were also captured and applied to the Beast's physique. But because the effects team couldn't use his reactions and dialogue readings from set, the actor had to re-perform scenes at a booth of Digital Domain's domain. Not as glamorous as a castle ballroom.
"We would take all of these points on Dan's face and re-target them from Dan's facial anatomy onto the Beast's facial anatomy," explains digital effects supervisor Darren Hendler. "This used our proprietary Direct Drive system, and it takes Dan's performance and puts it directly onto another creature. So, if Dan smiles, the Beast smiles, but it still felt like it was Dan's smile."
Finding the right hair(y) style
"Samson," another custom tool made by Digital Domain, was used to "groom" and then simulate the Beast's flowing hair, including all over his face. It enabled visual effects artists to add in the impact of wind, as well as include pieces of debris or dirt when the Beast fights some wolves.
"We also had different grooms," notes animation supervisor Steve Preeg, "because the Beast goes through what we called 'primping' for a date. And that meant all the muck that was stuck in his fur had to be cleaned out."
Cape fear
While the facial animation and hair were incredibly challenging, the Beast's ragged cape proved troublesome, to say the least.
"If you were to ask a visual effects person, 'What is the absolute most difficult pain-in-the-ass costume that you could possibly think of?' this would be it," jokes Port.
However, Digital Domain was able to work closely with costume designer Jacqueline Durran -- whose team built the cape for real -- in order to provide detailing for the digital version. The final CG cape incorporated a raft of simulated materials, from bones, feathers, silk, string, and extra bits of hair.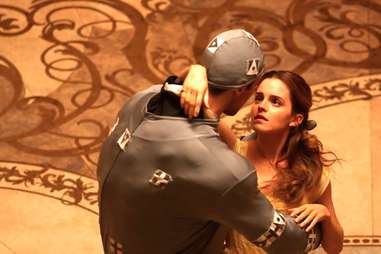 Digital Domain's intricate facial and body animation, and its simulation of hair and clothing, came to the fore for what is perhaps the film's most celebrated scene: the ballroom dance with Belle. Watson performed the scene with Stevens in his muscle suit, and the visual effects team was called upon to help sell the highly emotional moment.
"We had to make the Beast feel like he's in love, but he's also not sure how to behave," details Preeg. "So there's a lot of change happening in the Beast and his facial performance and just his stature and his body movement as that dance plays out."
Sign up here for our daily Thrillist email and subscribe here for our YouTube channel to get your fix of the best in food/drink/fun.
Ian Failes is a visual effects and animation journalist, and wants a motion capture beast suit. Follow him at @vfxblog.