What It's Like To Be a Music Photographer
Courtesy of&nbsp;<a href="http://shanemccauley.com" rel="nofollow" target="_blank">Shane McCauley</a>&nbsp;
Photography: If you've got $600 and a high school workshop under your belt, you can take a serviceable photo. But what happens when you're thrown into a sweaty club with hundreds of dancing people, laser light shows, and frown-y faced bouncers? That's just part of the day-to-day hustle of real music photographers. And we talked to a few seasoned pros who live that scenario (and others) on the regular, and whose shots are way more than serviceable. Check their pics and what the life is really like for yourself. 
Courtesy of <a href="https://www.instagram.com/fithers/" rel="nofollow" target="_blank">Adam Fithers</a>
They really do need cat-like reflexes
At large shows, photographers get special access to the photo pit area (that slot right in front of the stage with the grumpy, cross-armed, polo shirt guys), but if they can't fight through droves of closer-spot-snagging fans, then it doesn't matter. Allowing time to get to the photo pit, and then understanding that you'll have limited time once in there -- PR folks normally shuffle photogs out after the first three songs -- mean that time is a constant stressor for photographers.
 
They aren't guaranteed to get paid
If they're covering a show for a small-time promoter, the contracts can get pretty hazy (like that time your cousin asked you to play guitar for his son's Bar Mitzvah). Some offer the guise of free drinks, free exposure, and free fun in lieu of, like, dollars. It's important to keep that in mind the next time you're mad at a photo guy who cuts you in line to get inside.
Courtesy of <a href="https://www.instagram.com/fithers/" rel="nofollow" target="_blank">Adam Fithers</a>
It takes way more time than you'd think
Between editing and sifting through hundreds or even thousands of photos and the initial planning and location scouting, your time on a job is way longer than the shoot itself. A few hours at an event could easily equal double, triple or more hours back in the studio.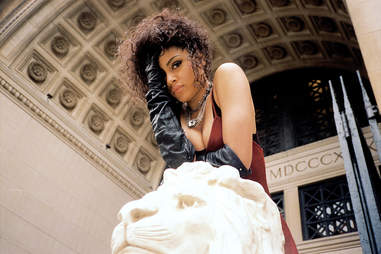 Courtesy of&nbsp;<a href="http://www.danalaurengoldstein.com" rel="nofollow" target="_blank">Dana Lauren Goldstein</a>
And they spend that time obsessively scouting shoot locations
Photographers often spend a large part of their week just wandering neighborhoods, small towns, Google Maps, and your fire escape (just kidding, maybe) snapping test shots and jotting notes to keep in their roster of photogenic locales. Why? Because when bands come at them asking for a "late-century industrial-chic shoot" or a "dark coastal vibe" the photographer needs to have some locations in the back of his/her mind, because the artist definitely won't.They even note the times of day when the locations are shootable, because 4:00pm lighting is different than 10:00pm lighting.
 
They're like party chameleons
Being a music photographer doesn't mean you're knocking back drinks and busting out a sick Stanky Leg, but it also doesn't mean you're a lurking Golem hanging in the wings. You have to give and take, know when to hop in and capture a moment, and when you're really better off just staying out of it.
Advertisement
Anthony Humphreys
The Ultimate Shoot: Jack Daniel's Motel No. 7
Jack Daniel's is traveling the country, popping up music-heavy motel parties in unsuspecting spaces… like massive warehouses in Brooklyn. We checked out all that BK motel business ourselves, where T-Pain performed, Cloud Nothings rocked out, and (holy crap) Andrew WK married people. Feast your eyes on our photographer's take on all the madness right here.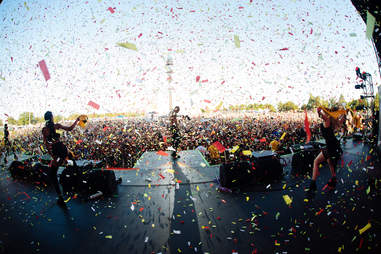 Courtesy of&nbsp;<a href="http://shanemccauley.com" rel="nofollow" target="_blank">Shane McCauley</a>&nbsp;
Sometimes multiple cameras isn't just to look cool
Ever see a camera guy sweep in front of you with 17 devices strapped to him like some kind of nerdy cross between a GI Joe and that kid from the Goonies? Apparently, it can actually be necessary to have an extra camera body or two. Why? For starters, if one breaks (which it might, because: concert), then you have a backup. On top of that, if you want to switch between lenses, then having each lens ready to go on its own camera body means you won't miss that precious well-lit shot. But…
 
All the gear in the world won't make you good
In an age where it's assumed that if you buy a Nikon 4D7FQRT FlexFlash Green Edition you'll be a good photographer, it's important to note that, while nice equipment is necessary to a point, if you've got a good eye you can make do with the basics. According to our experts, the vast majority of live pictures will be taken care of with a middle-of-the-road camera body, one zoom lens for tight detail shots, and one wide-angle to get the whole scene. If you see someone with more (looking at you fisheye lenses), chances are, they're compensating.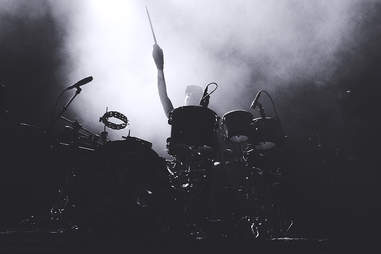 Courtesy of <a href="https://www.instagram.com/jimmyfontaine1/" rel="nofollow" target="_blank">Jimmy Fontaine</a>
Publicists can be worse than an overbearing mother
Just because a photo pass is issued doesn't mean that person is getting carte blanche at the actual event. Plenty of last-minute requests are doled out, but also, legalities and contracts are so murky in this field that even for seasoned pros, things can be tough to navigate.
 
Sometimes you have to do your editing on the fly
Depending on the speed of the turnaround, or the nature of the publication, a photographer might have to select, export, edit, and post their photos to Instagram in real-time. This is a request far removed from the days of film cams, and it is all too common, and totally feasible with things like Wi-Fi-enabled SD cards. Next stop: beaming photos straight to people's brains. 
Courtesy of&nbsp;<a href="http://www.nicolefarasilver.com" rel="nofollow" target="_blank">Nicole Fara Silver</a>
But, some photographers still shoot in-film
Just because robot SD cards are a thing, doesn't mean certain publishers and blogs don't still look for the classic compositional aesthetic of a well-executed film shot. The great color of film can be very difficult to reproduce on a digital cam, and shooting on large format film can often give you much larger shots while still focus on the subject you want.
Courtesy of&nbsp;<a href="http://www.danieldorsa.com" rel="nofollow" target="_blank">Daniel Dorsa</a>
Styling an artist for press photos can be a serious moving target
Working with a stylist for an artist, and fitting their vision (or lack thereof) into an executed concept can be borderline impossible, but when done right can create some excellent results. One of our experts told us that he received such a wild request one time, that he ended up having the artist dress in Turkish armor that his friend had picked up in a street bazaar in Istanbul.
Courtesy of <a href="https://www.instagram.com/jimmyfontaine1/" rel="nofollow" target="_blank">Jimmy Fontaine</a>
Sometimes they have to hang out with an artist for a long time
Most artists are known for their music, not their modeling prowess (can anyone say "bass face"?). That's why it sometimes takes care similar to herding cats to get an artist to loosen up enough in front of a camera. The solution? Just hang out with them. You don't always have the luxury to be their pals outside the shoot, though that definitely helps, but most of our experts recommended scheduling a bunch of time for a shoot to allow plenty of ice breaking.
 
But, liking the music is not a necessity
While it may seem like loving an artist's music would make it easier to shoot with them, the pros told us that being into the music can even distract from the professional task at hand. Coming at it from an unbiased place can make for, well, unbiased photos.