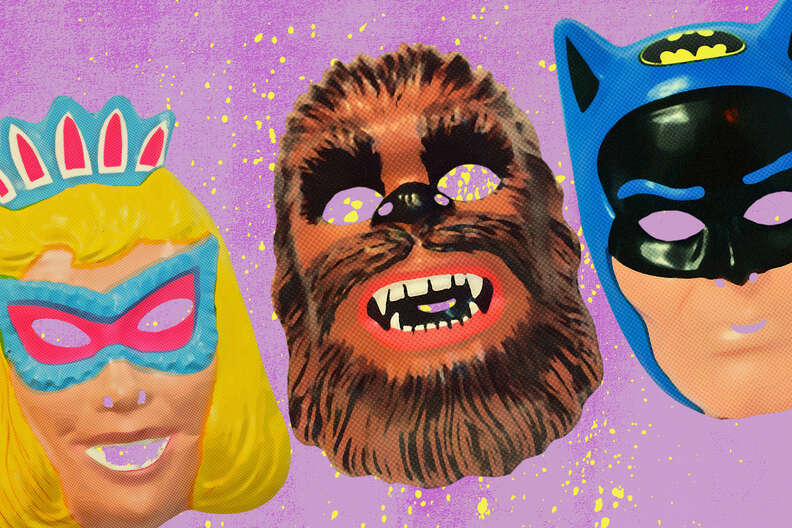 Ben Cooper, Inc/Evan Lockhart/Thrillist
Ben Cooper, Inc/Evan Lockhart/Thrillist
The Bizarre Story Behind Those Amazingly Old School, String Halloween Masks
Jon James Miller, Halloween costume historian and child of the 1970s, grew up loving the decorated neighborhoods, the candies, the nighttime strolls with family and friends. He'll never forget his three favorite costumes: C-3PO, Spider-Man and Batman. All three consisted of sleeveless, vinyl smocks and cheap, plastic masks that fit awkwardly over his face, held on by a single, thin rubber band. They vaguely resembled the characters they represented. But that didn't matter to Jon. "I pretty much loved them to bits when I was a kid," he says. These were the scrappy joys of the Ben Cooper costume company.
He wasn't the only one. For more than three decades, Ben Cooper, Inc. provided kids with inexpensive Halloween costumes of their favorite cartoon, movie, and television show characters. From the 1950s through the late '80s, trick-or-treaters could dress up as virtually any pop culture icon they could think of, thanks to the company's uncanny ability to predict what would be hot in the realm of pop culture fandom.
Ben Cooper, Inc. became synonymous with Halloween, a trendsetter for kids looking for more than just a generic ghost, goblin or witch costume. The company not only helped transform the holiday into the pop culture bonanza, it made celebrating easily accessible with its cheap costumes that anyone could buy and fostered children's imaginations. But as more adults began taking part in celebrating, demanding more elaborate, expensive costumes, the company's inexpensive, child-centered aesthetic couldn't compete. But now, Ben Cooper, Inc. is making a comeback, embracing its place in pop culture history as the company that helped transform Halloween into a pop culture celebration.
Founded in 1937, Ben Cooper, Inc. was originally a Vaudeville and masquerade costume company in New York City, founded by brothers Ben and Nat Cooper. "There was a tremendous amount of sewing going on in the Lower East Side, and there had been at least a half dozen or more mask companies in those days," says Ira, Nat's son who worked at the Brooklyn factory as a kid, and as an outside salesman from 1976 to '80s, and is now a 63-year-old high school English teacher in New Mexico.
The company Ben Cooper, Inc. went after was Walt Disney. In the late '30s and throughout the 1940s, the Cooper brothers began building up their Halloween costume catalog, producing Disney characters such as Snow White, Sleeping Beauty, and, of course, Mickey Mouse. The move, Ira suggests, established them as the premiere Halloween costume company.
With Disney on board, Ben Cooper, Inc. was able to license iconic characters from radio and the emerging television industry, with Davy Crockett and Superman joining the string face family. And as the company's catalog expanded, so did Ben and Ira's imaginations. In trying to stay innovative every year, Ben and Nat created lines of costumes such as the "Hairy, Scary" line, "Creature People," and "Glitter Glow."
"It's those kinds of innovations that they were always leading the field in," says Miller. "If you look at some of these mass creations, especially like the monster lines, with the flocking and everything and the glitter on them, they are still so vibrant to this day. It's kind of a credit to them that they put so much into it."
The '70s saw an even bigger eruption of mask-worthy IP. The company took advantage of Marvel and DC comic book characters making the transition to Saturday morning cartoons, along with Hanna-Barbera and other popular cartoons. Then Star Wars captured the world's collective imagination in 1977.
"I think they made a decision that they were going to be the kings of Halloween. ... It was a wise decision until it wasn't."
"They were always kind of right ahead of the trends, and it still boggles me how the brothers were able to allocate resources and effort on something that was not a guarantee it was going to pop by Halloween," says Miller. Ben and Nat nabbed the Star Wars license like they would any other: foresight, business acumen, and a reputation for success. While George Lucas's toy deal with Kenner is legendary, the costume rights were easier for Ben Cooper, Inc. to negotiate because it was an era before cosplay and high-end memorabilia -- the consumer costume business was associated with Halloween, and Ben Cooper was Halloween.
To produce masks in time for the Halloween season, the company had to begin production eight to 10 months beforehand. That meant anticipating the excitement around something like Star Wars, which to most only made sense in retrospect. "The company had already celebrated its 40th anniversary and they were going all in on this 'tiny sci-fi movie' that had not even been released yet to the public." (Miller notes that the Star Wars phenomenon was so unanticipated that all Kenner had ready for Christmas 1977 was "an empty box with a voucher" to be exchanged for an action figure when they were ready.) "I remember Ira telling me the principals were laughing their asses off when they got hundreds of thousands of units for Darth Vader preorders. They had never seen anything like that."
They weren't laughing because of the flood of money. Ira says, at the time, the company had no idea how it was going to meet the demand. "When you are in a rush to produce something which is timely, you don't necessarily increase your profits by increasing your volume, because you're going to produce 24 hours a day. You have to have experienced crews, you have to pay people."
Ben Cooper, Inc. dominated the Halloween industry with foresight, until a disaster no one could have predicted blindsided it.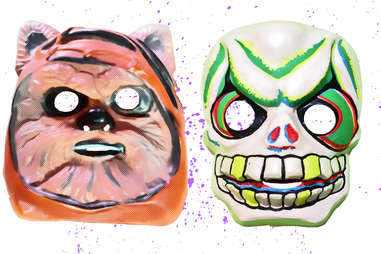 In 1982, about a month before Halloween, one young girl and six adults died in the Chicago area after taking Extra Strength Tylenol laced with cyanide. To this day, the FBI doesn't know who was behind the tampered medicine, but the incident set off a nationwide panic, not just in the pharmaceutical industry, but in the Halloween industry as well. Parents worried that, if someone could poison unsuspecting consumers with bottles of Tylenol, he or she could do the same thing with candy.
Miller was young then, but he remembers how it affected trick-or-treating that year, not just for him, but for kids across the nation. "I remember my parents struggling with whether I should go out, and I did go out anyway," says Miller. "Mom took me around but then I wasn't allowed to eat anything, which kind of sucked. I think it's hard for [people] today to really realize, that was kind of the first domestic terrorist incident back then, and really hit people hard and really hit the business hard, because not a lot of costumes were sold that year because not a lot of kids went out."
According to a New York Times article after the poisonings, sales of candy at grocery stores dropped 20% to 50% that year. Stores began promoting individually-wrapped, brand-name candy, and parents gave out less homemade sweets.
The scare prompted, according to Ira, other changes to how Halloween was celebrated.
"It was a lot of shift for a lot of things," Ira says, "but the culture was also threatened... It might have been that it really propelled the indoor party and the eventual, enormous rise in the adult market that, to a great extent, Ben Cooper missed."
"I remember my parents struggling with whether I should go out, and I did go out anyway."
With more adults celebrating Halloween, the market saw greater demand for higher-quality, cloth costumes. Ben Cooper, Inc. had cloth costumes, but producing them proved to be too expensive and complicated for the company to handle. Unlike the company's inexpensive, boxed costumes, sold at toy stores and seasonal sections of department stores, the pricier cloth costumes were being sold on hangers, which took up more room, and meant less room for merchandise, and required customers to try them on, making the shopping experience more of a trial. "I think they made a decision that they were going to be the kings of Halloween at a certain price point..." says Ira, of Ben and Nat. "It was a wise decision until it wasn't."
By the late 1980s, inefficiencies within the company and the attempt at starting a separate toy line didn't help. As Miller notes, the company still held onto its many licenses and market share, despite two bankruptcies and a rise in inflation. But, Ben Cooper, Inc. wouldn't be in the Halloween business for much longer. In 1992, Rubie's Costume Co. bought the company and dissolved the name and the operations. It did, however, gain the hundreds of licenses Ben and Nat had garnered over the past five decades.
Thirty years later, the Halloween cultural shift that took place in the mid-to-late '80s has ultimately helped Ben Cooper, Inc. Halloween isn't just for kids anymore, and Miller and Ira are using that to their advantage. Together, with Ira's daughter Shifra, they have partnered together to resurrect the Ben Cooper, Inc. brand, having acquired the brand from Rubie's in 2016.
"Ira and Shifra and I have been going out there and touching base with people," says Miller. "They just really remember the aesthetic when Halloween was a kid-friendly holiday and what it was really about; early memories of childhood and pop culture coming into its own in this country and really taking this massive market share." With brands like Star Wars and Marvel continuing to enrapture the mainstream, kids are gravitating towards Ben Cooper, too.
Online, there are fan sites and blog posts devoted to Ben Cooper costumes, with people sharing memories and old photos of themselves in these costumes as kids decades ago. On eBay, you can find pages of vintage Ben Cooper costumes from the '60s, '70s, and '80s for sale, going anywhere from $5 up to $500. Ben Cooper Halloween costumes have become serious collector's items. And with pop culture nostalgia from 30 and 40 years ago at an all-time high, the timing couldn't be better.
"I think that Ira and I specifically, are interested in bringing that history of Ben Cooper so it dogtails into the pop culture that it derived off for decades," says Miller. "And now, it's kind of become part of that pop culture landscape."
Last month, the Bearded Lady's Mystic Museum in Burbank, California, hosted the opening reception to a Ben Cooper art exhibit featuring factory designs, original sketches, and rare costumes that showcases the evolution of the Ben Cooper Halloween costume. More than 1,900 people showed up for the event.
The company now has a new website with merchandise available like T-shirts, stickers, magnets, patches, wall decor, and even a fashion line by designer Micheline Pitt, which was inspired by the art of the original Ben Cooper, Inc. costume designs. Plus, the company has more plans for 2018 and beyond, with a Ben Cooper Halloween price guide, a graphic novel, and more.
But the question that remains to be seen is: Will Ben Cooper, Inc. ever get back into making costumes?
"There is a degree to which I don't think we know exactly where we are going to go in the sense that the fans are leading us," says Ira. "I don't think we've plumbed that depth yet."
Sign up here for our daily Thrillist email and subscribe here for our YouTube channel to get your fix of the best in food/drink/fun.
Charlie Moss is a freelance writer based in Chattanooga, Tennessee. He has written for
The Atlantic
,
Washington Post
, Slate, Vice,
Paste
and other publications. Follow him on Twitter @chachimoss.