Can you believe it's been over 20 years since the '90s? When we watch some movies made in that totally rad decade, we sure can. While 1999 doesn't sound all that long ago, the hairstyles, slang, and soundtracks suggest otherwise. Need proof? Just check out Matt Damon's bangs!
No matter how dated they may look today, our favorite '90s movies easily transport us back to the simpler time when they were made. Stream any of the titles below on Netflix for a trip back to the heady days of sweet and simple rom-coms and erotic thrillers.
Basic Instinct (1992)
Has any movie ever done more for ice-based weapons? Nineties bad-boy director Paul Verhoeven gave us this lurid tale of a damaged cop, played with real scumbag glee by Michael Douglas, investigating an icepick-wielding serial killer, but Sharon Stone is the real star of this show. Unlike the late-night premium-cable schlock that attempted to steal its sleazy style, this pulp classic has a sense of humor and a Hitchcockian playfulness to go along with all the nudity, violence, and cheesy one-liners.
Chasing Amy (1997)
Nineties indie-film icon Kevin Smith softened his geekcore sensibilities for this romantic comedy. OK, soften is unfair -- like Clerks (also on Netflix), Chasing Amy is born from Smith's pondering on the taboo-ish topics of weed, threesomes, and the penetrative definition of sex. But with Ben Affleck playing a straight comic-book bro, and Joey Lauren Adams as a lesbian he wishes he could date, it's a... sweeter turn for Smith. And oh so '90s.
Clueless (1995)
The seminal teen flick of the mid-'90s, Clueless gave us countless gifts that we've carried into adulthood, courtesy of iconic Beverly Hills heroine Cher Horowitz, with her giant phone, unparalleled bubblegum-pulling skills, Valley Girl slang, and matching plaid. If you've never seen it before, you'll be surprised at how many one-liners still work two decades later, from "It does not say RSVP on the Statue of Liberty" to "You're a virgin who can't drive." Do we recommend that you skip watching (or rewatching) Clueless? Ugh, as if!
D2: The Mighty Ducks (1994)
The '90s were a relative golden age for kiddie sports movies, but the Emilio Estevez-starring Mighty Ducks trilogy reigns supreme. (Don't act like you never triple-deked.) While the first film is a fun Bad News Bears-with-hockey riff, the Goodwill Games-set sequel has all the ridiculous stuff you actually remember: the Bash Brothers, "two minutes for… roping," Kenan Thompson as Russ Tyler, and, of course, the villainous rival team from Iceland. Thanks to Netflix, it's always knuckle-puck time.
David Blaine: Street Magic (1996)
Years before the street-magic provocateur shot himself in the throat while trying to catch a bullet in his mouth, he was just a budding performer entertaining mid-level celebrities with his illusions. David Blaine: Street Magic is chock-full of late-'90s "oh yeah, that guy!" moments.
Forrest Gump (1994)
Unlike a box of chocolates, you always know what you're gonna get when you queue up this Robert Zemeckis classic: heartwarming life lessons, Bubba Gump, and Tom Hanks running.
Good Burger (1997)
Welcome to Netflix, home of Good Burger, which you should watch in short order. Kenan Thompson and Kel Mitchell spun off a popular sketch from Nickelodeon's All That to make this rowdy comedy about teens who spend the summer working at their friendly neighborhood fast-food stand and the Nick slime-worthy gaffes that result from a foul burger-chain rivalry. With cameos from Shaq and Sinbad, French-fry gags, and a brawl over an insanely tasty secret sauce, you'll be snort-laughing milkshake out your nose in the first 10 minutes.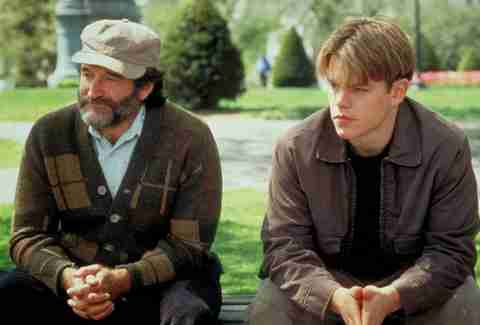 Good Will Hunting (1997)
It might be hard to believe now, but once upon a time, Jason Bourne and Batfleck wrote an Academy Award-winning script. As the titular Will Hunting, a directionless MIT janitor with a jaw-dropping gift for mathematics, Matt Damon sparred with the late Robin Williams' beautifully portrayed psychologist to create a moving picture that weighs embracing ambition with remembering one's roots. Minnie Driver, South Boston accents, and quality dive bar scenes are also in the mix -- the movie's still a must-see, or must-re-see.
Kurt & Courtney (1998)
Nick Broomfield's documentary investigation into the death of Kurt Cobain becomes even more '90s when it shifts attention away from the Nirvana frontman and to his wife, Courtney Love, and her apparent resistance to telling Cobain's story. Even with the late musician out of the picture, there's a dynamic between the two that anyone who grew up in the '90s should know well.
Menace II Society (1993)
Following in the wake of John Singleton's more hopeful Boyz n the Hood, this brooding thriller from the Hughes brothers was an urgent, genre-inflected shot to the heart. Telling the story of Caine Lawson (Tyrin Turner), a teenager in South Central LA, the directors paint a vivid portrait of a young man trapped in a violent, unforgiving world with no options to escape. While some '90s gang dramas were filled with clichés, Menace II Society is an unsentimental and stylishly filmed achievement, a movie that's as rewatchable as it is unsettling.
Pulp Fiction (1994)
No other modern movie so effortlessly created its own language and mythology of cool, where mere objects evoke oceans of meaning. Many have tried, but only Quentin Tarantino could cut and paste his passions into a collage after the success of his talk-heavy, masculinity-destructing debut Reservoir Dogs (also streaming on Netflix). Both wickedly funny and surprisingly thoughtful, it's even better than you remember it being in the 1990s. Travolta still sizzles. The dialogue still pops. The soundtrack still sings. Forget the loftier films he'd make later in his career -- this is his masterpiece.
Sliding Doors (1998)
You may know Sliding Doors more as a term for life-changing decisions than a romantic drama starring Gwyneth Paltrow. Now, thanks to Netflix, you can finally understand why late-'90s audiences were hung up about the parallel lives they could be living. Follow Sliding Doors with Paltrow's other '90s romantic hit, Shakespeare in Love, also streaming on Netflix. In another universe, the movie lost the Best Picture Oscar to Saving Private Ryan.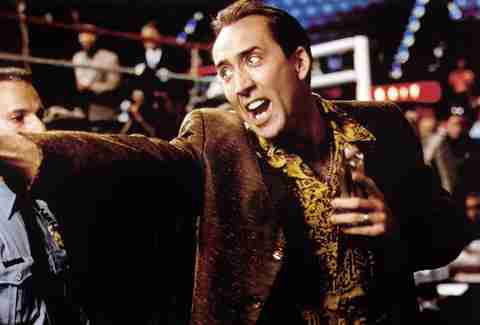 Snake Eyes (1998)
Con Air is peak Nicolas Cage. Carrie is peak Brian De Palma. Jurassic Park is peak David Koepp. Together in 1998, the actor, director, and writer combined forces on Snake Eyes, a twisted thriller that jolts you with a single 13-minute shot, then slowly peters out into WTF madness. Not peak Cage, De Palma, or Koepp, but just crazy enough to entertain.
10 Things I Hate About You (1999)
A hell of a lot of movies have tried to revive dusty old Shakespeare plays, but few modernize as effectively as this remake of The Taming of the Shrew. At the peak of his heartthrob powers, a pre-Joker Heath Ledger got paid by some horny teens (including a dweeby 3rd Rock-era Joseph Gordon-Levitt) to seduce Julia Stiles' feisty Kat, an undateable feminist keeping her popular sister home from prom. It's a testament to the teen actors' charm, raucous party scenes, and philosophizing about Prada and Skechers that the Bard would hardly recognize it.
Tommy Boy (1995)
Peter Segal's timeless buddy comedy effectively pits a lovably obnoxious man-child against the world when, after an extended college career, "Tommy" Callahan III (the late Chris Farley) finally graduates and inherits his dad's auto-parts factory. With the help of an oppugnant assistant (David Spade), the incompetent heir embarks on a road trip to prove his family business' viability and to keep it from falling into the wrong hands. The two SNL veterans give the type of shining performances in which physical hilarity and unforgettable chemistry abound.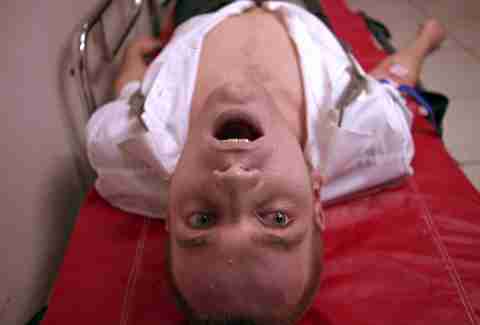 Trainspotting (1996)
If you're looking for lessons from Danny Boyle's heroin opus: Drugs can be fun, but sometimes they kill you. With that in mind, the film offers a great look into degenerate Scottish party culture and the way opiates can ravage the mind. You'll laugh! You'll cry! But, again: Don't try this at home.
The Usual Suspects (1995)
The '90s were the peak of the too-clever-by-half crime film, and no thriller wears that distinction as proudly as Bryan Singer's intricately plotted heist movie. Kevin Spacey won a Best Supporting Actor Oscar for his tic-filled performance as Roger "Verbal" Kint, a smart-ass criminal with cerebral palsy, but the rest of the killer cast -- Gabriel Byrne, Benicio del Toro, Kevin Pollak, Chazz Palminteri, and a pre-Bio-Dome Stephen Baldwin -- also shine as they trade tough-guy banter and ornate putdowns from Christopher McQuarrie's script. If you don't know who Keyser Söze is by now, turn in your '90s card.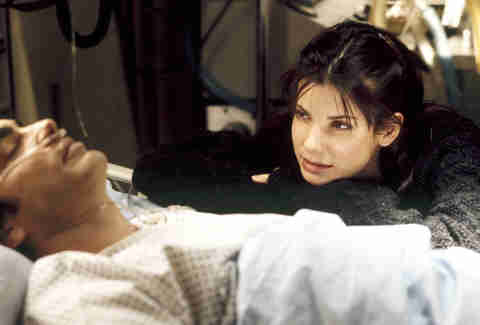 While You Were Sleeping (1995)
Depending on how you look at it, this movie is either a cute rom-com fable or a disturbing portrait of a sociopath. A post-Speed Sandra Bullock plays a lonely subway token-taker who rescues a dashing man (Peter Gallagher) after he stumbles onto the train tracks. After the accident, the man falls into a coma and Bullock pretends to be his fiancée, mourning by his hospital bed, celebrating the holidays with his doting family, and eventually falling in love with his brother (a furniture-building Bill Pullman). Like many screwball protagonists, Bullock lies her whole way through the movie, and the script plays all of her deceptions as lighthearted farce, but with a few tweaks, this could be a horror classic.
Swingers (1996)
This movie is so money. It's so money it doesn't even know it. Tell us this movie isn't money. It's money! So money.
Sign up here for our daily Thrillist email, and get your fix of the best in food/drink/fun.