Can you believe it's been almost 20 years since the '90s ended? While 1999 doesn't sound all that long ago, the hairstyles, slang, and soundtracks suggest otherwise.
No matter how dated they may look today, our favorite '90s movies easily transport us back to the simpler time when they were made. Stream any of the titles below on Netflix for a trip back to the heady days of sweet-and-simple rom-coms, action-packed blockbusters, and erotic thrillers.
Armageddon (1998)
The Criterion Collection, reserved for baroque Swedish films and the deep cuts of '70s auteurship, embraced Michael Bay's jump to sci-fi spectacle. Little explanation is required. Armageddon is lean, expertly crafted, and rowdy. Scenes of meteoric destruction channel Irwin Allen and Michelangelo. The final ludicrous mission to blow up the plummeting space rock is the closest we'll come to a Bay-directed opera. But it's the cast -- Bruce Willis, Ben Affleck, Owen Wilson, Steve Buscemi, and so many more -- that makes Armageddon a ride. Bay's drill-team heroes add red and white to their blue collars for a fist-pumping display of patriotism, no international enemy required. For those of us who weren't born early enough for the Space Race, there's Armageddon.
Basic Instinct (1992)
Has any movie ever done more for ice-based weapons? Nineties bad-boy director Paul Verhoeven gave us this lurid tale of a damaged cop, played with real scumbag glee by Michael Douglas, investigating an icepick-wielding serial killer, but Sharon Stone is the real star of this show. Unlike the late-night premium-cable schlock that attempted to steal its sleazy style, this pulp classic has a sense of humor and a Hitchcockian playfulness to go along with all the nudity, violence, and cheesy one-liners.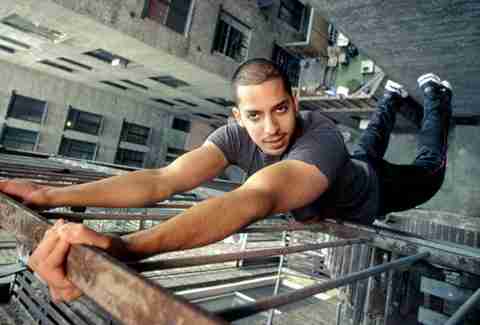 David Blaine: Street Magic (1996)
Years before the street-magic provocateur shot himself in the throat while trying to catch a bullet in his mouth, he was just a budding performer entertaining mid-level celebrities with his illusions. David Blaine: Street Magic is chock-full of late-'90s "oh yeah, that guy!" moments.
Forrest Gump (1994)
Unlike a box of chocolates, you always know what you're gonna get when you queue up this Robert Zemeckis classic: heartwarming life lessons, Bubba Gump, and Tom Hanks running.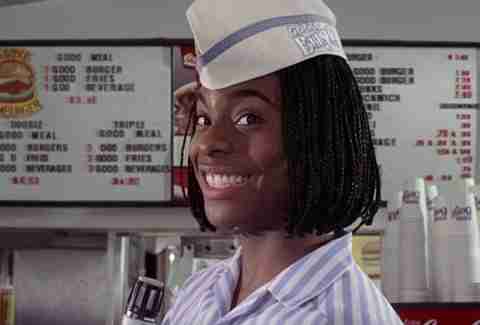 Good Burger (1997)
Welcome to Netflix, home of Good Burger, which you should watch in short order. Kenan Thompson and Kel Mitchell spun off a popular sketch from Nickelodeon's All That to make this rowdy comedy about teens who spend the summer working at their friendly neighborhood fast-food stand and the Nick slime-worthy gaffes that result from a foul burger-chain rivalry. With cameos from Shaq and Sinbad, French-fry gags, and a brawl over an insanely tasty secret sauce, you'll be snort-laughing milkshake out your nose in the first 10 minutes.
Kurt & Courtney (1998)
Nick Broomfield's documentary investigation into the death of Kurt Cobain becomes even more '90s when it shifts attention away from the Nirvana frontman and to his wife, Courtney Love, and her apparent resistance to telling Cobain's story. Even with the late musician out of the picture, there's a dynamic between the two that anyone who grew up in the '90s should know well.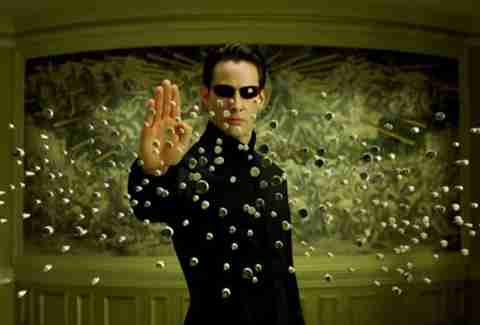 The Matrix (1999)
Considering that a futuristic world in which humans perform simulated lives in a computer-generated landscape while their actual bodies lie trapped in pods while machines sap their energy sounds... hauntingly familiar, it's perhaps not surprising that The Matrix came out just as the dot-com bubble was bursting. The bullet time and fight scenes get their deserved credit, but the allegorical structure and striking images are what turned this Keanu-powered, Wachowski siblings-piloted film into the cultural touchstone it remains today. Red pill or blue pill? Are we in the Matrix? Try bending a spoon after (re)watching this classic to find out -- or just dive into the sequels, also available on Netflix, and which were also ahead of their time in prefiguring the eventual takeover of Hollywood by sequels, reboots, and franchises.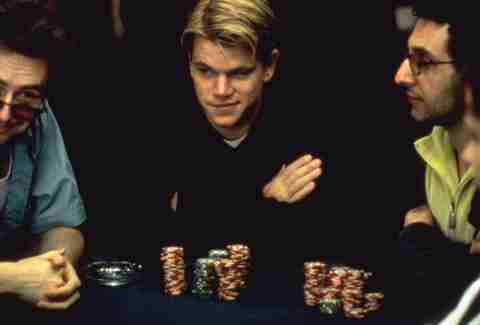 Rounders (1998)
Every frat star's favorite "underrated" movie, Rounders made use of all the mathematical prowess Matt Damon picked up in another '90s classic, Good Will Hunting, by pitting him against organized criminals in the high-stakes world of illegal poker. With Edward Norton, Gretchen Mol, John Turturro, and John Malkovich rounding (oof) out a rock-solid cast, you can enjoy a fast-paced film that requires Damon to come up with a boatload of cash in a short amount of time. Can he do it? Will he outsmart the Russian? There's only one way to find out!
The Sixth Sense (1999)
In 1999, no one saw the twist coming. The fact that Bruce Willis is [two-decades-old spoiler alert] DEAD THE WHOLE MOVIE comes across as quaint now that M. Night Shyamalan has become Twist-Master General and tends to use them as shitty calling cards rather than meaningful plot devices. But wow, when Shyamalan made his breakthrough with The Sixth Sense, it felt like a brand-new experience at the movies, which makes this a quintessential relic of '90s filmmaking.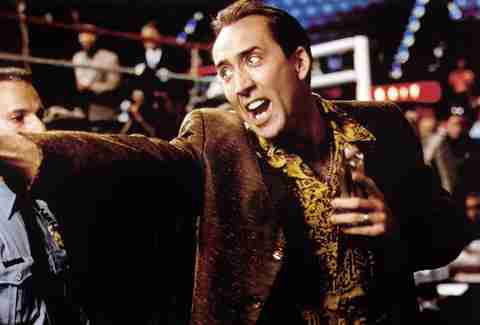 Snake Eyes (1998)
Con Air is peak Nicolas Cage. Carrie is peak Brian De Palma. Jurassic Park is peak David Koepp. Together in 1998, the actor, director, and writer combined forces on Snake Eyes, a twisted thriller that jolts you with a single 13-minute shot, then slowly peters out into WTF madness. Not peak Cage, De Palma, or Koepp, but just crazy enough to entertain.
Titanic (1997)
Grab a box of tissues, review your favorite super-dramatic quotes, then travel back to the time before Leo DiCaprio was a bearded playboy dadbod-ing it up with supermodels. Two decades after its release, James Cameron's retelling of the R.M.S. Titanic tragedy still earns its runtime and unspools as one of the greatest love stories in movie history. Never seen this classic? You gotta. Its 11 Academy Awards are no joke, and if DiCaprio and Kate Winslet don't leave you at least misty-eyed by the end of this emotional marathon, you'll at least know you have to get your head checked.
Sign up here for our daily Thrillist email, and get your fix of the best in food/drink/fun.