Can you believe it's been almost 20 years since the '90s ended? While 1999 doesn't sound all that long ago, the hairstyles, slang, and soundtracks suggest otherwise. 
No matter how dated they may look today, our favorite '90s movies easily transport us back to the simpler time when they were made. Stream any of the titles below on Netflix for a trip back to the heady days of sweet-and-simple rom-coms, action-packed blockbusters, and erotic thrillers.
Recommended Video
The International Trailer for 'The Last Jedi' May Have Revealed Something Huge
Armageddon (1998)
The Criterion Collection, reserved for baroque Swedish films and the deep cuts of '70s auteurship, embraced Michael Bay's jump to sci-fi spectacle. Little explanation is required. Armageddon is lean, expertly crafted, and rowdy. Scenes of meteoric destruction channel Irwin Allen and Michelangelo. The final ludicrous mission to blow up the plummeting space rock is the closest we'll come to a Bay-directed opera. But it's the cast -- Bruce Willis, Ben Affleck, Owen Wilson, Steve Buscemi, and so many more -- that makes Armageddon a ride. Bay's drill-team heroes add red and white to their blue collars for a fist-pumping display of patriotism, no international enemy required. For those of us who weren't born early enough for the Space Race, there's Armageddon.
Basic Instinct (1992)
Has any movie ever done more for ice-based weapons? Nineties bad-boy director Paul Verhoeven gave us this lurid tale of a damaged cop, played with real scumbag glee by Michael Douglas, investigating an icepick-wielding serial killer, but Sharon Stone is the real star of this show. Unlike the late-night premium-cable schlock that attempted to steal its sleazy style, this pulp classic has a sense of humor and a Hitchcockian playfulness to go along with all the nudity, violence, and cheesy one-liners.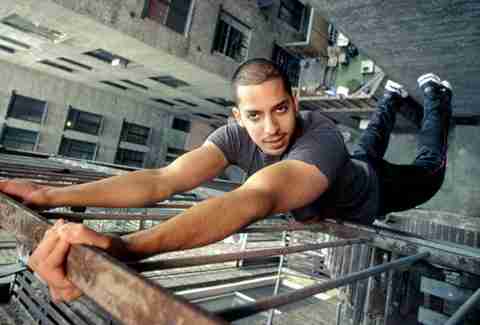 David Blaine: Street Magic (1996)
Years before the street-magic provocateur shot himself in the throat while trying to catch a bullet in his mouth, he was just a budding performer entertaining mid-level celebrities with his illusions. David Blaine: Street Magic is chock-full of late-'90s "oh yeah, that guy!" moments.
Forrest Gump (1994)
Unlike a box of chocolates, you always know what you're gonna get when you queue up this Robert Zemeckis classic: heartwarming life lessons, Bubba Gump, and Tom Hanks running.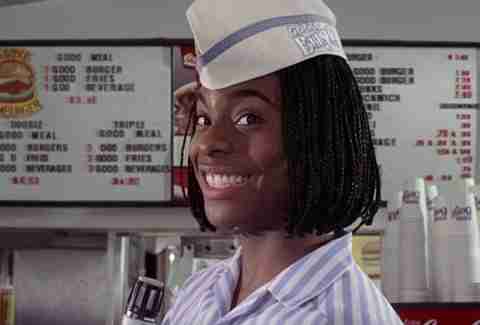 Good Burger (1997)
Welcome to Netflix, home of Good Burger, which you should watch in short order. Kenan Thompson and Kel Mitchell spun off a popular sketch from Nickelodeon's All That to make this rowdy comedy about teens who spend the summer working at their friendly neighborhood fast-food stand and the Nick slime-worthy gaffes that result from a foul burger-chain rivalry. With cameos from Shaq and Sinbad, French-fry gags, and a brawl over an insanely tasty secret sauce, you'll be snort-laughing milkshake out your nose in the first 10 minutes.
Homeward Bound (1993)
The heartwarming story of three talking animals who just want to make their way back to their family is as warm-and-fuzzy '90s as they come. It's built on the conceit that the animals think their owners have left them forever (despite their communication abilities, they're still pets!), and the three have to bound their way home. Or, wait, that's not what the phrase means. There are obstacles along the way, of course, but hey, these aren't your average house pets. 
 
Kurt & Courtney (1998)
Nick Broomfield's documentary investigation into the death of Kurt Cobain becomes even more '90s when it shifts attention away from the Nirvana frontman and to his wife, Courtney Love, and her apparent resistance to telling Cobain's story. Even with the late musician out of the picture, there's a dynamic between the two that anyone who grew up in the '90s should know well.
Pulp Fiction (1994)
No other modern movie so effortlessly created its own language and mythology of cool, where mere objects evoke oceans of meaning. Many have tried, but only Quentin Tarantino could cut and paste his passions into a collage. Both wickedly funny and surprisingly thoughtful, it's even better than you remember it being in the 1990s. Travolta still sizzles. The dialogue still pops. The soundtrack still sings. Forget the loftier films he'd make later in his career -- this is his masterpiece.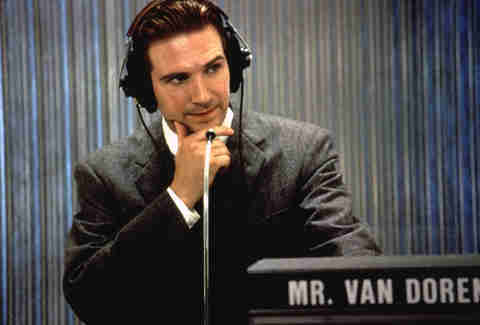 Quiz Show (1994)
Back in the 1990s, every true story became a classically tailored, character-actor-filled Oscar prospect. Quiz Show, directed by Robert Redford, is one of the best of the bunch, a story of the American dream filtered through the Hollywood machine. Charles Van Doren (Ralph Fiennes) became rich and famous playing the game show Twenty One. In 1959, he testified before Congress that producers fed him the answers. He never lived down his scandal. Quiz Show show wrestles with why.
The Sixth Sense (1999)
In 1999, no one saw the twist coming. The fact that Bruce Willis is [two-decades-old spoiler alert] DEAD THE WHOLE MOVIE comes across as quaint now that M. Night Shyamalan has become Twist-Master General and tends to use them as shitty calling cards rather than meaningful plot devices. But wow, when Shyamalan made his breakthrough with The Sixth Sense, it felt like a brand-new experience at the movies, which makes this a quintessential relic of '90s filmmaking. 
Sign up here for our daily Thrillist email, and get your fix of the best in food/drink/fun.