The Best '90s Movies on Netflix
The Sixth Sense

| Buena Vista Pictures
The Sixth Sense

| Buena Vista Pictures
Can you believe it's been almost 20 years since the '90s ended? While 1999 doesn't sound all that long ago, the hairstyles, slang, and soundtracks suggest otherwise.
No matter how dated they may look today, our favorite '90s movies easily transport us back to the simpler time when they were made. Stream any of the bitchin' titles below on Netflix for a trip back to the heady days of sweet-and-simple rom-coms, action-packed blockbusters, and erotic thrillers.
Armageddon (1998)
The Criterion Collection, reserved for baroque Swedish films and the deep cuts of '70s auteurship, embraced Michael Bay's jump to sci-fi spectacle. Little explanation is required. Armageddon is lean, expertly crafted, and rowdy. Scenes of meteoric destruction channel Irwin Allen and Michelangelo. The final ludicrous mission to blow up the plummeting space rock is the closest we'll come to a Bay-directed opera. But it's the cast -- Bruce Willis, Ben Affleck, Owen Wilson, Steve Buscemi, and so many more -- that makes Armageddon a ride. Bay's drill-team heroes add red and white to their blue collars for a fist-pumping display of patriotism, no international enemy required. For those of us who weren't born early enough for the Space Race, there's Armageddon.
Cruel Intentions (1999)
In adapting the classic French novel Les Liaisons Dangereuses for the WB generation, writer-director Roger Kumble doesn't pull back on any of the book's nasty back-stabbing and emotional manipulation. Instead, the movie revels in the melodramatic tawdriness of it all and features truly inspired lead performances from Sarah Michelle Gellar (using all the tricks that made her so likable on Buffy the Vampire Slayer as conniving mean girl Kathryn Merteuil), Ryan Phillippe (as her charmingly vacant step-brother Sebastian Valmont), and Reese Witherspoon (as the virginal Annette Hargrove). Plus, you know "Bittersweet Symphony" has never sounded sweeter.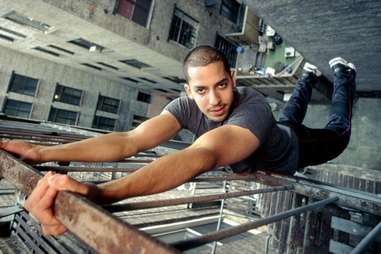 David Blaine: Street Magic (1996)
Years before the street-magic provocateur shot himself in the throat while trying to catch a bullet in his mouth, he was just a budding performer entertaining mid-level celebrities with his illusions. David Blaine: Street Magic is chock-full of late-'90s "oh yeah, that guy!" moments.
Empire Records (1995)
When a corporate giant threatens to buy a local record store, its devoted, young employees spend the entirety of a day fighting the loss of their untouchable indie gem to a chain. In working to save the shop together, they learn a bit more about each other's struggles a la Breakfast Club set in a vinyl lover's heaven. The flick is a mid-'90s cult classic with a great soundtrack, fun, early, career-launching performances of stars like Liv Tyler, and a solid coming-of-age story.
The Green Mile (1999)
Adapted from a Stephen King novel, The Green Mile takes a tale of one man's horrific experience working as a prison guard on Death Row and turns it into something fantastical (in a ham-fisted way, but hey, that's the '90s for you). When guard Paul Edgecomb (played by Tom Hanks) oversees a new inmate convicted of brutally murdering two young girls, he starts to believe he possesses a gift that's out of this world and questions his ability to commit such a crime. The Frank Darabont film received a number of Oscar nominations, sees Hanks at his best, and remains a must-see classic for its powerful material and performances.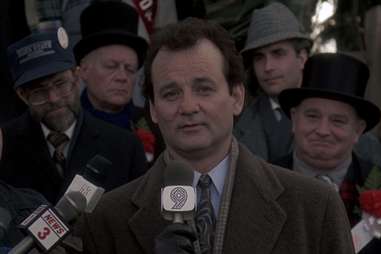 Groundhog Day (1993)
Try not to fall into a super-cynical slump while watching this Bill Murray comedy classic. Harold Ramis' award-winning flick sends Murray's weatherman to Punxsutawney, PA, where he reports on the town's titular festivities, enters a time loop, straightens out his life priorities, and tries to court Andie MacDowell. It's a hilarious '90s gem that has Murray transitioning from his shit-disturber film phase to his more world-weary one (also: a blessing in the form of under-appreciated actor Stephen Tobolowsky).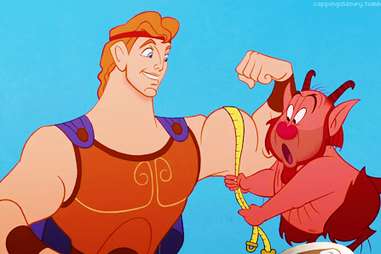 Hercules (1997)
Disney has a habit of taking pretty grim folklore and transforming it into heartwarming romances for children. See any of its Grimm's fairy-tale adaptations, or this Greek mythology remake in which underworld demons have the competency of a Will Ferrell character and Zeus isn't screwing every living thing in sight. But Hercules, despite its relatively low rank on the Disney totem pole, is massively entertaining -- and it has a secret weapon in the Muses. This singing quintent gives Hercules a killer soundtrack that any motown fan will love. And really, if you're a human with ears, that includes you.
Interview with the Vampire (1994)
Before vampires were hot YA commodities, Anne Rice published a collection of classics about these creatures in a sexy, literary fashion. Based on one of Rice's novels, this stylish gothic film stars Brad Pitt and Tom Cruise at their most ghostly and beautiful as two immortal vampires. While speaking to a contemporary reporter (Christian Slater), Brad Pitt's tired-of-living-as-a-blood-sucking-phantom Louis tells his eternal story of living from the colonial era to now, with Cruise's villainous Lestat and a young girl, played by a dynamic Kirsten Dunst. The film is exceptionally lavish, dramatic, and features '90s It-boys at their best as lustful, romantic vampires. It's a goth dream come true.
Jurassic Park (1993)
The movie you've watched 1,000 times on TNT holds up. The way Jurassic Park pushes in from the grandiose to the personal arcs -- Dr. Grant's relationship hang-ups, the two kids' coming-of-age stories, John Hammond's dream blowing up in his face -- is a science on par with genetic resurrection. Spielberg maintains Michael Crichton's knack for navigating the heady in wholly digestible ways while making good on his ensemble's gasps -- the brachiosaurus. By the time Jurassic Park becomes a Jaws successor, where velociraptors fighting a T. rex doesn't feel like excessive payoff, it's already melted us away with awe. Everything you could possibly want out of a modern blockbuster.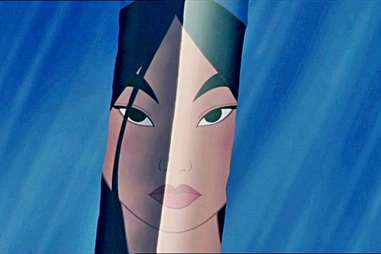 Mulan (1998)
Long before we had Merida, we had Mulan, the ass-kicking Disney "princess" who was more at home in a suit of armor battling the Huns than she ever was in a kimono pouring tea. Mulan remains a fantastic heroine 18 years later, and her story is only bolstered by Eddie Murphy's performance as her tiny dragon sidekick, Mushu, and one particularly rousing training montage track that'll be stuck in your head by the end of this sentence.
Quiz Show (1994)
Back in the 1990s, every true story became a classically tailored, character-actor-filled Oscar prospect. Quiz Show, directed by Robert Redford, is one of the best of the bunch, a story of the American dream filtered through the Hollywood machine. Charles Van Doren (Ralph Fiennes) became rich and famous playing the game show Twenty One. In 1959, he testified before Congress that producers fed him the answers. He never lived down his scandal. Quiz Show show wrestles with why.
Schindler's List (1993)
Bring a box of tissues with you to the couch for this one. Regarded as one of the greatest movies of all time, Schindler's List is an epic historical drama hailing from Steven Spielberg about Oskar Schindler (Liam Neeson), a German businessman who takes concern for his primarily Jewish workforce during the Nazi occupation and turns his factory into a refugee to save thousands from the Holocaust. The film is based on a true, astounding story and a stellar adaptation of it with seven Oscars to its name, including Best Picture.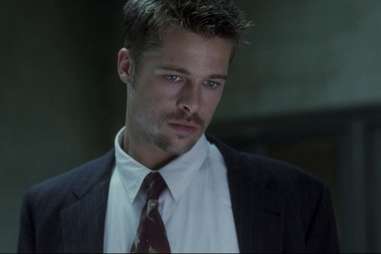 Se7en (1995)
Director David Fincher has a thing for serial killers. The man who helmed Zodiac and The Girl With the Dragon Tattoo, and who's executive producing Netflix's Mindhunter, got his first taste with Se7en, about two detectives (Brad Pitt and Morgan Freeman) on the hunt for a murderer obsessed with punishing those he perceives to embody the seven deadly sins. The famous final murder scene ("What's in the box?!") grabs all the attention, but it's a payoff that's earned by the dark, brooding character studies that Fincher builds over the course of the film, a style that would become a hallmark of his later work.
The Sixth Sense (1999)
In 1999, no one saw the twist coming. The fact that Bruce Willis is [two-decades-old spoiler alert] DEAD THE WHOLE MOVIE comes across as quaint now that M. Night Shyamalan has become Twist-Master General and tends to use them as shitty calling cards rather than meaningful plot devices. But wow, when Shyamalan made his breakthrough with The Sixth Sense, it felt like a brand-new experience at the movies, which makes this a quintessential relic of '90s filmmaking.
Tarzan (1999)
One of the few Tarzan adaptations that will have you wishing you were raised by apes, Disney's '99 version featured plenty of warm-and-fuzzy talking animals and an Oscar-winning soundtrack courtesy of Phil Collins. The visuals are some of the Mouse House's 2D finest, and Tony Goldwyn and Minnie Driver's voicing of Tarzan and Jane lends the 'toons some much-needed chemistry.
Sign up here for our daily Thrillist email, and get your fix of the best in food/drink/fun.
Follow the Thrillist Entertainment editors on Twitter @ThrillistEnt.