The Best Abs of the Summer Movie Season, From Hard to Soft
The Legend of Tarzan

| Dark Horse Entertainment
The Legend of Tarzan

| Dark Horse Entertainment
There's no time like the summer to take your shirt off. And, luckily for those of us who prefer to do so without an audience, the summer movie season gives us ample opportunities to ogle leading men who've spent months of hard work preparing for the opportunity.
The Legend of Tarzan, in theaters this weekend, showcases perhaps the finest such specimen. In honor of Alexander Skarsgård's commitment to crunches, we've nobly researched the most arresting examples of shirtlessness hitting multiplexes this season. They're all winners -- but to add to the competitive spirit, we've ranked all the movie-star abs that are fit to count.
Alexander Skarsgård in The Legend of Tarzan
What does Tarzan do all day in the jungle besides chilling with apes? He prepares to face off against colonizers with an intense bodyweight workout, by the looks of it. Based on the terms Edgar Rice Burroughs laid out in his 1912 source text, Skarsgardzan strived for an efficient sort of bulk, where every ounce of muscle served a primitive purpose. While he focused on increasing muscle mass and improving his posture, he took no cheat days for five straight months. They call it The Legend for a reason, folks.
Ben Affleck in Batman v Superman: Dawn of Justice
For some, one bright, glistening spot in this dreary superhero movie was the scene providing a closer look at Batman's Crossfit-inspired training regimen, edited into the montage above. Ben Affleck needed to put in work to play a superhero of comic-book proportions -- his Batsuit alone weighed 75 pounds, not to mention all the heavy lifting and fighting the epic franchise title required. Affleck and longtime trainer Walter Norton Jr. worked toward a bulky, broad-shouldered, MMA-inspired look. And this somehow made Ben Affleck sad? Cheer up, Ben!
Henry Cavill in Batman v Superman: Dawn of Justice
Sorry, Superman: while Cavill, too, was in fighting shape, we're placing him a slot lower than his titular foe solely because Superman lacked a badass training scene in the movie. But Cavill's gains are still impressive -- his bod's been in top form since Man of Steel, and he added 12 more pounds of muscle for the sequel, just for the hell of it.
Matt Damon in Jason Bourne
This is 45-year-old Damon's fifth Bourne film, and he's still in fighting shape. By the looks of the trailer for the movie, out July 29, and the shirtless fight sequence teased therein, he's been turning down a ton of his beloved burgers and beers. Damon's secret weapon for that six-pack? The VersaClimber, which works the whole body at once to maximize efficiency.
Zac Efron in Neighbors 2: Sorority Rising
Efron doffs his shirt in most of his movies, but it's not every role that requires him to wear an orange Speedo. What better way to recover the old frat house from a sorority than by distracting them with my bod? his character might have wondered, if Neighbors 2 weren't too self-aware for that. Extra props for Efron's bro Seth Rogen's valiant contouring efforts -- you almost had us fooled, buddy.
Tom Hiddleston in High-Rise
Admittedly, the main draw of this British thriller isn't the physical fitness of its stars. The majority of the movie takes place within a many-storied apartment complex, where Hiddleston happens to strip down on occasion. (His posterior also made headlines this season for its brief appearance in TV miniseries The Night Manager, but that belongs on another list entirely.) Perhaps Hiddleston can keep that well-built physique honed through strenuous rock-climbing sessions with his new girlfriend, Taylor Swift?
Ralph Fiennes in A Bigger Splash
What would a European vacation psychodrama be without showcasing some well-defined poolside bodies? Fiennes takes one for the team in this sexy flick, shimmying his fine physique under a wide-open tropical button-down, with beautiful Mediterranean vistas in the background. (Co-star Matthias Schoenaerts gets an honorable mention for his own aspirational abs, but his weren't as well-accessorized.)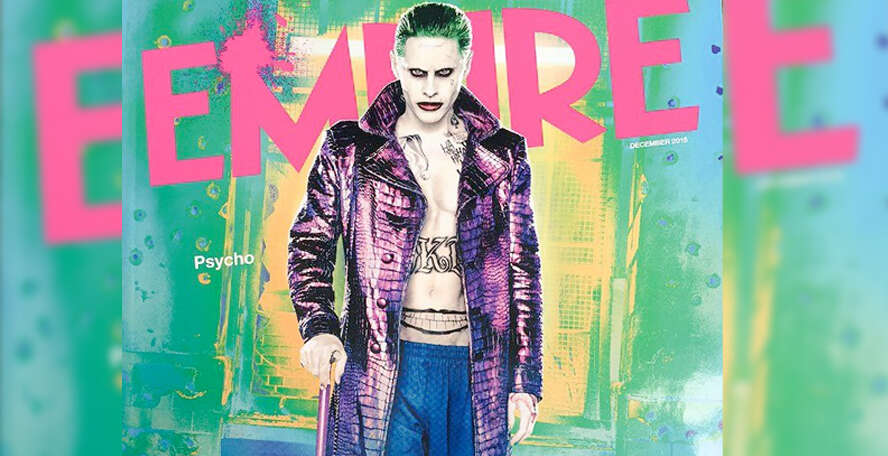 Jared Leto in Suicide Squad
If you prefer your abs tatted, Leto's Joker has the go-to set. While he achieved an unhealthily slim physique for his last major role, in Dallas Buyers Club, which earned him an Oscar in 2015, Leto has bulked up a bit for his turn in the cult DC Comics adaptation. Plus, those tattoos are pretty damn epic.
Colin Farrell in The Lobster
Press dished out extra servings of praise for the former action-movie star's weight gain and subsequent Lobster belly roll. Before you call his place on this list mean-spirited, note that Farrell expended nearly as much effort as his shirtless brethren to achieve this look: to gain a reported 40 pounds, he had to do scary stuff like drink melted ice cream by the pint and house two each of cheeseburgers, Cokes, fries, and chocolate cake slices -- all before 10am. Sounds kind of like my summer diet, actually.
Sign up here for our daily Thrillist email, and get your fix of the best in food/drink/fun.
Lauren Leibowitz is Thrillist's Entertainment Editor and cannot locate her own abs. Find her on Twitter @lleibowitzz.