The Best Action Movies of 2020 (So Far)
All the punching and kicking you ever wanted!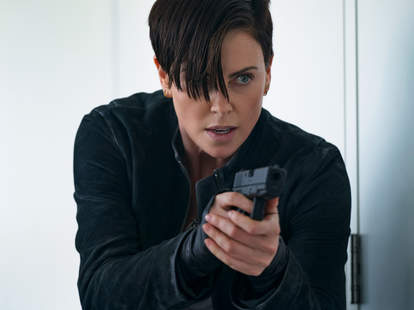 The action movie is resilient. Even in the middle of a global health crisis, with theaters closing and films getting pushed from the release calendar, the action genre has found ways to thrive in different corners of moviedom, evolving in the realm of VOD and on streaming platforms. Fans still want to see teams of commandos fight bad guys, cops throw their badges across tables, and assassins go rouge. That's not going to change.  
Like last year's list, the goal here is to celebrate the best action titles of 2020 on the big screen and on streaming sites, which could mean superhero epics, foreign language slugfests, and, more likely than not, at least one movie starring Vin Diesel. We'll be updating this list as the year goes on, so strap in. 
For more movies to watch, check out our rankings of the Best Movies of 2020 and the Best Horror Movies of 2020. 
Sony Pictures
9. Bloodshot
Release date: March 13
Cast: Vin Diesel, Eiza González, Guy Pearce, Lamorne Morris
Director: David S.F. Wilson
Why it's worth watching: With F9, the next chapter in the NOS-powered Fast and Furious saga, pushed to 2021 because of the outbreak of the coronavirus, Vin Diesel fans will have to make due with Bloodshot, a frenzied adaptation of a popular Valiant Comics title first published in the '90s. Like many non-Fast thrillers from Diesel, the results are a mixed bag, emphasizing the star's muscular frame, gravely voice, and no-nonsense attitude while failing to fully activate his oddball charisma. He plays Ray Garrison, a gun-toting Marine who gets brutally murdered by some shady assassins and brought back to life by an even shadier bio-tech corporation headed up by Guy Pearce's smarmy, sweater-wearing Dr. Emil Harting. Outfitted with a combination of Deadpool-like regeneration abilities and Limitless-like mental gifts, Garrison becomes a vengeance-driven hired gun for the company, but he soon discovers that his boss might be tinkering with his memories to get the desired results. Despite some ultra-choppy, borderline incomprehensible action sequences, Bloodshot has a handful of clever science-fiction concepts, charming supporting performances, and Groundhog Day-ish twists that elevate it above many of Diesel's lackluster non-Fast blockbuster attempts.
Where to watch: Rent via Amazon, iTunes, Vudu, and YouTube (Watch the trailer)
Samuel Goldwyn Films
8. Debt Collectors
Release date: May 29
Cast: Scott Adkins, Louis Mandylor, Vladimir Kulich, Marina Sirtis
Director: Jesse V. Johnson (Triple Threat)
Why it's worth watching: A sequel to 2018's Walter Hill-like throwback The Debt Collector, which found the reliably bruising Scott Adkins playing a reluctant mob bagman named French, this buddy action comedy occasionally fails to pay up. Much of the banter between French and his boxing-loving partner Sue (Louis Mandylor) falls flat; the storyline is numbingly episodic; the shoot-out at the end is too chaotic and choppy. So, why is it on this list? Well, prolific DTV-collaborators Adkins and Johnson, who crafted last year's great Avengement and a number of other titles, are worth keeping up with even when they're slightly off their game. In addition to a winning barroom brawl in the opening and a satisfying foot chase where a henchman reveals he has aspirations of being a stuntman, the movie also boasts a knock-down slugfest that serves as a not-so-subtle They Live tribute. Those scenes, along with the camaraderie between Adkins and Mandylor, make Debt Collectors a satisfying enough hang for anyone who already enjoyed the original.
Where to watch: Stream on Netflix; rent via Amazon, iTunes, Vudu, and YouTube (Watch the trailer)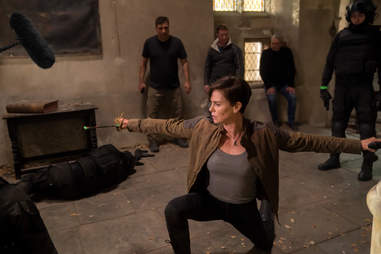 Netflix
7. The Old Guard
Release date: July 10
Cast: Charlize Theron, KiKi Layne, Matthias Schoenaerts, Marwan Kenzari
Director:Gina Prince-Bythewood (Beyond the Lights)
Why it's worth watching: After battling her way through an apocalyptic desert wasteland in Mad Max: Fury Road, punching her way through Berlin in Atomic Blonde, and tangling in the sky with the Fast and Furious crew, Charlize Theron gets her own superhero franchise with this curious adaptation of Greg Rucka's comic series focussed on a rag-tag group un-killable mercenaries. While the broad strokes of the plot combine Highlander immortality schtick with a military rescue commando narrative, director Gina Prince-Bythewood brings a startling emotional directness and a winning earnestness to the material. The shooting of the fights can be a bit by-the-numbers, with Theron delivering head-shots and axe-throws on cue, but the relationships between the characters are more fully developed and lived-in than many similar would-be streaming blockbusters. Even if the requisite sequel-tease at the end is frustrating, it's not exactly unwelcome.
Where to watch: Stream via Netflix (Watch the trailer)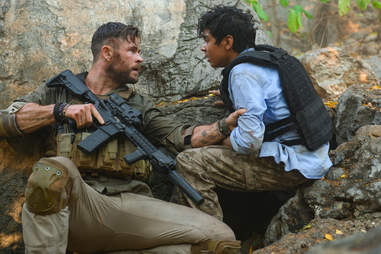 Netflix
Release date: April 24
Cast: Chris Hemsworth, Rudhraksh Jaiswal, Randeep Hooda, Golshifteh Farahani
Director: Sam Hargrave
Why it's worth watching: Tossing aside Thor's massive hammer and trimming his gnarly Avengers: Endgame beard, Chris Hemsworth picks up an assault rifle and gets to work in Extraction, a new Netflix shoot-em-up that re-teams the Australian actor with his former Marvel filmmaking buddies Joe and Anthony Russo, who produced the project. (Joe wrote the bullet-ridden screenplay, which is based on the 2014 graphic novel Ciudad.) While Hemsworth's gun-toting commando protagonist Tyler Rake -- yes, that's his name -- lacks comic-book superpowers and Norse god strength, he can take a beating and keep fighting, a quality that serves him well as he rescues and protects the child of an Indian drug kingpin. At one point in the film's big show-stopping chase sequence, which stunt-coordinator-turned-director Sam Hargrave presents as one long take, Rake gets slammed by a speeding car. His solution? Locate a bigger vehicle, preferably a large truck, and hit the bad guy back. That type of strategic thinking should give you a sense of Rake's tactical prowess and of the movie's blunt-force approach to action filmmaking. There's a dreary, perfunctory quality to the storytelling, especially as it marches toward its bloody finale, but Extraction has enough big fight scenes to make it required viewing in a year without a new John Wick movie to look forward to. 
Where to watch: Stream via Netflix (Watch the trailer)
Vertical Entertainment
5. Blood on Her Name
Release date: February 28
Cast: Bethany Anne Lind, Will Patton, Elisabeth Röhm, Jared Ivers
Director: Matthew Pope
Why it's worth watching: At less than 90 minutes, this dread-soaked, Southern-fried neo-noir doesn't waste time turning the screws on its put-upon protagonist. Leigh (Bethany Anne Lind) is introduced having recently survived an attack and possibly killed a man lying dead on the floor of her garage. She knows exactly what happened; the viewer is kept in the dark. As the tension builds, more information about Leigh's situation is revealed and the circumstances surrounding the man's death, which involve Leigh's currently incarcerated ex-husband, become clearer. Working in the same steely tradition as the recent indie hit Blue Ruin from director Jeremy Sauliner, Blood on Her Name doubles-down on family drama instead of loading up on gunfights, brawls, or stand-offs. When violence does occur, it has an impact. Even if some of the dialogue rings generic at times and the supporting performances aren't all of the same caliber, the movie's resistance to cheap irony is admirable and Lind gives the type of grounded, lived-in performance that makes an indie like this feel like a hidden gem. 
Where to watch it: Rent on Amazon, iTunes, Vudu, and YouTube (Watch the trailer)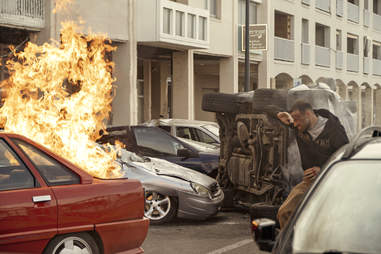 Netflix
Release date: June 19
Cast: Alban Lenoir, Nicolas Duvauchelle, Ramzy Bedia, Stéfi Celma 
Director: Guillaume Pierret
Why it's worth watching: Alban Lenoir, the star and co-writer of this proudly sturdy French thriller, has a rugged-yet-droll Statham-like quality, that rogue-like charisma that never reads as desperation. He plays Lino, a hapless thief who turns into an unlikely car mechanic for the police, and he spends most of the movie attempting to clear his name for a murder he didn't commit. (Tracking down the lost bullet of the title is easier said than done.) The best scene in the movie, a police station beatdown where Lino escapes from an interrogation room and fends off a number of officers with all available objects, occurs relatively early on, but Lenoir keeps you engaged as the plot plays itself out. Each head-denting, eyebrow-singing stunt gives him another opportunity to keep his cool. It's exactly the type of brisk, clever movie that tends to get buried in Netflix's algorithmic shuffle.
Where to watch: Stream via Netflix (Watch the trailer)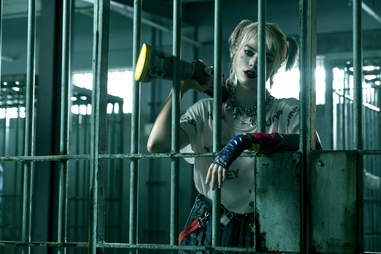 Warner Brothers Pictures
Release date: February 7
Cast: Margot Robbie, Mary Elizabeth Winstead, Jurnee Smollett-Bell, Rosie Perez 
Director: Cathy Yan (Dead Pigs)
Why it's worth watching: Birds of Prey, the recently retitledSuicide Squad spin-off starring  Margot Robbie's joyfully defiant Harley Quinn, didn't exactly light up the box office in the same way last year's Oscar-nominated Joker movie did, but it's a lot more fun. That's mostly thanks to the tightly choreographed, inventively staged fight scenes, which director Cathy Yan films in a way that channels both the hand-to-hand combat of John Wick and the more baroque tendencies of the Joel Schumacher Batman era. (A multi-character throw-down in a funhouse towards the end is particularly well executed and a car chase involving a pair of roller-blades finds a new spin on a scene you've seen a million times.) If the convoluted flashback structure occasional grates and some of the jokes fall flat, the action more than makes up for it, which is pretty rare for a big studio superhero release these days. 
Where to watch: Rent via Amazon, iTunes, Vudu, and YouTube (Watch the trailer)
Netflix
2. Time to Hunt
Release date: April 23
Cast: Lee Je-hoon, Ahn Jae-hong, Choi Woo-shik, Park Jung-min 
Director: Yoon Sung-hyun (Bleak Night)
Why it's worth watching: Unrelenting in its pursuit of scenarios where guys point big guns at each other in sparsely lit empty hallways, Time to Hunt is a South Korean thriller that knows exactly what stylistic register it's playing in. A group of four friends, including Parasite and Train to Busan break-out Choi Woo-shik, knock over a gambling house, stealing a hefty bag of money and a set of even more valuable hard-drives, and then find themselves targeted by a ruthless contract killer (Park Hae-soo) who moves like the T-1000 and shoots like a henchmen in a Michael Mann movie. There are dystopian elements to the world -- protests play out in the streets, the police wage a tech-savvy war on citizens, automatic rifles are readily available to all potential buyers -- but they all serve the simmering tension and elevate the pounding set-pieces instead of feeling like unnecessary allegorical padding. Unlike Netflix's recent futuristic actin slog The Last Days of American Crime, which tripped over its own convoluted premise and failed to spark genuine suspense, Time to Hunt uses its elongated runtime to build sequences in a meticulous, considerate way that should appeal to viewers who have seen Heat, Collateral, and Miami Vice too many times to count. 
Where to watch: Stream via Netflix (Watch the trailer)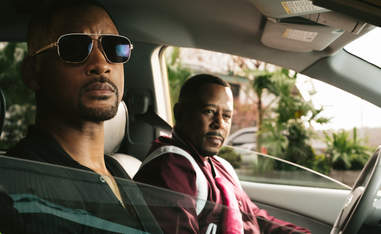 Sony Pictures
Release date: January 17
Cast: Will Smith, Martin Lawrence, Vanessa Hudgens, Paola Núñez 
Director: Adil El Arbi and Bilall Fallah (Black)
Why it's worth watching: In what hasn't exactly been a great year for action movies so far, Bad Boys for Life has to be the biggest surprise. Given its lengthy production history, its January release date, and the departure of series director Michael Bay -- the action auteur gets a winking cameo here, perhaps taking a break from shooting Netflix's 6 Underground -- this movie could've been a disaster. Instead, Smith and Lawrence easily slip back into the roles that made them action movie icons in the '90s and the writers find a way to update the garish, over-the-top aesthetic of the series for the franchise era. In a wise decision, directors Adil El Arbi and Bilall Fallah don't even bother trying to top the excess and mayhem of Bay's Bad Boys II.Bad Boys For Life is a gentler, sillier movie than its predecessor, less interested in moments of vulgarity than in scenes of sitcom-like human connection and familial melodrama. There are explosions and car chases through the streets of Miami and jokes about getting too old for this shit, but the material is given a light touch that lets the two stars do what they do best. 
Where to watch: Rent via Amazon, iTunes, Vudu, and YouTube (Watch the trailer)
Need help finding something to watch? Sign up here for our weekly Streamail newsletter to get streaming recommendations delivered straight to your inbox.