The Best Action Movies You Can Stream Right Now
Summer is the season of BOOM. From fireworks displays to swimming pool cannonballs to grills lit up with a little too much lighter fluid, the 100-degree dog days hurl us into a delirium where the only thing that rattle us are the most explosive sensations. So action movies, a summer staple, fit right in -- the biggest, loudest ones don't need to make sense as long as they ignite the senses. Here are a fully vetted few that'll do just that.
The 36th Chamber of Shaolin
Producer Run Run Shaw is synonymous with kung fu, and The 36th Chamber of Shaolin is considered one of his master works. The movie follows San Te (an actual Shaolin martial artist fictionalized for excessive ass-kicking), who watches the Manchu government squash his friends and family, and heads off to a temple to ready himself for vengeance. His training requires him to fight his way through 35 "chambers," each one requiring a different skill, and each one blowing your mind in new and extravagant ways.
Where to stream it: Netflix and Amazon Video
The 6th Day
Set in a futuristic world of laser blasters and recreational helicopter rides, The 6th Day is like a Philip K. Dick story rewritten by Michael Bay and souped up the special effects equivalent of Microsoft Paint. That's fine -- the movie exists solely to team Schwarzenegger up with himself through the magic of cloning. The chase sequences are pedestrian and the shootouts are bolstered by the aforementioned laser blasters, but hell, The 6th Day is double the fun with two Ahnulds in tow.
Where to stream it: Crackle and Hulu
Above the Law (and a ton of other Steven Seagal movies)
Speaking of Schwarzenegger, most of the Austrian bodybuilder-turned-actor's movies look like Christopher Nolan mind-benders compared to the extensive filmography of Steven Seagal, whose macho grimace and breathy intimidation tactics transcended classically wooden acting in thrillers throughout the '90s. Still, no one jumps away from an explosion or slaps the shit out of a terrorist dingleberry quite like Vladimir Putin's go-to action star. HBO has you ready for your first (or second or third or fourth... ) Seagal-athon, with his best movie, Above the Law, backed up by Executive Decision,Hard to Kill, On Deadly Ground, Out for Justice, Under Siege, and Under Siege 2: Dark Territory. Be brave. Go forth.
Where to stream it: HBO Go/Now
The Bourne Ultimatum
While it takes a Harvard political science degree and a wall-sized yarn board to decipher the hush-hush government shenanigans of the Bourne franchise, director Paul Greengrass brings enough shakey-cam bravado to each installment to entertain the most casual thrill-seeker. In the franchise's second sequel, Matt Damon's Jason Bourne once again sifts through his past as a recruit of the mysterious Operation Treadstone, which also involves punching, kicking, and planting two in a number of for-hire assassins, and destroying half of New York City's Upper East Side in one of his signature car chases. You will watch baffled and gripped.
Where to stream it: HBO Go/Now
Bullet to the Head
This movie teeters on the edge of recommendable. A bulked-beyond-comprehension Sylvester Stallone is in the driver seat. The Warriors, 48 Hrs, and The Driver director Walter Hill is behind the wheel. Jason Momoa, still harboring Khal Drogo's killer eyes and killer instincts, costars as an axe-wielding villain. How is this movie not a masterpiece? A mid-60s Stallone isn't as strapping as he once was, and his old-school-new-school rapport with his partner (played by Fast Five star Sung Kang) will make even the least woke member of your viewing party raise an eyebrow. But the action in Bullet to the Head delivers, and whenever Stallone launches into a dialogue that isn't a series of grunted insults, well, maybe go get a snack.
Where to stream it: HBO Go/Now
Captain America: Civil War
If you're a fan of the Marvel Cinematic Universe, you'll probably enjoy Chris Evans' Captain America and Robert Downey Jr.'s Iron Man duking it out for two-and-a-half hours. While you can read Captain America: Civil War as a political allegory, it's the splashy, big-budget action sequences that have made Marvel a cash cow and will keep you glued to your couch.
Where to stream it: Netflix
District B13
The Professional director Luc Besson is the mastermind behind the Taken series, the Taxi series, and the Transporter series. But the most purely "Bessonian" of his productions is this Escape From New York-inspired thriller, in which anti-hero Leïto (David Belle) teams with undercover cop Damien (Cyril Raffaelli) to find a stolen nuclear bomb in a walled-off Paris suburb. Belle is the founder of the movement discipline of parkour, while Raffaelli is a stuntman and the film's fight choreographer, and their physical abilities take center stage in a series of jaw-dropping foot chases up walls, across rooftops and balconies, and climbing and rolling and leaping feet-first through tiny windows without the aid of wires or digital effects.
Where to stream it: Hulu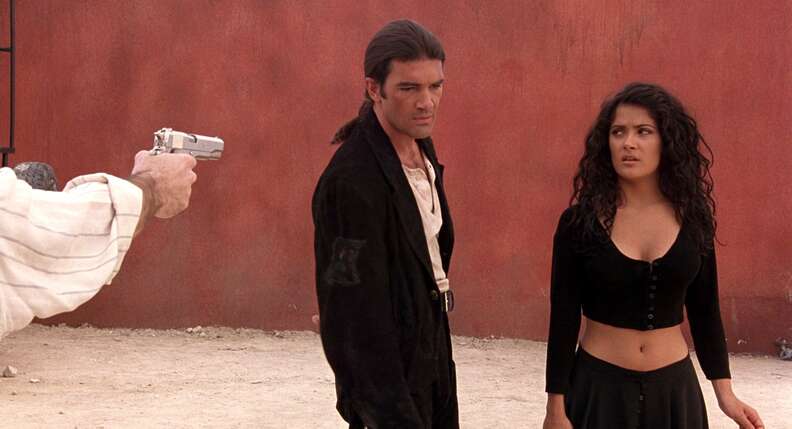 Desperado
Though the second installment in Robert Rodriguez's Mexico Trilogy feels a little forced, it does come with a bigger budget. What the sequel lacks in narrative grace, it makes up for with Antonio Banderas, Salma Hayek, and even crazier gunfights than its predecessor, El Mariachi. El Mariachi (with Banderas in place of Carlos Gallardo) must hunt down Bucho, the enigmatic kingpin he believes is responsible for ruining his life, while continuing to reinvent guitar cases. Really, it's a wildly entertaining ride dressed up as a revenge story. But Desperado thrums so loudly with stylish cinematography, action, and atmosphere you shouldn't mind overlooking the creaky plot.
Where to stream it: Crackle
Double Team
This is by no means the Jean-Claude Van Damme's best movie -- that would be Sudden Death, his rentable Die-Hard-in-a-hockey-rink thriller -- nor is it the movie where JCVD teams up with "his twin brother" to take down a crime syndicate (that's Double Impact, also available to rent). Double Team pairs with Van Damme with basketball star Dennis Rodman for... uh... gunplay, jump kicks, tiger attacks, one-liners, and some seedy meet-me-at-the-docks arms dealing plot that threatens the movie's glorious stupidity at every turn. The English debut of celebrated Chinese action director Tsui Hark (Detective Dee and the Mystery of the Phantom Flame), Double Team is a forced combo of stardom that's somehow more cartoonish than Space Jam.
Where to stream it: Hulu
The Last Witch Hunter
Did you know Vin Diesel is a huge Dungeons & Dragons guy? His go to character is a "witch hunter, half-drow," which is why he wound up playing one in this would-be franchise-starter. Diesel pours his fantasy-loving heart into this big-budget passion project, a kind of Underworld meets The Mummy for the J.R.R. Tolkien nerds. Full of mythos and deus ex magic-as, The Last Witch Hunter is an action star's excuse to step out of the hot rod and pick up a flaming hot rod (i.e., a kick-ass fire sword) to battle an evil queen bent on world domination.
Where to stream it: HBO Go/Now
The Matrix
Combining its signature slo-mo, 360-degree "bullet time" sequences with artfully choreographed Hong Kong-style martial-arts scenes, the Wachowskis' pathbreaking sci-fi epic set a new bar for special effects done right. As much of a kinetic and visual triumph as it was a psychological mindfuck -- and that's saying something.
Where to stream it: Amazon Video
Mission: Impossible - Rogue Nation
If Tom Cruise is immortal, then every Mission: Impossible film is like sipping from his tricked-out Holy Grail. With a fiendishly clever script from Jack Reacher writer-director Christopher McQuarrie, the finest action-sequences-as-adrenaline-soaked-therapy-sessions money can buy, and a captivating performance from newcomer Rebecca Ferguson, the fifth film in this endlessly inventive franchise hit yet another level of delicious absurdity in its exploitation of masculine vanity.
Where to stream it: Amazon Video
The Ip Man movies
There aren't many biopics that also pass for decent action movies. Somehow, Hong Kong action star Donnie Yen and director Wilson Yip have made three separate movies based on the life of Chinese martial arts master Yip Kai-man, who famously trained Bruce Lee -- all three of the flicks are on Netflix, plus an unrelated Herman Yau entry (Ip Man: The Final Fight). What's their trick to keeping this series fresh? Play fast and loose with the facts, up the melodrama with each film, and, when in doubt, cast Mike Tyson as an evil property developer. The third movie in the series isn't necessarily the best -- that's probably still the first film -- but the fights are incredible, and Yen's portrayal of the aging master still has the power to draw a few tears from even the most grizzled tough guy.
Where to stream them: Netflix
Raiders of the Lost Ark
Steven Spielberg shows his work at every step of his action masterpiece. Indiana Jones's first adventure is like a comic book, flipped through at 24 panels a second. Nazis drag our hero along Cairo's dusty streets, strongmen (and a whirling propeller) threaten to squash him to pulp in the fisticuffs of a lifetime, and a megaton boulder chases him through a cobwebbed labyrinth. Not once through it all does Spielberg slip in a throwaway cut or zig when he should zag just to disorient us. Raiders is immaculate, each angle worth printing out and hanging on the wall. And it's all in service to Harrison Ford and Karen Allen, who glow like a pair of golden idols as a warring, bumbling, fearless, made-for-each-other duo.
Where to stream it: Amazon Video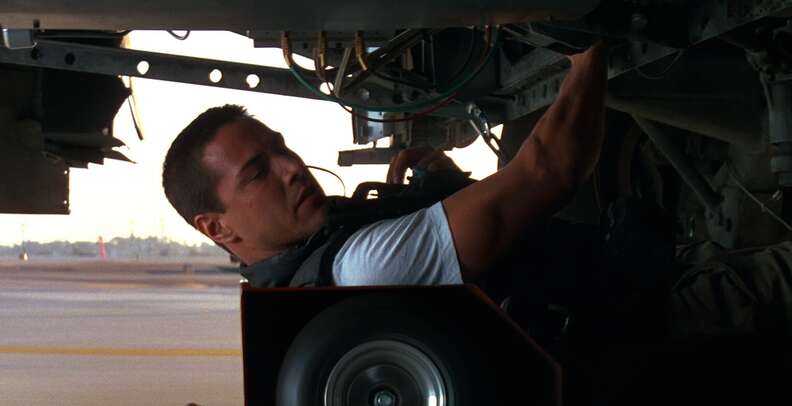 Speed
Don't question Speed. There's no time! An elevator bomb tells us Dennis Hopper's ransom-demanding bomber is a showman. When he rigs explosives to a public bus' speedometer, we know he's a madman. An array of explosive, practical stunts helps everything else fall into place. Speed is the ultimate A-to-B-to-C action movie, accelerating from beginning to end without losing track of the characters in jeopardy. Keanu Reeves' Jack thinks before he acts. Sandra Bullock's Annie rises to the occasion. We root for the melting pot on board the bus to come out on top. A countdown clock, and the best action score ever written, apply pressure. You can't question Speed.
Where to stream it: HBO Go/Now
Star Trek Beyond
Fast Five director (and diehard Trek fan) took over the franchise from J.J. Abrams in this third installment of the Chris Pine-led reboot, and the transporter switcheroo worked. Beyond is a bare bones, run-and-gun adventure movie ripe with character conflict and quarreling comedy honed over the previous two installments. The setup's a little hokey: Idris Elba plays a new alien named Krall who lures Captain Kirk away from Federation space for even more nefarious reasons than just being a hot-headed extraterrestrial a-hole. A scene where the Starship Enterprise blasts "Sabotage" by The Beastie Boys in order to blow up a wave of incoming nano-fighters tells you everything you need to know about this roaring sequel.
Where to stream it: Amazon Video and Hulu
Sign up here for our daily Thrillist email and subscribe here for our YouTube channel to get your fix of the best in food/drink/fun.