Trying to define "action movie" can yield several different answers, but we like to think of the genre as run-and-gun, fist-to-fist escapism that stands the test of time and occasionally comes with tinges of comedy or sci-fi. Think more Predator than Small Soldiers (sorry, Small Soldiers). The very best of the best rank as some of the greatest movies of all time, but there's plenty of reliably diverting high-octane fare available on Netflix at any given time. Here's our favorites on Netflix right now.
Recommended Video
There's A 'Mean Girls'-Themed Brunch, and It's So Fetch
Assassination (2015)
If some movies on this list feel like action junk food, this South Korean treasure is your gourmet helping of pan-roasted Brussels sprouts with crisp prosciutto: at its higher-brow heart is an espionage-style spin on Japan's war-era occupation of Korea. But Choi Dong-hoon's period piece also comes topped with political intrigue, an intricate frame story, a twisting assassination plot, no dearth of double crosses, and, of course, flashes of good ol' fashioned shoot-outs. All of that yields a complex-yet-satisfying yarn about deceit and comeuppance in 1930s Seoul and Shanghai.
Bad Boys (1995)
Martin Lawrence and Will Smith are the epitome of squad goals in this F-bomb-riddled buddy cop film that's arguably one of Michael Bay's greatest. It's the first installment of the acclaimed series and the only one that's currently available to stream on the platform. Consider giving it a go if you're looking for something to hold you over until the television series inspired by the film makes its way to the small screen.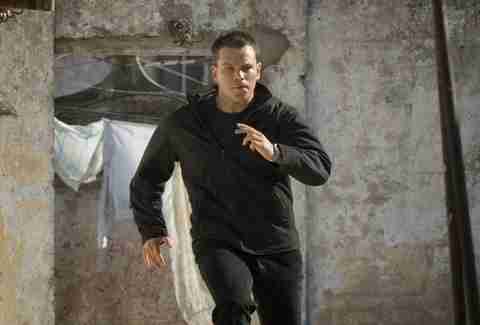 The Bourne Ultimatum (2007)
While it takes a Harvard political science degree and a wall-sized yarn board to decipher the hush-hush government shenanigans of the Bourne franchise, director Paul Greengrass brings enough shakey-cam bravado to each installment to entertain the most casual thrill-seeker. In the franchise's second sequel, Matt Damon's Jason Bourne once again sifts through his past as a recruit of the mysterious Operation Treadstone, which also involves punching, kicking, and planting two in a number of for-hire assassins, and destroying half of New York City's Upper East Side in one of his signature car chases. You will watch baffled and gripped.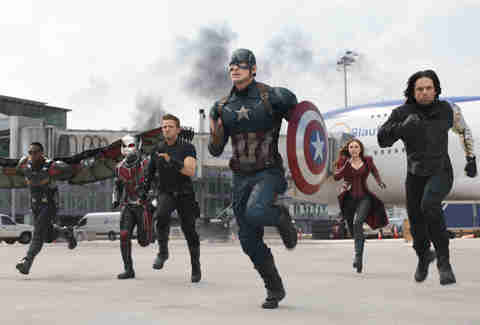 Captain America: Civil War (2016)
If you're a fan of the Marvel Cinematic Universe, you'll probably enjoy Chris Evans' Captain America and Robert Downey Jr.'s Iron Man duking it out for two-and-a-half hours. While you can read Captain America: Civil War as a political allegory, it's the splashy, big-budget action sequences that have made Marvel a cash cow and will keep you glued to your couch. 
Everly (2015)
Imagine a blistering one-room David Mamet play, then add about 300 rounds of ammunition, and you can start imagining Everly, Salma Hayek's shoot-'em-up thriller. Hayek stars as a prostitute warding off the gun-toting forces of her crimelord boss, who just learned that his Everly is bringing down his empire from the inside. As each layer of the story peels away, another wave of killers plows through Everly's door. Who knew? Hayek can blast them away like the best of brute action stars.
Face/Off (1997)
Capturing Nic Cage and John Travolta at the peak of their late-'90s absurdity, Face/Off has become a modern classic, holding steady over two decades of filmmaking and increasingly implausible Michael Bay explosions. It's a credit to the commitment with which Cage and Travolta John Woo's action-thriller takes a ridiculous concept -- what if two sworn enemies, a cop and a criminal, literally switched faces and tried to outgun/outsmart each other for 140 minutes -- to helicopter vs. plane vs. Humvee heights, complete with the requisite pigeon scenes. If you can't let yourself indulge in Cage and Travolta's joyously maniacal performances, in which play themselves, and each other, in a twisted revenge game, then you need to reevaluate your capacity for pleasure.
The Hateful Eight (2015)
Quentin Tarantino has something to say about race, violence, and American life, and it's going to ruffle feathers. Like Django Unchained, the writer-director reflects modern times on the Old West, but with more scalpel-sliced dialogue, profane poetry, and gore. Stewed from bits of Agatha Christie, David Mamet, and Sam Peckinpah, The Hateful Eight traps a cast of blowhards (including Samuel L. Jackson as a Civil War veteran, Kurt Russell as a bounty hunter known as "The Hangman," and Jennifer Jason Leigh as a psychopathic gang member) in a blizzard-enveloped supply station. Tarantino ups the tension by shooting his suffocating space in "glorious 70mm." Treachery and moral compromise never looked so good.
Hot Fuzz (2007)
Shaun of the Dead spoofers Edgar Wright and Simon Pegg set their sights on bumbling police officers trying to solve a murder in a small English town. The duo watched countless buddy-cop flicks to fully satirize the genre, and it paid off, with laughably bad chase sequences and uproarious slapstick gags. They prove how much fun action movies can be when they lighten up a little (OK, a lot). Remember: It's not murder, it's ketchup.
Inglourious Basterds (2009)
While this World War II saga isn't quite as cohesive as other Tarantino works, it might be his most entertaining, with scenes of high-tension verbal sparring and scalp-smashing mayhem, all erupting when Tarantino's band of vigilantes (led by Brad Pitt's drawl-heavy lieutenant Aldo Raine) gun down their German rivals in a blaze of glory. Basterds is also notable for introducing America to Christoph Waltz, who won the Oscar for his performance as silver-tongued sociopath Colonel Landa, one of the most compelling film villains in forever. The movie's opening scene -- a 15-minute-long, dread-soaked verbal chess match where Landa linguistically and physically encircles his prey -- is a high-water mark in Tarantino's filmography.
The Ip Man movies
There aren't many biopics that also pass for decent action movies. Somehow, Hong Kong action star Donnie Yen and director Wilson Yip have made three separate movies based on the life of Chinese martial arts master Yip Kai-man, who famously trained Bruce Lee -- all three of the flicks are on Netflix, plus an unrelated Herman Yau entry (Ip Man: The Final Fight). What's their trick to keeping this series fresh? Play fast and loose with the facts, up the melodrama with each film, and, when in doubt, cast Mike Tyson as an evil property developer. The third movie in the series isn't necessarily the best -- that's probably still the first film -- but the fights are incredible, and Yen's portrayal of the aging master still has the power to draw a few tears from even the most grizzled tough guy.
Kill Bill Vols. 1 & 2 (2003 & 2004)
Arguably the movie that established Quentin Tarantino as a full-fledged mainstream auteur, Kill Bill: Vol. 1 possesses some of the filmmaker's most iconic set pieces and visual tableaux, from the Bride rocking Bruce Lee's Round 5 jumpsuit to the animated O-Ren Ishii (Lucy Liu) backstory sequence. The relatively quiet, reflective sequel was viewed by many as a leisurely paced come-down from the frenzied blood-letting high of the action-packed first half. But, like Beatrix Kiddo herself, the movie has only gotten wiser with age.
Lethal Weapon (1987)
Is Lethal Weapon an action movie? To anyone questioning it, we say: hey, look friend, let's just cut the shit. Mel Gibson may be a hateful trash fire of a human, but, for all 110 minutes of this Shane Black-penned classic, he's untouchable. And Danny Glover? He invented "I'm too old for this shit!" Action movies aren't just about explosions, fist fights, and gun battles. They're about a specific attitude -- and Lethal Weapon is the foul-mouthed, nihilistic personification of that indefinable swagger.
Oldboy (2003)
Park Chan-wook's 2003 weirdo masterpiece was such a cult hit, they made a not-so-great American version in 2013 with Josh Brolin. The original is still on Netflix, though, and definitely worth a watch. Korean star Choi Min-sik plays a husband, father, and alcoholic who gets kidnapped on his daughter's 4th birthday. He spends the next 15 years locked in a small room, teaching himself to fight and counting the years with hatch-mark tattoos. His release sets him on a path to revenge, but first he must discover who locked him up and why, and when he finally unlocks the mystery the secret is even grosser than the scene where he eats a live octopus.
Scarface (1983)
Say hello to Tony Montana's little friend in Brian De Palma's coke-kingpin epic. The role established Al Pacino as a force to be reckoned with in the role of the Cuban drug-pusher, and the production composes a slick look at Miami's '80s excesses.
Sin City (2005)
Frank Miller enlisted Robert Rodriguez as co-director to translate the former's wildly popular series of the same name to the big screen, and with some added directorial work from Quentin Tarantino, the result became a watershed moment in the visual history of film. The signature black-and-white palette with splashes of color provided a grim backdrop to the sensational violence of the miniaturized plotlines -- this is perhaps the movie that feels more like a comic than any other on this list. 
Skin Trade (2015)
Skin Trade is a throwback in the best -- and occasionally the worst -- sense of the word. This Dolph Lundgren passion project about human trafficking will undoubtedly remind action-junkies of Steven Seagal's 1994 explosion fest On Deadly Ground, which gave considerable screen-time to the pony-tailed action star's growing concern for the environment. There's an earnestness to these movies that you either go with or you don't. Sure, the cognitive dissonance of watching Lundgren and Ong-Bak star Tony Jaa beat the shit out of bad guys while attempting to shed light on a serious issue can be distracting, but it's also inspiring to watch the movie reach for legitimacy outside the direct-to-DVD bin.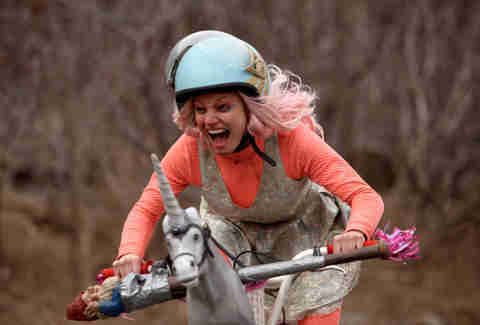 Turbo Kid (2015)
Feed your inner-childhood with this sci-fi thriller, a delightful homage to the '80s that plays like a campy mash-up of Mega Man and Mad Max on BMX bikes. François Simard, Anouk Whissell, and Yoann-Karl Whissell's 93-minute post-apocalyptic romp follows an orphaned comic book fan (Munro Chambers) who, equipped with a Power Glove-style gauntlet, fights to overcome his tragic past, as well as a water-obsessed tyrant (Michael Ironside). You'll have heard every line of dialogue in here -- but in the best way. And despite all the blood-drenched disembowelments and on-the-nose tropes, by film's end you'll likely find yourself genuinely touched by its surprising romantic subplot. This is the action-adventure movie your parents would have banned, had it been released much earlier in VHS form.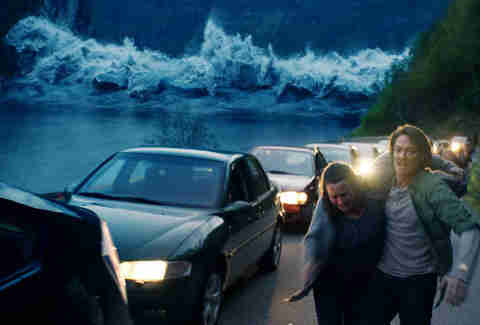 The Wave (2016)
Roar Uthaug -- great action director name or best action director name? -- takes the time to embolden his main characters, a loving family of four in a small Norwegian village battling against a fjord-enabled tidal wave, and capture Norway's rolling beauty. Then the mayhem starts. When the townsfolk realize their fate, and only have 10 minutes to evacuate, The Wave capsizes tranquility with 100 tons of liquid devastation. Not since Titanic has underwater photography looked so terrifying. Like its actors, we are in the tank for The Wave.
V for Vendetta (2005)
Remember, remember, the fifth of November -- and a buzzed Natalie Portman -- with James McTeigue's tyrannical thriller, which comes at a very appropriate time and has aged just fine, thank you very much.
Sign up here for our daily Thrillist email, and get your fix of the best in food/drink/fun.