Trying to define "action movie" can yield several different answers, but we like to think of the genre as run-and-gun, fist-to-fist escapism that stands the test of time and occasionally comes with tinges of comedy or sci-fi. Think more Predator than Small Soldiers (sorry, Small Soldiers). The very best of the best rank as some of the greatest movies of all time, but there's plenty of reliably diverting high-octane fare available on Netflix at any given time. Here's our favorites on Netflix right now.
Ant-Man and the Wasp (2018)
The first Ant-Man was a rambunctious and clever take on the familiar Marvel origin story, introducing audiences to shrinking superhero dad Scott Lang (Paul Rudd) and his extended family of friends and reluctant crime-fighters. The sequel is an even funnier and sillier refinement of the first chapter, ditching some of the heavier elements and going all-in on the gags. Though other entries in the Marvel Cinematic Universe have been filled with sitcom-ish banter, this is the first one that really plays like a proper comedy. (It recalls Ghostbusters in the way it combines special effects and irreverence.) Rudd has a way of putting an absurd spin on even the most mundane lines, Michael Peña again steals every scene he's in, and director Peyton Reed approaches the pint-sized action beats with the goal of upending viewer expectations. Luckily, it's the rare blockbuster with charming human moments that doesn't feel the need to overcompensate with scenes of mass destruction or constantly apologize for its modest scale.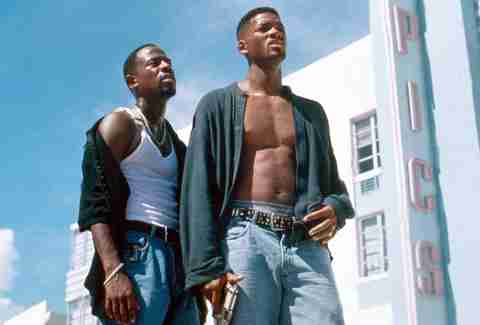 Bad Boys (1995)
Michael Bay jumped from music video and commercial directing to the big leagues with Will Smith and Martin Lawrence's buddy cop movie. The vehicle restrained him, thank God. Through the disruptive Burnett and Lowrey, Bay's knack for extravagance, vulgarity, and fetishized masculine physicality could shine. When we think of badass, we think of Smith and Lawrence guns a'blazin', rolling through an explosion to escape a sunset shootout. There's heat, there's grime, there's Smith rattling off F-bombs like a swear-word Gatling gun. Bay's career is defined by excess, a bespoke look for Bad Boys.
Blade Runner (1982)
Director Ridley Scott went out of his way to imagine 2019 Los Angeles as a pretty terrible place to be, and yet the look, sound, and feel of the world are so seductive that we want to visit regardless. Same goes for the story: Blade Runner's plot is a barely warmed-over detective yarn with Harrison Ford in the role of the hard-boiled investigator, but we can feel glimmers of the pain and confusion of artificial humans who realize they are powerless against their pre-determined fate. The movie is a triumph of world-building that still makes a mark on viewers and filmmakers years later.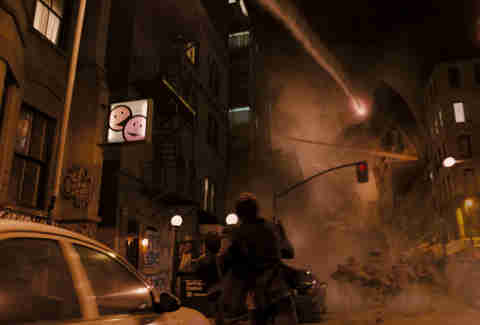 Cloverfield (2008)
Here's your chance to experience running from a terrifying space creature from the comfort of your own couch. Before it was an unwieldy science-fiction anthology franchise, Cloverfield was just another "mystery box" project from super-producer J.J. Abrams, a found-footage disaster film with no big stars and no plot details. Luckily, director Matt Reeves (Dawn of the Planet of the Apes) delivered a cunning monster movie that builds momentum as it goes and finds inventive twists on its stock genre set-up. In classic Abrams fashion, it leaves you with more questions than answers, but the ride is worth it.
Crouching Tiger, Hidden Dragon (2000)
As you probably know, Ang Lee's beloved period martial arts flick isn't just the gripping story of a sought-after blade. The 2000 release also earned critical acclaim for its panoramic backgrounds, dance-like swordplay, and genre-bending pace. If you have yet to submit yourself to the jaw-dropping experience that is Crouching Tiger, Hidden Dragon, it's time.
Dirty Harry (1971)
Dirty Harry may be conservative, pro-cop fodder, but it's also a pretty badass classic. The film is peak hyper-masculine, stone-cold Clint Eastwood as San Francisco investigator Harry Callahan on a hunt for a Zodiac Killer-like perp, the Scorpio Killer, in the '70s. The film follows Harry's gruesome attempt to take matters into his own hands to see that justice is served, and through a series of volatile shootouts, torture sequences, and a penultimate school bus hijack, he does exactly that. There's a reason why this flick pioneered the genre for crime films to follow.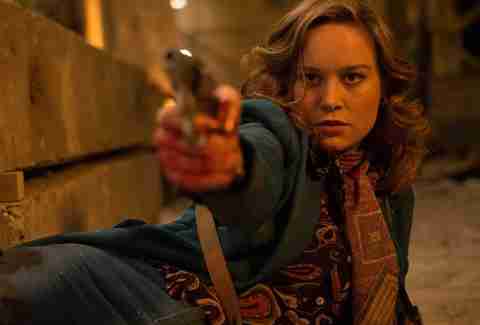 Free Fire (2017)
Cast from the molten barrels of Charles Bronson's many Smith & Wessons, this frenetic '70s throwback plays out as one prolonged shootout. What should be just-another-illegal-gun-deal-by-the-docks between a group of IRA fighters (led by Cillian Murphy), a skeezy arms dealer (Sharlto Copley), and two American representatives for the respective parties (Brie Larson and Armie Hammer) explodes into a firefight when one lower-rung goon accuses another of assaulting his sister at a bar the night prior. Each insult exacerbates the standoff, which director Ben Wheatley orchestrates with wailing bullets, chaotic camerawork, and salvos of clever banter, blurted out as the actors squirm across dirt floors to safety. By the end of Free Fire, limbs are torn through, blood is spilled, and your jaw is on the floor.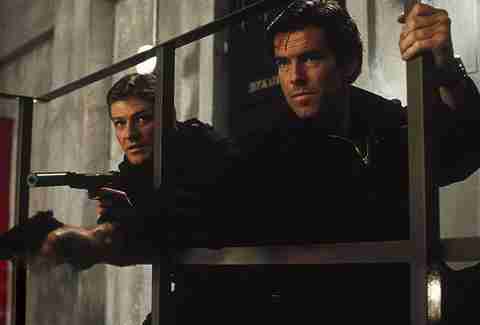 GoldenEye (1995)
After a six-year hiatus, the James Bond series returned for a new generation -- one whose '90s nostalgia frequently conflates this film with the immensely popular N64 video game of the same name. A shame, because Pierce Brosnan and director Martin Campbell delivered a largely outstanding Bond adventure, with a classic villain in former agent 006 (Sean Bean) and an iconic henchwoman in Xenia Onatopp (Famke Janssen). Judi Dench's no-nonsense, postmodern take on M was so indelible that a franchise reboot 11 years later couldn't resist carrying her over. 
If Brosnan takes the cake as your favorite Bond, you're in luck because GoldenEye isn't the only feature available on Netflix. Die Another Day, Tomorrow Never Dies, and The World is Not Enough are available, too. 
The Hateful Eight (2015)
Quentin Tarantino has something to say about race, violence, and American life, and it's going to ruffle feathers. Like Django Unchained, the writer-director reflects modern times on the Old West, but with more scalpel-sliced dialogue, profane poetry, and gore. Stewed from bits of Agatha Christie, David Mamet, and Sam Peckinpah, The Hateful Eight traps a cast of blowhards (including Samuel L. Jackson as a Civil War veteran, Kurt Russell as a bounty hunter known as "The Hangman," and Jennifer Jason Leigh as a psychopathic gang member) in a blizzard-enveloped supply station. Tarantino ups the tension by shooting his suffocating space in "glorious 70mm." Treachery and moral compromise never looked so good.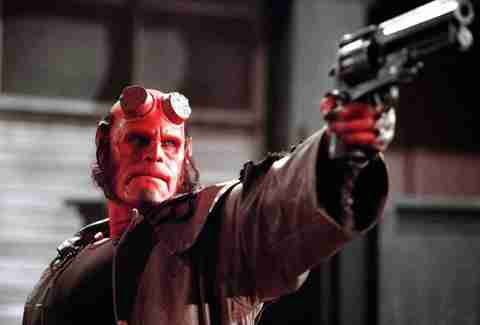 Hellboy (2004)
Even when he's not adapting a comic book, director Guillermo del Toro makes comic-book movies. Any random image from Crimson Peak, Pacific Rim, or Pan's Labyrinth looks like it was plucked from a graphic novel, so it only makes sense that Hellboy, the Mexican filmmaker's spin on writer Mike Mignola's idiosyncratic cult favorite, is a fire-roasted visual feast. As the titular wiseass demon with a right hand of stone, tough-guy Ron Perlman (Sons of Anarchy) grounds the action with his cigar-chomping charisma and keeps it from devolving into pure spooky spectacle. It's the rare haunted house you'd want to live in.
Inception (2010)
Christopher Nolan's sci-fi masterpiece thrusts you into the world of dreams, and leaves you so bewildered that it's difficult to wake up. Starring Leonardo DiCaprio as a corporate spy who steals secrets by inserting himself in others' subconscious dream states, the film not only imagines this complex universe, it flips its structure, as DiCaprio's man on the run is made to plan the perfect heist in order to leave behind his criminal life. Rather than stealing ideas, he's got to implant one -- that's inception, baby! -- with his team of specialists, resulting in a surrealist, multilayered film.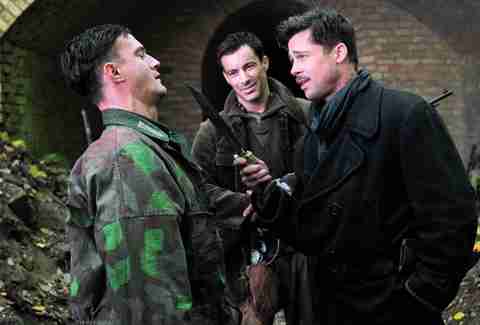 Inglourious Basterds (2009)
The first of Quentin Tarantino's revisionist history flicks, Inglourious Basterds is a rollicking revenge picture that envisions a group of Jewish renegades plotting to take down the Nazi leadership in occupied Paris in 1944. While the film isn't quite as cohesive as other Tarantino works, it might be his most entertaining, with scenes of high-tension verbal sparring and scalp-smashing mayhem, all erupting when Tarantino's band of vigilantes (led by Brad Pitt's drawling lieutenant, Aldo Raine) gun down their German rivals in a blaze of glory. 
The Ip Man movies
There aren't many biopics that also pass for decent action movies. Somehow, Hong Kong action star Donnie Yen and director Wilson Yip have made three separate movies based on the life of Chinese martial arts master Yip Kai-man, who famously trained Bruce Lee -- all three of the flicks are on Netflix, plus an unrelated Herman Yau entry (Ip Man: The Final Fight). What's their trick to keeping this series fresh? Play fast and loose with the facts, up the melodrama with each film, and, when in doubt, cast Mike Tyson as an evil property developer. The third movie in the series isn't necessarily the best -- that's probably still the first film -- but the fights are incredible, and Yen's portrayal of the aging master still has the power to draw a few tears from even the most grizzled tough guy.
Jupiter Ascending (2015)
Jupiter Ascending is one of those "bad" movies that might genuinely be quite good. Yes, Channing Tatum is a man-wolf and Mila Kunis is the princess of space and bees don't sting space royalty and Eddie Redmayne hollers his little head off about "harvesting" people -- but what makes this movie great is how all of those things make total, absolute sense in the context of the story. The world the Wachowskis (yes, the Wachowskis!) created is so vibrant and strange and exciting, you almost can't help but get drawn in, even when Redmayne vamps so hard you're afraid he's about to pull a muscle. (And if you're a ballet fan, we have some good news for you.)
Kill Bill Vols. 1 & 2 (2003 & 2004)
Arguably the movie that established Quentin Tarantino as a full-fledged mainstream auteur, Kill Bill: Vol. 1 possesses some of the filmmaker's most iconic set pieces and visual tableaux, from the Bride rocking Bruce Lee's Round 5 jumpsuit to the animated O-Ren Ishii (Lucy Liu) backstory sequence. The relatively quiet, reflective sequel was viewed by many as a leisurely paced come-down from the frenzied blood-letting high of the action-packed first half. But, like Beatrix Kiddo herself, the movie has only gotten wiser with age.
National Treasure (2004)
It's no Mandy, but Natty Treasure is Nic Cage at his ironic peak as a historical cryptographer (and, let's be real, conspiracy theorist) in this clue-filled jaunt to save the Declaration of Independence from his treasure hunting rival (played by a very blonde Sean Bean) by preemptively stealing it. It's not necessarily a good movie, per se, with its convenient coincidences, absurd dialogue, and sheer implausibility, but nearly 15 years on, it's an even more perfect satire of goofy pro-America word salad, even if director John Turteltaub didn't intend it. If you're unconvinced National Treasure is worth your precious time, Nic Cage saying, "I'm gonna steal the Declaration of Independence" should do it.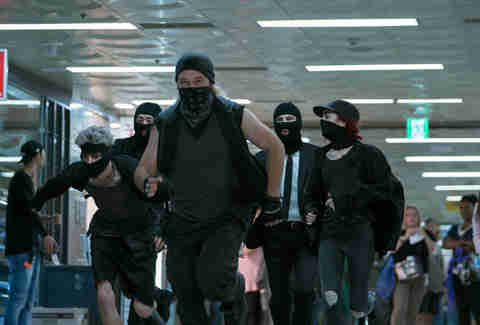 Okja (2017)
The Netflix original Okja poses an interesting ethical question: If your beloved super pig gets kidnapped by a corporate food giant, would you join a group of rouge animal rights activists to see that your pet gets home safe? It's certainly not the most conventional plot, but because of that, the film about one girl's journey to save her affectionate hippo-looking pig from mass consumption is a truly insane, high-stakes rescue mission. At times it may feel like propaganda for veganism, but the film, featuring a star-studded cast of Tilda Swinton, Jake Gyllenhaal, Paul Dano, and others, is absolutely ridiculous and over the top, leaving your heart pounding as you sit at the edge of your seat, dying to see this pig flee to safety.
Polar is a very fun, very ridiculous, and very violent movie starring Mads Mikkelsen as a hitman nicknamed the Black Kaiser. In the film directed by Swedish filmmaker Jonas Akerlund (based on Victor Santos' graphic novel series of the same name), the Black Kaiser thinks he's just about ready to retire from his high-intensity assassination lifestyle -- until he learns there's a group hunting down his associates, and he's next on their hit list. Polar doesn't fancy itself particularly highbrow entertainment; instead, it's a comically bloody hitman movie where every action set piece is more over-the-top than the last, but that's what makes it so great.
Raiders of the Lost Ark (1981)
Steven Spielberg shows his work at every step of his action masterpiece. Indiana Jones' first adventure is like a comic book, flipped through at 24 panels a second. Nazis drag our hero along Cairo's dusty streets, strongmen (and a whirling propeller) threaten to squash him to pulp in the fisticuffs of a lifetime, and a megaton boulder chases him through a cobwebbed labyrinth. Not once through it all does Spielberg slip in a throwaway cut or zig when he should zag just to disorient us. Raiders is immaculate, each angle worth printing out and hanging on the wall. After you're done with it, dive right into Temple of Doom and The Last Crusade, both on Netflix.
Scott Pilgrim vs. the World (2010)
Scott Pilgrim vs. the World isn't your average romantic comedy, with its comics-inspired ass kicking, super villainous ex-boyfriends, and not-so-great original garage band songs. While ridiculous, these oddities in a movie about a bass player (Michael Cera) on a quest to win the heart of a special Ramona Flowers by defeating her seven evil exes give the genre some much needed action. From director Edgar Wright (Baby Driver, Shaun of the Dead), the film is uniquely stylized and has the right amount of teenage flair to make it a cult classic. What's dreamier than a boy fighting evil exes from hell for the sake of love? 
Sin City (2005)
Frank Miller enlisted Robert Rodriguez as co-director to translate the former's wildly popular series of the same name to the big screen, and with some added directorial work from Quentin Tarantino, the result became a watershed moment in the visual history of film. The signature black-and-white palette with splashes of color provided a grim backdrop to the sensational violence of the miniaturized plotlines -- this is perhaps the movie that feels more like a comic than any other on this list. 
Snowpiercer (2013)
Did people go overboard in praising Snowpiercer when it came out? Maybe. But it's important to remember that the movie arrived in the sweaty dog days of summer, hitting critics and sci-fi lovers like a welcome blast of icy water from a hose. The film's simple, almost video game-like plot -- get to the front of the train, or die trying -- allowed visionary South Korean director Bong Joon-ho to fill the screen with excitement, absurdity, and radical politics. Chris Evans never looked more alive, Tilda Swinton never stole more scenes, and mainstream blockbuster filmmaking never felt so tepid in comparison. Come on, ride the train!
Train to Busan (2016)
There are so many zombie movies and TV shows, it's hard to know what's actually good and what's garbage. But the South Korean import Train to Busan is one of the most novel, clever, and refreshingly entertaining zombie massacres to hit the screen. It's about nothing more than a father and his young daughter who board a train from Seoul heading to Busan just as a very expeditious zombie virus has hit the area. Onboard the train, you'll find a colorful collection of amusing disaster movie archetypes, from a gruff bully and his pregnant wife to a teenage girl with a crush on a hunky baseball player, and Yeon Sang-Ho, in his debut, does a very nice job of ramping up the zombie insanity at frequent and regular intervals. 
Filmmaker Christopher McQuarrie, the Oscar-winning writer behind The Usual Suspects and the two most recent gravity-defying entries in the Mission: Impossible series, directs an outstanding ensemble cast in this action-thriller. The burly squad of ex-military commandos pulled together by Oscar Isaac's Santiago Garcia, a private contractor overseeing deadly drug enforcement operations in Colombia, is a ragtag team of action movie archetypes: There's the sad, real-estate-selling divorced dad who looks like he'd rather be vaping (Ben Affleck); the noble, buff warrior stuck giving rote speeches about his past glories (Charlie Hunnam); the taciturn, hat-wearing helicopter pilot the filmmakers didn't bother outfitting with a backstory (Pedro Pascal); and the other dude (Garrett Hedlund) who does amateur MMA fights. Together, they decide to rob a drug kingpin hiding out in the South American jungle, but obviously things don't always go according to plan. 
Michael Bay's Netflix-funded action extravaganza opens with a 20-minute car chase through the streets (and museums) of Florence that includes an annoyed nun giving our heroes the finger, a group of cute puppies running in slow-motion, and Dave Franco yelling "Fuck!" at the top of his lungs while repeatedly almost crashing into pedestrians. Before that, Ryan Reynolds, playing a tech billionaire who made his money with "magnets," fakes his death in a plane while wearing a helmet with a Red Bull logo on in it. That should give you a sense of what you're dealing with here. Every aspect of this globe-trotting adventure team-up, from its gleefully silly libertarian politics to its sadistically gross splatter effects, feels designed as an affront to collective notions of "good" taste. Bay leans into his most obnoxious tendencies here, giving 6 Underground a crude type of artistic integrity that's become all too rare in blockbuster filmmaking.
Need help finding something to watch? Sign up here for our weekly Streamail newsletter to get streaming recommendations delivered straight to your inbox.