Trying to define "action movie" can yield several different answers, but we like to think of the genre as run-and-gun, fist-to-fist escapism, the kind that stands the test of time and occasionally comes with tinges of comedy or sci-fi. (Think more Predator than Small Soldiers, though -- sorry, Small Soldiers.) Picking the best action movies is also tricky. Below, we chose the best high-octane offerings available on Netflix right now.
Recommended Video
This Pizza Dip Lets You Throw a New Kind of Pizza Party
Assassination (2015)
If some movies on this list feel like action junk food, this South Korean treasure is your gourmet helping of pan-roasted Brussels sprouts with crisp prosciutto: at its higher-brow heart is an espionage-style spin on Japan's war-era occupation of Korea. But Choi Dong-hoon's period piece also comes topped with political intrigue, an intricate frame story, a twisting assassination plot, no dearth of double crosses, and, of course, flashes of good ol' fashioned shoot-outs. All of that yields a complex-yet-satisfying yarn about deceit and comeuppance in 1930s Seoul and Shanghai.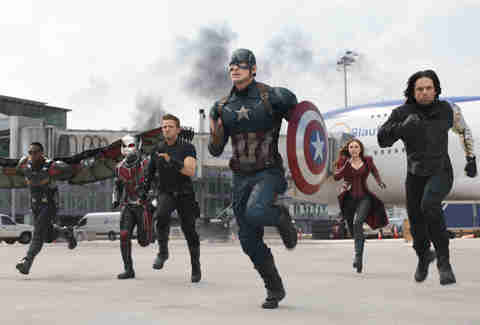 Captain America: Civil War (2016)
If you're a fan of the Marvel Cinematic Universe, you'll probably enjoy Chris Evans' Captain America and Robert Downey Jr.'s Iron Man duking it out for two-and-a-half hours. While you can read Captain America: Civil War as a political allegory, it's the splashy, big-budget action sequences that have made Marvel a cash cow and will keep you glued to your couch.
Centurion (2010)
This gritty swords-and-sandals action movie, loosely based on the massacre of the Ninth Legion in 117 AD, came and went from theaters. If only star Michael Fassbender were a little more famous, director Neil Marshall already had Game of Thrones credits to his name, or Quantum of Solace, which featured Centurion's female lead Olga Kurylenko in her first acting role, had made an impression, audiences would have flocked to it. Oh well. Now people can catch up with this vicious, battle-heavy slice of history at home.
Everly (2015)
Imagine a blistering one-room David Mamet play, then add about 300 rounds of ammunition, and you can start imagining Everly, Salma Hayek's shoot-'em-up thriller. Hayek stars as a prostitute warding off the gun-toting forces of her crimelord boss, who just learned that his Everly is bringing down his empire from the inside. As each layer of the story peels away, another wave of killers plows through Everly's door. Who knew? Hayek can blast them away like the best of brute action stars.
Hot Fuzz (2007)
Shaun of the Dead spoofers Edgar Wright and Simon Pegg set their sights on bumbling police officers trying to solve a murder in a small English town. The duo watched countless buddy-cop flicks to fully satirize the genre, and it paid off, with laughably bad chase sequences and uproarious slapstick gags. They prove how much fun action movies can be when they lighten up a little (OK, a lot). Remember: It's not murder, it's ketchup.
The Ip Man movies
There aren't many biopics that also pass for decent action movies. Somehow, Hong Kong action star Donnie Yen and director Wilson Yip have made three separate movies based on the life of Chinese martial arts master Yip Kai-man, who famously trained Bruce Lee -- all three of the flicks are on Netflix, plus an unrelated Herman Yau entry (Ip Man: The Final Fight). What's their trick to keeping this series fresh? Play fast and loose with the facts, up the melodrama with each film, and, when in doubt, cast Mike Tyson as an evil property developer. The third movie in the series isn't necessarily the best -- that's probably still the first film -- but the fights are incredible, and Yen's portrayal of the aging master still has the power to draw a few tears from even the most grizzled tough guy.
Jarhead 2: Field of Fire (2014)
Yes, they really made a direct-to-video sequel to Jake Gyllenhaal's wartime malaise movie. And yes, it's solid. While rah-rah patriotic-man-on-a-mission movies are making a comeback, Jarhead 2 is the rare gem that's reverent toward our armed forces, action-packed, and devoid of any jingoistic dog-whistling. The movie follows a mixed band of Marines and Afghan National Army soldiers tasked with freeing a female Afghan activist from Taliban control. Cheap, Jean-Claude Van Damme-style action drivel this is not.
Kung Fu Killer (2014)
There's a stoicism to Donnie Yen that makes him an ideal action movie anchor, grounding the ridiculous set-pieces around him with a sense of seriousness and gravitas. That Buster Keaton quality serves him well in Kung Fu Killer, a twist-filled thriller about a master martial artist released from prison to track down a serial killer (Wang Baoqiang) targeting other retired fighters known for being the best at a particular skill (kicks, throws, weapons, etc.). The plot is mostly an excuse to stage clever, bloody throw-downs like a duel in the giant skeleton of an animal, a sword-fight on a filmset, and, in the Frogger-inspired finale, a cartoon-like staff-battle on a highway. Luckily, Yen's understated turn keeps the movie from spiraling into self-parody.
Kung Fury (2015)
David Sandberg's Kickstarter-funded short plays like the surreal dream you would have after a weekend of too many '80s action movies and Street Fighter tournaments. It comes with laser raptors, arcade-style fisticuffs, the worst criminal of all time (aka Kung Führer, as played by The Lonely Island's Jorma Taccone), someone named Hackerman, Thor, a phone commercial, and time travel -- at every turn, whether it's a plot twist or a tongue-in-cheek quip, there's something absurd. The bad news: It only cracks the 30-minute mark. The good news: There's more on the way.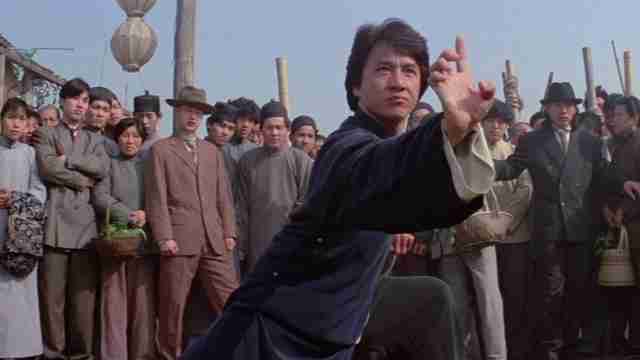 Legend of Drunken Master (1994)
Technically this is Drunken Master II, a reboot-sequel to Jackie Chan's 1978 mainstream breakout. But good news: you don't need to know the first to love every second of this feather-ruffling, balls-to-the-wall follow-up. Chan's at the top of his comedic martial arts game, once again employing an alcoholic fighting style that at first embarrasses his family, then saves factory protesters from economic doom. If you're hungover on a Sunday, Legend of Drunken Master will give you hope.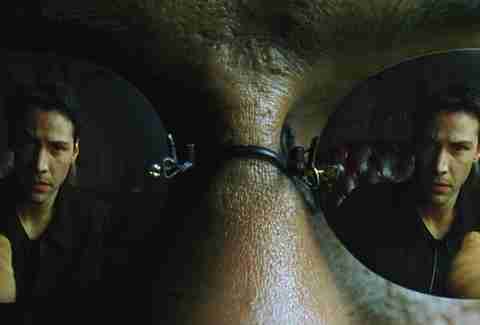 The Matrix (1999)
Combining its signature slo-mo, 360-degree "bullet time" sequences with artfully choreographed Hong Kong-style martial-arts scenes, the Wachowskis' pathbreaking sci-fi epic set a new bar for special effects done right. As much of a kinetic and visual triumph as it was a psychological mindfuck -- and that's saying something. Hands down, one of the best action movies of all time.
Oldboy (2003)
Park Chan-wook's 2003 weirdo masterpiece was such a cult hit, they made a not-so-great American version in 2013 with Josh Brolin. The original is still on Netflix, though, and definitely worth a watch. Korean star Choi Min-sik plays a husband, father, and alcoholic who gets kidnapped on his daughter's 4th birthday. He spends the next 15 years locked in a small room, teaching himself to fight and counting the years with hatch-mark tattoos. His release sets him on a path to revenge, but first he must discover who locked him up and why, and when he finally unlocks the mystery the secret is even grosser than the scene where he eats a live octopus.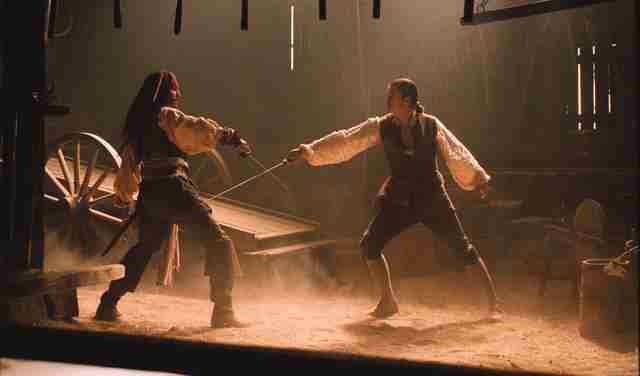 Pirates of the Caribbean: The Curse of the Black Pearl (2003)
Disney's ride-to-film adaptation is a little over a decade old, but we're ready to call it: Pirates ranks among the greatest adventure movies, right up there with Raiders of the Lost Ark and Star Wars. Johnny Depp's star-making turn as Jack Sparrow, combined with playful swordplay and some of the most dazzling zombie effects to date, make it endlessly watchable. Or, exactly what you want when you hit the couch for a staycation. High-seas sailing, without the actual travel.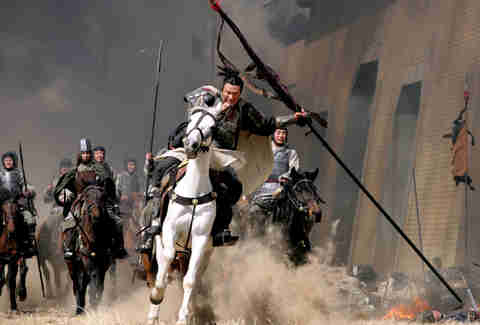 Red Cliff (2009)
After over a decade cranking out oft-junky Hollywood fare like Windtalkers and Paycheck, action-movie god John Woo returned to China for this sumptuous epic about the end of the Han Dynasty. Abandoning the bullet ballets he made his name with, Woo crafts an old-fashioned epic filled with romance, backstabbing, and ambitious battle sequences. It's unsurprising that the movie broke Titanic's box-office records in China. It's cut from the same lavish (and occasionally hokey) cloth.
Skin Trade (2015)
Skin Trade is a throwback in the best -- and occasionally the worst -- sense of the word. This Dolph Lundgren passion project about human trafficking will undoubtedly remind action-junkies of Steven Seagal's 1994 explosion fest On Deadly Ground, which gave considerable screen-time to the pony-tailed action star's growing concern for the environment. There's an earnestness to these movies that you either go with or you don't. Sure, the cognitive dissonance of watching Lundgren and Ong-Bak star Tony Jaa beat the shit out of bad guys while attempting to shed light on a serious issue can be distracting, but it's also inspiring to watch the movie reach for legitimacy outside the direct-to-DVD bin.
Tokyo Tribe (2015)
This crazed action movie stages the rap battle to end all rap battles. If Anchorman's anchor melee took place in a futuristic Japanese metropolis, doubled down on the weapons and kung-fu moves, and relied on shit-talking, percussive rhymes to do the talking, it would look a little like Sion Sono's gluttonous epic. Tokyo Tribe is all about the obscene, commenting on class issues and penis length all in one breath. The action is dazzling and the left turns, constant and outrageous, wring your brain for every ounce of logical juice. One does not watch Tokyo Tribe so much as submit to it.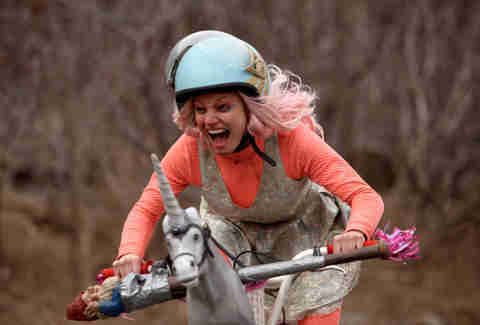 Turbo Kid (2015)
Feed your inner-childhood with this sci-fi thriller, a delightful homage to the '80s that plays like a campy mash-up of Mega Man and Mad Max on BMX bikes. François Simard, Anouk Whissell, and Yoann-Karl Whissell's 93-minute post-apocalyptic romp follows an orphaned comic book fan (Munro Chambers) who, equipped with a Power Glove-style gauntlet, fights to overcome his tragic past, as well as a water-obsessed tyrant (Michael Ironside). You'll have heard every line of dialogue in here -- but in the best way. And despite all the blood-drenched disembowelments and on-the-nose tropes, by film's end you'll likely find yourself genuinely touched by its surprising romantic subplot. This is the action-adventure movie your parents would have banned, had it been released much earlier in VHS form.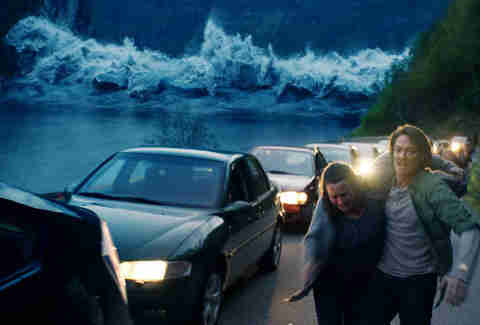 The Wave (2016)
Roar Uthaug -- great action director name or best action director name? -- takes the time to embolden his main characters, a loving family of four in a small Norwegian village battling against a fjord-enabled tidal wave, and capture Norway's rolling beauty. Then the mayhem starts. When the townsfolk realize their fate, and only have 10 minutes to evacuate, The Wave capsizes tranquility with 100 tons of liquid devastation. Not since Titanic has underwater photography looked so terrifying. Like its actors, we are in the tank for The Wave.
Sign up here for our daily Thrillist email, and get your fix of the best in food/drink/fun.