The Best Action Movies on Netflix
These will get your heart pumping.
'21 Bridges'

| STXfilms
'21 Bridges'

| STXfilms
Trying to define "action movie" can yield several different answers, but we like to think of the genre as run-and-gun, fist-to-fist escapism that stands the test of time and occasionally comes with tinges of comedy or sci-fi. Think more Predator than Small Soldiers (sorry, Small Soldiers). The very best of the best rank as some of the greatest movies of all time, but there's plenty of reliably diverting high-octane fare available on Netflix at any given time. Here's our favorites on Netflix right now.
ALSO READ: The best action TV shows on Netflix and the best thrillers on Netflix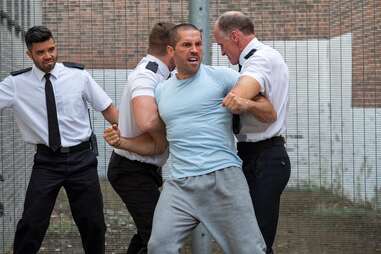 Avengement (2019)
DTV action star Scott Adkins knows how to land a punch, but this chronologically fractured fight film, which combines a bloody prison drama with a Guy Ritchie-esque underworld plot, also lets the burly actor show off his acting chops. With a metal grill on his teeth and gnarly scars on his face, Adkins plays Cain, a former boxer turned convict who starts the movie by escaping his security detail on a trip to the hospital to visit his dying mother. On the run, Cain ends up at a pub in the middle of the day, where he entertains the assembled goons with his convoluted life story, which involves a betrayal by his older brother and many grueling jailhouse brawls. Director Jesse V. Johnson co-wrote the refreshingly sharp script, which has more on its mind than your average fight-driven revenge film, and he stages the ferocious, bare-knuckle melees with appropriate vigor.
Casino Royale (2006)
Dozens of James Bond movies later, and Casino Royale still stands the test of time as the best of the franchise. Filling the shoes of the classic MI6 agent for the first time, Daniel Craig pulled off the impossible by defining the role for a new generation and giving us the 007 from Ian Fleming's early novels, a blunt instrument filled with morose purpose and self-doubt. Still, director Martin Campbell managers to offer a blockbuster that's a masterclass in geometric, dramatic, constructive action filmmaking in 007's journey down to Madagascar to face off with a favorite Bond villain, Mads Mikkelson's Le Chiffre, in a high-stakes poker game. This is a debut Bond actors will be trying to measure up to for decades.
Cliffhanger (1993)
The poster for Cliffhanger promised "an avalanche of thrills," and the marketing department was not kidding around. This Sylvester Stallone starring outdoors epic, directed with gravity-defying aplomb by Die Hard 2 filmmaker Renny Harlin, delivers all the twists, set-pieces, and perilous climbing shenanigans you'd expect from a big-budget '90s star vehicle. There's even one of those "post-Alan-Rickman-in-Die-Hard" scenery chewing villain performances from John Lithgow. Grab your gear and make the climb.
The Dark Knight (2008)
Not all superhero films are action movies, but The Dark Knight, with its Heat-inspired opening robbery, truck-flipping car chase, and Batman-as-NSA-watchdog high-rise fight, certainly qualifies. Critics have rightly dinged Christopher Nolan's incoherent editing and glaring plot holes, but the Inception director is a master of narrative stacking, layering stories to create a sense of frenzied tension. The Dark Knight is a brilliant Jenga tower of suspense. With Heath Ledger's iconic Joker performance at its center, the movie grabs you by the throat and doesn't let go.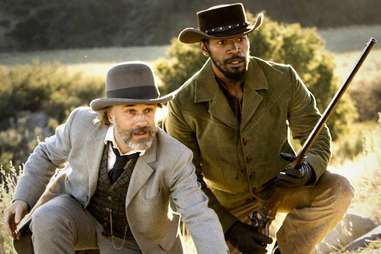 Django Unchained (2012)
Quentin Tarantino loves a satirical revisionist history. Django Unchained turns to slavery in the Antebellum South (without side-stepping controversy) to reimagine what some bloody good justice might've looked like and rewrite the western. Anchored by the brilliant performances of Jamie Foxx as a freed slave and Christoph Waltz as the bounty hunter who seeks help in carrying out his services, the period piece becomes an all-out gunslinging romp as they set out to free Django's wife (Kerry Washington). It's an award-winning epic that refuses to ever hold back.
Netflix has an affinity for pumping out high-octane action movies. Some are senseless, some are fun, and some can muster enough of an A-list team behind it that even the most brutal or asinine plots are extremely watchable. Extraction sees the reunion of the Russo Brothers of Marvel fame and Thor himself Chris Hemsworth, with Joe Russo behind the screenplay of this shoot-em-up mercenary mission. As Hemsworth's Tyler Rake is hired to save the kidnapped son of a crime boss in Bangladesh, what should've been a quick-and-easy mission turns into an uncompromising, grueling fight for their survival. Extraction delivers on being the no-nonsense rescue movie it promises to be, but with each shot, Hemsworth shows no one will be spared at his franchised-action-star-in-the-making hands.
The Hateful Eight (2015)
Quentin Tarantino has something to say about race, violence, and American life, and it's going to ruffle feathers. Like Django Unchained, the writer-director reflects modern times on the Old West, but with more scalpel-sliced dialogue, profane poetry, and gore. Stewed from bits of Agatha Christie, David Mamet, and Sam Peckinpah, The Hateful Eight traps a cast of blowhards (including Samuel L. Jackson as a Civil War veteran, Kurt Russell as a bounty hunter known as "The Hangman," and Jennifer Jason Leigh as a psychopathic gang member) in a blizzard-enveloped supply station. Tarantino ups the tension by shooting his suffocating space in "glorious 70mm." Treachery and moral compromise never looked so good.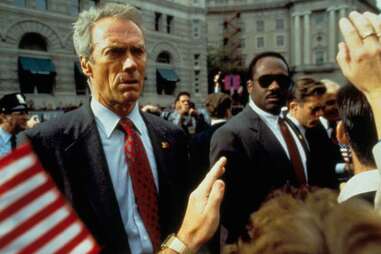 In the Line of Fire (1993)
Before throwing Harrison Ford in a plane in Air Force One and tossing George Clooney on a boat in The Perfect Storm, action maestro Wolfgang Peterson put Clint Eastwood in the line of fire in… In the Line of Fire! Skillfully playing "too old for this shit" characters way back in the early '90s, when he was still relatively spry in his 60s, Eastwood excels as Secret Service Agent Frank Horrigan, a old-timer tasked with stopping an assassination attempt and unraveling a vast political conspiracy. With a classic villain performance from John Malkovich, the movie leaps from one nail-biting sequence to another, and Eastwood ties it all together with his grizzled charm.
The Ip Man movies
There aren't many biopics that also pass for decent action movies. Somehow, Hong Kong action star Donnie Yen and director Wilson Yip have made three separate movies based on the life of Chinese martial arts master Yip Kai-man, who famously trained Bruce Lee—all three of the flicks are on Netflix, plus an unrelated Herman Yau entry (Ip Man: The Final Fight). What's their trick to keeping this series fresh? Play fast and loose with the facts, up the melodrama with each film, and, when in doubt, cast Mike Tyson as an evil property developer. The third movie in the series isn't necessarily the best—that's probably still the first film—but the fights are incredible, and Yen's portrayal of the aging master still has the power to draw a few tears from even the most grizzled tough guy.
Looper (2012)
This sci-fi action thriller put director Rian Johnson (Knives Out, Star Wars: The Last Jedi) on the map and it's not hard to see why. Set in a dystopian future, time travel doesn't exist, but it eventually will, and it's utilized by a shadowy crime syndicate in a rather dubious way. When they want someone executed and essentially erased, they send them back to present-day 2044, where their hitmen (known as Loopers) standby to do the dirty work—they terminate the targets and dispose of the evidence. But this job comes with a major catch—all Loopers know that one day, they will be faced with eliminating their future selves, thus "closing the loop." When that day finally arrives for Joe (Joseph Gordon-Levitt), he finds that his very well-prepared older self (Bruce Willis) has other plans, and it results in a thrilling cat-and-mouse game loaded with mind-bending twists, heart-racing suspense, and dazzling action sequences.
The Night Comes for Us (2018)
There are images in The Night Comes for Us, a wild Indonesian action thriller starring two veterans of the celebrated The Raid franchise, that resemble what a child might think an action movie would be after simply looking at lurid VHS cover art and hyper-stylized movie posters. It flirts with parody at points and gleefully crosses over into absurdity in others. Towards the end of the movie, the two main characters—an ex-mercenary for the Triads named Ito (Joe Taslim) and his old friend turned rival Arian (Iko Uwais)—basically slash at each other's flesh like Itchy and Scratchy, their bodies carrying on long past the point of what conventional medicine would deem possible. Is it overwhelming? Yes. But the dedication to mayhem makes this essential viewing for action fans with strong stomachs.
Okja (2017)
The Netflix original Okja from Bong Joon Ho poses an interesting ethical question: If your beloved super pig gets kidnapped by a corporate food giant, would you join a group of rouge animal rights activists to see that your pet gets home safe? It's certainly not the most conventional plot, but because of that, the film about one girl's journey to save her affectionate hippo-looking pig from mass consumption is a truly insane, high-stakes rescue mission. At times it may feel like propaganda for veganism, but the film, featuring a star-studded cast of Tilda Swinton, Jake Gyllenhaal, Paul Dano, and others, is absolutely ridiculous and over the top, leaving your heart pounding as you sit at the edge of your seat, dying to see this pig flee to safety.
The Old Guard (2020)
Gina Prince-Bythewood's adaptation of Greg Rucka's comic series is a superhero movie with a soul. It stars Charlize Theron as Andy, aka Andromache, a warrior who has lived for six millennia and doesn't really see the point anymore. But she and her team of fellow immortals are drawn back into conflict when they start being hunted by a pharmaceutical brat who wants to use them as test subjects. At the same time, a new member joins their ranks, Nile (KiKi Layne), who survives a throat slitting and is inducted into this strange club. Prince-Bythewood melds immensely fun fight sequences—it's a joy to watch Theron throw a punch—with groundbreaking moments of quietude, including a gay romance that's like nothing you've seen before in an action movie.
Olympus Has Fallen (2013)
The White House siege movie Olympus Has Fallen is not a great movie. It's not even the best action movie about machine-gun-wielding bad guys taking over the White House released in 2013. (That honor goes to the Jamie Fox and Channing Tatum Die Hard ripoff White House Down.) So, what makes Olympus Has Fallen worth watching? It's an essential introduction to Mike Banning, a ferocious Secret Service Agent played by Gerard Butler who appears in the sequels London Has Fallen and Angel Has Fallen, and the movie is key, in all its goofy brutality, to understanding Butler's mid-career resurgence as an action star. The Banning-verse starts here.
Polar is a very fun, very ridiculous, and very violent movie starring Mads Mikkelsen as a hitman nicknamed the Black Kaiser. In the film directed by Swedish filmmaker Jonas Akerlund (based on Victor Santos' graphic novel series of the same name), the Black Kaiser thinks he's just about ready to retire from his high-intensity assassination lifestyle—until he learns there's a group hunting down his associates, and he's next on their hit list. Polar doesn't fancy itself particularly highbrow entertainment; instead, it's a comically bloody hitman movie where every action set piece is more over-the-top than the last, but that's what makes it so watchable.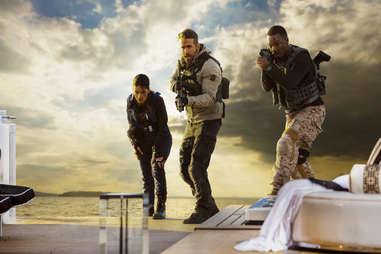 Michael Bay's Netflix-funded action extravaganza opens with a 20-minute car chase through the streets (and museums) of Florence that includes an annoyed nun giving our heroes the finger, a group of cute puppies running in slow-motion, and Dave Franco yelling "Fuck!" at the top of his lungs while repeatedly almost crashing into pedestrians. Before that, Ryan Reynolds, playing a tech billionaire who made his money with "magnets," fakes his death in a plane while wearing a helmet with a Red Bull logo on in it. That should give you a sense of what you're dealing with here. Every aspect of this globe-trotting adventure team-up, from its gleefully silly libertarian politics to its sadistically gross splatter effects, feels designed as an affront to collective notions of "good" taste. Bay leans into his most obnoxious tendencies here, giving 6 Underground a crude type of artistic integrity that's become all too rare in blockbuster filmmaking.
Starship Troopers (1997)
Paul Verhoeven is undoubtedly the master of the sly sci-fi satire. With RoboCop, he laid waste to the police state with wicked, trigger-happy glee. He took on evil corporations with Total Recall. And with Starship Troopers, a bouncy, bloody war picture, he skewered the chest-thumping theatrics of pro-military propaganda, offering up a pitch-perfect parody of the post-9/11 Bush presidency years before troops set foot in Iraq or Afghanistan. Come for the exploding alien guts, but stay for the winking comedy—or stay for both! Bug guts have their charms, too.
Time to Hunt (2020)
Unrelenting in its pursuit of scenarios where guys point big guns at each other in sparsely lit empty hallways, Time to Hunt is a South Korean thriller that knows exactly what stylistic register it's playing in. A group of four friends, including Parasite and Train to Busan breakout Choi Woo-shik, knock over a gambling house, stealing a hefty bag of money and a set of even more valuable hard-drives, and then find themselves targeted by a ruthless contract killer (Park Hae-soo) who moves like the T-1000 and shoots like a henchmen in a Michael Mann movie. There are dystopian elements to the world—protests play out in the streets, the police wage a tech-savvy war on citizens, automatic rifles are readily available to all potential buyers—but they all serve the simmering tension and elevate the pounding set-pieces instead of feeling like unnecessary allegorical padding. Time to Hunt uses its elongated runtime to build sequences in a meticulous, considerate way that should appeal to viewers who have seen Heat, Collateral, and Miami Vice too many times to count.
The Town (2010)
Before he won an Oscar for directing Argo, Ben Affleck flexed his crime-movie muscles with this pulse-pounding adaptation of Chuck Hogan's novel Prince of Thieves, a Boston-set caper that builds to a robbery at Fenway Park. While the premise might sound over-the-top, the execution here is the ideal combination of grit and flash, bouncing between scenes of working-class melodrama and bullet-strewn action. Affleck's no-nonsense, ex-hockey-player thief works with his hot-head best friend (Jeremy Renner) to pull off big scores, but the group finds themselves pursued by a determined FBI agent (Jon Hamm) who tracks them across the city. As far as Heat tributes go, this one is top-notch.
J.C. Chandor, the filmmaker behind the tense finance drama Margin Call and the '80s crime saga A Most Violent Year, directs an outstanding ensemble cast in this action-thriller. The burly squad of ex-military commandos pulled together by Oscar Isaac's Santiago Garcia, a private contractor overseeing deadly drug enforcement operations in Colombia, is a ragtag team of action movie archetypes: There's the sad, real-estate-selling divorced dad who looks like he'd rather be vaping (Ben Affleck); the noble, buff warrior stuck giving rote speeches about his past glories (Charlie Hunnam); the taciturn, hat-wearing helicopter pilot the filmmakers didn't bother outfitting with a backstory (Pedro Pascal); and the other dude (Garrett Hedlund) who does amateur MMA fights. Together, they decide to rob a drug kingpin hiding out in the South American jungle, but obviously things don't always go according to plan.
21 Bridges (2019)
This twist-filled, bullet-ridden thriller is far from a perfect film—some of the plot elements feel repackaged from far better New York cop movies—but it's the type of old-fashioned star vehicle that Chadwick Boseman clearly had a knack for. Re-teaming with Avengers directors Anthony and Joe Russo, who produced the film, Boseman plays a variation on a familiar trope: the noble NYPD detective who can't be corrupted and shouldn't be messed with. His Andre Davis specializes in tracking down "cop-killers" and bringing them to justice—even if that means shutting down the whole city and closing off the bridges. Despite the over-the-top genre setup, Boseman brings flashes of warmth and a bristling intelligence to bear on the role, hitting all the action beats with ease and selling some of the more ridiculous moments. It's a fun, low-key lazy Sunday afternoon movie from an actor who often ended up in more prestigious or big-budget fare.
Unknown (2011)
It's best to go into Unknown, well, unknown. All you really need to know is that Liam Neeson delivers an absurd man-in-peril performance, which means it's as entertaining as action-thrillers come. Adapted from a novel by Didier Van Cauwelaert, the movie follows Neeson as professor Dr. Harris, a man en route to a high-profile biotech conference who wakes up after a four-day-long coma with his identity stolen. His wife (January Jones) doesn't recognize him, but she and everybody he knows seems to know a different Dr. Harris—oh, and all of a sudden he's at the center of some sort of assassin conspiracy plot. It's a premise you've likely seen many times before, but this one's slick, fast-paced, and of course Neeson holds it together to keep you glued to the screen as he tries to piece together his identity and stave off terrorists.
Wira (2020)
Here's a sample bit of dialogue from Wira: "You have no right to hold my dad's machete." If that line, delivered by Hairul Azreen's ex-commando Hassan right before he takes on yet another group of soon-to-be-demolished attackers, doesn't get you interested in this Malaysian fight movie, then I don't know what to tell you. The plot follows Hassan and his equally tough sister Zain (Fify Azm) as they take on a local crime boss, and the family melodrama provides a compelling backdrop to a series of meticulously choreographed brawls both in the ring and in less rule-bound locations, like a speeding bus. The movements are lightning fast and heavily stylized, often leaning more on physical ingenuity and torqued up sound design than brute force.