Trying to define "action movie" can yield several different answers, but we like to think of the genre as run-and-gun, fist-to-fist escapism that stands the test of time and occasionally comes with tinges of comedy or sci-fi. Think more Predator than Small Soldiers (sorry, Small Soldiers). The very best of the best rank as some of the greatest movies of all time, but there's plenty of reliably diverting high-octane fare available on Netflix at any given time. Here's our favorites on Netflix right now.
Recommended Video
'Are You Afraid of the Dark' Is Coming Back as a Movie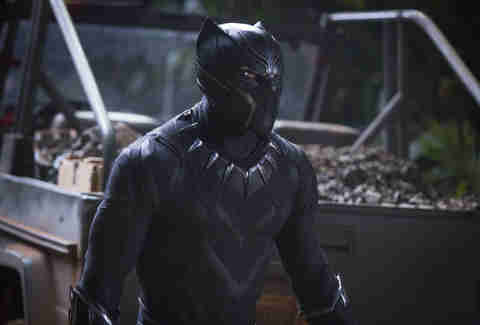 Creed director Ryan Coogler's take on superhero-dom is both pleasing and probing, while still making space for Soundcloud jokes, rhino battles, and spicy takes on imperialism in Black Panther, one of the best movies of 2018. The central ideological conflict between the new Wakandan king, T'Challa (Chadwick Boseman), and the American revolutionary, Killmonger (Jordan), has been seen before in the pages of history books and comics, but it's never been given this type of unparalleled, eye-popping, brain-scrambling, heart-pounding blockbuster treatment, especially in the MCU.
Blade and Blade II (1998 & 2002)
It's hard to imagine Wesley Snipes' Daywalker, decked out in his Oakleys and leather trench coat, as a character that would fit neatly into the modern Marvel Cinematic Universe. From its vampiric rave aesthetic to the icky effects of its hunted revenge, Blade and Blade II, directed by Stephen Norrington and Guillermo del Toro, respectively, have only grown more impressive with the passage of time. Snipes gives some of his most badass performances, staking vamps and tossing off one-liners with an effortlessly cool demeanor. This is slick, corporate-approved entertainment with a gonzo, cult-film soul -- we've deemed the sequel one of the best action movies of all time, though it would be nothing without its progenitor.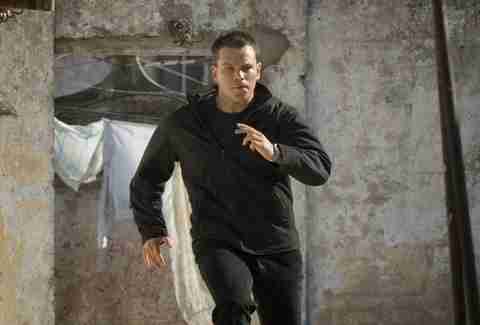 The Bourne Ultimatum (2007)
While it takes a Harvard political science degree and a wall-sized yarn board to decipher the hush-hush government shenanigans of the Bourne franchise, director Paul Greengrass brings enough shakey-cam bravado to each installment to entertain the most casual thrill-seeker. In the franchise's second sequel, Matt Damon's Jason Bourne once again sifts through his past as a recruit of the mysterious Operation Treadstone, which also involves punching, kicking, and planting two in a number of for-hire assassins, and destroying half of New York City's Upper East Side in one of his signature car chases. You will watch baffled and gripped.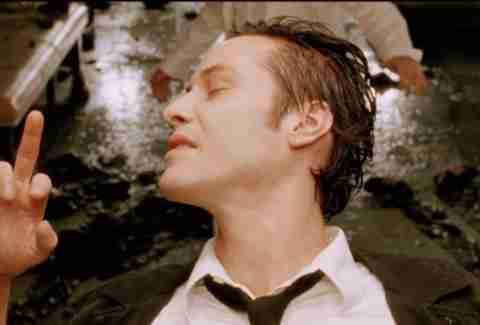 Constantine (2005)
Keanu Reeves is something of an action icon with his roles as the titular John Wick in the John Wick franchise and Neo in The Matrix, among others under his well-worn belt. Another one of the actor's classics is the horror/action flick Constantine starring Reeves as Constantine, a supernatural detective who attempts to uncover the mystery behind a woman's supposed suicide. Inspired by the Hellblazer comics, this demon hunter attempting to escape Hell must face wall of devilish enemies. If you're into both the occult and shoot-out films, this is the movie for you.
Everly (2015)
Imagine a blistering one-room David Mamet play, then add about 300 rounds of ammunition, and you can start imagining Everly, Salma Hayek's shoot-'em-up thriller. Hayek stars as a prostitute warding off the gun-toting forces of her crimelord boss, who just learned that his Everly is bringing down his empire from the inside. As each layer of the story peels away, another wave of killers plows through Everly's door. Who knew? Hayek can blast them away like the best of brute action stars.
Face/Off (1997)
Capturing Nic Cage and John Travolta at the peak of their late-'90s absurdity, Face/Off has become a modern classic, holding steady over two decades of filmmaking and increasingly implausible Michael Bay explosions. It's a credit to the commitment with which Cage and Travolta John Woo's action-thriller takes a ridiculous concept -- what if two sworn enemies, a cop and a criminal, literally switched faces and tried to outgun/outsmart each other for 140 minutes -- to helicopter vs. plane vs. Humvee heights, complete with the requisite pigeon scenes. If you can't let yourself indulge in Cage and Travolta's joyously maniacal performances, in which play themselves, and each other, in a twisted revenge game, then you need to reevaluate your capacity for pleasure.
The Hateful Eight (2015)
Quentin Tarantino has something to say about race, violence, and American life, and it's going to ruffle feathers. Like Django Unchained, the writer-director reflects modern times on the Old West, but with more scalpel-sliced dialogue, profane poetry, and gore. Stewed from bits of Agatha Christie, David Mamet, and Sam Peckinpah, The Hateful Eight traps a cast of blowhards (including Samuel L. Jackson as a Civil War veteran, Kurt Russell as a bounty hunter known as "The Hangman," and Jennifer Jason Leigh as a psychopathic gang member) in a blizzard-enveloped supply station. Tarantino ups the tension by shooting his suffocating space in "glorious 70mm." Treachery and moral compromise never looked so good.
Hot Fuzz (2007)
Shaun of the Dead spoofers Edgar Wright and Simon Pegg set their sights on bumbling police officers trying to solve a murder in a small English town. The duo watched countless buddy-cop flicks to fully satirize the genre, and it paid off, with laughably bad chase sequences and uproarious slapstick gags. They prove how much fun action movies can be when they lighten up a little (OK, a lot). Remember: It's not murder, it's ketchup.
The Ip Man movies
There aren't many biopics that also pass for decent action movies. Somehow, Hong Kong action star Donnie Yen and director Wilson Yip have made three separate movies based on the life of Chinese martial arts master Yip Kai-man, who famously trained Bruce Lee -- all three of the flicks are on Netflix, plus an unrelated Herman Yau entry (Ip Man: The Final Fight). What's their trick to keeping this series fresh? Play fast and loose with the facts, up the melodrama with each film, and, when in doubt, cast Mike Tyson as an evil property developer. The third movie in the series isn't necessarily the best -- that's probably still the first film -- but the fights are incredible, and Yen's portrayal of the aging master still has the power to draw a few tears from even the most grizzled tough guy.
Kill Bill Vols. 1 & 2 (2003 & 2004)
Arguably the movie that established Quentin Tarantino as a full-fledged mainstream auteur, Kill Bill: Vol. 1 possesses some of the filmmaker's most iconic set pieces and visual tableaux, from the Bride rocking Bruce Lee's Round 5 jumpsuit to the animated O-Ren Ishii (Lucy Liu) backstory sequence. The relatively quiet, reflective sequel was viewed by many as a leisurely paced come-down from the frenzied blood-letting high of the action-packed first half. But, like Beatrix Kiddo herself, the movie has only gotten wiser with age.
King Kong (2005)
The story of King Kong is a Hollywood classic, told and retold every several decades over the course of film history -- but rightfully so, as the iconic tale about a film crew and their burgeoning starlet's trip to a mysterious island going awry has got all of the essential elements for an on-screen riveting adventure. On the creepily named Skull Island, they encounter King Kong himself, a giant, dinosaur-destroying gorilla who falls for the young actress (Naomi Watts) aboard the expedition, and the drama ensues. While this film is more of an adventure tale than anything, the 2005 adaptation is fit with modern CGI technology, sound work, and visual effects to bring the beasts to life even more so than its previous tellings -- and at its core, it's a wild, larger-than-life blockbuster.
National Treasure (2004)
It's no Mandy, but Natty Treasure is Nic Cage at his ironic peak as a historical cryptographer (and, let's be real, conspiracy theorist) in this clue-filled jaunt to save the Declaration of Independence from his treasure hunting rival (played by a very blonde Sean Bean) by preemptively stealing it. It's not necessarily a good movie, per se, with its convenient coincidences, absurd dialogue, and sheer implausibility, but nearly 15 years on, it's an even more perfect satire of goofy pro-America word salad, even if director John Tuteltaub didn't intend it. If you're unconvinced National Treasure is worth your precious time, Nic Cage saying, "I'm gonna steal the Declaration of Independence" should do it.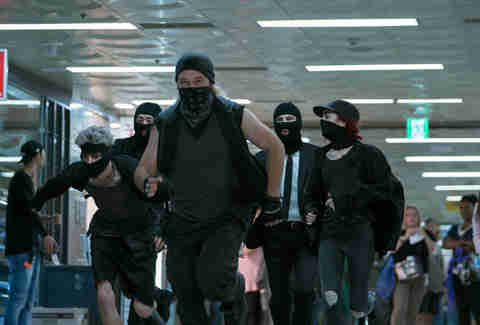 Okja (2017)
The Netflix original Okja poses an interesting ethical question: If your beloved super pig gets kidnapped by a corporate food giant, would you join a group of rouge animal rights activists to see that your pet gets home safe? It's certainly not the most conventional plot, but because of that, the film about one girl's journey to save her affectionate hippo-looking pig from mass consumption is a truly insane, high-stakes rescue mission. At times it may feel like propaganda for veganism, but the film, featuring a star-studded cast of Tilda Swinton, Jake Gyllenhaal, Paul Dano, and others, is absolutely ridiculous and over the top, leaving your heart pounding as you sit at the edge of your seat, dying to see this pig flee to safety.
Pirates of the Caribbean: The Curse of the Black Pearl (2003)
Disney's ride-to-film adaptation is now 15 years old, but we're ready to call it: Pirates ranks among the greatest adventure movies, right up there with Raiders of the Lost Ark and Star Wars. Johnny Depp's star-making turn as Jack Sparrow, combined with playful swordplay and some of the most dazzling zombie effects to date, make it endlessly watchable. Or, exactly what you want when you hit the couch for a staycation. High-seas sailing, without the actual travel.
Scarface (1983)
Say hello to Tony Montana's little friend in Brian De Palma's coke-kingpin epic. The role established Al Pacino as a force to be reckoned with in the role of the Cuban drug-pusher, and the production composes a slick look at Miami's '80s excesses.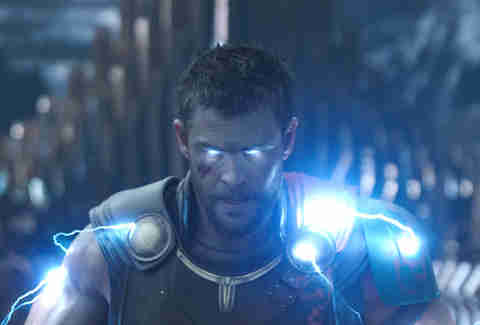 Thor: Ragnarok (2017)
Perhaps the best (and funniest) movie in the Thor trilogy, this Marvel film directed by Taika Waititi follows the Norse god (Chris Hemsworth) as he races against the clock to put a stop to the impending chaos of the prophesied Ragnarok caused by the emerging villain Hela (Cate Blanchett), the Mistress of Darkness. Pulling heavily from the comic books, this standalone superhero story is packed with developed material, tons of jokes and brothers' banter between Thor and Loki (Tom Hiddleston), and all of the godly Thor fighting sequences set to Led Zeppelin you could possibly hope for. 
Troy (2004)
Loosely based on Homer's Iliad, Troy documents the erupting battle between two nations after the Queen of Sparta leaves her husband to be with the prince of their rivals, the Trojans. Convinced the king of Sparta can take back his wife, the Greeks set sail for an all-out war in Troy against the never-defeated Trojans. Like the epic it draws from, Troy is a grand war film with all of the period piece elements to make it rich in action. It's a brutal battle of thousands and full of Greek iconography that you may not remember from high school lit, but the film features a great deal of star power from Brad Pitt, Eric Bona, and Orlando Bloom, on top of its ancient storyline to make it extra entertaining.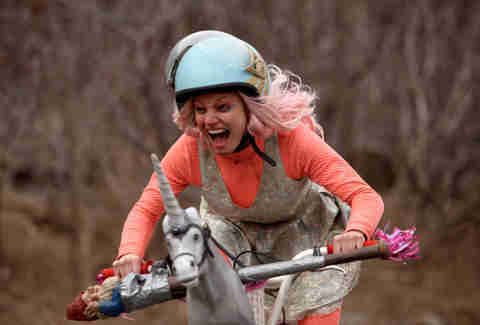 Turbo Kid (2015)
Feed your inner-childhood with this sci-fi thriller, a delightful homage to the '80s that plays like a campy mash-up of Mega Man and Mad Max on BMX bikes. François Simard, Anouk Whissell, and Yoann-Karl Whissell's 93-minute post-apocalyptic romp follows an orphaned comic book fan (Munro Chambers) who, equipped with a Power Glove-style gauntlet, fights to overcome his tragic past, as well as a water-obsessed tyrant (Michael Ironside). You'll have heard every line of dialogue in here -- but in the best way. And despite all the blood-drenched disembowelments and on-the-nose tropes, by film's end you'll likely find yourself genuinely touched by its surprising romantic subplot. This is the action-adventure movie your parents would have banned, had it been released much earlier in VHS form.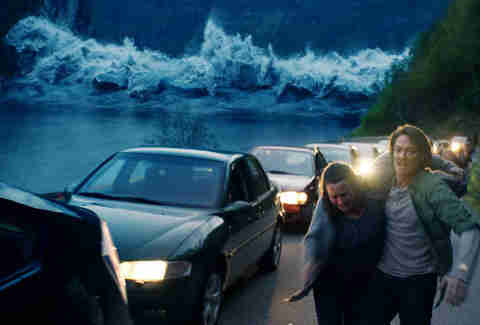 The Wave (2016)
Roar Uthaug -- great action director name or best action director name? -- takes the time to embolden his main characters, a loving family of four in a small Norwegian village battling against a fjord-enabled tidal wave, and capture Norway's rolling beauty. Then the mayhem starts. When the townsfolk realize their fate, and only have 10 minutes to evacuate, The Wave capsizes tranquility with 100 tons of liquid devastation. Not since Titanic has underwater photography looked so terrifying. Like its actors, we are in the tank for The Wave.
V for Vendetta (2005)
Remember, remember, the fifth of November -- and a buzzed Natalie Portman -- with James McTeigue's tyrannical thriller, which comes at a very appropriate time and has aged just fine, thank you very much.
Van Helsing (2004)
If you've got a thing for Hollywood horror classics like Dracula and Frankenstein, Van Helsing is the contemporary answer for you -- and it's even more action-packed than the old films it draws from. Here, Hugh Jackman plays Van Helsing, a monster hunter sent to Translyvania to see the demise of Dracula, who has been conjuring up a dark plan with the help of Dr. Frankenstein. While it leans into the fantastical realm, the film's got some serious monster slaying by way of impressive 20th-century guns and swords, and it's a haunting, violent reimagining of the fate of these eerie characters.
Sign up here for our daily Thrillist email, and get your fix of the best in food/drink/fun.