Trying to define "action movie" can yield several different answers, but we like to think of the genre as run-and-gun, fist-to-fist escapism that stands the test of time and occasionally comes with tinges of comedy or sci-fi. Think more Predator than Small Soldiers (sorry, Small Soldiers). The very best of the best rank as some of the greatest movies of all time, but there's plenty of reliably diverting high-octane fare available on Netflix at any given time. Here's our favorites on Netflix right now.
Recommended Video
Look Back on the Four Most Shocking Deaths from 'The Sopranos!'
Ant-Man and the Wasp (2018)
The first Ant-Man was a rambunctious and clever take on the familiar Marvel origin story, introducing audiences to shrinking superhero dad Scott Lang (Paul Rudd) and his extended family of friends and reluctant crime-fighters. The sequel is an even funnier and sillier refinement of the first chapter, ditching some of the heavier elements and going all-in on the gags. Though other entries in the Marvel Cinematic Universe have been filled with sitcom-ish banter, this is the first one that really plays like a proper comedy. (It recalls Ghostbusters in the way it combines special effects and irreverence.) Rudd has a way of putting an absurd spin on even the most mundane lines, Michael Peña again steals every scene he's in, and director Peyton Reed approaches the pint-sized action beats with the goal of upending viewer expectations. Luckily, it's the rare blockbuster with charming human moments that doesn't feel the need to overcompensate with scenes of mass destruction or constantly apologize for its modest scale. 
Black Hawk Down (2001)
It's hard to tell the actors apart in Black Hawk Down: They're all dressed in military fatigues, often with helmets and goggles that obscure their faces; there's dust everywhere; and yelling is the preferred method of communication. To say that Ridley Scott's chronicle of a 1993 US military raid in Mogadishu doesn't cohere isn't exactly a negative critique. It's a part of the movie's frenzied, discombobulating aesthetic. Faces blur. The soundtrack pummels you with gunfire. Helicopters whirl overhead. It's experiential, the type of movie that's tough to shake -- even on a puny computer screen.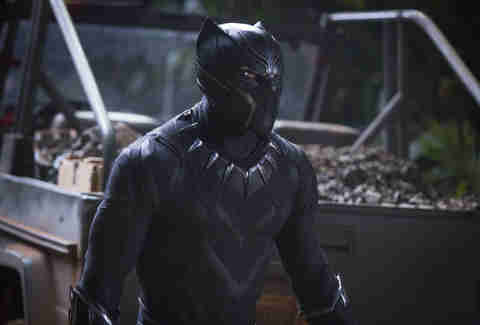 Creed director Ryan Coogler's take on superhero-dom is both pleasing and probing, while still making space for Soundcloud jokes, rhino battles, and spicy takes on imperialism in Black Panther, one of the best movies of 2018. The central ideological conflict between the new Wakandan king, T'Challa (Chadwick Boseman), and the American revolutionary, Killmonger (Jordan), has been seen before in the pages of history books and comics, but it's never been given this type of unparalleled, eye-popping, brain-scrambling, heart-pounding blockbuster treatment, especially in the MCU.
Guardians of the Galaxy, Vol. 2 (2017)
Not much happens in the snappy, solarized sequel to Marvel's surprise 2014 hit, but that's exactly what Star-Lord, Gamora, Drax, Rocket Raccoon, and Baby Groot needed to come to life and become more than pawns in a game of Infinity Stone chess. In Vol. 2, director James Gunn splits up the gang and drops them in increasingly manic situations, like an intergalactic version of a '70s-era Looney Tunes compilations. Even more than the wall-to-wall vintage tunes, it's the rhythmic banter that whisks around the galaxy. Drax and Star-Lord's uncomfortable backroom chats; Star-Lord and Gamora's Sam-and-Diane banter; Gamora and Nebula's sibling war; Yondu and Rocket's prickly bonding; and Rocket parenting Baby Groot back to adulthood. Great characters can take you anywhere, and in their second go at blockbusterdom, the Guardians take us everywhere.
The Hateful Eight (2015)
Quentin Tarantino has something to say about race, violence, and American life, and it's going to ruffle feathers. Like Django Unchained, the writer-director reflects modern times on the Old West, but with more scalpel-sliced dialogue, profane poetry, and gore. Stewed from bits of Agatha Christie, David Mamet, and Sam Peckinpah, The Hateful Eight traps a cast of blowhards (including Samuel L. Jackson as a Civil War veteran, Kurt Russell as a bounty hunter known as "The Hangman," and Jennifer Jason Leigh as a psychopathic gang member) in a blizzard-enveloped supply station. Tarantino ups the tension by shooting his suffocating space in "glorious 70mm." Treachery and moral compromise never looked so good.
Hot Fuzz (2007)
Shaun of the Dead spoofers Edgar Wright and Simon Pegg set their sights on bumbling police officers trying to solve a murder in a small English town. The duo watched countless buddy-cop flicks to fully satirize the genre, and it paid off, with laughably bad chase sequences and uproarious slapstick gags. They prove how much fun action movies can be when they lighten up a little (OK, a lot). Remember: It's not murder, it's ketchup.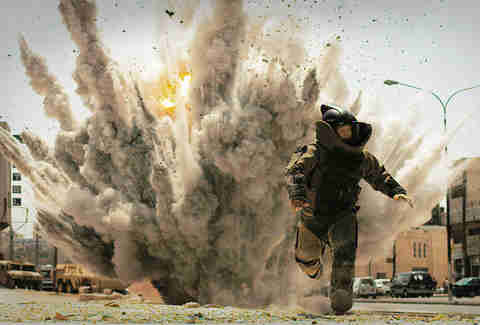 The Hurt Locker (2009)
Kathryn Bigelow became the first woman to nab Best Director at the Oscars for her Best Picture-winning drama, that today seems all but forgotten. If you didn't catch The Hurt Locker a decade ago (and few did -- the movie only made about $17 million at the box office), stream this heart-pounding examination of a explosive disposal specialist (Jeremy Renner) who brushes against death during the Iraq War time and time again, but finds himself drawn to the ecstasy of bomb diffusion, even after being reunited with his family.
The Ip Man movies
There aren't many biopics that also pass for decent action movies. Somehow, Hong Kong action star Donnie Yen and director Wilson Yip have made three separate movies based on the life of Chinese martial arts master Yip Kai-man, who famously trained Bruce Lee -- all three of the flicks are on Netflix, plus an unrelated Herman Yau entry (Ip Man: The Final Fight). What's their trick to keeping this series fresh? Play fast and loose with the facts, up the melodrama with each film, and, when in doubt, cast Mike Tyson as an evil property developer. The third movie in the series isn't necessarily the best -- that's probably still the first film -- but the fights are incredible, and Yen's portrayal of the aging master still has the power to draw a few tears from even the most grizzled tough guy.
Kill Bill Vols. 1 & 2 (2003 & 2004)
Arguably the movie that established Quentin Tarantino as a full-fledged mainstream auteur, Kill Bill: Vol. 1 possesses some of the filmmaker's most iconic set pieces and visual tableaux, from the Bride rocking Bruce Lee's Round 5 jumpsuit to the animated O-Ren Ishii (Lucy Liu) backstory sequence. The relatively quiet, reflective sequel was viewed by many as a leisurely paced come-down from the frenzied blood-letting high of the action-packed first half. But, like Beatrix Kiddo herself, the movie has only gotten wiser with age.
King Kong (2005)
The story of King Kong is a Hollywood classic, told and retold every several decades over the course of film history -- but rightfully so, as the iconic tale about a film crew and their burgeoning starlet's trip to a mysterious island going awry has got all of the essential elements for an on-screen riveting adventure. On the creepily named Skull Island, they encounter King Kong himself, a giant, dinosaur-destroying gorilla who falls for the young actress (Naomi Watts) aboard the expedition, and the drama ensues. While this film is more of an adventure tale than anything, the 2005 adaptation is fit with modern CGI technology, sound work, and visual effects to bring the beasts to life even more so than its previous tellings -- and at its core, it's a wild, larger-than-life blockbuster.
The Mummy (1999)
"Rescue the damsel in distress, kill the bad guy, save the world." That's adventurer Rick O'Connell's (Brendan Fraser) mission in The Mummy, and pretty much sums up everything you need to know about the plot of Stephen Sommers' film. But the story is more riveting than following O'Connell as he treks across an ancient Egyptian archeological site alongside librarian Evelyn Carnahan (Rachel Weisz) suggests: They awaken an angry, lovelorn mummy. Drawing from Indiana Jones-esque adventure tropes and pure Hollywood magic, the high-energy fantasy film is everything you could want from an action film (sand monsters, anyone?) and an incredibly fun watch.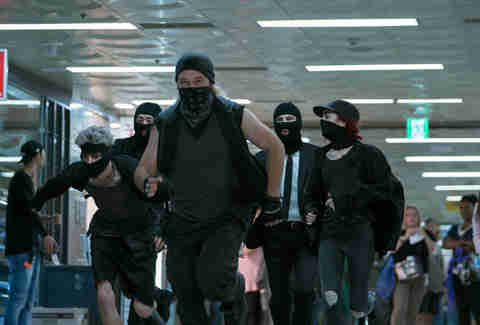 Okja (2017)
The Netflix original Okja poses an interesting ethical question: If your beloved super pig gets kidnapped by a corporate food giant, would you join a group of rouge animal rights activists to see that your pet gets home safe? It's certainly not the most conventional plot, but because of that, the film about one girl's journey to save her affectionate hippo-looking pig from mass consumption is a truly insane, high-stakes rescue mission. At times it may feel like propaganda for veganism, but the film, featuring a star-studded cast of Tilda Swinton, Jake Gyllenhaal, Paul Dano, and others, is absolutely ridiculous and over the top, leaving your heart pounding as you sit at the edge of your seat, dying to see this pig flee to safety.
Polar is a very fun, very ridiculous, and very violent movie starring Mads Mikkelsen as a hitman nicknamed the Black Kaiser. In the film directed by Swedish filmmaker Jonas Akerlund (based on Victor Santos' graphic novel series of the same name), the Black Kaiser thinks he's just about ready to retire from his high-intensity assassination lifestyle -- until he learns there's a group hunting down his associates, and he's next on their hit list. Polar doesn't fancy itself particularly highbrow entertainment; instead, it's a comically bloody hitman movie where every action set piece is more over-the-top than the last, but that's what makes it so great.
The Raid: Redemption (2011)
Every few years, there's an action film that's spoken of only in hushed tones. "Have you seen The Raid yet!?" was a frequently asked question amongst action junkies, as the Indonesian martial-arts movie made its way from film festivals to theaters to home video. You could always tell if someone had seen it: they'd start shaking their head in disbelief. With its bone-crunching fight sequences, delirious long takes, and propulsive music, The Raid is less a film and more of a blunt object. Once you get hit with it, you'll want others to feel the pain too.
Raiders of the Lost Ark (1981)
Steven Spielberg shows his work at every step of his action masterpiece. Indiana Jones' first adventure is like a comic book, flipped through at 24 panels a second. Nazis drag our hero along Cairo's dusty streets, strongmen (and a whirling propeller) threaten to squash him to pulp in the fisticuffs of a lifetime, and a megaton boulder chases him through a cobwebbed labyrinth. Not once through it all does Spielberg slip in a throwaway cut or zig when he should zag just to disorient us. Raiders is immaculate, each angle worth printing out and hanging on the wall. After you're done with it, dive right into Temple of Doom and The Last Crusade, both on Netflix.
The Terminator (1984)

James Cameron's first major film as director is a lean, brutal vision of machines run amok, dressed up with the complications of time travel. Cameron probably would have had a great story without the bizarre charisma of Arnold Schwarzenegger or the heavy-metal insanity of Stan Winston's robot effects, but with all those elements in place, The Terminator is a "lightning in a bottle" moment that demonstrated just what Cameron could do.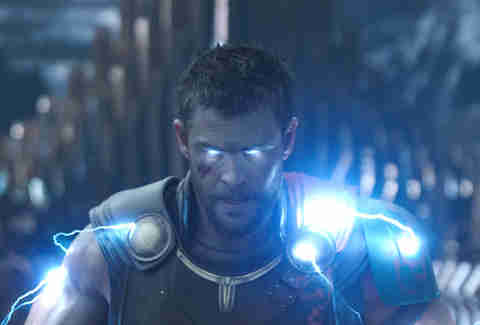 Thor: Ragnarok (2017)
Perhaps the best (and funniest) movie in the Thor trilogy, this Marvel film directed by Taika Waititi follows the Norse god (Chris Hemsworth) as he races against the clock to put a stop to the impending chaos of the prophesied Ragnarok caused by the emerging villain Hela (Cate Blanchett), the Mistress of Darkness. Pulling heavily from the comic books, this standalone superhero story is packed with developed material, tons of jokes and brothers' banter between Thor and Loki (Tom Hiddleston), and all of the godly Thor fighting sequences set to Led Zeppelin you could possibly hope for. 
Watchmen (2009)
Based on Alan Moore's classic graphic novel, Zack Snyder's visually striking, comic noir followup to 2006's 300 stays pretty true to its source material where costumed superheroes are commonplace in everyday life and an alternative reality America in 1985 is riddled with messed up government conspiracies. As Snyder's first dive into superheroics before the inception of the DCEU, Watchmen is definitely a divisive movie. However, there is no doubt that Jackie Earle Haley is perfectly cast as Rorschach, and much of the movie is beautiful to watch in super-slow motion.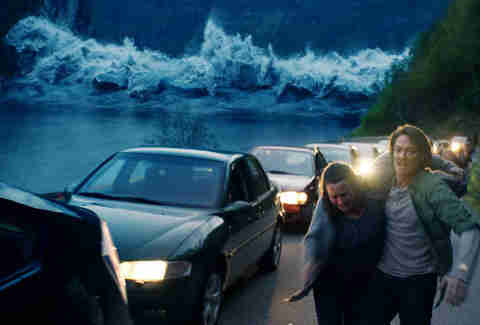 The Wave (2016)
Roar Uthaug -- great action director name or best action director name? -- takes the time to embolden his main characters, a loving family of four in a small Norwegian village battling against a fjord-enabled tidal wave, and capture Norway's rolling beauty. Then the mayhem starts. When the townsfolk realize their fate, and only have 10 minutes to evacuate, The Wave capsizes tranquility with 100 tons of liquid devastation. Not since Titanic has underwater photography looked so terrifying. Like its actors, we are in the tank for The Wave.
The Wild Bunch (1969)
Must action movies amuse? Sam Peckinpah's is an ugly, nihilistic ride through a transitional time in American history, Old West morality going out like the sunset. Gang leader Pike (William Holden) is set to retire after one last heist. He thrashes around in a world he no longer recognizes. The movie mirrors him, with enraged editing, icy bloodshed, and a murkiness to the usual bad guy/good guy dynamic. But it's exquisitely executed, packing a jaw-dropping train attack and what can only be described as the Lawrence of Arabia of town-square shootouts. The squib budget on The Wild Bunch must have been astronomical. 
V for Vendetta (2005)
Remember, remember, the fifth of November -- and a buzzed Natalie Portman -- with James McTeigue's tyrannical thriller, which comes at a very appropriate time and has aged just fine, thank you very much.
Van Helsing (2004)
If you've got a thing for Hollywood horror classics like Dracula and Frankenstein, Van Helsing is the contemporary answer for you -- and it's even more action-packed than the old films it draws from. Here, Hugh Jackman plays Van Helsing, a monster hunter sent to Translyvania to see the demise of Dracula, who has been conjuring up a dark plan with the help of Dr. Frankenstein. While it leans into the fantastical realm, the film's got some serious monster slaying by way of impressive 20th-century guns and swords, and it's a haunting, violent reimagining of the fate of these eerie characters.