The Best Action Movies on Netflix
These will get your heart pumping.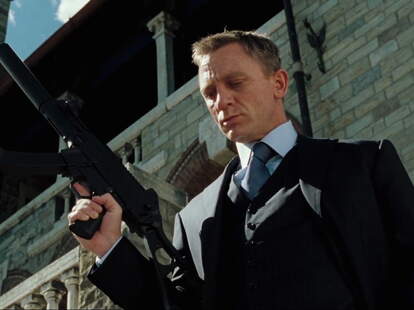 Trying to define "action movie" can yield several different answers, but we like to think of the genre as run-and-gun, fist-to-fist escapism that stands the test of time and occasionally comes with tinges of comedy or sci-fi. Think more Predator than Small Soldiers (sorry, Small Soldiers). The very best of the best rank as some of the greatest movies of all time, but there's plenty of reliably diverting high-octane fare available on Netflix at any given time. Here's our favorites on Netflix right now.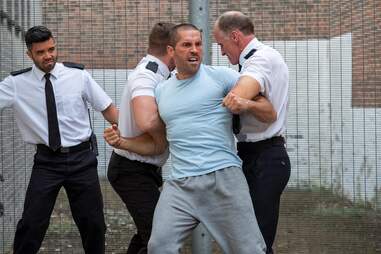 Samuel Goldwyn Films
Avengement (2019)
DTV action star Scott Adkins knows how to land a punch, but this chronologically fractured fight film, which combines a bloody prison drama with a Guy Ritchie-esque underworld plot, also lets the burly actor show off his acting chops. With a metal grill on his teeth and gnarly scars on his face, Adkins plays Cain, a former boxer turned convict who starts the movie by escaping his security detail on a trip to the hospital to visit his dying mother. On the run, Cain ends up at a pub in the middle of the day, where he entertains the assembled goons with his convoluted life story, which involves a betrayal by his older brother and many grueling jailhouse brawls. Director Jesse V. Johnson co-wrote the refreshingly sharp script, which has more on its mind than your average fight-driven revenge film, and he stages the ferocious, bare-knuckle melees with appropriate vigor.
Saban Films
Braven

(2018)
The main character in this movie is named "Joe Braven" and he's played by Jason Momoa. That simple fact alone should convince you to watch this scrappy, low-budget action movie about a logger tasked with fighting off a heavily armed gang of drug dealers who stash some primo shit in his log cabin. If the protagonist had a less goofy name, the movie would still be effective—the director is a former stunt coordinator and he knows how to properly stage all the gunfights, bow-and-arrow deaths, and snowmobile chases—but the stupid grin that you get on your face every time someone says "Joe Braven" really elevates this throwback outdoors thriller. Momoa has the sturdy, low-key charisma of the best '80s action heroes, and it's a shame that the the laws of modern blockbuster-dom mean he'll likely spend more time starring in CG monster throw-downs like
Justice League
when he could be snapping necks in gruff B-movies like
Braven
. In a just world, the
Braven
-verse would be rapidly expanding every year.
Sony Pictures Releasing
Casino Royale (2006)
Dozens of James Bond movies later, and Casino Royale still stands the test of time as the best of the franchise. Filling the shoes of the classic MI6 agent for the first time, Daniel Craig pulled off the impossible by defining the role for a new generation and giving us the 007 from Ian Fleming's early novels, a blunt instrument filled with morose purpose and self-doubt. Still, director Martin Campbell managers to offer a blockbuster that's a masterclass in geometric, dramatic, constructive action filmmaking in 007's journey down to Madagascar to face off with a favorite Bond villain, Mads Mikkelson's Le Chiffre, in a high-stakes poker game. This is a debut Bond actors will be trying to measure up to for decades.

If you're in for even more Bond, you're in luck because Casino Royale isn't the only feature available on Netflix. Quantum of Solace is available, too.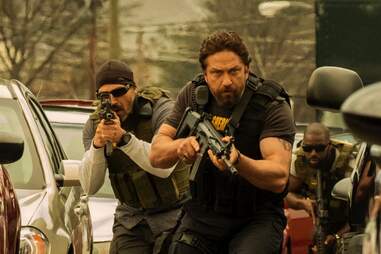 STXfilms
Den of Thieves (2018)
If there's one thing you've probably heard about this often ridiculous bank robbery epic, it's that it steals shamelessly from Michael Mann's crime saga Heat. The broad plot elements are similar: There's a team of highly-efficient criminals led by a former Marine (Pabro Schreiber) and they must contend with a obsessive, possibly unhinged cop (Gerard Butler) over the movie's lengthy 140 minute runtime. What makes Den of Thieves oddly fascinating is that it feels like a bootleg T-shirt you'd buy for a band outside the venue, all garish and unconcerned with matters of good taste. A screenwriter helming a feature for the first time, Christian Gudegast is not in the same league as Mann as a filmmaker and Butler, sporting unflattering tattoos and a barrel-like gut, is hardly Al Pacino. But everyone is really going for it here, attempting to squeeze every ounce of Muscle Milk from the bottle. You might respect the hustle.
The Weinstein Company/Columbia Pictures
Django Unchained (2012)
Quentin Tarantino loves a satirical revisionist history. Django Unchained turns to slavery in the Antebellum South (without side-stepping controversy) to reimagine what some bloody good justice might've looked like and rewrite the western. Anchored by the brilliant performances of Jamie Foxx as a freed slave and Christoph Waltz as the bounty hunter who seeks help in carrying out his services, the period piece becomes an all-out gunslinging romp as they set out to free Django's wife (Kerry Washington). It's an award-winning epic that refuses to ever hold back.
Jasin Bolan/Netflix
Netflix has an affinity for pumping out high-octane action movies. Some are senseless, some are fun, and some can muster enough of an A-list team behind it that even the most brutal or asinine plots are extremely watchable. Extraction sees the reunion of the Russo Brothers of Marvel fame and Thor himself Chris Hemsworth, with Joe Russo behind the screenplay of this shoot-em-up mercenary mission. As Hemsworth's Tyler Rake is hired to save the kidnapped son of a crime boss in Bangladesh, what should've been a quick-and-easy mission turns into an uncompromising, grueling fight for their survival. Extraction delivers on being the no-nonsense rescue movie it promises to be, but with each shot, Hemsworth shows no one will be spared at his franchised-action-star-in-the-making hands.
A24
Free Fire (2017)
Cast from the molten barrels of Charles Bronson's many Smith & Wessons, this frenetic '70s throwback plays out as one prolonged shootout. What should be just-another-illegal-gun-deal-by-the-docks between a group of IRA fighters (led by Cillian Murphy), a skeezy arms dealer (Sharlto Copley), and two American representatives for the respective parties (Brie Larson and Armie Hammer) explodes into a firefight when one lower-rung goon accuses another of assaulting his sister at a bar the night prior. Each insult exacerbates the standoff, which director Ben Wheatley orchestrates with wailing bullets, chaotic camerawork, and salvos of clever banter, blurted out as the actors squirm across dirt floors to safety. By the end of Free Fire, limbs are torn through, blood is spilled, and your jaw is on the floor.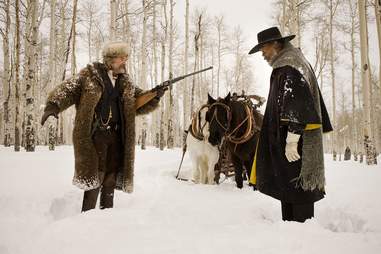 The Weinstein Company
The Hateful Eight (2015)
Quentin Tarantino has something to say about race, violence, and American life, and it's going to ruffle feathers. Like Django Unchained, the writer-director reflects modern times on the Old West, but with more scalpel-sliced dialogue, profane poetry, and gore. Stewed from bits of Agatha Christie, David Mamet, and Sam Peckinpah, The Hateful Eight traps a cast of blowhards (including Samuel L. Jackson as a Civil War veteran, Kurt Russell as a bounty hunter known as "The Hangman," and Jennifer Jason Leigh as a psychopathic gang member) in a blizzard-enveloped supply station. Tarantino ups the tension by shooting his suffocating space in "glorious 70mm." Treachery and moral compromise never looked so good.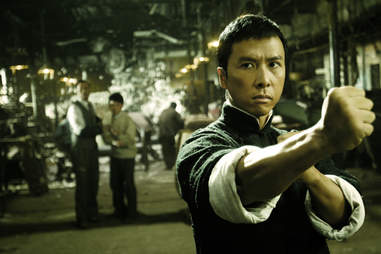 Mandarin Films
The Ip Man movies
There aren't many biopics that also pass for decent action movies. Somehow, Hong Kong action star Donnie Yen and director Wilson Yip have made three separate movies based on the life of Chinese martial arts master Yip Kai-man, who famously trained Bruce Lee—all three of the flicks are on Netflix, plus an unrelated Herman Yau entry (Ip Man: The Final Fight). What's their trick to keeping this series fresh? Play fast and loose with the facts, up the melodrama with each film, and, when in doubt, cast Mike Tyson as an evil property developer. The third movie in the series isn't necessarily the best—that's probably still the first film—but the fights are incredible, and Yen's portrayal of the aging master still has the power to draw a few tears from even the most grizzled tough guy.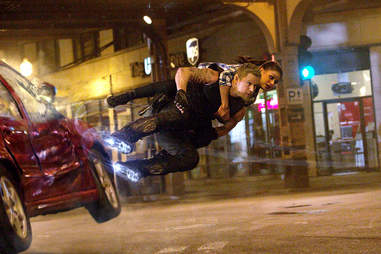 Warner Bros. Pictures
Jupiter Ascending (2015)
Jupiter Ascending is one of those "bad" movies that might genuinely be quite good. Yes, Channing Tatum is a man-wolf and Mila Kunis is the princess of space and bees don't sting space royalty and Eddie Redmayne hollers his little head off about "harvesting" people—but what makes this movie great is how all of those things make total, absolute sense in the context of the story. The world the Wachowskis (yes, the Wachowskis!) created is so vibrant and strange and exciting, you almost can't help but get drawn in, even when Redmayne vamps so hard you're afraid he's about to pull a muscle. (And if you're a ballet fan, we have some good news for you.)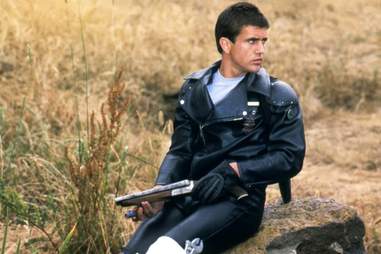 Roadshow Film Distributors/Warner Bros. Pictures
Mad Max (1979)
Before Tom Hardy was grunting his way through the desert and crushing tiny two-headed reptiles as Max Rockatansky, there was Mel Gibson. George Miller's 1979 original introduces the iconic character and paints the maximum force of his dystopian mythology in a somewhat more grounded light—Australian police factions, communities, and glimmers of hope still in existence. Badass homemade vehicles and chase scenes abound in this taut, 88-minute romp. It's aged just fine.
Netflix
The Night Comes for Us (2018)
There are images in The Night Comes for Us, a wild Indonesian action thriller starring two veterans of the celebrated The Raid franchise, that resemble what a child might think an action movie would be after simply looking at lurid VHS cover art and hyper-stylized movie posters. It flirts with parody at points and gleefully crosses over into absurdity in others. Towards the end of the movie, the two main characters -- an ex-mercenary for the Triads named Ito (Joe Taslim) and his old friend turned rival Arian (Iko Uwais) -- basically slash at each other's flesh like Itchy and Scratchy, their bodies carrying on long past the point of what conventional medicine would deem possible. Is it overwhelming? Yes. But the dedication to mayhem makes this essential viewing for action fans with strong stomachs.
Jae Hyuk Lee/Netflix
Okja (2017)
The Netflix original Okja from Bong Joon Ho poses an interesting ethical question: If your beloved super pig gets kidnapped by a corporate food giant, would you join a group of rouge animal rights activists to see that your pet gets home safe? It's certainly not the most conventional plot, but because of that, the film about one girl's journey to save her affectionate hippo-looking pig from mass consumption is a truly insane, high-stakes rescue mission. At times it may feel like propaganda for veganism, but the film, featuring a star-studded cast of Tilda Swinton, Jake Gyllenhaal, Paul Dano, and others, is absolutely ridiculous and over the top, leaving your heart pounding as you sit at the edge of your seat, dying to see this pig flee to safety.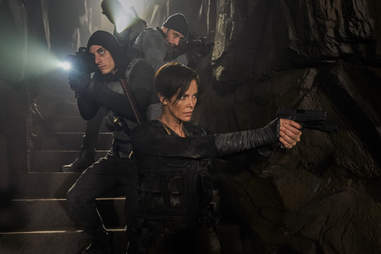 Aimee Spinks/Netflix
The Old Guard (2020)
Gina Prince-Bythewood's adaptation of Greg Rucka's comic series is a superhero movie with a soul. It stars Charlize Theron as Andy, aka Andromache, a warrior who has lived for six millennia and doesn't really see the point anymore. But she and her team of fellow immortals are drawn back into conflict when they start being hunted by a pharmaceutical brat who wants to use them as test subjects. At the same time, a new member joins their ranks, Nile (KiKi Layne), who survives a throat slitting and is inducted into this strange club. Prince-Bythewood melds immensely fun fight sequences—it's a joy to watch Theron throw a punch—with groundbreaking moments of quietude, including a gay romance that's like nothing you've seen before in an action movie.
Millenium Films
Olympus Has Fallen

(2013)
The White House siege movie Olympus Has Fallen is not a great movie. It's not even the best action movie about machine-gun-wielding bad guys taking over the White House released in 2013. (That honor goes to the Jamie Fox and Channing Tatum Die Hard ripoff White House Down.) So, what makes Olympus Has Fallen worth watching? It's an essential introduction to Mike Banning, a ferocious Secret Service Agent played by Gerard Butler who appears in the sequels London Has Fallen and Angel Has Fallen, and the movie is key, in all its goofy brutality, to understanding Butler's mid-career resurgence as an action star. The Banning-verse starts here.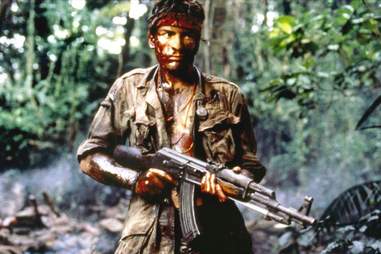 Orion Pictures
Platoon (1986)
Oliver Stone's Platoon is not the kind of patriotic film that romanticizes war. Based on his own experiencing in Vietnam, the controversial filmmaker documents the brutality of fighting an aimless fight in the rogue jungle by following the relentless tour of rookie volunteer soldier Chris Taylor (Charlie Sheen). Through combat and a moral dilemma that occurs within their platoon, Stone examines the duality of man amidst violent trauma. A cannon Vietnam War film, yes, but also one of cinema's best human stories, as Taylor's greatest conflict is a fear of becoming numb when so much loss is happening around him.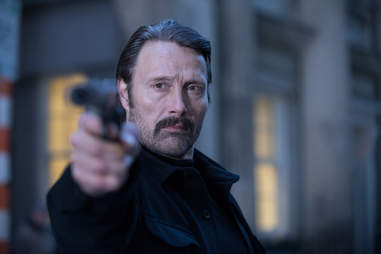 Netflix
Polar is a very fun, very ridiculous, and very violent movie starring Mads Mikkelsen as a hitman nicknamed the Black Kaiser. In the film directed by Swedish filmmaker Jonas Akerlund (based on Victor Santos' graphic novel series of the same name), the Black Kaiser thinks he's just about ready to retire from his high-intensity assassination lifestyle—until he learns there's a group hunting down his associates, and he's next on their hit list. Polar doesn't fancy itself particularly highbrow entertainment; instead, it's a comically bloody hitman movie where every action set piece is more over-the-top than the last, but that's what makes it so watchable.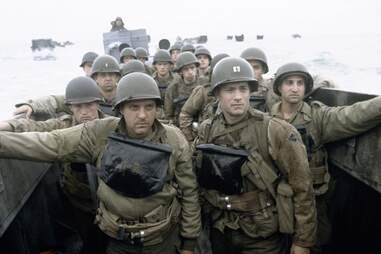 DreamWorks Pictures
Saving Private Ryan (1998)
Steven Spielberg's World War II movie solidified itself as an American classic 15 minutes into its runtime, after a grave, pungent staging of the invasion of Normandy Beach. The rest of the film lives up to the sequence, with Tom Hanks, Matt Damon, and an unimaginable list of big-name actors playing out a universal band of brothers. When a life is worth saving, backstory matters, and Spielberg's direction does as much to enrich the lives of his men as it does to enact the terrors of war.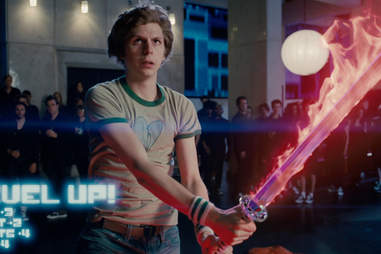 Universal Pictures
Scott Pilgrim vs. the World (2010)
Scott Pilgrim vs. the World is a romantic comedy, but it's by no means your average romantic comedy—with its comics-inspired ass kicking, super villainous ex-boyfriends, and not-so-great original garage band songs. While ridiculous, these oddities in a movie about a bass player (Michael Cera) on a quest to win the heart of a special Ramona Flowers by defeating her seven evil exes give the genre some much needed action. From director Edgar Wright (Baby Driver, Shaun of the Dead), the film is uniquely stylized and has the right amount of teenage flair to make it a cult classic. What's dreamier than a boy fighting evil exes from hell for the sake of love?
Warner Bros. Pictures
Sherlock Holmes (2009)
This interpretation of the Victorian-era favorites Holmes and Watson is led by Robert Downey Jr. and Jude Law, and enhanced by director Guy Ritchie's excesses. The combination works, because it turns the period piece into a bona fide Hollywood action hit. The lavish production and big-budget action sequences may not have been what Arthur Conan Doyle had in mind when he created the characters, but as the detective duo embarks on an occult-ish investigation of a missing serial killer, the film imbues the sleuthing story with adrenaline-pumping energy. There are clues and intrigue, and thrilling scenes that play like Mission: Impossible set in the 1800s.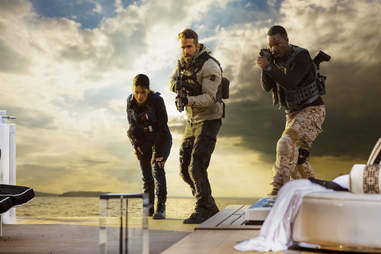 Christian Black/Netflix
Michael Bay's Netflix-funded action extravaganza opens with a 20-minute car chase through the streets (and museums) of Florence that includes an annoyed nun giving our heroes the finger, a group of cute puppies running in slow-motion, and Dave Franco yelling "Fuck!" at the top of his lungs while repeatedly almost crashing into pedestrians. Before that, Ryan Reynolds, playing a tech billionaire who made his money with "magnets," fakes his death in a plane while wearing a helmet with a Red Bull logo on in it. That should give you a sense of what you're dealing with here. Every aspect of this globe-trotting adventure team-up, from its gleefully silly libertarian politics to its sadistically gross splatter effects, feels designed as an affront to collective notions of "good" taste. Bay leans into his most obnoxious tendencies here, giving 6 Underground a crude type of artistic integrity that's become all too rare in blockbuster filmmaking.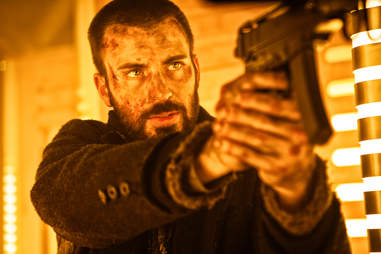 RADiUS-TWC
Snowpiercer (2013)
Did people go overboard in praising Snowpiercer when it came out? Maybe. But it's important to remember that the movie arrived in the sweaty dog days of summer, hitting critics and sci-fi lovers like a welcome blast of icy water from a hose. The film's simple, almost video game-like plot—get to the front of the train, or die trying—allowed visionary South Korean director Bong Joon Ho to fill the screen with excitement, absurdity, and radical politics. Chris Evans never looked more alive, Tilda Swinton never stole more scenes, and mainstream blockbuster filmmaking never felt so tepid in comparison. Come on, ride the train!
TriStar Pictures
Total Recall (1990)
Skip the completely forgettable Colin Farrell remake from 2012. This Arnold Schwarzenegger-powered, action-filled sci-fi movie is the one to go with. Working from a short story by writer Philip K. Dick, director Paul Verhoeven (Robocop) uses a brain-teasing premise—you can buy "fake" vacation memories from a mysterious company called Rekall—to stage one of his hyper-violent, winkingly absurd cartoons. The bizarre images of life on Mars and silly one-liners from Arnold fly so fast that you'll begin to think the whole movie was designed to be implanted in your mind.
Netflix
Time to Hunt (2020)
Unrelenting in its pursuit of scenarios where guys point big guns at each other in sparsely lit empty hallways, Time to Hunt is a South Korean thriller that knows exactly what stylistic register it's playing in. A group of four friends, including Parasite and Train to Busan breakout Choi Woo-shik, knock over a gambling house, stealing a hefty bag of money and a set of even more valuable hard-drives, and then find themselves targeted by a ruthless contract killer (Park Hae-soo) who moves like the T-1000 and shoots like a henchmen in a Michael Mann movie. There are dystopian elements to the world—protests play out in the streets, the police wage a tech-savvy war on citizens, automatic rifles are readily available to all potential buyers—but they all serve the simmering tension and elevate the pounding set-pieces instead of feeling like unnecessary allegorical padding. Time to Hunt uses its elongated runtime to build sequences in a meticulous, considerate way that should appeal to viewers who have seen Heat, Collateral, and Miami Vice too many times to count.
Warner Bros. Pictures
Training Day (2001)
Denzel Washington's Detective Alonzo Harris is a chain-smoking, whip-riding, utterly corrupt LA cop who takes a naïve white-boy cop (Ethan Hawke) for an ever-eventful ride. Washington brings devilish layers and surprising humor to the role. For most of Training Day, he had audiences wondering if he'd take Hawke on a crooked-but-ultimately righteous path or send him to hell along with him. Yeah, he was a bad guy, but he was one of the most fascinating bad guys anyone has ever seen.
Melinda Sue Gordon
Filmmaker Christopher McQuarrie, the Oscar-winning writer behind The Usual Suspects and the two most recent gravity-defying entries in the Mission: Impossible series, directs an outstanding ensemble cast in this action-thriller. The burly squad of ex-military commandos pulled together by Oscar Isaac's Santiago Garcia, a private contractor overseeing deadly drug enforcement operations in Colombia, is a ragtag team of action movie archetypes: There's the sad, real-estate-selling divorced dad who looks like he'd rather be vaping (Ben Affleck); the noble, buff warrior stuck giving rote speeches about his past glories (Charlie Hunnam); the taciturn, hat-wearing helicopter pilot the filmmakers didn't bother outfitting with a backstory (Pedro Pascal); and the other dude (Garrett Hedlund) who does amateur MMA fights. Together, they decide to rob a drug kingpin hiding out in the South American jungle, but obviously things don't always go according to plan.
Warner Bros. Pictures
Unknown (2011)
It's best to go into
Unknown
, well, unknown. All you really need to know is that Liam Neeson delivers an absurd man-in-peril performance, which means it's as entertaining as action-thrillers come. Adapted from a novel by
Didier Van Cauwelaert
, the movie follows Neeson as professor Dr. Harris, a man en route to a high-profile biotech conference who wakes up after a four-day-long coma with his identity stolen. His wife (January Jones) doesn't recognize him, but she and everybody he knows seems to know a different Dr. Harris—oh, and all of a sudden he's at the center of some sort of assassin conspiracy plot. It's a premise you've likely seen many times before, but this one's slick, fast-paced, and of course Neeson holds it together to keep you glued to the screen as he tries to piece together his identity and stave off terrorists.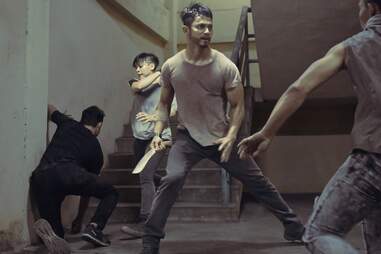 GSC Movies
Wira (2020)
Here's a sample bit of dialogue from Wira: "You have no right to hold my dad's machete." If that line, delivered by Hairul Azreen's ex-commando Hassan right before he takes on yet another group of soon-to-be-demolished attackers, doesn't get you interested in this Malaysian fight movie, then I don't know what to tell you. The plot follows Hassan and his equally tough sister Zain (Fify Azm) as they take on a local crime boss, and the family melodrama provides a compelling backdrop to a series of meticulously choreographed brawls both in the ring and in less rule-bound locations, like a speeding bus. The movements are lightning fast and heavily stylized, often leaning more on physical ingenuity and torqued up sound design than brute force.