The Best Action TV Shows on Netflix
Get in on the action.
'Kingdom'

| Netflix
'Kingdom'

| Netflix
They say "lights! camera! action!" for a reason, and while that has nothing to do with the genre of a television show, it's certainly a reminder that it's fun to watch actors shoot guns, play with swords, and get into fistfights without anyone actually getting hurt (usually). After all, "acting" is just "action" with a "g" instead of an "o," and in a slightly different place, right? So let's give the people what they want: the best action television shows currently streaming on Netflix, a list that includes both Netflix originals and series that originated elsewhere.
ALSO RECOMMENDED: Our curated lists of the Best Thriller Movies on Netflix and the Best Action Movies on Amazon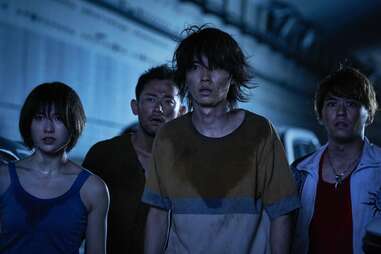 Alice in Borderland (2020– )
Based on the manga series of the same name by Haro Aso, Alice in Borderland takes place in a dystopian, abandoned Tokyo, where gamers are forced to compete in dangerous challenges, the difficulty of which is determined by drawing playing cards. If they fail, they're executed by lasers from the sky. Think Sword Art Online meets Battle Royale meets Cube.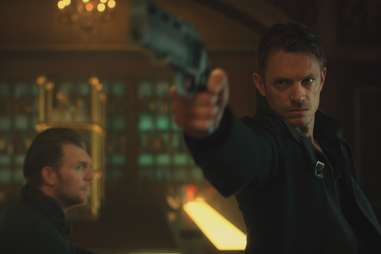 Altered Carbon (2018–2020)
Adapted from the 2002 Richard K. Morgan novel of the same name, Altered Carbon is a flashy, jargon-y, and, at times, dizzying descent into sci-fi decadence. The show follows a 22nd-century mercenary (Joel Kinnaman in Season 1, Anthony Mackie in Season 2) who's hired to solve the murder of a highly influential aristocrat. The catch? Said aristocrat is still alive, because in this version of the future, the wealthy can't really die—instead, their consciousness is essentially uploaded to the cloud and downloaded into new bodies. In a world without death, the ensuing caper boasts the same jaw-dropping visuals and world-building as Blade Runner and the same thought-provoking intrigue as HBO's Westworld. In other words, there's A LOT to digest in here, but that means there's A LOT to appreciate if you're patient.
Ash vs. Evil Dead (2015–2018)
It's been over 30 years since Ash Williams (Bruce Campbell) survived and defeated the Deadites in Sam Raimi's Evil Dead trilogy, and he's done absolutely nothing with his life since then, living in a trailer and working at the Value Stop and generally feeling sorry for himself. But things that go bump in the night have a weird way of returning even after being blasted to smithereens during a medieval Lord of the Rings battle, and Ash soon realizes the fight against evil is far from over.
Avatar: The Last Airbender (2005–2008)
This Nickelodeon show has been hailed as one of the best animated series of all time, for good reason. Maybe you were part of the generation that was obsessed with it during its initial run, or maybe you've yet to immerse yourself into this world of elemental nations, but there's never a bad time to watch or rewatch this stunning, Western-meets-anime-style series. Avatar: The Last Airbender is an adventure tale that follows the quest of waterbender Katara, her brother Sokka, and a boy they find frozen in an iceberg named Aang, who ends up being the avatar, a reincarnated being who can control all four elements whose job it is to keep harmonic balance between the Four Nations. As they journey through the nations so Aang can master all of the elements and eventually face the totalitarian leader of the Fire Nation, the devastating scope of the world in Aang's absence becomes more and more clear. Don't be mistaken: There's a lot more to this kid's show than you might expect, but Avatar: The Last Airbender makes it look as easy as walking on air.
Black Summer (2019– )
Do you really need to watch another zombie show? After nearly a decade of The Walking Dead and other bleak post-apocalyptic fare piling up in the watchlist, it's perfectly reasonable to avoid the latest brain-chomping, skin-peeling gore-fest. The ethical dilemmas, the barren landscapes, and the grisly violence can all feel rote. But Black Summer, a spin-off of the SyFy series Z Nation, has earned a cult following by emphasizing stylish action filmmaking, courtesy of directors John Hyams (the brain-expanding Universal Soldier: Day of Reckoning) and Abram Cox, and nerve-wracking suspense sequences. "Just when you think there's no more scare left in zombies, THIS comes along," tweeted Stephen King, a guy who knows a bit about this stuff.
Cobra Kai (2018– )
Whatever happened to martial arts prodigies Daniel Larusso and Johnny Lawrence after The Karate Kid movies? That's what the show Cobra Kai is out to find out. The series, which first aired on YouTube when the platform was producing originals before Netflix picked it up, is set in present day and sees Ralph Macchio and William Zabka stepping back onto the mat, but flips the script on their characters' roles. Now, former underdog Daniel is rolling in dough and still milking his child stardom for what it's worth and Johnny has reached rock bottom. The answer to Johnny's midlife crisis? Reopen the dojo, obviously. Inevitably, a new class of karate kids are inducted into the world of martial arts and old rivalries are rehashed—making for a seriously butt-kicking take on a nostalgia property you didn't know you needed.
Daybreak (2019)
High school, with its cliques, popularity contests, and bullies, is tough. But if those years were set in a post-apocalyptic world with zombies running amok, we'd probably rather embrace the petty stuff instead. In Netflix's Daybreak, zombies are the reality, making for a joyfully ridiculous premise for a series. An adaptation of the Brian Ralph comic, Daybreak follows a boy named Josh who's looking for his girlfriend with a crew of other weird, lost teenage souls in the fallout of a zombie apocalypse. It's all very pompous, imagining how the cheer squad, football team, and others might rally and respond to flesh-eating creatures, but that's part of the fun, upping the ante of a typical, crude high school setting.
Fauda (2015– )
Fauda, an action thriller about an elite team of undercover Israeli commandos working in Palestine, is perhaps the best of Netflix's foreign-language shows, a frantically paced and politically charged melodrama filled with sequences of white-knuckle suspense straight out of Homeland or 24. But unlike those spy dramas, Fauda spends nearly as much time on the private lives of Palestinians as it does on its gun-toting heroes. It's got a moral complexity that its more simplistic American counterparts often lack.
The Flash (2014– )
While The CW's Arrow teeters on the edge of self-parodying grimdark nonsense most of the time, the show's DC Comics companion, The Flash, is a lightning-speed breeze. Glee alum Grant Gustin stars as the breaker of sound barriers, who finds himself battling everyone from freeze-gun-wielding mad men to sentient gorillas in an effort to uncover his mother's equally speedy killer, and in later seasons, unpack the multi-dimensional logic enabled by other "speedsters." For all its teen-friendly drama, The Flash never shies away from the comic book nonsense (he said lovingly) or the splash-page action. Finally, our campy superhero TV shows can look and feel like the movies.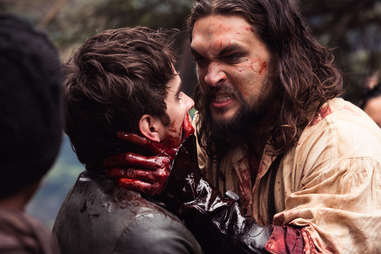 Frontier (2016–2018)
A showcase for the charismatic brutality only Jason Momoa can muster, Frontier is a rollicking Netflix and Discovery Channel Canada co-production about the (literally) cutthroat 18th-century North American fur trade. The adventure series has more in common with breezy syndicated fare like Hercules: The Legendary Journeys than it does with Momoa's star-making Game of Thrones, but if you squint hard enough at the right moment you'll swear that it's Khal Drogo himself cutting off that poor sap's ear.
Ganglands (2021– )
With movies like the stripped-down Jean-Claude Van Damme character study The Bouncer and the icy Olga Kurylenko thriller Sentinelle, French director Julien Leclercq has carved out his own lane as an action filmmaker. His movies are concise, stern, and brutal. If you've enjoyed any of them, you should check out Ganglands, a drug war series he co-created with writer Hamid Hlioua. (It's an expansion of Leclercq's 2015 thriller Braqueurs, which you find as The Crew on Netflix.) Leclercq directed each of the first season's six episodes, which track a battle between different warring factions in a high-stakes battle for control.
Into the Badlands (2015–2019)
Taking full advantage of The Walking Dead's rule-breaking violence, this kung-fu series stars Daniel Wu (The Man with the Iron Fists) as the "clipper," henchman trained in the art of backflips and swordplay, for a gun-hoarding "baron" who rules over a dystopian, American future. Slathered with fantastical mythology and artful violence, Into the Badlands is the jump-kicking, comic book-influenced answer to The Hunger Games you never knew you needed.
Kingdom (2019– )
A zombie period drama set in the Joseon dynasty in Korea, Kingdom intertwines biological terror with political intrigue. Adapted from the webcomic series The Kingdom of the Gods by Kim Eun-hee and Yang Kyung-il, Kingdom follows Crown Prince Yi Chang (Ju Ji-hoon), who must investigate the undead plague affecting both his father, the current emperor, and the southern provinces. While attempting to curtail its spread and prevent it from reaching the capital, he must also prevent a coup led by those intending to take advantage of the crisis. Netflix's first original Korean series, Kingdom is a refreshing period genre take on the well-tread zombie thriller.
Knight Rider (1982–1986)
After getting a new face and a new identity following a near fatal gunshot wound, Michael Knight (David Hasselhoff) is selected to be the primary field agent in the police force's new pilot program. The job comes with a lot of perks, including a shiny black Pontiac Firebird Trans Am named KITT that's equipped with gadgets that James Bond would be jealous of, as well as a snarky artificial intelligence that gets them out of trouble when dealing with criminals that operate above the law.
The Last Kingdom (2015–2022)
If you liked Game of Thrones, but wish it had zero magic, The Last Kingdom is for you. Set in medieval England, it pits Danish invaders (aka VIKINGS) against the divided kingdoms on the British Isles. At the center of it all is Uhtred, an English noble captured and raised by the Vikings, but who subsequently fights for the English in battles that help "medieval" live up to its reputation as a time when the brutality of humans was perpetually on display in bloody hand-to-hand combat.
The Legend of Korra (2012–2014)
Despite being critically acclaimed, this sequel series to Avatar: The Last Airbender, set around the 1920s, hasn't received as much outpouring love from fans. While the successor did have high expectations to live up to, those who tuned in and do ride for Korra as much they do for Aang know that the series from the same creators is just as breathtaking, and its ability to touch on a variety of sociopolitical issues in fewer episodes than Avatar had is even more impressive. It's the perfect binge for once you finish Avatar, taking place after Aang's reign to follow the latest master of all elements, Korra, as she faces unrest in Republic City where the gears of a revolution are just starting to turn.
Love, Death + Robots (2019– )
There's a certain artistry to making entertaining, effective, and imaginative short films, and Netflix's animated series Love, Death + Robots blends all three of those strengths with some really crazy sci-fi stories. The title pretty much says it all: Every episode will have elements of love (read: sex—the show is very rated R), death, and/or robots, and sometimes a combination of all three. From a tourist party of androids traipsing through a post-apocalyptic Earth, to a monster-fighting ring where the creatures are powered by human minds, to an ancient civilization thriving in a couple's refrigerator, to a beautiful fable about an artist in the future who only paints using one shade of blue, Love Death + Robots is a multifaceted collection of some of the most exhilarating and inventive storytelling out there.
Lupin (2021– )
Each episode of Netflix's Lupin, a nimble caper series starring Omar Sy (The Intouchables) as gentleman thief Assane Diop, builds to the type of rug-pulling flashback that you might find at the end of an Ocean's movie. Disguises are ripped off; diamonds get pocketed; the dashing hero slips away, again It's a classic heist movie device that could get repetitive or predictable, but, through the mercifully fast-paced episodes, Lupin and its endlessly charming leading man execute each reveal with a high degree of finesse. With a show like this, getting fooled is half the fun.
Money Heist (2017–2021)
This Spanish import isn't just one of the most popular non-English series on Netflix, it's a worldwide phenomenon. About a group of robbers who plan an elaborate heist, the show has inspired fans to dress in the cast's signature ensemble to carry out various pranks, and even try to emulate their plans in real life. Few shows have that kind of pull. Money Heist, aka La Casa de Papel, is one of the best heist thrillers running today, though, documenting in real-time a plan to take hostages in the Royal Mint of Spain in order to print and steal money. Every moment is exhilarating as the heist unfolds, and the characters behind their masks, each with their own emotional turmoil, make the series as intelligent as it is heart-pounding. Let the Money Heist obsession inspire you to maybe not rob a bank, but take over.
Narcos (2015–2017)
This thriller unpacks the horrifying, drug-laden history of Colombia during the reign of legendary kingpin Pablo Escobar. As Escobar, Wagner Moura is both terrifying and captivating, and his opposition, two DEA agents fighting their way through a convoluted mystery, give a scarily real sense of the American efforts to end the war on drugs. Narcos' mix of archival footage and contemporary fictionalization keeps you engaged, and reminds you that a literal genocide had to happen just so yuppies could blow coke in the Hamptons during the '80s (only kind of kidding).
Narcos: Mexico (2018–2021)
If you like Narcos, may Netflix interest you in the similar—but different!—Narcos: Mexico. As the name suggests, the action centers around Mexican cartels, as opposed to the Colombians in the original, and features more star power in Diego Luna and Michael Peña. Tracking the rise of the Guadalajara Cartel, Narcos: Mexico is in most ways the same show as its predecessor, but Luna's cartel boss and Peña's DEA agent deftly play an unnerving game of cat-and-mouse that will leave you on the edge of your seat.
The 100 (2014–2020)
How many post-apocalyptic shows starring attractive young people do we really need? Apparently, one more! The 100, which was adapted from a YA series by writer Kass Morgan, is about a team of teens sent down to bombed-out Earth from a colony floating in space. Inevitably, things go wrong: Warring factions emerge, hearts get broken, and, as is required by TV law, beloved characters are killed. Don't let the show's soapy veneer fool you; this is dark, thoughtful material in a slick, teen-friendly package.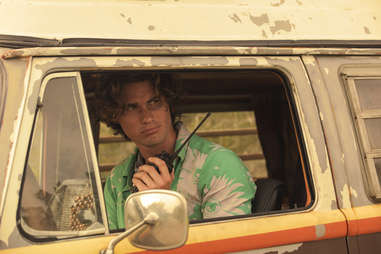 Outer Banks (2020– )
Centuries of colonization, wars, and storms means there are tons of shipwrecks in the waters off the East Coast just waiting for enterprising SCUBA divers to stumble across them. It's one of these ships, laden with gold, that's at the center of this teen drama series, which follows a group of high-school kids hunting for sunken treasure, while also trying to solve a mystery about one of the friends' missing father. Mostly due to the constantly evolving plot, Outer Banks' 10 episodes move at a rapid clip, including a very fun fight onboard a fishing boat in a later episode where people are shooting harpoons and flailing at each other with enormous hooks, until the exciting final act. The subtext of it all—in finding the treasure and making themselves rich, aren't the central characters becoming the thing they disdain the most?—is itself a worthwhile pursuit, but, for now, it's more focused on turning a summery archipelago into a den of thieves. Fine by us!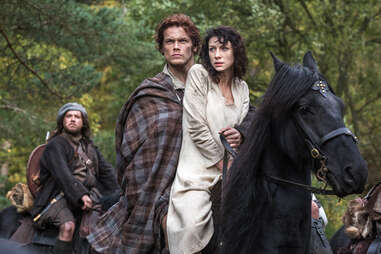 Outlander (2014– )
If you're looking for an action-adventure series that's also hot and heavy, Outlander is the perfect answer to your yearning. The long-running, acclaimed drama adapted from Diana Bagaldon's book series follows the affair of a WWII nurse named Claire, who's miraculously transported in time to Scotland in 1743 and a meets dashing Highland rebel named Jamie. The time-travel show is produced by Ronald D. Moore (Star Trek, Battlestar Galactica), it's been praised for its strong grasp of the female gaze that carries through to its many intimate scenes, as well as its complex rendering of history. It's pure escapism as Claire and Jamie's relationship gets swept up into the time-space continuum, but Outlander manages to make it much more human than just an indulgent romance novel made for TV.
Queen of the South (2016–2021)
Queen of the South is the English-language adaptation of La Reina del Sur, the popular telenovela starring El Chapo favorite Kate del Castillo. Alice Braga plays Teresa Mendoza, a poor woman from Sinaloa, Mexico who rises to the top of an international drug cartel. As you might expect, doing so requires ruthlessness and dealing with the kind of unsavory characters you probably wouldn't want in your actual life, but who make Queen of the South such a fun ride.
Shooter (2016–2018)
The main character of Shooter is named "Bob Lee Swagger," which pretty much tells you all you need to know. If the idea of watching a dude named Bob Lee Swagger kill bad guys with expert precision puts a goofy smile on your face, this is the show for you. If not, stay out of its sniper scope. Like the 2007 action movie of the same name, the series is based on a series of novels by Stephen Hunter, and it has a vaguely anti-authority conspiracy vibe that connects it to classics like First Blood and Three Days of the Condor. Only with way more guns and Ryan Phillippe instead of Mark Wahlberg. Like I said: Bob Lee Swagger. You're either on board or you're not.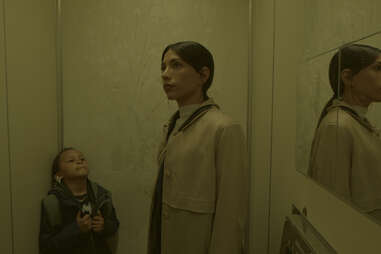 Snabba Cash (2021– )
Snabba Cash, a Swedish series inspired by the 2010 Swedish crime drama Easy Money starring Joel Kinnaman, follows single-mother Leya (Evin Ahmad) as she navigates the treacherous world of start-ups, where a predatory loan can tank your chances at becoming the next "unicorn," while attempting to extricate herself from the the equally dangerous world of drug trafficking, where rival gangs and the police pose a number of deadly threats. It's an often intense mix of Billions-like intrigue and Ozark-esque suspense. If you like either of those shows, this one might be worth making an investment in.
Stargate SG-1 (1997–2007)
Stargate SG-1 is the first of several series spun off from Roland Emmerich's 1994 Kurt Russel-starring movie—which was a surprise when it premiered, given how mixed critics were on the film. The show quickly defied expectations, and has gone down as one of the best sci-fi shows ever. Taking place a year after the events of the movie, it follows a special team of American forces who travel into outer space through "stargates" to explore the galaxy. You'll come for the vibrant alien worlds built upon mythology, and stay for the characters and their campy sense of humor. Discovering what's out there is something that's intrigued sci-fi fans forever, and Stargate SG-1 manages to keep that concept as fascinating as ever throughout its long run.
The Umbrella Academy (2019– )
A Netflix series based on an edgy comic written by My Chemical Romance frontman Gerard Way about a bunch of masked superheroes with weird powers who all grew up in a mansion and hate their dad sounds like a very elaborate, very specific joke. But we assure you, it's real, and it's actually pretty good once it finally hits its stride. You'll come for the explosions and time travel and chimpanzee butler, but you'll stay for the oddly affecting portrayal of how sibling relationships grow and powerfully shape each other, for better or for worse.
The Untamed (2019)
Infamous practitioner of the dark magical arts Wei Wuxian is resurrected 16 years after his death and reconnects with his soulmate, the honorable and well-liked Lan Wangji. But things get complicated when Wei Wuxian begins to remember his past life, and the web of manipulation and betrayal that led to his untimely death. The Untamed was a sensation in China and has gained cult status in the West, and while the webcomic it's based on has overt LGBTQ+ themes centered around the romance between its two main characters, the adaptation has just enough subtext to slip past the Chinese censors.
Voltron: Legendary Defender (2016–2018)
This is not the 1984 cartoon cobbled together from anime scraps and English-speaking voiceover (although Netflix has that too), but a reboot touting sci-fi spectacle that any one, at any age, will obsess over. From the directors The Legend of Korra, Voltron: Legendary Defender casts the five "paladins," defenders of the universe who ride lion-like mechas into battle against the evil Galra Empire, as a ragtag group of diverse kids in desperate need of direction. They find it in the trenches, where the show mixes space battles and kaiju-vs-mech-warrior martial-arts throwdowns.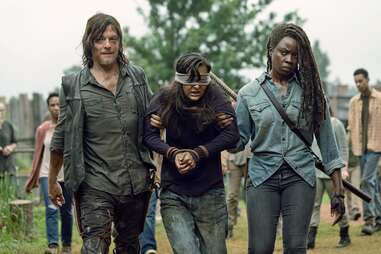 The Walking Dead (2010–2022)
What makes Robert Kirkman's graphic novel-turned-TV saga so great is that it isn't just about curb-stomping zombies: The Walking Dead focuses on complex personal relationships to ask thought-provoking questions about what it means to rebuild society, how to function as a healthy community, and what humanity looks like in a post-apocalyptic age. Just don't get too attached to your favorite characters because even if the zombies are dead, the action is alive and well, and the people who remain live in a very, very unforgiving world.
Warrior Nun (2020– )
Warrior Nun, a show about demon-fighting nuns, doesn't sound real. But it absolutely is and surprisingly pretty good, mostly because of how divine the action is in it. Loosely based on comic book character Warrior Nun Areala, the show follows a young woman who dies unexpectedly, but is resurrected in a morgue with a halo engraved on her back, only to find she's now a member of a secret sisterhood that combats evil. In terms of action, this show gets it with its fantastic fighting choreography, pitting the nuns against private security goons, interdimensional demons in the shape of giant Decepticons, and even each other. There's a lot of mythology here and it's quite similar to series you've seen like Buffy the Vampire Slayer, but it finds ways to be as fun as it is badass. Amen to that.
The Witcher (2019– )
Based on the books that inspired the video game series, The Witcher stars Henry Cavill, Superman himself, as Geralt of Rivia, a magical mutant "Witcher" who hunts stuff and drinks lots of potions and grunts "hm" often. There are also other characters, arguably too many, but really, the one to know is Geralt. Season 1's jumbled timeline is confusing and leaves a lot of questions lingering for Season 2, but it's one of Netflix's best (and most popular) originals. Also, it features the best song ever included on a Netflix show.
Wu Assassins (2019)
If you're seeking a bit of martial arts fantasy a la Shang Chi and the Legend of the Ten Rings with a dash of the ferocious bare-knuckle brawler that is The Raid, then Wu Assassins is just for you. Set in present-day San Francisco, this action drama follows Kai Jin (Iko Uwais, the badass from The Raid), a Chinatown chef who becomes imbued with the power of 1,000 monks after an encounter with a mythical spirit who deems him the next Wu Assassin. Gifted with enhanced martial arts skills, he's tasked with tracking down five crime lords who also wield and abuse the same supernatural powers known as the "Wu Xing." What really stands out about Wu Assassins is its spectacular fight choreography. Much like Uwais, the rest of the cast is composed of actors who are talented martial artists in real life, such as Lewis Tan (Mortal Kombat) and JuJu Chan Szeto (Crouching Tiger, Hidden Dragon: Sword of Destiny), who elevate the many elaborate fight scenes.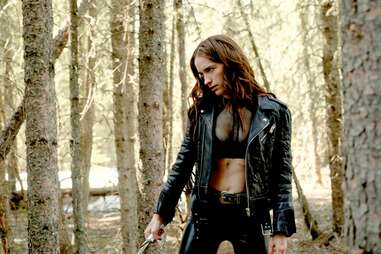 Wynonna Earp (2016–2021)
Wynonna Earp is a faster, sexier, funnier show than it has any right to be. The pitch is simple: Buffy the Vampire Slayer set today with zombies and the great-great-granddaughter of legendary gunslinger Wyatt Earp leading the charge against them. She totes a gigantic, legendary magic pistol called Peacemaker. She has a bumbling, moronic Justin Bieber-lookalike as a sidekick/comic relief. There are several love triangles with the undead. One of those love triangles happens to involve Doc Holliday in the present. Perhaps the best summary of the show is this one-liner in its pilot: "I am the girl. With the big-ass gun." If you can't get on board, you may not like fun.