They say "lights! camera! action!" for a reason, and while that has nothing to do with the genre of a television show, well, it's fun to watch people shoot guns, play with swords, and get into fistfights without anyone actually getting hurt (usually). After all, "acting" is just "action" with a "g" instead of an "o," in a slightly different place. 
So let's give the people what they want: the best action television shows on Netflix. 
Recommended Video
Birria + Ramen = Birriamen
The 100 (2014- )
How many post-apocalyptic shows starring attractive young people do we really need? Apparently, one more! The 100, which was adapted from a YA series by writer Kass Morgan, is about a team of teens sent down to bombed-out Earth from a colony floating in space. Inevitably, things go wrong: Warring factions emerge, hearts get broken, and, as is required by TV law, beloved characters are killed. Don't let the show's soapy veneer fool you; this is dark, thoughtful material in a slick, teen-friendly package.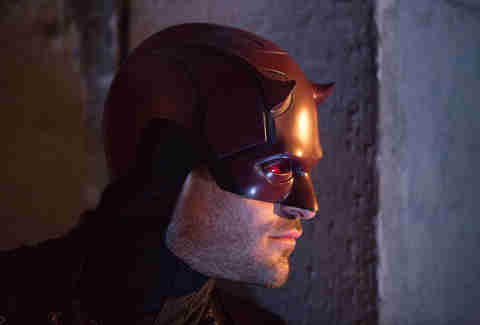 Daredevil (2015-2018)
Marvel's inaugural Netflix series delivers R-rated superhero fans exactly what they seem to want: brutality, scenes ripped from comic book splash pages, and minimal thoughtfulness. Charlie Cox stars as a blind Hell's Kitchen lawyer who takes a crime insurgence into own hands under the guise of a sleek red devil. Season 1 pits "The Man Without Fear" against Vincent D'Onofrio's Wilson Fisk, a classic villain with emotional tics, while Season 2 adds more characters (The Punisher! Electra!) with shallower motivations (kicking ass! More kicking ass!).
Fauda (2015- )
Fauda, an action thriller about an elite team of undercover Israeli commandos working in Palestine, is perhaps the best of Netflix's recent foreign-language shows, a frantically paced and politically charged melodrama filled with sequences of white-knuckle suspense straight out of Homeland or 24. But unlike those spy dramas, Fauda spends nearly as much time on the private lives of Palestinians as it does on its gun-toting heroes. It's got a moral complexity that its more simplistic American counterparts often lack.
The Flash (2014- )
While The CW's Arrow teeters on the edge of self-parodying grimdark nonsense most of the time, the show's DC Comics companion, The Flash, is a lighting-speed breeze. Glee alum Grant Gustin stars as the breaker of sound barriers, who finds himself battling everyone from freeze-gun-wielding mad men to sentient gorillas in an effort to uncover his mother's equally speedy killer, and in later seasons, unpack the multi-dimensional logic enabled by other "speedsters." For all its teen-friendly drama, The Flash never shies away from the comic book nonsense (he said lovingly) or the splash-page action. Finally, our campy superhero TV shows can look and feel like the movies.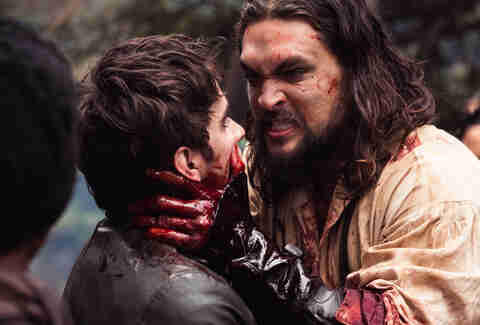 Frontier (2016- )
A showcase for the charismatic brutality only Jason Momoa can muster, Frontier is a rollicking Netflix and Discovery Channel Canada co-production about the (literally) cutthroat 18th-century North American fur trade. The adventure series has more in common with breezy syndicated fare like Hercules: The Legendary Journeys than it does with Momoa's star-making Game of Thrones, but if you squint hard enough at the right moment you'll swear that it's Khal Drogo himself cutting off that poor sap's ear.
Into the Badlands (2015-2019)
Taking full advantage of The Walking Dead's rule-breaking violence, this kung-fu series stars Daniel Wu (The Man with the Iron Fists) as the "clipper," henchman trained in the art of backflips and swordplay, for a gun-hoarding "baron" who rules over a dystopian, American future. Slathered with fantastical mythology and artful violence, Into the Badlands is the jump-kicking, comic book-influenced answer to The Hunger Games you never knew you needed.
Jessica Jones (2015-2019)
Like Veronica Mars and many standout British crime series, Jessica Jones follows a private investigator searching for the answer to her own mystery. Jessica Jones (Krysten Ritter) possess superhuman strength... and crippling PTSD from a run-in with Kilgrave (David Tennant), a troubled man with mind-control powers who forces the heroine to commit heinous acts against her will. The frightful conceit, all-too-real social parallels, and Ritter's roaring performance make this the bar for Marvel's Netflix projects. 
The Last Kingdom (2015- )
If you like Game of Thrones, but wish it had zero magic, The Last Kingdom is for you. Set in medieval England, it pits Danish invaders (aka VIKINGS) against the divided kingdoms on the British Isles. At the center of it all is Uhtred, an English noble captured and raised by the Vikings, but who subsequently fights for the English in battles that help "medieval" live up to its reputation as a time when the brutality of humans was perpetually on display in bloody hand-to-hand combat.
Luke Cage (2016-2018)
As an ex-con turned hero for hire, the TV version of Luke Cage will punch the crime right out of New York. (Seriously, he makes Jason Bourne look like '60s Captain Kirk.) When an experiment goes wrong, he becomes equipped with insane strength, strong-as-steel skin, and badass catchphrases like, "You want some?" Once he's back and literally stronger than ever, as he attempts to rebuild his life and community in Harlem, he's forced to take on more than a handful of risky situations in order to wrestle with his criminal history. 
Nikita (2010-2013)
It's bizarre to think that Luc Besson's 1990 French thriller Nikita has inspired not one, but two pulpy action TV shows. The version that's on Netflix is the one that aired on the CW -- not the basic cable version from the late '90s -- and it's reflective of its era, grabbing liberally from ABC's spy hit Alias to craft a story that's packed with whoa-worthy twists, hand-to-hand combat, and ridiculous outfits. Watch it now to become a Nikita expert before the inevitable re-reboot in 10 years.
Queen of the South (2016- )
The English-language adaptation of La Reina del Sur, the popular telenovela starring El Chapo favorite Kate del Castillo. Alice Braga plays Teresa Mendoza, a poor woman from Sinaloa, Mexico who rises to the top of an international drug cartel. As you might expect, doing so requires ruthlessness and dealing with the kind of unsavory characters you probably wouldn't want in your actual life, but who make Queen of the South such a fun ride. 
Shooter (2016- )
The main character of Shooter is named "Bob Lee Swagger," which pretty much tells you all you need to know. If the idea of watching a dude named Bob Lee Swagger kill bad guys with expert precision puts a goofy smile on your face, this is the show for you. If not, stay out of its sniper scope. Like the 2007 action movie of the same name, the series is based on a series of novels by writer Stephen Hunter, and it has a vaguely anti-authority conspiracy vibe that connects it to classics like First Blood and Three Days of the Condor. Only with way more guns and Ryan Phillippe instead of Mark Wahlberg. Like I said: Bob Lee Swagger. You're either on board or you're not.
The Umbrella Academy (2019- )
A Netflix series based on an edgy comic written by My Chemical Romance frontman Gerard Way about a bunch of masked superheroes with weird powers who all grew up in a mansion and hate their dad sounds like a very elaborate, very specific joke. But we assure you, it's real, and it's actually pretty good once it finally hits its stride. You'll come for the explosions and time travel and chimpanzee butler, but you'll stay for the oddly affecting portrayal of how sibling relationships grow and powerfully shape each other, for better or for worse.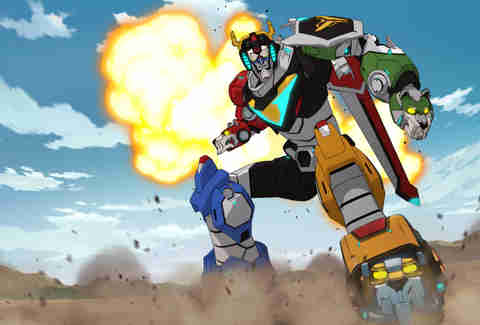 Voltron: Legendary Defender (2016-2018)
This is not the 1984 cartoon cobbled together from anime scraps and English-speaking voiceover (although Netflix has that too), but a reboot touting sci-fi spectacle that any one, at any age, will obsess over. From the directors The Legend of Korra, Nickelodeon's criminally underrated answer to Game of Thrones, Voltron: Legendary Defender casts the five "paladins," defenders of the universe who ride lion-like mechas into battle against the evil Galra Empire, as a ragtag group of diverse kids in desperate need of direction. They find it in the trenches, where the show mixes space battles and kaiju-vs-mech-warrior martial-arts throwdowns.
The Walking Dead (2010- )
What makes Robert Kirkman's graphic novel-turned-TV saga so great is that it isn't just about curb-stomping zombies:The Walking Dead focuses on complex personal relationships to ask thought-provoking questions about what it means to rebuild society, how to function as a healthy community, and what humanity looks like in a post-apocalyptic age. Just don't get too attached to your favorite characters because even if the zombies are dead, the action is alive and well, and the people who remain live in a very, very unforgiving world.
Wynonna Earp (2016- )
Wynonna Earp is a faster, sexier, funnier show than it has any right to be. The pitch is simple: Buffy: The Vampire Slayer in 2017 with zombies and the great-great-granddaughter of legendary gunslinger Wyatt Earp leading the charge against them. She totes a gigantic, legendary magic pistol called Peacemaker. She has a bumbling, moronic Justin Bieber-lookalike as a sidekick/comic relief. There are several love triangles with the undead. One of those love triangles happens to involve Doc Holliday in the present. Perhaps the best summary of the show is this one-liner in its pilot: "I am the girl. With the big-ass gun." If you can't get on board, you may not like fun.