The Best Action TV Shows on Netflix
Get in on the action.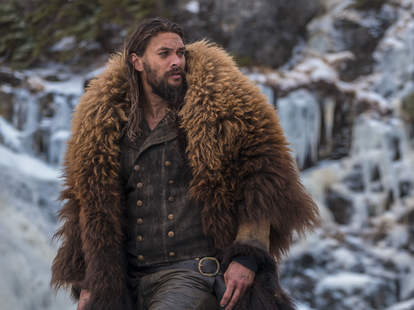 They say "lights! camera! action!" for a reason, and while that has nothing to do with the genre of a television show, well, it's fun to watch people shoot guns, play with swords, and get into fistfights without anyone actually getting hurt (usually). After all, "acting" is just "action" with a "g" instead of an "o," in a slightly different place. 
So let's give the people what they want: the best action television shows on Netflix.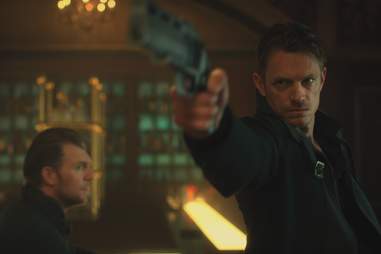 Netflix
Altered Carbon (2018- )
Adapted from the 2002 Richard K. Morgan novel of the same name, Altered Carbon is a flashy, jargon-y, and, at times, dizzying descent into sci-fi decadence. The show follows a 22nd-century mercenary (Joel Kinnaman in Season 1, Anthony Mackie in Season 2) who's hired to solve the murder of a highly influential aristocrat. The catch? Said aristocrat is still alive, because in this version of the future, the wealthy can't really die -- instead, their consciousness is essentially uploaded to the cloud and downloaded into new bodies. In a world without death, the ensuing caper boasts the same jaw-dropping visuals and world-building as Blade Runner and the same thought-provoking intrigue as HBO's Westworld. In other words, there's A LOT to digest in here, but that means there's A LOT to appreciate if you're patient.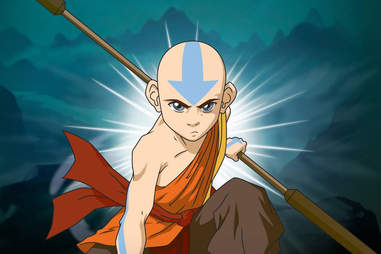 Nickelodeon
Avatar: The Last Airbender (2005-2008)
This Nickelodeon show has been hailed as one of the best animated series of all time, for good reason. Maybe you were part of the generation that was obsessed with it during its initial run, or maybe you've yet to immerse yourself into this world of elemental nations, but there's never a bad time to watch or rewatch this stunning, Western-meets-anime-style series. Avatar: The Last Airbender is an adventure tale that follows the quest of waterbender Katara, her brother Sokka, and a boy they find frozen in an iceberg named Aang, who ends up being the avatar, a reincarnated being who can control all four elements whose job it is to keep harmonic balance between the Four Nations. As they journey through the nations so Aang can master all of the elements and eventually face the totalitarian leader of the Fire Nation, the devastating scope of the world in Aang's absence becomes more and more clear. Don't be mistaken: There's a lot more to this kid's show than you might expect, but Avatar: The Last Airbender makes it look as easy as walking on air.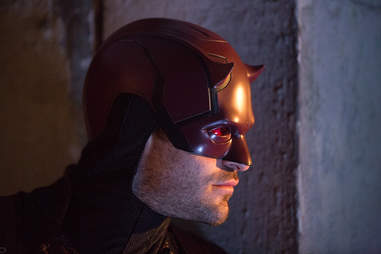 Netflix
Daredevil (2015-2018)
Marvel's inaugural Netflix series delivers R-rated superhero fans exactly what they seem to want: brutality, scenes ripped from comic book splash pages, and minimal thoughtfulness. Charlie Cox stars as a blind Hell's Kitchen lawyer who takes a crime insurgence into own hands under the guise of a sleek red devil. Season 1 pits "The Man Without Fear" against Vincent D'Onofrio's Wilson Fisk, a classic villain with emotional tics, while Season 2 adds more characters (The Punisher! Electra!) with shallower motivations (kicking ass! More kicking ass!).
Ursula Coyote/Netflix
Daybreak (2019)
High school, with its cliques, popularity contests, and bullies, is tough. But if those years were set in a post-apocalyptic world with zombies running amok, we'd probably rather embrace the petty stuff instead. In Netflix's Daybreak, zombies are the reality, making for a joyfully ridiculous premise for a series. An adaptation of the Brian Ralph comic, Daybreak follows a boy named Josh who's looking for his girlfriend with a crew of other weird, lost teenage souls in the fallout of a zombie apocalypse. It's all very pompous, imagining how the cheer squad, football team, and others might rally and respond to flesh-eating creatures, but that's part of the fun, upping the ante of a typical, crude high school setting. 
Netflix
Fauda (2015- )
Fauda, an action thriller about an elite team of undercover Israeli commandos working in Palestine, is perhaps the best of Netflix's recent foreign-language shows, a frantically paced and politically charged melodrama filled with sequences of white-knuckle suspense straight out of Homeland or 24. But unlike those spy dramas, Fauda spends nearly as much time on the private lives of Palestinians as it does on its gun-toting heroes. It's got a moral complexity that its more simplistic American counterparts often lack.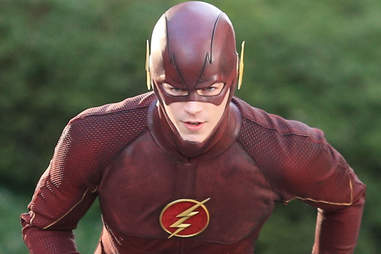 The CW
The Flash (2014- )
While The CW's Arrow teeters on the edge of self-parodying grimdark nonsense most of the time, the show's DC Comics companion, The Flash, is a lighting-speed breeze. Glee alum Grant Gustin stars as the breaker of sound barriers, who finds himself battling everyone from freeze-gun-wielding mad men to sentient gorillas in an effort to uncover his mother's equally speedy killer, and in later seasons, unpack the multi-dimensional logic enabled by other "speedsters." For all its teen-friendly drama, The Flash never shies away from the comic book nonsense (he said lovingly) or the splash-page action. Finally, our campy superhero TV shows can look and feel like the movies.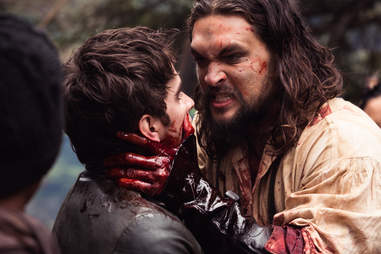 Netflix
Frontier (2016-2018)
A showcase for the charismatic brutality only Jason Momoa can muster, Frontier is a rollicking Netflix and Discovery Channel Canada co-production about the (literally) cutthroat 18th-century North American fur trade. The adventure series has more in common with breezy syndicated fare like Hercules: The Legendary Journeys than it does with Momoa's star-making Game of Thrones, but if you squint hard enough at the right moment you'll swear that it's Khal Drogo himself cutting off that poor sap's ear.
AMC
Into the Badlands (2015-2019)
Taking full advantage of The Walking Dead's rule-breaking violence, this kung-fu series stars Daniel Wu (The Man with the Iron Fists) as the "clipper," henchman trained in the art of backflips and swordplay, for a gun-hoarding "baron" who rules over a dystopian, American future. Slathered with fantastical mythology and artful violence, Into the Badlands is the jump-kicking, comic book-influenced answer to The Hunger Games you never knew you needed.
Myles Aronowitz/Netflix
Jessica Jones (2015-2019)
Like Veronica Mars and many standout British crime series, Jessica Jones follows a private investigator searching for the answer to her own mystery. Jessica Jones (Krysten Ritter) possess superhuman strength... and crippling PTSD from a run-in with Kilgrave (David Tennant), a troubled man with mind-control powers who forces the heroine to commit heinous acts against her will. The frightful conceit, all-too-real social parallels, and Ritter's roaring performance make this the bar for Marvel's Netflix projects. 
Juhan Noh/Netflix
Kingdom (2019- )
A zombie period drama set in Joseon Korea, Kingdom intertwines biological terror with political intrigue. Adapted from the webcomic series The Kingdom of the Gods by Kim Eun-hee and Yang Kyung-il, Kingdom follows Crown Prince Yi Chang (Ju Ji-hoon), who must investigate the undead plague affecting both his father, the current emperor, and the southern provinces. While attempting to curtail its spread and prevent it from reaching the capital, he must also prevent a coup led by those intending to take advantage of the crisis. Netflix's first original Korean series, Kingdom is a refreshing period genre take on the well-tread zombie thriller. 
BBC America
The Last Kingdom (2015- )
If you like Game of Thrones, but wish it had zero magic, The Last Kingdom is for you. Set in medieval England, it pits Danish invaders (aka VIKINGS) against the divided kingdoms on the British Isles. At the center of it all is Uhtred, an English noble captured and raised by the Vikings, but who subsequently fights for the English in battles that help "medieval" live up to its reputation as a time when the brutality of humans was perpetually on display in bloody hand-to-hand combat.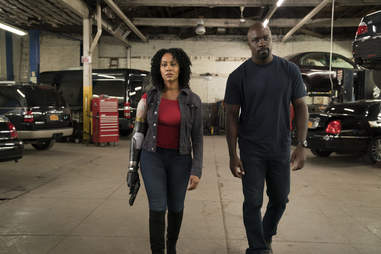 David Lee/Netflix
Luke Cage (2016-2018)
As an ex-con turned hero for hire, the TV version of Luke Cage will punch the crime right out of New York. (Seriously, he makes Jason Bourne look like '60s Captain Kirk.) When an experiment goes wrong, he becomes equipped with insane strength, strong-as-steel skin, and badass catchphrases like, "You want some?" Once he's back and literally stronger than ever, as he attempts to rebuild his life and community in Harlem, he's forced to take on more than a handful of risky situations in order to wrestle with his criminal history. 
Juan Pablo Gutierrez/Netflix
Narcos (2015-2017)
This thriller unpacks the horrifying, drug-laden history of Colombia during the reign of legendary kingpin Pablo Escobar. As Escobar, Wagner Moura is both terrifying and captivating, and his opposition, two DEA agents fighting their way through a convoluted mystery, give a scarily real sense of the American efforts to end the war on drugs. Narcos' mix of archival footage and contemporary fictionalization keeps you engaged, and reminds you that a literal genocide had to happen just so yuppies could blow coke in the Hamptons during the '80s (only kind of kidding). 
Carlos Somonte/Netflix
Narcos: Mexico (2018- )
If you like Narcos, may Netflix interest you in the similar -- but different! -- Narcos: Mexico. As the name suggests, the action centers around Mexican cartels, as opposed to the Colombians in the original, and features more star power in Diego Luna and Michael Peña. Tracking the rise of the Guadalajara Cartel, Narcos: Mexico is in most ways the same show as its predecessor, but Luna's cartel boss and Peña's DEA agent deftly play an unnerving game of cat-and-mouse that will leave you on the edge of your seat.
Jackson Davis/Netflix
Outer Banks (2020- )
Centuries of colonization, wars, and storms means there are tons of shipwrecks in the waters off the East Coast just waiting for enterprising SCUBA divers to stumble across them. It's one of these ships, laden with gold, that's at the center of this teen drama series, which follows a group of high-school kids hunting for sunken treasure, while also trying to solve a mystery about one of the friends' missing father. Mostly due to the constantly evolving plot, Outer Banks' 10 episodes move at a rapid clip, including a very fun fight onboard a fishing boat in a later episode where people are shooting harpoons and flailing at each other with enormous hooks, until the exciting final act. The subtext of it all -- in finding the treasure and making themselves rich, aren't the central characters becoming the thing they disdain the most? -- is itself a worthwhile pursuit, but, for now, it's more focused on turning a summery archipelago into a den of thieves. Fine by us!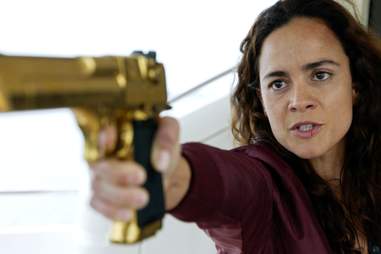 NBCUniversal
Queen of the South (2016- )
The English-language adaptation of La Reina del Sur, the popular telenovela starring El Chapo favorite Kate del Castillo. Alice Braga plays Teresa Mendoza, a poor woman from Sinaloa, Mexico who rises to the top of an international drug cartel. As you might expect, doing so requires ruthlessness and dealing with the kind of unsavory characters you probably wouldn't want in your actual life, but who make Queen of the South such a fun ride. 
USA
Shooter (2016-2018)
The main character of Shooter is named "Bob Lee Swagger," which pretty much tells you all you need to know. If the idea of watching a dude named Bob Lee Swagger kill bad guys with expert precision puts a goofy smile on your face, this is the show for you. If not, stay out of its sniper scope. Like the 2007 action movie of the same name, the series is based on a series of novels by writer Stephen Hunter, and it has a vaguely anti-authority conspiracy vibe that connects it to classics like First Blood and Three Days of the Condor. Only with way more guns and Ryan Phillippe instead of Mark Wahlberg. Like I said: Bob Lee Swagger. You're either on board or you're not.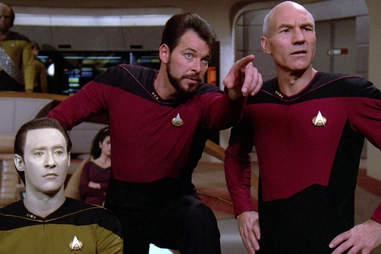 CBS Television Distribution
Star Trek: The Next Generation (1987-1994)
After a string of The Original Series-inspired movies and miscalculations on how to revive the sci-fi franchise for television, Gene Roddenberry's Star Trek boldly went where no concept had gone before with The Next Generation, a shinier, headier, all-around better (yeah, we said it) saga in the United Federation of Planets' history. Led by Patrick Stewart and helped by an iconic supporting cast, The Next Generation followed the TOS mission to speculate about and empathize with social issues of the day, filtered through a lens of A-grade sci-fi writing that stands the test of time.
Netflix
The Umbrella Academy (2019- )
A Netflix series based on an edgy comic written by My Chemical Romance frontman Gerard Way about a bunch of masked superheroes with weird powers who all grew up in a mansion and hate their dad sounds like a very elaborate, very specific joke. But we assure you, it's real, and it's actually pretty good once it finally hits its stride. You'll come for the explosions and time travel and chimpanzee butler, but you'll stay for the oddly affecting portrayal of how sibling relationships grow and powerfully shape each other, for better or for worse.
Netflix
Voltron: Legendary Defender (2016-2018)
This is not the 1984 cartoon cobbled together from anime scraps and English-speaking voiceover (although Netflix has that too), but a reboot touting sci-fi spectacle that any one, at any age, will obsess over. From the directors The Legend of Korra, Nickelodeon's criminally underrated answer to Game of Thrones, Voltron: Legendary Defender casts the five "paladins," defenders of the universe who ride lion-like mechas into battle against the evil Galra Empire, as a ragtag group of diverse kids in desperate need of direction. They find it in the trenches, where the show mixes space battles and kaiju-vs-mech-warrior martial-arts throwdowns.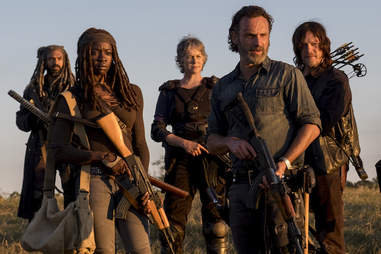 AMC
The Walking Dead (2010- )
What makes Robert Kirkman's graphic novel-turned-TV saga so great is that it isn't just about curb-stomping zombies:The Walking Dead focuses on complex personal relationships to ask thought-provoking questions about what it means to rebuild society, how to function as a healthy community, and what humanity looks like in a post-apocalyptic age. Just don't get too attached to your favorite characters because even if the zombies are dead, the action is alive and well, and the people who remain live in a very, very unforgiving world.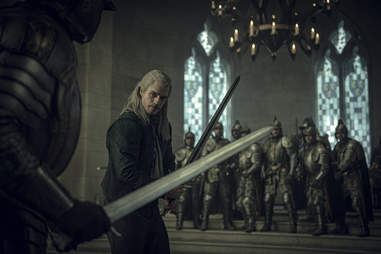 Netflix
The Witcher (2019- )
You might not believe that The Witcher is a show on Netflix that you can actually watch 10 episodes of, right now. Based on the books that inspired the video game series, The Witcher stars Henry Cavill, Superman himself, as Geralt of Rivia, a magical mutant "Witcher" who hunts stuff and drinks lots of potions and grunts "hm" often. There are also other characters, arguably too many, but really, the one to know is Geralt. It's confusing, yes, and it leaves a lot of questions lingering for Season 2, but it's one of Netflix's best originals. Also, it features the best song ever included on a Netflix show.
Syfy
Wynonna Earp (2016- )
Wynonna Earp is a faster, sexier, funnier show than it has any right to be. The pitch is simple: Buffy: The Vampire Slayer in 2017 with zombies and the great-great-granddaughter of legendary gunslinger Wyatt Earp leading the charge against them. She totes a gigantic, legendary magic pistol called Peacemaker. She has a bumbling, moronic Justin Bieber-lookalike as a sidekick/comic relief. There are several love triangles with the undead. One of those love triangles happens to involve Doc Holliday in the present. Perhaps the best summary of the show is this one-liner in its pilot: "I am the girl. With the big-ass gun." If you can't get on board, you may not like fun. 
The CW
The 100 (2014- )
How many post-apocalyptic shows starring attractive young people do we really need? Apparently, one more! The 100, which was adapted from a YA series by writer Kass Morgan, is about a team of teens sent down to bombed-out Earth from a colony floating in space. Inevitably, things go wrong: Warring factions emerge, hearts get broken, and, as is required by TV law, beloved characters are killed. Don't let the show's soapy veneer fool you; this is dark, thoughtful material in a slick, teen-friendly package.
Need help finding something to watch? Sign up here for our weekly Streamail newsletter to get streaming recommendations delivered straight to your inbox.
Follow the Thrillist Entertainment editors on Twitter: @ThrillistEnt.