Who Will Win the 2019 Oscars for Acting?
Kevin Winter/Getty Images for Turner
Oscar season is the one time a year where acting becomes a showdown. Suddenly great performances become matchups like something out of the WWE: Glenn vs. Gaga. Malek vs. Bale. The pairings go on.
We here at Thrillist have been tracking the twists and turns of this trophy hunt with a focus on which films are in the running for Best Picture, but the other races are clarifying as we inch toward the ceremony on February 24. And with the nominations announced on January 22, we now know who is going to contend for the acting awards: Actress, Actor, Supporting Actress, and Supporting Actor. Will Glenn Close finally get her gold? Is Rami Malek really going to beat Christian Bale? Is Mahershala Ali a sure thing?
Let's break down who's in the running.
Sony Pictures Classics
Best Actress
Actual nominees
Yalitza Aparicio,
Roma
Glenn Close,
The Wife
Olivia Colman,
The Favourite
Lady Gaga,
A Star Is Born
Melissa McCarthy,
Can You Ever Forgive Me?
Projected nominees
Glenn Close, The Wife
Lady Gaga, A Star Is Born
Olivia Colman, The Favourite
Melissa McCarthy, Can You Ever Forgive Me?
Emily Blunt, Mary Poppins Returns
From the start of awards season, one name had been hovering in the corner of prognosticators minds when it came to the Best Actress race: Glenn Close. Unless you've been paying close attention to the indie release schedule, this might come as something of a surprise. Close stars in The Wife, which premiered at the 2017 (yes!) Toronto International Film Festival. It's an adaptation of a Meg Wolitzer novel, where Close plays the surprisingly influential spouse of a Philip Roth-type novelist. It's certainly not Close's best performance, but it's a good one, and Close is a six-time nominee who has never won. That's enough for voters to think it's her time. She was genuinely shocked to win the Golden Globe, and followed that up with a moving speech. Then, a week later, she triumphed at the Critics' Choice Awards, with a catch. There, she tied with one of her fiercest competitors: Lady Gaga in A Star Is Born, who will almost certainly walk away from Oscar night with a trophy for writing "Shallow." Still, when the next ceremony rolled around, Close took the SAG award, further cementing her likely Oscars win. The night before the Oscars she got one final accolade: The Independent Spirit.
The other woman who could break Close's streak -- other than Mother Monster herself -- is Olivia Colman, who won the comedy Globe for playing the addled queen in The Favourite. Colman took home the BAFTA, and is popping up on some anonymous ballots. At this point, she may be a more fearsome Close competitor than Gaga. I had put my money on Emily Blunt, who had a big year with Mary Poppins Returns and A Quiet Place, to pop up in this category, but, in a pleasant surprise, that spot went to Roma's incredible Yalitza Aparicio. Melissa McCarthy, as the bitter literary forger in Can You Ever Forgive Me?, rounded out the category. This is still probably Close's to lose, though.
Final prediction: Glenn Close, but if not her, Olivia Colman.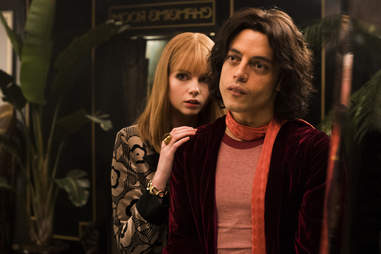 20th Century Fox
Best Actor
Actual nominees
Christian Bale,
Vice
Bradley Cooper,
A Star Is Born
Willem Dafoe,
At Eternity's Gate
Rami Malek,
Bohemian Rhapsody
Viggo Mortensen,
Green Book
Projected nominees
Christian Bale, Vice
Bradley Cooper, A Star Is Born
Rami Malek, Bohemian Rhapsody
Viggo Mortensen, Green Book
Ethan Hawke, First Reformed
Never underestimate Christian Bale whenever he gets it in his head that it's worth totally transforming every aspect of his physical being for a part. That's what happened when he decided to gain a ton of weight to become Dick Cheney for Vice, and he's reaped the benefits with a Comedy Golden Globe and a Critics' Choice Award. That put him in prime position to conquer the Oscars, but he's butted up against fellow Globe winner Rami Malek, whose performance is the one thing most people can agree on in Bohemian Rhapsody. Malek and his fake Freddie Mercury teeth threw a wrench into Bale's march to victory on SAG night with a win from the acting union, and took home the BAFTA. Now, as Oscar night grows closer it seems like Malek is the one to beat. Alas, Bradley Cooper's Jackson Maine transformation seems like a long shot for the prize.
Meanwhile, even the controversies around Green Book didn't stop Viggo Mortensen from getting a nod for his turn as loudmouthed bouncer Tony Lip. For the final slot, I went out on a limb and said it would go to Ethan Hawke, playing a distraught priest in Paul Schrader's First Reformed. Alas, I was off. Golden Globe nominee Willem Dafoe, as Vincent Van Gogh in the arty At Eternity's Gate, is there instead.
Final prediction: Rami Malek, but if not him, Christian Bale.
Annapurna Pictures
Best Supporting Actress
Actual nominees
Amy Adams,
Vice
Marina De Tavira,
Roma
Regina King,
If Beale Street Could Talk
Emma Stone,
The Favourite
Rachel Weisz,
The Favourite
Projected nominees
Regina King, If Beale Street Could Talk
Emma Stone, The Favourite
Rachel Weisz, The Favourite
Amy Adams, Vice
Claire Foy, First Man
Of all the acting categories, Supporting Actress seems most set in stone. Despite the fact that she didn't get a SAG or British Academy of Film nomination, Globe winner Regina King still seems destined for the winner's circle for If Beale Street Could Talk, in which she plays the strong-willed mother of the heroine, with her trip to Puerto Rico to try to free her wrongfully imprisoned son-in-law to-be standing out in particular. She got some last minute glory when she took home the Spirit. The warring women of The Favourite -- Emma Stone and Rachel Weisz -- are both nominated, as expected, and will likely cancel each other out in the long run, though Weisz won the BAFTA. Perhaps King's biggest competitor is Adams as Lynne Cheney. Marina De Tavira as the matriarch in Alfonso Cuarón's Roma -- modeled after his own mother -- ended up a surprise nominee, edging out Claire Foy, who has appeared in other competitions this year as Neil Armstrong's wife, Janet, in First Man. The SAG Awards ended up giving their supporting actress prize to Emily Blunt for A Quiet Place -- a performance that didn't get any love from the Academy -- meaning this is still King's to lose.
Final prediction: Regina King, but if not her, Amy Adams.
Universal Pictures
Best Supporting Actor
Actual nominees
Mahershala Ali,
Green Book
Adam Driver,
BlacKkKlansman
Sam Elliott,
A Star Is Born
Richard E. Grant,
Can You Ever Forgive Me?
Sam Rockwell,
Vice
Projected nominees
Mahershala Ali, Green Book
Richard E. Grant, Can You Ever Forgive Me?
Adam Driver, BlacKkKlansman
Sam Elliott, A Star Is Born
Timothée Chalamet, Beautiful Boy
Given the fact that he's already been walking away with most of the major trophies -- including now the SAG and the BAFTA -- Mahershala Ali seems primed to repeat his win for Moonlight two years ago. Richard E. Grant as McCarthy's friend and foil in Can You Ever Forgive Me? and Adam Driver as a Jewish cop who that goes undercover with the Ku Klux Klan in BlacKkKlansman have also been competing with Ali at every turn. Grant got the Independent Spirit, though Ali was not nominated. If you had asked me at the beginning of awards season who would be the biggest lock for this category, I would have put money on Sam Elliott sweeping. A veteran actor who's never won giving a crucial and emotional supporting turn in one of the biggest movies of the year? And that voice? But his standing had been a little precarious given he was left out of the Globes and the BAFTAs, but thankfully he made the Academy's list. Finally -- sorry Chalamaniacs -- Sam Rockwell claimed what could have been Timmy's with a nod for his twangy George W. Bush in Vice.
Final prediction: Mahershala Ali, but if not him, Richard E. Grant.