Who Will Win Best Actress at the 2022 Oscars?
Jessica Chastain leads a race that also includes Nicole Kidman, Olivia Colman, and Penélope Cruz.
Jessica Chastain in 'The Eyes of Tammy Faye'

| Searchlight Pictures
Jessica Chastain in 'The Eyes of Tammy Faye'

| Searchlight Pictures
Our hearts go out to Lady Gaga. She worked so hard to get an Oscar nomination for House of Gucci, only to come up short in what feels like this year's most open-ended race. By omitting Gaga, voters made room for a deserving Penélope Cruz, who spent a long time on the margins despite doing some of the best work of her career in Parallel Mothers. And Kristen Stewart, the onetime front-runner whose status seemed at risk after she missed out on Screen Actors Guild Award and BAFTA nods, has reclaimed her rightful spot among the five finalists. Who else missed out? Alana Haim (Licorice Pizza), Jennifer Hudson (Respect), Frances McDormand (The Tragedy of Macbeth), Renate Reinsve (The Worst Person in the World), and Rachel Zegler (West Side Story).
While the March 27 ceremony around the corner, here are the competitors.
Read our predictions for the Best Picture, Best Director, and Best Actor races, as well as where you can watch all of the Best International Feature and Best Documentary nominees.
The Best Actress nominations
Jessica Chastain, The Eyes of Tammy Faye
Penélope Cruz, Parallel Mothers
Olivia Colman, The Lost Daughter
Nicole Kidman, Being the Ricardos
Kristen Stewart, Spencer
Final Prediction
The category remains open-ended, and any nominee stands a chance to win. But based on the televised precursors, Jessica Chastain has the edge.
Jessica Chastain does a decadent Tammy Faye Bakker, the wealthy Christian televangelist whose husband brought down their empire when he went to federal prison for fraud. The Eyes of Tammy Faye suffered sleepy box-office returns and tepid reviews from critics last September, but Chastain's high-pitched, manic performance is the indisputable highlight. Some prognosticators questioned whether she could sustain months' worth of awards momentum, but they were proven wrong when she recently won both the Screen Actors Guild and Critics Choice Award prizes. Someone else could still prevail come Oscar night, but Chastain has emerged as the likely bellwether.
Where to watch: HBO Max, iTunes, YouTube, Vudu
Can Olivia Colman win Best Actress twice in only three years? It would be a rare feat but not an impossible one. Widely considered one of the greatest actors working today, Colman simmers and stews in The Lost Daughter, giving a far more internalized performance than the ones we saw in The Favourite and Fleabag. Maggie Gyllenhaal's directorial debut is an arty Elena Ferrante adaptation that risked alienating some Academy voters, but both Colman and supporting actress Jesse Buckley made off with nods.
Where to watch: Netflix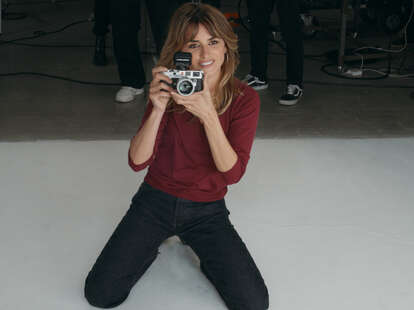 Sony Pictures Classics
Sony Pictures Classics
Penélope Cruz's first Oscar nomination was for 2006's Volver, another of her seven (and counting) collaborations with beloved Spanish director Pedro Almodóvar. In Parallel Mothers, she plays a photographer who unexpectedly becomes pregnant at age 40, only for the hospital to mix up her baby with that of another woman. Mothers hews to the conventions of melodrama—an Almodóvarian signature—but Cruz embodies a master class in understatement. Hers is one of the few performances in this race that isn't based on previous source material, so her nomination will depend on whether she can break through the clutter of more familiar movies. It worked at the Venice Film Festival, where she won the prestigious Volpi Cup for Best Actress.
Where to watch: In theaters
After a Screen Actors Guild Award nomination—the acting categories' most crucial precursor—and a Golden Globe win, Nicole Kidman saw a major boost in this race. Hollywood's favorite topic is Hollywood, one of multiple reasons Being the Ricardos was a prime contender. It's also a crowd-pleaser directed by four-time nominee Aaron Sorkin and features a Kidman performance whose verisimilitude (or lack thereof, according to some) has sparked internet debate. Kidman doesn't try to look or sound exactly like Lucille Ball, which gives her performance breathing room that some biopics lack. It's been almost two decades since she won for The Hours, and this accolade could double as an acknowledgement of the unimpeachable career she has built for herself.
Where to watch: Amazon Prime
NEON
NEON
For Oscar voters, biopics are an easy shortcut. The acting is tangible; they can judge it against what they know about the real person being portrayed. Indeed, almost half of the lead-acting prizes in the last 30 years have gone to biopic performances. That alone boosts Kristen Stewart's odds, despite the fact that Spencer isn't your typical biopic. Playing a psychologically wounded Princess Diana during the British royal family's 1991 Christmas celebrations, Stewart submits career-defining work, proving once and for all that she has graduated from Twilight superstar to indie empress. Even folks who don't care for director Pablo Larraín's arty freakout of a movie can't deny the depth of Stewart's transformation. She was the presumed front-runner in this category, but a snub from the SAG Awards put a damper on that momentum.
Where to watch: Hulu, iTunes, YouTube, Vudu
Matthew Jacobs is an entertainment editor at Thrillist. Follow him on Twitter @tarantallegra.