Podcaster Karina Longworth Explains the Women of Erotic Thrillers
The series 'You Must Remember This' is exploring eroticism in the popular culture of the '80s and '90s, so we asked its host to talk about a few notable actresses from that era.
People tend to peg 1980's American Gigolo as the cannon that launched the erotic-thriller craze, but a naked Kathleen Turner rubbing an ice cube across her face while lying in a bathtub with a naked William Hurt in 1981's Body Heat may be what gave it real fire. Karina Longworth explores both movies in the new season of her popular Hollywood-history podcast You Must Remember This, titled "Erotic '80s." (A follow-up, "Erotic '90s," is due out this fall.) Body Heat is also notable for being Turner's first movie. It was a striking way to introduce herself to audiences: as a smooth operator ready to murder her husband in order to inherit his money.
Women in erotic thrillers often have a certain boldness to them. It's a rare genre that consistently allows actresses to play characters described as sinful, lascivious, scheming, and/or unhinged. Deep Water's Ana de Armas, who plays cat and mouse with her jealous husband (Ben Affleck), is the latest example in what has become a mostly dormant art form, but Longworth's thoughtful series dives into the context of a number of de Armas' predecessors, including Jessica Lange, Brooke Shields, and more.
Even if erotic thrillers give women ballsy roles, most of them are fundamentally about male desire. In order to better understand the ladies who occupied the genre at its height, Thrillist asked Longworth to discuss a handful of its most notable actresses, from Turner and Fatal Attraction's Glenn Close to Meg Ryan's contentious turn in the since-reappraised In the Cut.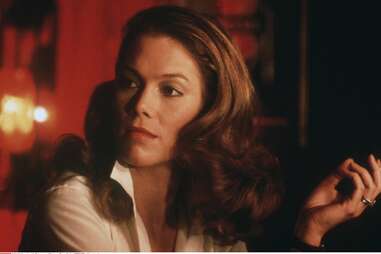 Kathleen Turner
Before making Body Heat, Turner's only screen credit was a recurring role on the long-running NBC soap opera The Doctors. Lawrence Kasdan's movie cast her as a slick, sultry Floridian modeled on noir legend Lauren Bacall, in turn branding Turner an immediate sex symbol—an image she broadened in the 1984 adventure blockbuster Romancing the Stone and further exploited in that year's erotic thriller Crimes of Passion, the latter directed by English provocateur Ken Russell.
Body Heat was definitely quite a high level of difficulty for a 26-year-old actress making her first film. There's a lot of nudity in it. And in general, the film was kind of intentionally pushing the envelope of what had been allowed in movies in terms of sexuality. She probably, in part, got the part because she didn't have a persona or a body of work behind her. I think that she had an advantage there because the audience didn't bring any preconceived notions to her. She also didn't have a reputation that she could worry about ruining or complicating. It's one of the great debut performances, certainly of the decade.
I think that she had mixed feelings about it. In the aftermath, I think she's very proud of the film, but in her book she writes about how she wasn't really prepared to emerge as a sex symbol. That can be hard for anyone, but when your first film is so sexual and so unusual compared to what other actresses are doing at the time, I think that she felt more objectified than she wanted to, which is why I think it's really interesting that she makes Crimes of Passion so soon after that. If Romancing the Stone had come out before the shoot of Crimes of Passion, she might have dropped out of Crimes of Passion because Romancing the Stone made her such a huge star in a very mainstream box office sort of way. One of them was the absolute epitome of a high-concept '80s blockbuster, and another one being a movie that no American Hollywood filmmaker would've ever made.
Jennifer Beals
Flashdance, a sensual drama that follows an aspiring dancer who picks up hip-hop traditions from the streets of Pittsburgh, isn't a thriller per se, but it it is directed by the genre's master, Adrian Lyne. Beals' first lead gig, it's one of the few times a woman of color starred in one of these roles. And as Longworth notes in a You Must Remember This episode, "Other than Looking for Mr. Goodbar, this is the first film we've talked about that centers the desire of an adult woman protagonist. How she defines herself, even if—or especially if—she refuses to limit herself to one definition, is more important than how society sees her. That's how rare it was for a mainstream Hollywood movie of this era to care about what its female character wanted more than it cared about its male protagonist."
Reading the reviews from the time, a lot of people assume that Jennifer Beals was white—and, certainly, there was no publicity campaign saying that this is a biracial actress. I think that the conversation at that time was like, "Let's see if we can get away with casting a biracial actress and see if there's going to be controversy or not." And in fact, what ended up happening was that more than one critic not only assumed that she was white rather than biracial, but called the movie racist for not having more diverse representation in it.
It was very complicated, and she certainly talked since then about feeling like she was sort of the first and that, when she was growing up, she didn't see anybody who looked like her in movies. For instance, when she was cast in The L Word, she fought to have the character identified as biracial and to not have there be a question as to what her race or ethnicity was and to have it be actually part of the character's identity.
Glenn Close
Fatal Attraction is arguably the most famous erotic thriller ever made, ranking at No. 3 among 1987's highest-grossing movies and earning six Oscar nominations. Alex Forrest is a fascinating role for Close, one of America's finest actresses. She never saw Alex, a bunny-boiling book editor who initiates an affair with a lawyer (erotic-thriller staple Michael Douglas) and becomes obsessed with him, as an antagonist, but the American Film Institute in 2003 named her one of the greatest screen villains.
When I think about Glenn Close in that movie, I just think about how the filmmakers, in the end, kind of broke her heart, because the movie was radically changed after test screenings. They did these reshoots to change the ending, and they changed Alex from being a mentally troubled person who commits suicide to being this sort of supernatural witch that won't die. I think she felt betrayed by that. The filmmakers, from [producer] Sherry Lansing to [director] Adrian Lyne, have said it's not what they wanted to do, but they felt like their hand was forced by the audience, which is a really interesting thing. It's basically like passing the football, and it's saying, "What we wanted artistically and what we wanted to say is less important than what the audience wanted to buy."
What her performance could have been is sort of lost to the dustbin of history—like, literally lost to the dustbin of the editing room. And so what we have instead, I think, sort of cheapens the movie and her performance. Just going through the reams and reams of writing about Fatal Attraction from 1987 and 1988, what was surprising to me was that there was such a wide range of discourse about the film. Yes, there were people in the movie theater shouting "kill the bitch" at the screen. There were critics and people writing about the movie who were saying things like, "Finally, poor beleaguered men have a movie that shows what it feels like to have to deal with career women." But there were a lot of people who were responding to it in a way where they were sympathetic with Alex and who saw it, subtextually or otherwise, as a feminist movie.
This movie was so exhaustively covered and debated. For me, what's exciting about it is that the movie can hold all of these different ideas at once. It can be something different to different people, and we can still have those debates, whereas what I fear about a lot of movies today—the very few that even attempt to deal with adult relationships—is that there's sort of a "correct" opinion about them in the discourse. And the conversation stops really early.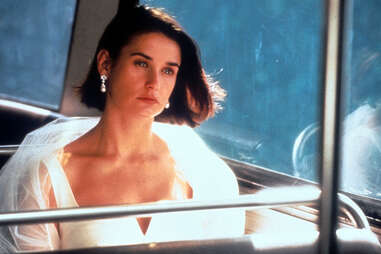 Demi Moore
After the success of Ghost and A Few Good Men, Moore's reputation tumbled. She made back-to-back erotic thrillers, Indecent Proposal and Disclosure, before headlining a succession of poorly received films that also capitalized on her physicality, namely The Scarlet Letter, Striptease, and G.I. Jane. In light of the six Razzie nominations Moore collected, it's easy to forget that Indecent Proposal was an astronomical hit, grossing $267 million worldwide. She plays a real estate agent married to a hard-up architect (Woody Harrelson) propositioned by a sly billionaire (Robert Redford) who offers them $1 million in return for one night with Moore's Diana.
The Razzies almost exclusively nominate actresses in sexualized performances. I really like Indecent Proposal a lot. I'm a huge Adrian Lyne fan.
Maybe there's a perception that she wasn't good in Indecent Proposal but that movie was a massive blockbuster. It was super culturally significant. And it's not like she's never made like a sexy movie after that. G.I. Jane is extremely about her body and her femininity. I haven't watched Disclosure in years. I think that Indecent Proposal is a really interesting movie, and I think she's really good in it. I think to some extent Woody Harrelson has the more interesting role, because I think that movie is really about toxic masculinity.
Meg Ryan
Unlike Kathleen Turner in Body Heat, Meg Ryan came to 2003's In the Cut with a lot of cultural baggage. Even though she'd appeared in other genres, the world saw her as a romantic-comedy ingenue. Generally speaking, critics and audiences alike didn't take to her portrayal of a quiet teacher who gets wrapped up in a murder investigation that prompts a carnal relationship with a hunky detective (Mark Ruffalo). In the Cut has seen been reevaluated as an underrated noir, particularly in the light of director Jane Campion's recent awards-season victories.
When it came out, there was this sense that Meg Ryan was trying to go against her image as America's sweetheart. For me, what I thought was really interesting was that one of the most famous scenes that Meg Ryan had ever played to that point was her faking an orgasm [in When Harry Met Sally]. It was just very interesting, this idea that then she would be in this movie where there's these not-terribly-graphic, but certainly more intimate, sex scenes than we'd ever seen her do before. But I understood why the culture at large was skeptical of it and felt like it was a little phony. That movie was supposed to star Nicole Kidman, and I would've liked to have seen that version, I think. But I do think In the Cut holds up really well. I'm glad people are rediscovering it.
She had always done other things, like When a Man Loves a Woman, but the things that were the most commercially successful were these romantic comedies. Maybe something like Courage Under Fire doesn't feel like as much of a departure as In the Cut does, relative to something like You've Got Mail, because they're both in the realm of romance, sort of. I mean, I don't know how romantic In the Cut is, but that movie and the movies that she is best loved for basically position her as a woman to be loved, let's say. And so that maybe invites more direct comparisons than some of her other more dramatic roles.
Matthew Jacobs is an entertainment editor at Thrillist. Follow him on Twitter @tarantallegra.