The Best Adam Sandler Movies You Can Watch Right Now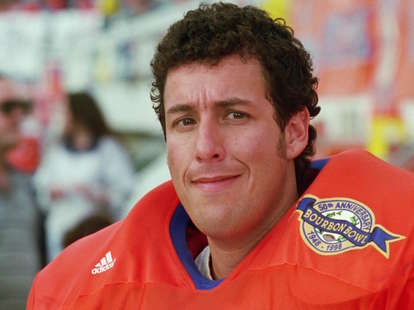 It's easy to forget, when wading through bogs like Grown Ups 2, that there was a time when everything Adam Sandler touched turned to gold. It's Sandler's golden years that have earned him an eight-film deal with Netflix, the third installment of which, Sandy Wexler, arrives April 14.
Fortunately, there are some true Sandler gems available to stream, so you can relive the glory days and forget all about Blended.
Airheads (1994)
The mid-'90s: when Brendan Fraser was a bigger star than Adam Sandler and the movies were better for it. This grungy take on Dog Day Afternoon ranks among Sandler's best because it's a real movie, with stakes -- a rock band takes a radio station hostage! -- consequences, and a Cameron Crowe-esque musical backbone. Fraser, Sandler, and Steve Buscemi deliver as head-banging nincompoops, waxing poetic on heavy-metal icons ("Who'd win in a wrestling match, Lemmy or God? ... Trick question -- Lemmy IS God.") and flailing when they need to step up to be criminals. There's a reason Comedy Central played this nonstop in its heyday: Airheads is dopey bliss.
Where to stream it:HBO
Anger Management (2003)
Pairing the furious comedian with the legendary Jack Nicholson at his most wily, the absurd story of one man's attempt to calm down is just another slapstick, screamy TV-episode-gone-big-screen, Meet the Parents without any of the undercurrent. But Jack Nicholson's in it! And Sandler really knows how to lose his shit. So we have a soft spot for this one.
Where to stream it: Netflix
Big Daddy (1999)
While even early Sandler hits had sentimental parts, there was usually a healthy dose of irony to go with the romantic-comedy beats and faux-inspirational moments. But with Big Daddy things got downright mawkish. While the movie has some hilarious lines -- "We wasted the good surprise on you" still kills -- this oaf-meets-cute-kid tale is mostly notable for a lengthy Sheryl Crowe-scored montage, a big Mrs. Doubtfire-style courtroom finale, and the welps of "Scuba Steve!" This was the first time Adam Sandler figured out he could make bros cry. Sadly, he's mostly used that power for evil ever since.
Where to stream it: Netflix
Punch-Drunk Love (2002)
Paul Thomas Anderson's furious romantic comedy is the Pluto to Sandler's filmographic solar system. You can't help but doubt it -- does it even count as an Adam Sandler movie? And yet the pieces are there: The comedian plays Barry, a novelty plunger salesman who battles his malicious sisters, a shadowy phone-sex extortionist, and the crippling effects of depression, all while falling in love with the women of his dreams. With brighter lighting and a top-40 soundtrack, it would follow in the tracks of Happy Gilmore and Big Daddy. In Anderson's hands, it's a melancholic character study that strangles Sandler's persona with his own vocal chords. The colors are dreamlike. The anger is palpable. Sandler bursts from the seams of his own fame. It's everything we want from a funnyman-gone-serious, caustically sweet and mentally unstable, an alternative mode that Sandler's hero complex would never revert to again.
Where to stream it: Amazon Prime
The Waterboy (1998)
"Now that's what I call high-quality H2O." With those words, a thousand GIFs were born, but before the internet turned Bobby Boucher into a meme, he was just a goofy movie character partially based on "The Excited Southerner" from Sandler's early comedy album. Boucher is one of Sandler's most iconic creations -- part innocent simpleton, part raging psychopath -- and this was his first massive hit, grossing over $185 million worldwide, but the film surrounding him isn't quite as memorable as the catchphrases. It's the type of movie that's more fun to quote than actually watch. Of course, that doesn't matter to superfans like Kanye West: They're too busy going Bobby Boucher to care.
Where to stream it: Netflix
The Wedding Singer (1998)
Sound the alarms: Adam Sandler has actual chemistry in a movie! The Wedding Singer takes advantage of Sandler's musical talents and inherent schlubiness for a storybook romance. Drew Barrymore is like a lost John Hughes lead, sweetening the frat-house comedy. '80s nostalgia never looked, or sounded, so good.
Where to stream it: HBO
Sign up here for our daily Thrillist email, and get your fix of the best in food/drink/fun.
Follow the Thrillist Entertainment editors on Twitter @thrillistent.