Every Amazon Prime Original Series, Ranked
It feels like several millennia ago that Amazon was a humble online book retailer vying to push out the brick-and-mortar joints where bored high schoolers hung out when there was nothing else to do. Now that founder Jeff Bezos seems intent on taking over the world, it makes sense that Amazon Prime Video would make an aggressive push to produce original programming that can compete with premium cable channels and Netflix.
With a substantial selection of Amazon Prime originals, you'll have to make some choices about how to spend your precious binge time. Hence this ranking; to make it more manageable, we limited our scope to English-language Amazon originals (sorry, You Are Wanted), restricted it to fiction (sorry, American Playboy), and omitted shows that are branded as Amazon Originals in the United States, but are actually produced by other companies (sorry, Catastrophe and Fleabag). That still leaves plenty of shows to argue over!
Amazon Studios
35. Betas
Before there was Silicon Valley, featuring an acerbic TJ Miller spouting off crude jokes and somewhat sagacious witticisms, there was Betas, featuring an acerbic Jon Daly spouting off crude jokes and somewhat sagacious witticisms. The characters (basically three nerds and Jon Daly) find themselves fighting the clock in order to get their new dating app funded and subsequently launched. During the many misadventures of the cast, the show tries -- with some success -- to shine a spotlight on the more rock and roll side of the tech scene with plot devices repeatedly focusing on sex, drugs, and Jon Daly's belligerence. Ultimately, it doesn't hold a candle to HBO's Silicon Valley.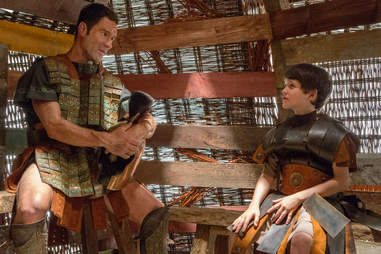 Amazon Studios
34. The Dangerous Book for Boys
Bryan Cranston co-created this series, based on a book of the same name, and although it's only six episodes, it manages to overload you with saccharine sentimentality in a fraction of that time. It centers on brothers who, with their mother, are trying to process the death of the boys' father. Fortunately, he left a -- spoiler -- dangerous book for boys that transports them into a whimsical world that serves as a kind of ad hoc group family therapy. It's kind of like a secular Heaven Is for Real, in all its cloying anti-glory. 
Amazon Studios
33. Jean-Claude Van Johnson
What happens to an aging action star beginning to realize that he has become more of a punchline than he ever hoped or intended? He goes super meta. Unfortunately, the meta-series Jean-Claude Van Johnson fails to convince anyone that JCVD possesses the comedic chops to carry an extended joke in which Van Damme is Van Damme, but he's also Van Johnson, a secret agent who's trying to bust drug runners and win back his old love. The action set pieces usually end with JCVD's catchphrase, "Ohhhhh fuck..." because so many action-movie sequences are unrealistic, get it? Most of the jokes are riffs on his old movies, but they scan more as a resume than any real self-awareness; there's only so much humor to mine from "Looper is a ripoff of Timecop" riffs. 
Amazon Studios
32. Mad Dogs
Steve Zahn and Billy Zane starring side-by-side in a new Amazon show? Sounds delightful! Suffice to say, that delight turns to confusion and exasperation fairly quickly during the show's 10 episodes. The plot devolves as the characters make one bad decision after another, often bickering amongst themselves and hurling insults at each other in dire situations. The one time they actually work together to is to trap a little person in a well. Spoiler alert: it fails. The cinematography and direction is good, but ultimately the most interesting thing about this show is that Steve Zahn caught dengue fever while filming it.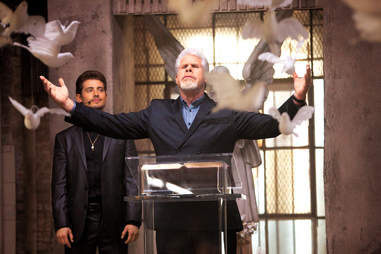 Amazon Studios
31. Hand of God
This show so desperately wants to be prestige television that you can almost see the crushed cans of Red Bull in the writers' room at 3am making their way into the script. The plot(s) cannot adequately be described in blurb form, but here's an attempt: Ron Perlman plays a judge who's accused of murdering a cop, and whose son recently committed suicide, and who went crazy/hears the voice of God/communicates with his aforementioned dead son (now in the afterlife, but maybe sent his "manifesto" to Perlman, who shouted it in tongues as he stood naked in a public fountain?). Perlman's dead son also created a secretive computer program that an evil Silicon Valley tech entrepreneur aggressively covets because Big Data Is the Key to the Future. Also there's Perlman's wife and her whole family, and a corrupt police department, among other plotlines. It's what we in the blurb business call "busy." 
Amazon Studios
30. Crisis in Six Scenes
While Crisis in Six Scenes didn't do much to change the television landscape, Amazon's partnership with Woody Allen advanced the narrative that TV is the New Movies. Given the accusations that have swirled around Allen for decades, Amazon could have found a safer auteur to woo with its millions, but Allen's six-segment comedic series set against 1960s left-wing radicals manages to be funny, and even insightful about personal commitment to political action. While some (OK, much) of Allen's humor is a bit, shall we say, old-fashioned, there's a lot of room in Crises in Six Scenes for a great performance from (get ready for this) Miley Cyrus as a radical runaway.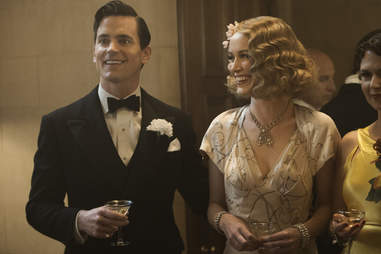 Amazon Studios
29. The Last Tycoon
Amazon went all in on F. Scott Fitzgerald, and the results were... expensive! Also, not worth it. In its quest to find the next Game of Thrones, Amazon discovered that period dramas are not the kind of massive hits that generate online theories and endless watercooler talk. Especially in the case of The Last Tycoon, a Kelsey Grammer-led series about pre-World War 2 Hollywood, based on Fitzgerald's unfinished final novel -- while plenty of time, money, and attention went into production, the writing is limp and the final product is all style, no substance. In another universe, that could serve as a vehicle to explore Hollywood's obsession with image, but in The Last Tycoon, it mostly falls flat. 
Amazon Studios
28. Z: The Beginning of Everything
Imagine your high school English class just finished reading The Great Gatsby. Everybody did fine on their character development essays. Your teacher wants to celebrate -- but in a way that still teaches you something. In an ideal world, this would mean making everyone read Therese Anne Fowler's Z: A Novel of Zelda Fitzgerald, the recently reimagined account of Scott and Zelda Fitzgerald's Flapper-era celebrity romance. (C'mon, get to know the people behind the Great American Novel!) But, wow, couple probs: That book's not on the syllabus, and your teacher still has to get to Vonnegut. Time for a quick class movie day? If only this book existed in… wait, yeah, The Beginning of Everything is just that, a bite-sized adaptation of Fowler's book. As such, it's perfect for a day or two of literary dreaming, like a soapy version of Spark Notes. Christina Ricci, as the title letter, is great. Unfortunately, like The Last Tycoon, this Fitzgerald-themed show failed to make it to a second season -- Amazon pulled the plug after initially giving a green light. 
Amazon Studios
27. Good Girls Revolt
It's hard to talk about Good Girls Revolt, Amazon's '60s drama, without mentioning Mad Men. The costumes. The office sets. The questionable hairstyles. It's not that Mad Men makes all future shows set in the '60s irrelevant -- there are clearly a range of stories to be told about America in that turbulent time -- but the problem with creator Dana Calvo's period piece, which chronicles a fictionalized Newsweek-style weekly magazine based out of New York in 1969, is that it never quite finds its dramatic footing. It might have discovered a stronger voice in season two, but, in a rare cost-cutting move, the series was canceled by Amazon after only one season, meaning it will sadly never emerge from Don Draper and Peggy Olson's long shadows. 
Amazon Studios
26. Comrade Detective
Comrade Detective is the most ambitious format of Amazon's current slate, which means it tends to divide opinions: It's a Romanian buddy-cop action-comedy set in the 1980s with a communist backdrop; it's in Romanian, but dubbed in English with an all-star voice cast that includes Channing Tatum, Joseph Gordon-Levitt, Chloë Sevigny, Mahershala Ali, Kim Basinger, and many, many more. It's high-concept, but fans of weird humor a la Adult Swim will find a lot to love in the Eastern Bloc sets and cheesy, propagandistic dialogue. 
Amazon Studios
25. Lore
As a podcast, Aaron Mahnke's Lore was already addictive. Now, it's a star-studded Amazon anthology, with six of the most popular original episodes -- the origins of vampires, changelings, werewolves, séances, possessed dolls, and icepick lobotomies -- adapted as hybrid horror-docuseries. (Meaning you get a blend of archive material and re-enactments.) As you learn about the history of changelings, for example, you'll see Teen Wolf star Holland Roden take on the role of Bridget Cleary, the Irish woman whose husband murdered her because he thought she was abducted by fairies. Like its first iteration, the TV show is ripe for a gripping, and illuminating, marathon. 
Amazon Studios
24. Modern Love
Amazon went about adapting The New York Times' most tear-jerking recurring feature for this anthology series, which portrays vignettes about love (romantic and otherwise) in the big city. The show, executive produced by Once director John Carney, leans heavily on its ability to make you weep, and has come under criticism for its lack of diversity. But if you're looking for star power, this one has it: Anne Hathaway, Tina Fey, and Dev Patel all appear.
Amazon Studios
23. Goliath
Goliath knows exactly what it is. This legal drama from David E. Kelley, creator of network TV juggernauts like The Practice and Boston Legal, is mash-up of old school John Grisham novels and slow-cooked "character-driven" cable shows with plenty of HBO-caliber profanity. (A hint of how cookie-cutter this show can be: It's working title was just "Trial.") What makes it all somehow work? Fucking Billy Bob Thornton. The Oscar-winner plays Billy McBride, a washed-up alcoholic lawyer who faces off against his old firm, and he refuses to sleep-walk through a role that fits his hardscrabble public persona like a rumpled suit. Though William Hurt, Maria Bello, and Olivia Thirlby are all on hand as legal experts, this is the Billy Bob show all the way. Sure, Goliath is basically Bad Lawyer -- but that's good enough.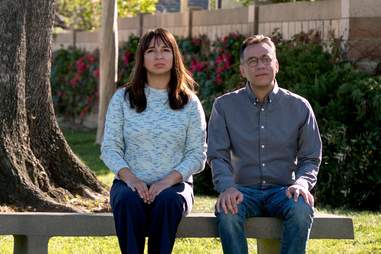 Amazon Studios
22. Forever
When the first promo for Forever came out, something was missing. That something, namely, was any semblance of a plot. All the series seemed to be about was that Fred Armisen and Maya Rudolph were playing a married couple who had reached a familiar stagnation. And when it finally debuted, the series was, in a way, just that -- but it was also so much more. Forever turns into an exploration of the afterlife and what paradise looks like for different people. For Oscar (Armisen), it's living in exactly the same way with his wife June (Rudolph) by his side. For June, there's a longing for something more. The first season, which sets some of the universe's ground rules, feels like just an appetizer for what's to come, which makes it unfortunate that Amazon opted not to pick it up for a second season.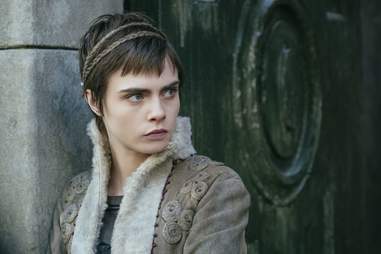 Amazon Studios
21. Carnival Row
You gotta hand it to Carnival Row: It sure is a show about an alternate urban fantasy universe where the world of humans and the world of the fairies are constantly at war with each other, starring Cara Delevingne as a winged fey named "Vignette Stonemoss" and Orlando Bloom as human detective "Rycroft Philostrate," caught in a love/hate relationship in London's seediest back alley, stalked by a magical Jack the Ripper. There's really no telling WHO this show is for, but if it sounds like it's for you, you'll definitely want to give it a shot. We're just impressed this thing was even made, let alone that it already got a second season!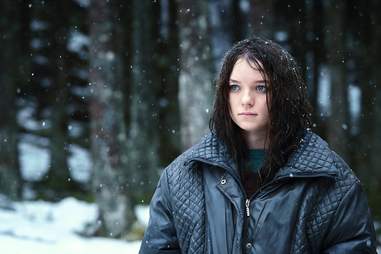 Amazon Studios
20. Hanna 
The 2011 movie version of Hanna, starring Saorise Ronan as the eponymous teen who grew up in the woods with her father and tactically trained for murder, got extended into this Amazon series. The New York Times called it "genetically modified," which is as accurate a description there is for this show that's already been renewed for a second season. Where the movie was suspenseful, action-packed, and fun, the series feels overly procedural, mired in a mystery over eight 45-minute episodes that's already been riddled. But there's a solid performance from Esmé Creed-Miles as the feral Hanna forced to sort through the world when her and her father Erik's (Joel Kinnaman) hideout gets snuffed out by the CIA agent he used to be a contract killer for. But Hanna especially suffers due to slow pacing, making even big showdowns and reveals feel like extended foreplay.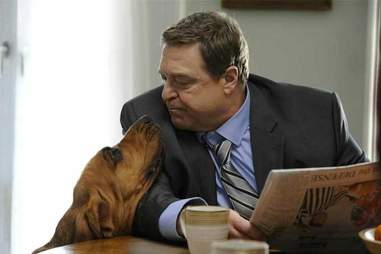 Amazon Studios
19. Alpha House
This two-season political satire series from Doonesbury creator Garry Trudeau adds yuk-yuk sitcominess to the 47-year-old comic strip's policy wonk humor. Think Veep for the Cheers crowd. The show follows four Republican Senators (played by John Goodman, Clark Johnson, Matt Malloy, and Mark Consuelos) who spend their days on Capitol Hill, their nights in a row house they rent together, and most waking moments trying to do as little work as possible. This proves difficult. If Sarah Palin isn't ripping them for being left of the Tea Party, LGBTQ activists are decrying their social indifference. With cameos from Hollywood veterans (Bob Balaban, Cynthia Nixon) and politicians (Elizabeth Warren, John McCain) alike, Alpha House is low-key lampooning that reminds us there was a time when TV could feel crazier than real life.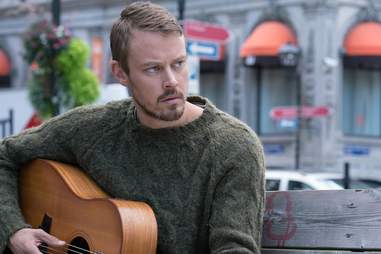 Amazon Studios
18. Patriot
If your favorite things are (in any order) espionage, folk music, soliloquies on human fragility, and offbeat humor, you will LOVE this show. Vastly different from the other Amazon show about the CIA, Patriot tracks the increasingly unstable emotional state of John Tavner, aka John Lakeman, who's tasked with posing as a piping engineer so he can travel to Europe to prevent Iran from obtaining full nuclear capabilities. Also, he's a folk singer with a penchant for inserting classified information into his lyrics, and John Locke from Lost (Terry O'Quinn) is both John's dad and his boss. Creator and executive producer Steven Conrad gave the world The Pursuit of Happyness and The Secret Life of Walter Mitty -- Patriot is better than both of those without a doubt, possessing an ironic sensibility that seems self-aware at times. It's also just plain bizarre in a way that most shows aren't, and we can appreciate the risks it takes.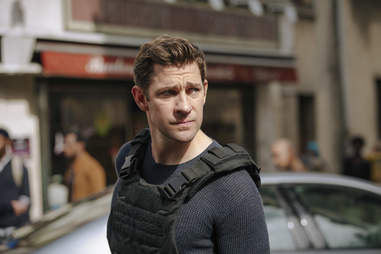 Amazon Studios
17. Jack Ryan
Whether or not you enjoy Jack Ryan depends largely on your preexisting beliefs: Do you enjoy firefights and believe the CIA is an institution Americans should "cherish"? Or do you think the media has gone way overboard in painting the military-industrial complex in a positive light? The former group of suburban dads will love this show based on the Tom Clancy character (played with scrawny-guy-discovers-creatine energy by The Office's John Krasinski), which takes place in a world where idealistic agents the public never sees protect innocent civilians from catastrophes like "another 9/11" and "a nuclear Venezuela." The latter group of Twitter activists will likely laugh at the supposed threat of nuclear Venezuela, and squirm uncomfortably when a CIA-backed coup in Latin America is portrayed as a necessary and noble act. Whatever your opinions, it's easy to see why Jack Ryan is one of Amazon's few big-budget successes: It doesn't skimp on shoot-em-up set pieces, it moves quickly, and it delivers the comforting fantasy of a spy service filled with humble saviors.
Amazon Studios
16. One Mississippi
There was Louis CK vs. Tig Notaro beef behind the development and production of this autobiographical adaptation of Notaro's life, for which CK still serves as executive producer, long before the stories about Louis CK's behavior became public. Notaro's personal story is truly harrowing, a battle against two deadly illnesses (breast cancer and C. diff) plus the death of her mother making this almost certainly the most depressing show you'll ever see from a comedian. Not that that's necessarily a bad thing -- finding humor in darkness is one of Notaro's strongest talents -- but occasionally dark mood can feel monotonous, with Notaro's deadpan delivery emphasizing, rather than complementing it. 
Amazon
15. The Tick
When fans heard Ben Edlund's satirical big blue bug of justice was getting the Amazon treatment, many wondered: Would anyone really be able to adequately replace original live-action star Patrick Warburton? Would this reboot be able to cut through all the other streaming superhero bullshit? The good news: yes. Peter Serafinowicz nails the bold airheadedness of the The Tick, helping Arthur (Griffin Newman) -- the real star, a poor, broken, obsessive man -- to tap into his potential and uncover a villainous conspiracy. Their story, more importantly, comes packed with legit emotion, action, and tons of weird fun. ("When destiny speaks, she speaks to me. She says, "Hi," by the way!") Watching this thing is like rediscovering your love of an old toy -- one that yells, SPOOOOOOOOON!!!! with an exhilarating sense of reckless abandon.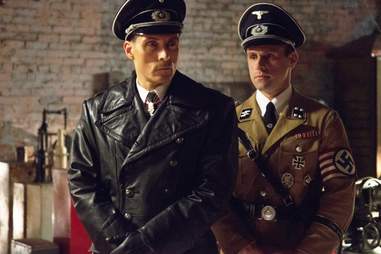 Amazon Studios
14. The Man in the High Castle
Ah, yes, The Man in the High Castle, a crazy story about an America ruled by two foreign powers. Ha! This alternative-history thriller, in which the Nazis won World War II, imagines life in America if Germany captured a massive chunk of land to the east of the Rockies and gave Japan the West, with the renegade subject of the title carrying the banner for America in secret. The saga is adapted from Philip K. Dick's 1960s novel, making all the complex characters, blazing storylines, addictive world building, and political intrigue small-screen ready. It's a horrifying but infinitely bingeable thought experiment, kind of like Colony sans aliens. 
Amazon Studios
13. Red Oaks
When Red Oaks first debuted, we might have called the show a severely underrated entry in the Amazon canon. But the secret's out about this intelligent-yet-raunchy '80s-style comedy set in Red Oaks, a fictional country club in a sleepy New Jersey suburb -- if Wet Hot American Summer were a TV series directed by John Hughes, this is what you'd get. The show stars David (Craig Roberts), a young NYU student back for summer to teach tennis lessons at the club, but characters like Nash (Ennis Esmer) and Wheeler (Oliver Cooper) hijack every scene they're in with hilarity, humanity, and just the right amount of off-color jokes you'd expect to find in any classic '80s teen movie. 
Amazon Studios
12. The Boys
Our cup runneth over with shows and movies about superheroes behaving badly, and The Boys, based on the darkly comedic comic by Garth Ennis and Darick Robertson and developed for TV by Supernatural's Eric Kripke, is one of the better ones, introducing an eclectic cast of high-powered humans and swiftly revealing how awful they all are. The Boys creates a world where superheroes are commodified into action figures and heroic publicity stunts so that giant corporations can make buckets of money -- why does this sound so familiar? It's biting social commentary with an extra-mean streak, and it's a lot of bloody fun.
Amazon Studios
11. Too Old to Die Young
Nicolas Winding Refn and Ed Brubaker wrote every provocative, weird, and gory episode (Halley Gross joined them for the final two episodes), with director Refn shooting it all in his signature colorful and deliberately unhurried style. Some might argue that Refn cares more about style than substance, and it's fair to say that the plot is less compelling than its visuals. But Too Old to Die Young is like Only God Forgives, Breaking Bad and Twin Peaks: The Return put into a blender, with surprisingly awesome supporting performances by William Baldwin as a super-wealthy, super-creepy dad and by Die Hard scene-stealer Hart Bochner as a MAGA-inspired police chief, plus a compelling turn by Jena Malone as a conspiring spiritual healer. It also has a Drive-esque car chase, that should be reason enough to check it out.
Amazon Studios
10. Mozart in the Jungle
Do you like whimsy? Do you like Gael Garcia Bernal? Do you like watching the clichéd trope of a young, idealistic oboist try to break into the New York Symphony while navigating her own ambitions, passions, and sexuality, while sometimes drinking too much? Then you'll love this show. Bernal plays a new maestro who's brought into the symphony to attract a younger audience with his unconventional… well, everything. He drinks his tea a very specific way, he sometimes wears beads in his hair, and he's emotionally beholden to a misanthropic lover/activist who smashes her violin a lot. The show is a lot of fun to watch, and Lola Kirke (the aforementioned oboist) straddles the line of unwavering confidence and crippling doubt, making the show accessible even to those who had to Google "oboist." 
Amazon Studios
9. Blade of the Immortal
Blade of the Immortal, Amazon's first original anime series and a remake of the 2008 series, is not fucking around. The opening minutes of this violent Tokugawa-era revenge tale features the flaying of human body parts -- severed arms, legs, a whole human split into chunks -- and the remainder of the episodes are no less graphic. Following the 16-year-old Rin and her hired bodyguard Manji, an infamous swordsman cursed with immortality, the series bounces between tone poem reminiscent of cerebral '90s anime (like Serial Experiments Lain) and samurai stories (like Samurai Champloo and Ninja Scroll), and is animated like a Satoshi Kon property, as Rin tests the limits of her desire for vengeance for her dead family against the ruthlessness of the world. There's at least one bloody battle, maybe against a sociopath who sews the stuffed busts of women he kills on his shoulders, per episode -- buckle up for the gory ride.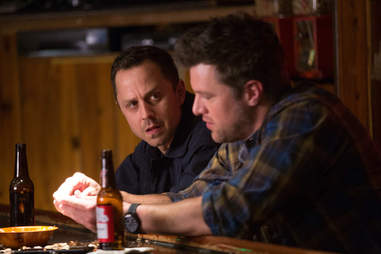 Amazon Studios
8. Sneaky Pete
Perhaps the name turned you off. Maybe it was the idea of spending hours watching "that guy" actor Giovanni Ribisi play the titular conman. We get that. But Sneaky Pete's subtle charms materialize if you view it as a companion piece to Justified (Graham Yost serves as showrunner and Margo Martindale plays the wise matriarch of a rural bail-bonds business) and Breaking Bad (Bryan Cranston serves as executive producer and recurs as a Heisenberg-y gangster). 
Amazon Studios
7. Homecoming
Adapted from the popular podcast of the same name, Homecoming tracks Heidi Bergman (Julia Roberts) as she tries to piece together her work as a therapist at a treatment center for veterans with PTSD. Over 10 fast-paced episodes (each one clocks in at around half an hour), the mystery of what a government contractor actually intends to do with the veterans unfolds in lockstep with Bergman's own investigation into the missing memories of her previous job. It's the rare streaming show that doesn't feel bloated, and leaves plenty of room for new storylines to develop in season 2.
Amazon Studios
6. I Love Dick
Transparent creator Jill Soloway's second Amazon series is like screen-printed Warhol take on the fire emoji: syncopated, artful, and satisfyingly vicious. Based on Chris Kraus's 1997 art-world-dominating memoir of the same name, the show stars Kathryn Hahn (Bad Moms) as Chris, a failing New York City filmmaker who follows her writer husband, Sylvère (Griffin Dunne), to Marfa, Texas, where he's earned a research fellowship academic sensation Dick (Kevin Bacon). His aura turns the community into a hotbed of intelligentsia and psycho-sexuality, which cracks Chris's world in half. The crass and poetic collide as she pieces it back together, giving Soloway, along with playwright Sarah Gubbins, the opportunity to throw convention out the window. From Louise Bourgeois references to episodes devoted to fourth-wall-breaking flashbacks, I Love Dick does everything it can to pierce the esoteric-yet-essential idea of art and its inseparable companion: sex.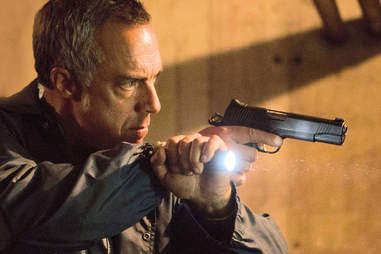 Amazon Studios
5. Bosch
The first season of Amazon's procedural series finds Harry Bosch (Lost's Titus Welliver) under legal fire for shooting a suspect two years earlier -- hotter (and more relevant) water than his TV detective predecessors. His investigations of a sadistic serial killer become an escape for the tortured officer (he's also a veteran of Afghanistan, and the son of a murdered prostitute), and as the series progresses, a healing process. By Season 2, Bosch trims down to a grizzly neo-noir, a Miami Vice for the True Detective fan, which should be celebrated as peak airport-novel TV. 
Amazon Studios
4. The Romanoffs 
Matthew Weiner's much anticipated follow-up to his near perfect Mad Men wasn't the frothy, fun exploration into why so many royal pretenders are running around that we expected. It partly is that, but more so it's a darkly mean study of the worst kind of people, the kind who lie and manipulate in their desperation to give their dull existences some impressive, esoteric meaning. The anthology series isn't for everyone, and it's made more than a few missteps in attempting to tackle timely issues (e.g., one episode revolving around false harassment accusations left more than a few viewers with a sour taste in their mouths), but if you're ever in the mood to watch some stylish, horrible rich people make utter fools of themselves in court juries, on the sets of bad TV shows, and onboard a ridiculously ostentatious Russian Empire-themed cruise, this one's for you.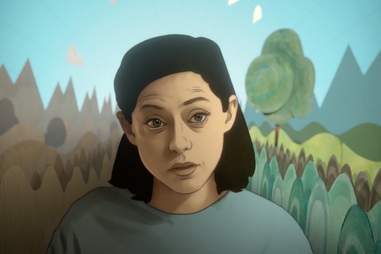 Amazon Studios
3. Undone
It's rare to see Rotoscope animation outside of a handful of Richard Linklater movies, and Amazon's Undone is the first episodic TV series to utilize the surreal and trippy technique. It's more than a technological feat, though; the Kate Purdy and Raphael Bob-Waksberg-created series also tells a wildly compelling, funny, and heartbreaking mystery-box, reality-questioning story. After a horrible car accident puts Alma Winograd-Diaz (Rosa Salazar) into a coma, she wakes with the ability to communicate with her quantum physicist father, Jacob (Bob Odenkirk), who says he was murdered because of his research into time travel. Alma's younger sister Becca (Angelique Cabral), mother Camila (Constance Marie), and boyfriend Sam (Siddharth Dhananjay) all think she's losing it while she secretly experiments with bending time and dimension under her dad's guidance. Each 20-something minute episode is stuffed with an emotional spectrum that's draining, but Undone is so good that it's hard to stop watching until the very end.
Amazon Studios
2. Transparent 
It's got the awards. It's got the critical acclaim. The show lost a considerable amount of steam after star Jeffrey Tambor's exit due to harassment accusations, but the series had built a strong enough foundation and cast to carry the load going forward. While most of the superficial attention on the show focuses on its groundbreaking subject, the fact that it treats a transgender woman's transition with depth, humor, and a family narrative determined to show the characters as the multifaceted, sometimes ugly humans they are makes Transparent rise above nearly all of its fellow Amazon originals.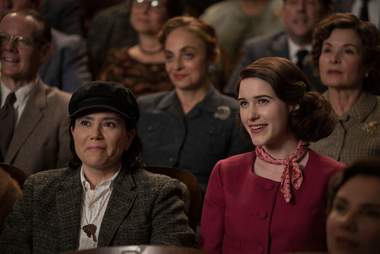 Amazon
1. The Marvelous Mrs. Maisel
After putting her acclaimed revival of Gilmore Girls to rest, writer-director Amy Sherman-Palladino turned her attention to the story of a dumped 1950s housewife with a sailor's mouth and stage, Greenwich Village's The Gaslight Cafe, on which to vent. Like a young Joan Rivers, "Midge" Maisel (Rachel Brosnahan) is on fire when she's performing stand-up for bohemian crowds, toasting her own wedding, or sparring with her father at synagogue. Sherman-Palladino once again provides her lead with a motormouth, but it's Brosnahan's conflicted performance -- carried by comedy, reined in by the paranoia of body image and female expectations -- that makes it as compelling as it is riotous. With Mad Men behind us, it's time for the mad women of Mrs. Maisel to seize the period-drama spotlight.