The Best Movies and Shows You Can Stream for Free on Amazon Prime
Some people want to watch the world burn. And some people want to watch those people on Amazon Prime. The subscription service doesn't just get you speedy shipping, it unlocks a number of Amazon Originals and exclusive series gleaned from other networks' crème de la crème -- which is why your Hulu and Netflix queues are lately devoid of FX and HBO. This, friend, is where you can find those.

Amazon Originals
The Man in the High Castle
Everyone hates Nazis, and everyone loves alternate realities. Well, good news, people -- this series about the Nazis winning World War II has alternate realities within its alternate realities. It's so good that my Jewish co-worker went around the office for a week explaining why assassinating Hitler was a bad idea. (No lie!) Like every Philip K. Dick adaption, it's not that faithful, but... boy, is it gorgeous.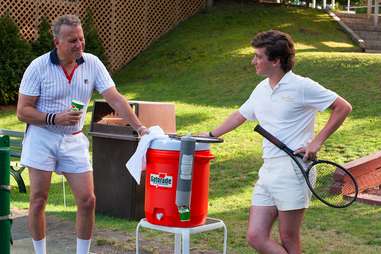 Red Oaks
Remember the '80s? Don't. They were a terrible time, full of hairspray and scary STIs. Music was quantifiably at its lowest point. For every Clash, there were 90 Flocks of Seagulls. But one thing that reached its absolute peak at the time was the randy teen sex-comedy. Time for a throwback! Starring Jennifer Grey! Yeah, this is nostalgia done right.
Transparent
Not too long ago, sitcoms would have used a transgender character as a punchline, and the comfort of family life as its reassuring return to normalcy. The refreshing, universally acclaimed Transparent does the reverse, with Maura Pfefferman's newfound acceptance of herself the one fixed point of reference amid a family of semi-neurotics. It mines deep feeling (and laughs) from its thesis: "Life is complicated." What, are you going to skip a chance to watch Jeffrey Tambor do comedy?
Mad Dogs
Middle-aged men go down South to party. What sounds like every knockoff of a Judd Apatow comedy in the last decade quickly turns dark instead. After creating The Shield, Shawn Ryan should be allowed to do anything he wants forever. Unfortunately, that's not the case, as Mad Dogs, like its similarly named sibling Terriers, concluded at season one, full stop. Maybe, if we all deluge its traffic counter with views, we can revive it?
Bosch
Detective shows aren't short of hard-bitten cops on the edge, but dang, man, Bosch stands out as a particularly durable hard case. The guy is on fire, and not in a good way... drawn into particularly dark cases, but keeping his back turned on an even darker past.
Catastrophe
You're on the Internet, so we assume you've already laughed at a Rob Delaney joke today. Good news! He's on a show with Sharon Horgan, whom you remember fondly from The Increasingly Poor Decisions of Todd Margaret. She gets pregnant after they have a fling, and then they agree to give this parenthood thing a go together. What makes this somewhat-trod concept fresh is that everyone in their lives thinks it's an awful idea... and they may be right.
Alpha House
John Goodman could make a four-car pileup funny. Plus, this is a nice relief from overwritten political dramas. Hey, wait... that's a personal pronoun away from a perfect description of Veep. Crossover time? What you definitely can't say about Veep is that it's a frat comedy for Beltway junkies. Created by Doonesbury maestro Garry Trudeau, who knows a thing or two about political satire.
Mozart in the Jungle
Everyone you know is talking about it. You should probably watch it so you're not left out. It's probably the new Downton Abbey. But with more sex and violent upheaval of the stodgy old order. (Not that it's too late for you to drop trou, Downton!) Gael García Bernal is a firebrand conductor, and everyone has differing opinions about why that's good or bad. Special appearance by Mozart.
The Tick
OK, so it was only announced last week and it isn't actually back yet, but you can't keep a good Tick down. SPOOOOOOOOOOON!

Other series
The Wire
Well, here it is. You might as well watch the most realistic crime drama ever made. What it lacks in tension (hush, you know it's true), it makes up for in verisimilitude. Besides, if you binge it, you might actually keep track of its two-dozen-plus concurrent story lines. Still a great portrait of America's self-inflicted wounds, and how each layer of power grinds down the ones below it. Starring everyone you love from all the series developed since.
Rome
Sean Bean may always die, but Ray Stevenson always kills (with a mix of savagery and humanity). This is the series that started that trend, including what's probably the most stunning murder in TV history. Fantastic for its portrayal of the street-level speculation of what influenced the uppermost echelons of politics.
Orphan Black
A sci-fi show so acclaimed and cult-devoted, you'd naturally assume it's a BBC import, but the truth is somewhere in between. A Canadian production, it subsists here on the word of its rabid fanbase, and they might not be wrong.
Veronica Mars
It's permanent sunset in the town of Neptune, where part-time PI and high schooler Veronica Mars struggles through classism and unpopularity. This series captured all the feelings of being a teen, then layered them in noir disaster that, looking back on it, probably should have shut down her school for good. If you only watch one show on this list, make it Mars.
Deadwood
You give Tim Olyphant a gun, and that's good viewing. Unless it's Hitman. Which was kind of the opposite of Hitman. So it officially erases itself from existence. Otherwise, this was the series that finally gave the dynamic actor his due as a seething sheriff just trying to run a dry-goods store while life had other plans. This show made cursing into poetry, and poetry into a treatise on the meaning of life vis-à-vis blinding a man with your thumbs. Revisit it now that the show appears to have achieved new life on HBO.
Curb Your Enthusiasm
You either love Larry David, or you hate that you love him. Watching him schmuck up again and again should get old, but it doesn't. If you ever thought Seinfeld needed more edge, congratulations on discovering Curb Your Enthusiasm, but sorry, you're now down to two wishes.
House of Lies
Don Cheadle's natural charm is subverted here, as he plays one cold-blooded son of a bitch out to prove a fool and his money are soon parted. It's like a white-collar heist film, except no laws are broken (usually) and you get to secretly pretend his confidence is derived from the War Machine armor in his closet. Did you know real-life Don Cheadle received the Nobel Summit Peace Award? This is not that Don Cheadle.
Justified
Remember what we established about Tim Olyphant and a gun? That's the entire concept of this show, spun through that Elmore Leonard cool/cruel polarity. Raylan Givens, the "angriest man in the world," never lets it show, and his prodigious talents for violence always seem believable since a) he's not even the best marksman on the show, and b) he sometimes loses fights despite kicking ass. Plus, Margo Martindale spends a season luxuriating in one of the best villain roles TV's ever seen.
The Americans
The paranoia is palpable in every scene of this Cold War thriller about Soviet sleeper spies so deep undercover, they don't even trust each other... despite having kids together. Perfect example: when John Hinckley shoots Ronald Reagan, they have no idea if it's a Russian masterstroke igniting open war or if they're about to be burned. Oh, and Martindale's a badass antagonist in this one, too.
SpongeBob SquarePants
The was once chosen as "least educational" by stupid parents who don't realize any show with jokes this legitimately funny can teach kids comparison, contrast, and absurdity. You don't have to be a kid to appreciate it, though; it's funnier than any network sitcom currently on prime time. You also don't have to be high, but it doesn't hurt.
Avatar: The Last Airbender/The Legend of Korra
Technically two shows, but starring many of the same characters... how this could be a Nick Jr. production is surprising. The toddler channel has certainly never seen a show like this, full of authentic martial arts, parents disfiguring their own kids, teenagers sneaking off for a quickie, and quite a few deaths. All that goes over the wee ones' heads in this truly all-ages epic adventure, though. It also challenges old notions of gender and sexuality without being preachy about it. Kudos.
Girls
Look, at some point, you're going to have to watch Girls. It's a coming-of-age story in which every young woman who moves to the city without a trust fund sees herself, so you either are that person, or she will make you watch it. Be glad, though: your forebears had to endure Sex and the City.
Movies
This Is Spinal Tap
You'll never look at a cucumber the same way again. This movie didn't invent the mockumentary, but it probably perfected it.
The Battery
So you've seen it all and done it all if it's zombie-related, eh? Give this one a try. It's not going to match the practical effects of The Walking Dead, so it doesn't try. It focuses on its strengths and utilizes what ought to be weaknesses to impress a hell of a lot more than any indie zombie flick so far.
Batman
The 1966 film is one of the most underacclaimed comedies ever made. Watching Adam West try to dispose a giant bomb around the docks is beautiful physical comedy, capped off as he wearily sighs, "Some days, you just can't get rid of a bomb." We've been there, Batman. We've all been there.
McLintock!
There's a goddamn exclamation point in the title, so this manly movie knows its business. John Wayne plays the retirement years of every other John Wayne character, but in a lighthearted kind of way that ends with dragging Maureen O'Hara around town in her underwear to shame her willful ways as the whole town laughs at -- you know what? That's actually really messed up. Still, it's a fun ride.
Big Trouble in Little China
By law, you have to watch this surrealist fantasy action film starring Kurt Russell, or you're not allowed to ever reminisce about the '80s again.
Sign up here for our daily Thrillist email, and get your fix of the best in food/drink/fun.
Brendan McGinley is a contributor for Thrillist with an Amazon Prime account.