All 37 Tom Cruise Movies, Ranked From Worst to Best
Tom Cruise is an international movie star, and has been for decades. Thirty years ago, he was high in the sky whooping ass in Top Gun. Twenty years ago, he was doing all kinds of death-defying intrigue in the first Mission: Impossible and winning America's collective heart in Jerry Maguire. People still go see his movies because he exudes that movie-star radiance. The man was born to be in front of a camera.
There's a dark side to Cruise. He's done weird things that have made us wonder what the hell is up. (A friend of mine doesn't like him because, quite simply, he believes Tom Cruise is an android.) Should that matter whenever you see Cruise on the big screen? That same frenetic behavior seems to drive his movies. Cruise puts his whole foot into whatever movie he headlines, summer blockbusters and Oscar-worthy dramas alike.
With Jack Reacher: Never Go Back on the horizon, and no sign of slowing down in the years to come, we ranked all 37 of Cruise's movies (cameos aside -- sorry, Austin Powers in Goldmember). Here's what a movie star's career looks like in full: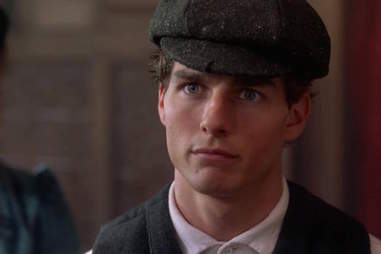 Far and Away

| Universal Pictures
37. Far and Away (1992)
This one has the most apropos title; this is far and away Cruise's worst picture. Slapping on an Irish accent that makes you wonder if someone stole his Lucky Charms, he and then-wife Nicole Kidman bicker their way through Ron Howard's sweeping, 19th-century love story. A movie that insists every Irish person is a loud drunk who fights a lot.
36. Cocktail (1988)
The movie that launched a thousand douchebag bartenders. Just as he showed how cool being a Navy pilot was in Top Gun two years before, Cruise brought coolness to the bartending game as an aspiring businessman who wows people with his shaker skills. This movie is notoriously bad, not only for its lame plot, but because it is filled with reshot scenes featuring Cruise's perm hair from Rain Man.
Oblivion

| Universal Pictures
35. Oblivion (2013)
In this post-apocalyptic action movie, Cruise plays a repairman, going around a barren Earth fixing drones, who discovers he's not so alone after all. While it's always a kick seeing Cruise in man-of-action mode, this movie hits the ground immediately, scrambles your brain, and leaves you wondering if the writers had all the twists figured out before they started shooting. A sci-fi mishmash that mished and mashed too hard.
34. Mission: Impossible III (2006)
J.J. Abrams will forever be regarded as the guy who breathed life back into the Star Trek and Star Wars franchises. Sadly, he dropped the ball with the third installment of the Mission: Impossible franchise. The movie not only restrains Cruise, forever cheating death as super-agent Ethan Hunt, but wastes the late, great Philip Seymour Hoffman, barely there as the movie's oily villain. An attempt to emulate the team-centric TV source material that's better served in a 4pm TNT slot than the big screen.
33. Vanilla Sky (2001)
Cruise re-teamed with Jerry Maguire director Cameron Crowe for this mindboggler, a remake of the Spanish film Abre los Ojos (Open Your Eyes). Cruise is a wealthy playboy who goes on a surreal journey after he's facially disfigured in a car wreck. As classy as this movie looks, it suffers from a major problem: it's hard to give a shit about Cruise's character. The major twist accentuates the underlying failure.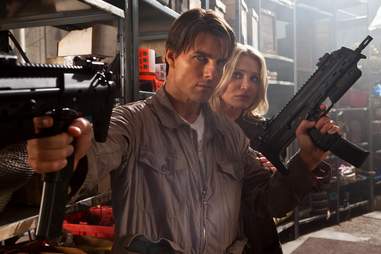 Knight and Day

| 20th Century Fox
32. Knight and Day (2010)
Cruise re-teamed with his Vanilla Sky co-star Cameron Diaz for this spy rom-com, where Cruise is a boy-scout spy out to clear his name and Diaz is a single gal who ends up tagging along. This movie was a high-flying, scatterbrained, CGI-filled cacophony that reminded everyone that the middle-aged Cruise and Diaz were still viable movie stars.
31. Mission: Impossible II (2000)
Despite a drowsy plot, the John Woo-directed M:I film served up some cool stunts, complete with the director's signature white doves. It's also a secret remake of Alfred Hitchcock's Notorious, with Cruise's daredevil spy Ethan Hunt recruiting a sexy thief (Thandie Newton) to assist him in his latest dangerous mission.
30. Lions for Lambs (2007)
Some of you may have forgotten that this Robert Redford-directed movie exists and that Cruise has a substantial role in it. He's a smooth-as-baby shit Republican senator, who spends most of the movie talking to Meryl Streep's liberal reporter about a war strategy in Afghanistan. It's obvious that Cruise (who produced the movie) wanted to show he could hold his own with big, bad Meryl.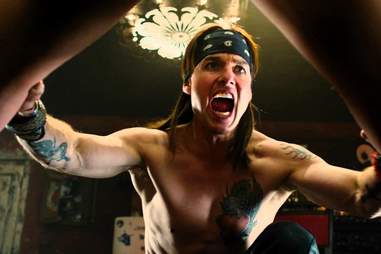 Rock of Ages

| Warner Bros. Pictures
29. Rock of Ages (2012)
Cruise is the only good thing in this terrible film adaptation of the Broadway jukebox musical. As multi-tattooed Axl Rose proxy Stacee Jaxx, Cruise shows off his singing skills and slithery stage presence. Even though his character was written as a scumbag in the musical, his character gets softened up in the film, making him a lost soul looking for love.
28. The Last Samurai (2003)
This long, long, loooong period piece stars Cruise as a tormented US Army captain who gets some peace in his life when he becomes the POW of an exemplary samurai (Ken Watanabe) and lives among his Japanese people. Cruise remains stoic throughout, but he unfortunately gets blown out of the water by the charismatic Watanabe, whose performance earned him an Oscar nod for Best Supporting Actor.
27. Losin' It (1983)
Cruise's first lead turn in a movie (he appeared for one scene in the awful 1981 romance Endless Love) was in this sex romp, directed by future acclaimed filmmaker Curtis Hanson (L.A. Confidential). Set in the '50s, this movie has Cruise and a bunch of teenage guys trying to lose their virginity during a trip to Tijuana. Cruise loses his virginity to none other than Cheers' Shelley Long, along for the ride as the resident experienced older lady. Losin' It isn't a masterpiece, but it's Citizen Kane next to the likes of Hot Dog... The Movie or Private Resort.
Valkyrie

| MGM
26. Valkyrie (2008)
Cruise got together with The Usual Suspects/X-Men director Bryan Singer to make this not-bad historical thriller. He plays a severely wounded, German army officer who is a part of a plot to assassinate Adolf Hitler and take control of Germany. Shot like a heist movie, with all the tension of the world at stake, it's an underrated thriller worth discovering.
25. All the Right Moves (1983)
Cruise portrayed the first in a long line of cocky young gents in this sports drama. Think Friday Night Lights, but a couple of decades early. All the Right Moves has Cruise as the star quarterback of a small-town high-school football team, which he hopes will get him a one-way ticket out of his surroundings. This movie is also infamous because you briefly get to see his junk in one scene. Kind of.
24. Days of Thunder (1990)
Cruise re-teamed with Top Gun director Tony Scott for this racing drama, which has not aged well. (When I watched this, I kept thinking, "Jesus, this is so 1990.") Of course, he plays hotshot race-car driver Cole Trickle (how's that for a name!), making all the right moves as a rising NASCAR star and making major moves on his doctor, played by future Nicole Kidman, whom he married the same year.
23. Mission: Impossible (1996)
Here is where Tom Cruise, Action Movie Star, was born. The first in the ongoing movie franchise started with this taut thriller, starring Cruise as jet-setting, danger-attracting spy Ethan Hunt. Although the movie had some full-throttle sequences courtesy of director Brian De Palma, the plot veers closer to a global detective story than a stunt-filled extravaganza. Anyone who claims to have fully understood the plot after one viewing is lying.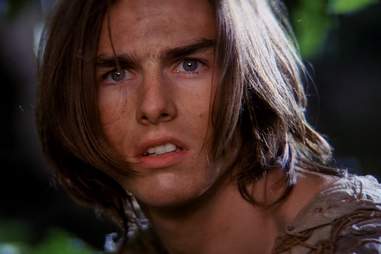 Legend

| Universal Pictures
22. Legend (1985)
Before he got together with Tony Scott for
Top Gun
, Cruise worked with the director's brother Ridley on this beautiful, dark, twisted fantasy film. Cruise is some long-haired forest dweller who romances a ingénue, encounters magical creatures, and locks horns with the Prince of Darkness (Tim Curry). A constant source of pleasure for female sleepovers from a certain era.
21. War of the Worlds (2005)
At the time of release, Steven Spielberg's adaptation of the H.G. Wells classic got a bum rap. The cold, ambitious, 9/11-evoking invasion film deserves a second look. Cruise stars as a working-class dad trying to keep his kids (including a young-but-wise-beyond-her-years Dakota Fanning as his daughter) safe while the world has been taken over by destructive, not-so-friendly aliens.
20. Jack Reacher (2012)
Cruise may have been too short and compact to play the big, brooding badass of Lee Child's pulpy novels, but he certainly gives it everything he's got in this big-screen adaptation, kicking ass and taking names as the ex-military drifter. And for those who want more of that,
Jack Reacher 2 arrives in October
.
Taps

| 20th Century Fox
19. Taps (1981)
Cruise is just one of the many up-and-comers (Timothy Hutton, Sean Penn, Giancarlo Esposito) who populate this drama about a bunch of young cadets who take over a military school when the school is forced to shut down. Cruise plays the most trigger-happy of the bunch, giving audiences a taste of the sinister edge he would later lay out in darker roles.
18. The Outsiders (1983)
As one of the many "Greasers" who rumbles with the "Socs" in Francis Ford Coppola's adaptation of the S.E. Hinton classic, Cruise is once again surrounded by other up-and-coming beefcakes (Dillon! Swayze! Lowe! Estevez!). The Outsiders is still worth catching to see Cruise doing his part in a well-oiled, young ensemble of future stars.
17. Edge of Tomorrow (2014)
This sci-fi Groundhog Day riff from director Doug Liman (The Bourne Identity, Mr. and Mrs. Smith) and writer Christopher McQuarrie (Valkyrie, Jack Reacher) is one of the most underrated studio blockbusters in some time. Cruise plays against type as a cowardly officer who must do battle with an extraterrestrial race over and over again until he finally finds a way to defeat them. He also meets his match in Emily Blunt, playing an alien-slaying war hero known as the "Full Metal Bitch."
16. Mission: Impossible – Rogue Nation (2015)
If "I'm too old for this shit!" wasn't already a catchphrase, it'd be a great one for the latest Mission: Impossible movie. In the globe-trotting adventure, Cruise reunites with Edge of Tomorrow writer and Jack Reacher director Christopher McQuarrie for this installment, where Cruise's Ethan Hunt starts getting into one death-defying situation after another, getting hilariously punchy at one point when he actually does die for a brief minute.
Minority Report

| 20th Century Fox
15. Minority Report (2002)
Cruise's first collaboration with Steven Spielberg remains his coolest. Loosely based on a Philip K. Dick story, this sci-fi whodunit stars the actor as the head of a futuristic "pre-crime" unit who becomes a fugitive himself after being accused of a murder he'll eventually commit. The movie had Cruise basically doing what he does best: being cocksure
and
steadfast, this time outrunning hovercars and jetpack police.
14. Collateral (2004)
After years of playing a goody two-shoes, Tom Cruise got his bad guy on for director Michael Mann. Rocking frightful white hair, he played a sociopathic hitman in this grungy, nocturnal drama, which co-stars Jamie Foxx as a cabbie forced to drive Cruise around Los Angeles to perform a series of hits. At least he's a
likable
hitman.
13. Tropic Thunder (2008)
For this balls-out Hollywood satire, director/star/
longtime Cruise fan Ben Stiller
called on Cruise to slap on a bald cap, facial hair, and a fake gut to play Les Grossman, a crude-yet-savvy studio head who keeps a watchful eye on an out-of-control Vietnam war epic. At one point, there was talk of
a Les Grossman spinoff movie in the works
. I would still like to see that.
12. The Firm (1993)
There was a point in the '90s where, whenever John Grisham dropped a novel, short story, or whatever, it would immediately get turned into a movie. Tom Cruise starred in the first (and best) one, a paranoid thriller where Cruise, playing a young-Turk lawyer, gets stuck between a rock and a hard place when his mob-tied firm starts killing their lawyers and the Feds want him to snitch on the whole operation. He makes
some incredible faces in this movie
.
11. Mission: Impossible – Ghost Protocol (2011)
The first great
Mission: Impossible
movie, or at least, the first great
Mission: Impossible
popcorn movie. This is mostly thanks to animator-turned-live-action director Brad Bird (
The Incredibles
), who realized what a rubbery-limbed action figure he had in Cruise, whose body gets worn out in many inventive action sequences.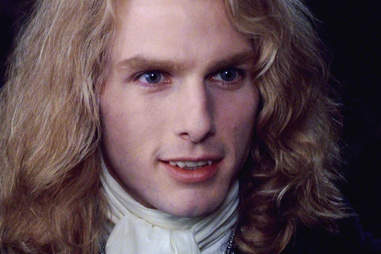 Interview with The Vampire

| Warner Bros.
10. Interview with the Vampire (1994)
However you feel about this grandiose, homoerotic vampire movie, you must admit Tom Cruise is having a hell of a time as Anne Rice's vampiric creation, Lestat de Lioncourt. It's a livelier performance than Brad Pitt's, who mopes around as a tormented soul brought to the other side. Cruise acts rings around him, having a blast as the flamboyant prima donna.
9. A Few Good Men (1992)
Cruise was at his cockiest in this Rob Reiner-directed adaptation of Aaron Sorkin's stage play. He's a plea-bargaining Navy lawyer who's forced to show who he really is when he defends two young Marines accused of murder. The investigation all comes down to the courtroom showdown between Cruise and Jack "You can't handle the truth!" Nicholson, playing a power-mad colonel, which Cruise handles quite well.
8. The Color of Money (1986)
After a few years of being front-and-center, Cruise did a movie where he worked with legends both in front of and behind the camera. This Martin Scorsese-directed sequel to The Hustler had Paul Newman returning as "Fast Eddie" Felson, looking for a young pool player to take under his wing. Enter Cruise's pompadoured-to-hell Vincent, who treats every pool match like it's a showboating showcase.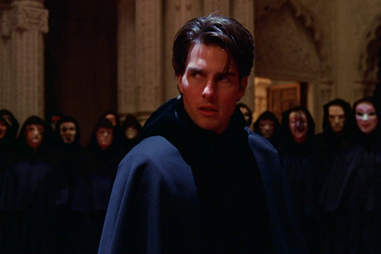 Eyes Wide Shut

| Warner Bros. Pictures
7. Eyes Wide Shut (1999)
Cruise and then-wife Nicole Kidman teamed up one last time for what would turn out to be Stanley Kubrick's final film. The erotic drama sees Cruise's upper-class doctor on a strange, sexual journey after his wife (Kidman) makes a startling confession to him. No matter how you may feel about this still-decisive movie, this was the second-boldest move Cruise made in 1999. What's the other one, you ask?
6. Magnolia (1999)
Everyone say it with me: "Respect the cock." Cruise landed his third Oscar nomination for his role as Frank T.J. Mackey, a leather vest-wearing hustler who gives seminars for sex-starved dudes, and harbors resentment for his ailing old man (Jason Robards). It was fun watching him get all horndog instructing guys on how to tame ladies, but it was harrowing to watch him hold back tears alongside his father's deathbed.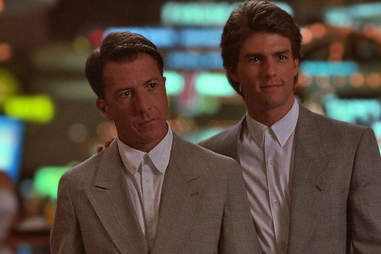 Rain Man

| MGM/UA
5. Rain Man (1988)
Cruise proved he could be a serious actor, and as a regular Joe type, in Barry Levinson's Oscar-winning dramedy. In the movie, Cruise is a selfish wheeler-dealer (obviously) who learns a thing or two about being human when he discovers he has an older, autistic-savant brother, played by Dustin Hoffman. Hoffman won a Best Actor Oscar for his performance, but it's really Cruise's reactionary performance that deserved the gold.
4. Top Gun (1986)
This Reagan-era salute to our boys in the sky is cotton candy inhaled at 1,500 miles per hour. Seeing Cruise all amped up as a speed-craving Navy pilot, giving his rivals the right stuff and then some while also romancing Kelly McGillis' MILFalicious instructor, made everyone want to be him that summer. When it made $179 million at the box office, it made every studio executive want a piece of him.
Born on the Fourth of July

| Universal Pictures
3. Born on the Fourth of July (1989)
Cruise landed his first Best Actor Oscar nod playing Ron Kovic, the Vietnam vet who comes back home paralyzed, disillusioned, and determined to let America know that their Vietnam vets aren't being treated well. This film proved that Cruise wasn't an actor who could only do vapid, pretty-boy parts. If you gave him good material, he could get in deep with the best of them. And it was a risk -- Fourth of July was highly political and bombastic, a direction Oliver Stone would expand more and more in the years to come (and one Cruise would shy away from until Lions for Lambs).
2. Risky Business (1983)
It's the movie that made Tom Cruise a star, and easily the most stylishly directed teen sex comedy ever made. Cruise's nerdy main character is all ready to go to Princeton, but then he gets a taste of the wild life courtesy of Rebecca De Mornay's reckless prostitute. They have sex. Cars get wrecked. Parties get thrown. Furniture gets stolen. He basically acts out what every red-blooded American, teenage male would like their coming-of-age to be. Oh, and he lip-syncs to Bob Seger in his underwear.
Jerry Maguire

| TriStar Pictures
1. Jerry Maguire (1996)
Cameron Crowe's sentimental, sports-flavored romance makes you instantly fall in love with Tom Cruise (just ask Hollywood, who threw him his second Oscar nomination for the role). Jerry is a Cruiseian power player taken down a peg, rebooted, and who rebuilds his life from the ground up, while showing loyalty to his lone, football-playing client (Cuba Gooding, Jr.) as well as winning the heart of his single-mom assistant (Renee Zellweger). In this movie, the A-list movie star became an everyman -- and everybody dug it. He also proved
he loved black people
.
Sign up here for our daily Thrillist email, and get your fix of the best in food/drink/fun.
Craig D. Lindsey is a freelancer whose work has been seen in Vulture, RogerEbert.com,
Nashville Scene
, and
The Raleigh News & Observer
. He wrote this list while the orgy scene from
Eyes Wide Shut
was playing over and over again in the background -- because he's a GOTDAMN FREAKAZOID! You can holler at him @unclecrizzle.